Ms Tinymouse asked if we wanted to go to Hutong? To which I replied, "What or Where on earth is Hutong?"
"It's right in front of Flower Drum."
To which I replied, "Isn't it that Korean place? Or that pub?"
Turns out Hutong, is a dumpling bar and apparently it's famed for it's fresh dumpling.
And it was right in front of Flower Drum right next to the Korean restaurant and the Pub (funny how I never paid any notice to it). I'm not a big dumpling fan and always kick up a fuss when the Boy suggests Shanghai dumplings… (and I only end up going for the La Mien)
Even with a booking, we were made to wait for a while. I found it a tad rude that the people who came in after me, were approached first (I find that sort of service rude).
(Apologies for the initial dark pictures, the Boy was frowning at my flash)
We started the dumpling ball rolling with the Prawn and Pork dumpling (steamed). It was normal, nothing fantastic… although I do have to admit, the skin was really fresh and soft…
Fried Shanghai noodles – again nothing to shout about. I've had better noodles in cheaper establishments … but that's not to say that this was bad, just nothing special.
Xiao Long Bao – this was actually quite delicious, as I mentioned before, I'm not a huge dumpling fan and even when in Hong Kong, I refused to try XLB from Crystal Jade (silly I know, being a foodie)…
I had to try one… and it was quite yummy… the broth in the dumpling was really nice and tasty…
Ms Tinymouse kept assuring me that I did not have to "try" so that there would be more for her… lols
Much groaking was involved as well…
Pan Fried Pork Dumplings – an interesting version of it… we kept mentioning that it looked like Dumplings served on Apung (a type of light fluffy pastry found in Malaysia)… it was really crispy… but.. interesting
We also ordered chilli cuttlefish… very nicely done… not overcooked and the cuttlefish was soft and tender
We finished off with another round of Shanghai Noodles and Wan Tan's in Chilli Oil
Fun outing… good ambiance… fresh food… what more could we ask for?
Favourite words of the day? Husk (the word that started it all) and igloo… ahaha
Went on to Old Town Kopitiam for a good round of Ipoh White Coffee, bubur cha cha (mediocre) and Ice Kacang (interesting)
Ooh oh… and HAPPY BIRTHDAY BFF of mine!!! We have entered the perilous late 20's… and it's scary…
Overall Food Rating: 7/10
Restaurant ambiance: 8/10
Value for money: 7/10
Address:
14-16 Market Lane
Melbourne 3000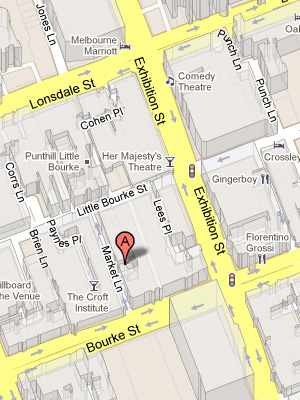 Phone: (03) 9650 8128