One sunny afternoon, I decided to go have a quick lunch with Ms Tinymouse.
She suggested that we go try Les Bouscheries Pariesiennes on Toorak Road.
I eagerly agreed, as their Lunch Menu looked really enticing.. and I was definitely up for some, "feel good" food…
There were about 4 tables seated when we arrived at 1.00pm (we made a booking).
There were a group of 10, and two groups of 4.
We were the only "couple" seated.
I should have known, what with the French being infamous for taking the time to enjoy the meal, that this was going to be a long sordid affair!
It took the waiter (there was only one waiter and 2-3 chefs in the kitchen [open plan kitchen]) around 5 minutes to serve us the menu, a further 10-15 minutes to take our order, another 5 minutes to serve my wine…
The whole meal took 2.5 hours (with Ms Tinymouse having a near heart attack, as that was way over her lunch hour!)
That was my only gripe. The lenghth of time it took to get the whole lunch through.
The food was absolutely delicious, and the waiter extremely polite.. (I have a thing for French accented waiters *dreamy*)
We went of the 2 course Lunch Menu $28.50 each (choice of any two Entree, Main or Dessert with Wine or Coffee/Tea)
Ms Tinymouse ordered an Entree of "Duck liver parfait, toasted brioche, pineapple & vanilla relish"
Absolutely delish…
THe bread rolls came in cute little bags…
With a choice of either a white roll or an olive roll…
I decided to just put my hand in the bag and try my "luck!"… and got the Olive Roll which was really soft and fresh… (so was the butter!)
I ordered the Main, which was, "Chicken breast, butternut pumpkin mousseline, lemon bread & butter pudding"
The chicken was tender and the mousseline complimented the bread pudding perfectly…
And Ms Tinymouse had, "Atlantic salmon, crab & chive risotto, pea sauce, petit salad"
The fish was just cooked.. which is the best!!!… Liked the pea sauce, and I might try and replicate it.. very creamy and smooth.
Absolutely delicious!!! I love the simplicity and complexity of it altogether (yes it is contradictory)
At this point, Ms Tinymouse was on the verge of a panic attack (okay, I lie.. but it was close!!!).. and she had to run off…
I got to experience the Dessert all on my own!!
I had the, "Assiette of chocolate, white choc parfait, dark choc crème brulee, milk choc doughnuts"
Again, another fabulous dish…
The parfait was smooth and creamy and I really liked the orange zest it came with.
The Chocolate Creme Brulee was a dessert that I had died and gone to heaven for.
Don't ask me why, a French restaurant was serving a Spanish Styled Doughnut… it was so good, I didn't ask questions…
Light, soft and crispy, with a soft dark chocolate ooze in the middle… a Brilliant showcase of sugar, flour and cocoa (and cinnamon of course!)
Because I had the white wine with my meal, and Ms Tinymouse had none…
I finished off with her, Latte 😉
I had to take a picture of it, as it came with really cute cubes of raw and white sugar…
Altogether an extremely pleasant and satisfying meal (which took a total of 2.5 hours)… if only it didn't take quite so long…
Definitely will be returning here with The Boy one day…
Also checked with Cousin A… he said that they were still hungry after their lunch here… (the servings are quite small…but the quality was excellent!)
Overall Food Rating: 9/10
Restaurant ambiance: 8/10
Value for money: 8/10 (we went with their Lunch special, and not Express Lunch sets… but it was good value…$28.50 for a two courser and a choice of drink)
Address:
268 Toorak Rd
SOUTH YARRA
VIC 3141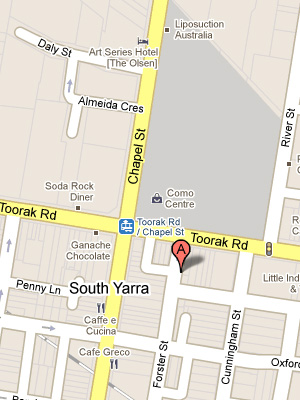 Tel: 03 8256 1636
Fax: 8256 1635