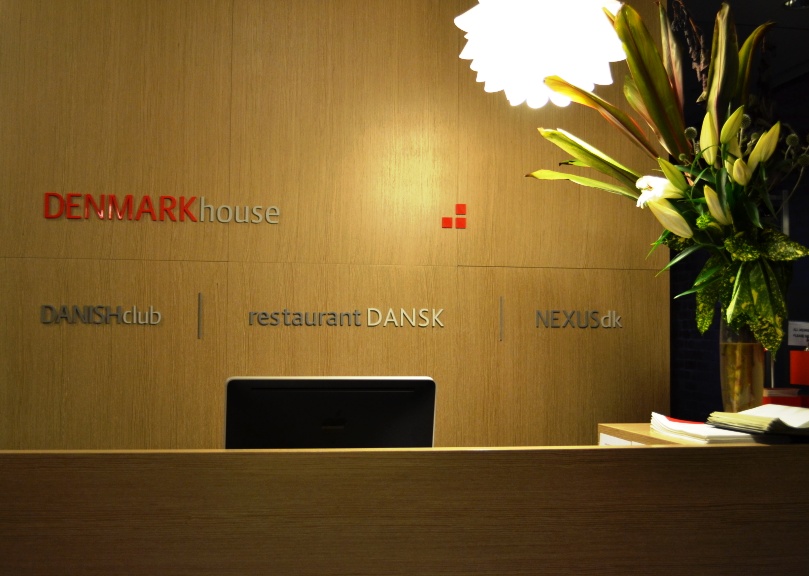 On the last weekend of January, I celebrated my birthday… Don't ask how old… the Boy decided to wine and dine me at Restaurant Dansk in Denmark House. We'd heard about it from an article on the Age, and again when we visited the Scandinavian Bazaar in Toorak, where Denmark House had a booth.
To be able to dine at DANSK, you are encouraged to be a member of this Nordic house… or be born a Viking!…Actually… anyone can join up and be a member. However, they do make exceptions if you want to visit for the first time 🙂
The big day arrived and my knight escorted me up to the restaurant (it's in the same building as Chaplin's Karaoke), where we were greeted by the friendly receptionist and shown to our table .
As we walked towards our table, we could not help but think that the furniture and layout was very Ikea-like… simple, wooden, minimalistic. Upon re-reading the article on the Age, I now regret that I didn't ask for the complimentary bread (which wasn't readily served!)… apparently the best bread Ms Dubecki has eaten all year (Dang!)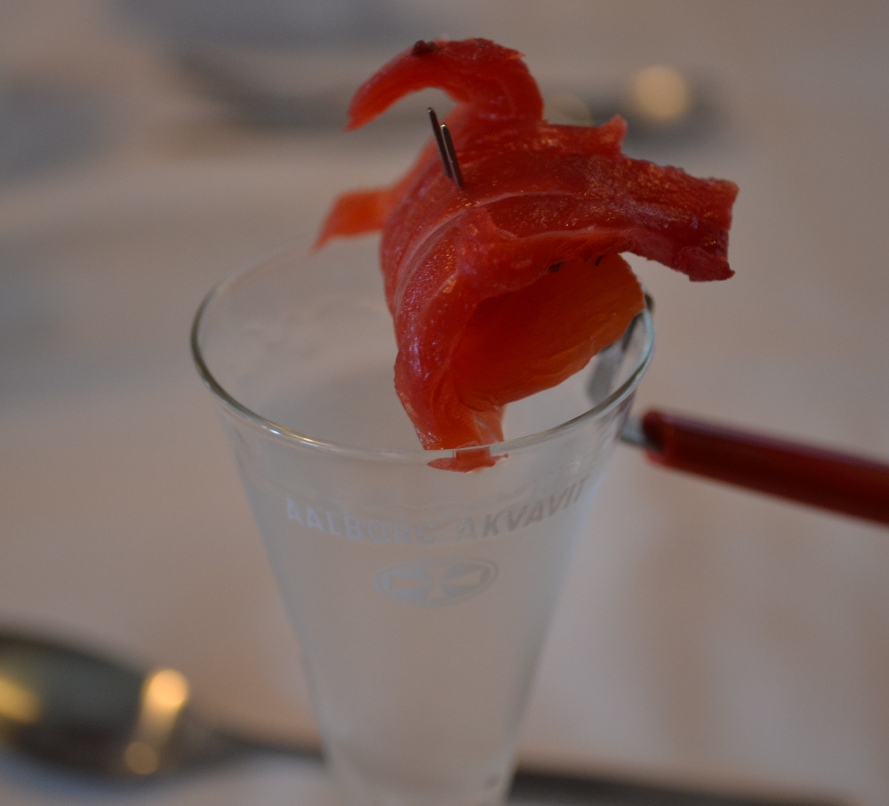 We decided to go with the 5 course tasting menu. To start off, we were served a complimentary amuse bouche of Snapas. Yup… a cross of snaps and tapas (tee hee)… I think we had the Laks med peberrods snaps $6… Didn't know I could speak Danish? Alright, I kid, I kid… it's all on their online menu. Translation? Salmon with horseradish snaps…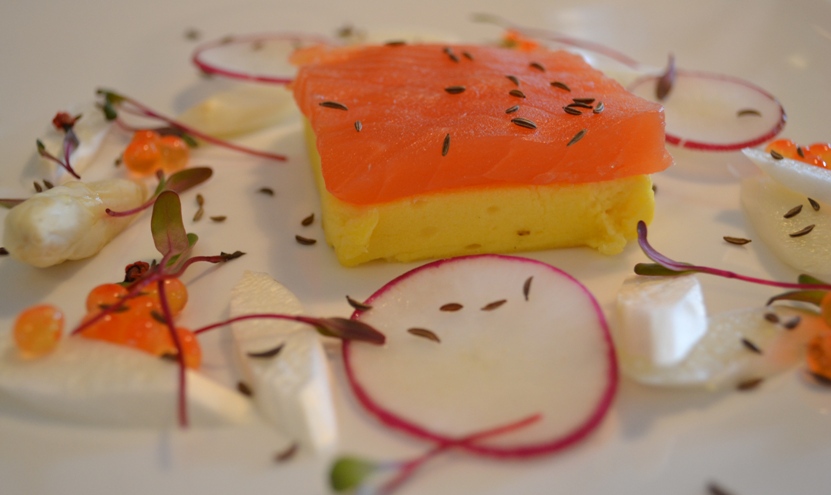 The first entree arrived. It looked so pretty that at first, the Boy and I were hesitant to eat it… but our tummies growled and we attacked the Rimmet laks med peberod, lakserogn og blød kartoffel $17 (Cured salmon with white asparagus (horseradish), salmon roe and soft potato).
The dish was delicately balanced. Fresh ingredients and not fussy, this dish allowed the ingredients to speak for itself. I absolutely adored the softness of the potato, which we were told was a mixture of egg and potato.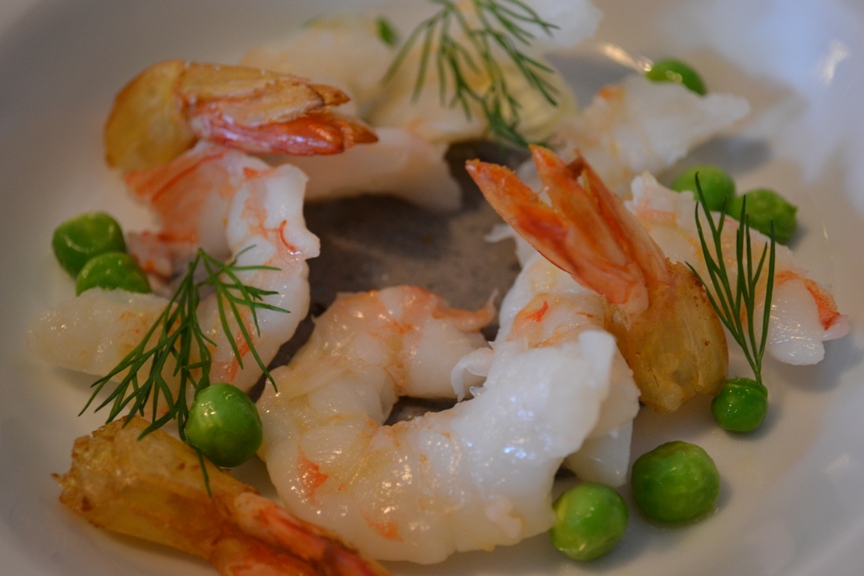 The next entree, Australske rejer med sort kaviar og crème fraiche $18 (Australian prawns with black caviar and crème fraiche). Another deliciously simple dish… the black caviar accentuated the taste of the prawns. My favourite part of the dish? Rather than throw out the prawn tail shells, we had ours delicately battered and deep fried! L-O-V-E-D   I-T!!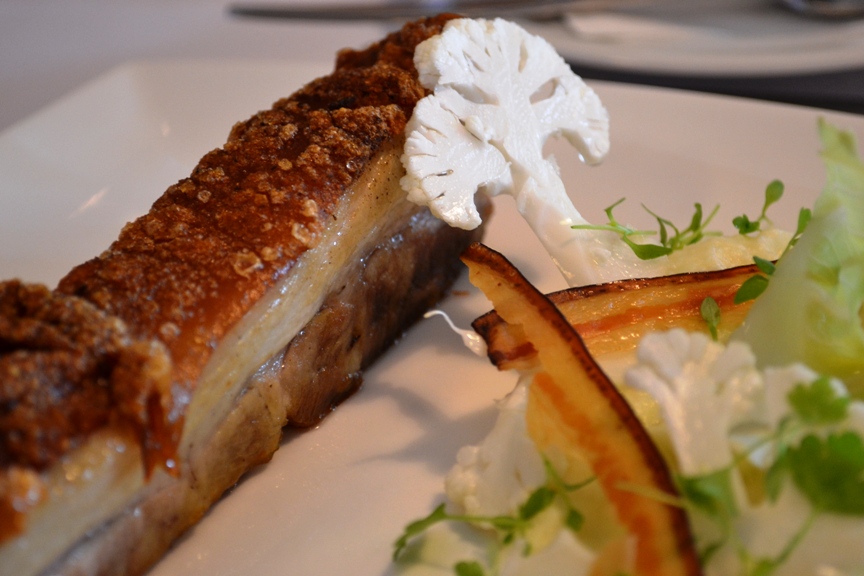 For the main, we were served the Frilands gris med Andrew's choice  røget spæk og blomkåls pure $35 (High country pork belly with Andrew's choice smoked lard and cauliflower puree). Didn't it sound lovely?
Somehow, I was slightly disappointed with this dish (or as much as I can ever be disappointed in pork!) It wasn't that the flavours weren't there, it was more of the fact that the pork belly wasn't as tender or soft. It might have been cooked individually (as you see) in strips, which made it tough and a tad overcooked. But the crackling was awesome!
Everything else on that plate worked… but that pork belly… justice was not done.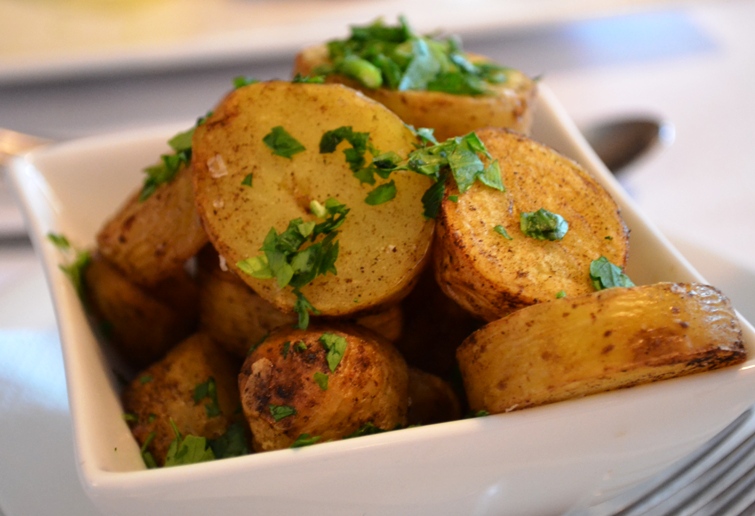 Along with the main, we were served roasted potatoes. The Boy and I found these a bit dry but tasted fantastic.
Moving on to desserts, we were served a Udvalg af ost med ristet rugbrød $18 (Cheese platter with toasted rye bread). We each had a board with our own cheeses, radish slices, fruits and nuts. Delicious! I have to say, that toasted rye bread was amazingly crispy. The fruits and nuts gave the platter a fresher dimension rather than plain ol' cheese and crackers. At this stage, as you can imagine, we were both loosening our belt buckles (figure of speech.. I was wearing a dress)…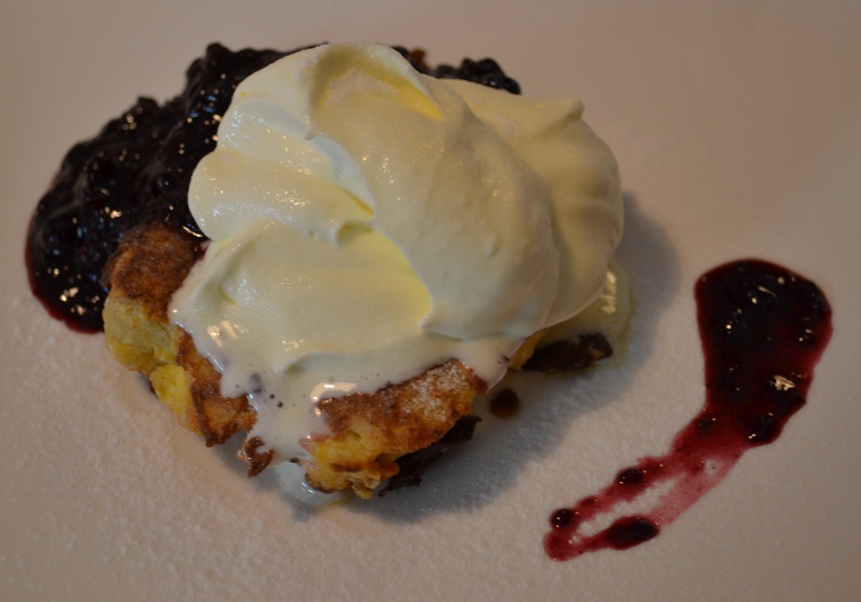 So, when I say the last dish and last dessert was delicious, you better believe me! Arme riddere med rødgrød kompot og vanilje parfait $16 (Soldiers with red berry compote and vanilla parfait), is everything you would want to eat on a cold winter night (or a crazy cold summer night in Melbourne) sitting by your grandmother's fireplace in a cabin in the middle of the flat plains of Denmark for breakfast, lunch and dinner!
The berry compote works so well in cutting through the heaviness of the cream and soldiers. Imagine this as a very thick, yet very light and creamy pancake served with ice-cream and berries. What it actually is, is sourdough soaked in egg and milk… sinfully delightful!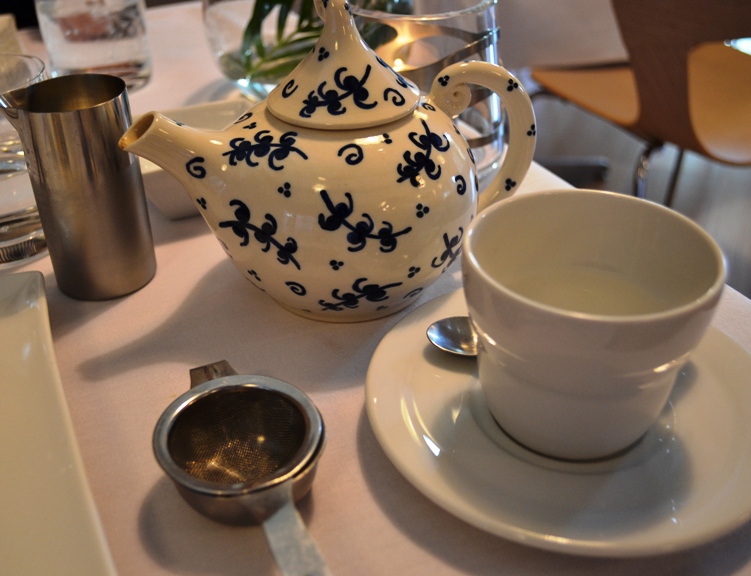 To finish up, the Boy ended it with an English Breakfast Tea, which arrived in a very cute teapot!
It was a bit sad to see that on a Saturday night, the restaurant was empty bar one other couple dining two tables away from us.
Would I come back? Definitely! I would like to learn more about Danish cuisine and try the smorgasbord! But first, I need to become a member.
Did we compare this to Noma? What a silly question, of course we did. What sort of a foodie would I be if I didn't even think Noma? However, Dansk has some work to do before it achieves the level (or fame) as its counterpart in Denmark. They will definitely need to improve the quality of their mains. I just think, a little bit more and they may even get a hat!
*Disclaimer: All food ratings are purely based on my own experiences and how I feel about the service, food and quality
Food/ Cuisine: Nordic Cuisine (Modern)
Dining Style: Bistro by day, Restaurant by night
Overall Food Rating (Based on the Dining style): 7/10
Restaurant ambiance: 7.5/10
Service/ Attitude: 7/10 (Minus the missing complimentary bread at the start, our waiter wasn't very keen to explain what the dishes served were. Considering we were the only other customers there, it was a bit bazaar… so I questioned him instead. Maybe the complicated Danish names that have him stumped)
Value for money: 6.75/10 (for a 5 course tasting menu, $95 was a bit steep!)
Address:
Level 3, 428 Little Bourke Street
Melbourne VIC 3000
Tel: (03) 9600 4477
Website: http://denmarkhouse.com.au/cuisine/dansk_restaurant/
Restaurant Dansk is open from
Monday to Tuesday 8.00am to 4.00pm (Kitchen closes at 3.00pm) and
Wednesday to Friday from 8.00am to 8.00pm and
Saturday from 12.00pm to 8.00pm
How to get there: