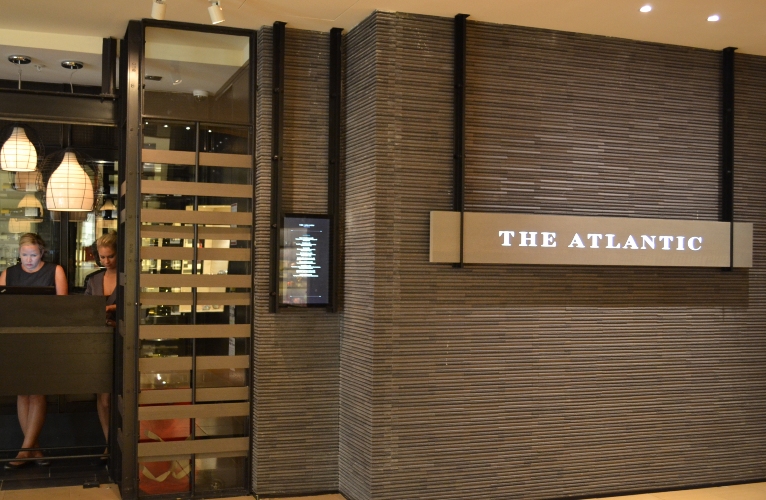 The long awaited splash had arrived. Heralding the triumphant return of Donovan Cooke from lands beyond, The Atlantic is making waves!
After almost a decade, people are still reminiscing the good 'ol days of Est Est Est. There's a great article in this month's (March 2011) Gourmet Traveller called the Est Est Est Effect. Read it.
But this post is not about the past. It's about the present, the now and the very hip new joint… The Atlantic located in Crown Casino.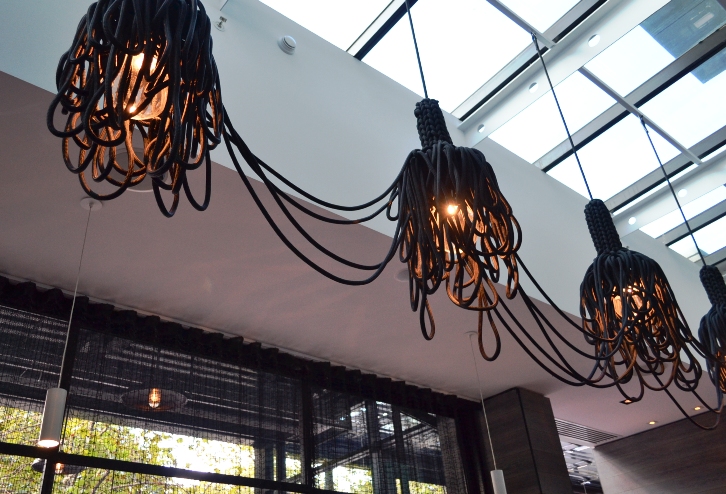 Throwing open its doors last Monday, I rushed to make a booking for its first Friday night voyage. From the moment we walked through the entrance, we were greeted with great service. Professional, tidy and extremely well dressed. We were later told that the uniforms for the women were specially designed and the men were dressed by Rhodes and Beckett.
The decor were of course very nautically themed… from fish net blinds, to panelled partitions and seaweed-like light fixtures, all these little details were soaked up in our reverie.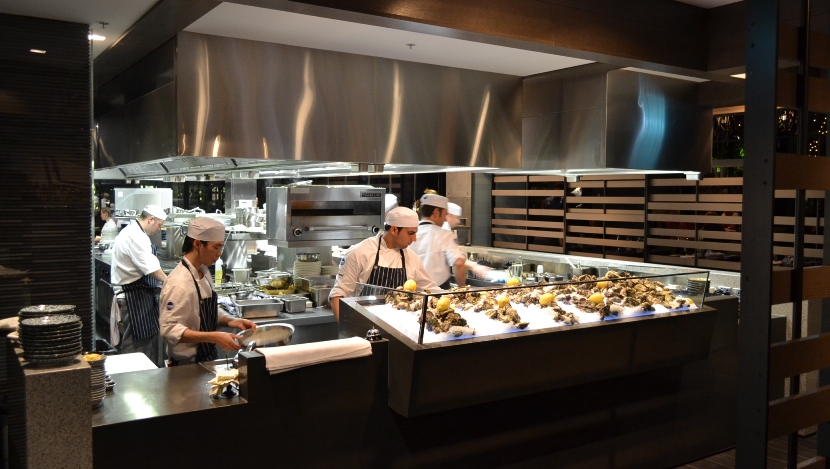 The open plan kitchen where Captain Cooke (Ahh, such witticisms) stands commanding his crew. A wide array of fresh seafood lies waiting, ready for our consumption.
Upon noticing that I was enthusiastically taking photos, our waiter approached us to say, "Take as many as you want!"… How wonderful!!
We perused the menu, and upon discussion and advice from our waiter, decided to order 2 entrees (hot and cold) and a main to share.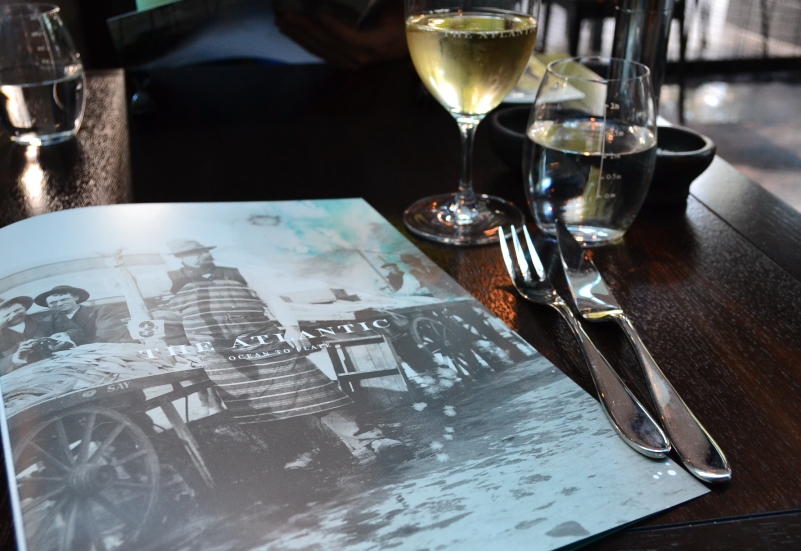 And thus, the first dish presented to us was the Atlantic Seafood Cocktail $32 with prawns, bugs, crabs, Iberico Gran Reserva ham, scallop, rockmelon and apple.
I figured this would be a wonderfully light and refreshing start to our dining experience here. And it was… amazingly fresh with great textures…my favourite element of the dish was the rockmelon jelly… so light and delicate (some may argue that it was too light, but I like to think that it was meant to be, as to let the freshness of the seafood play centrepiece).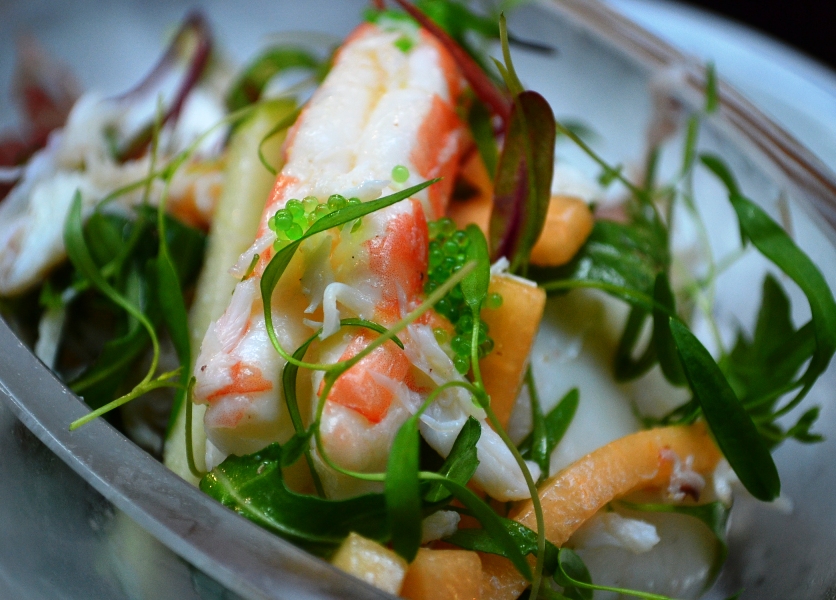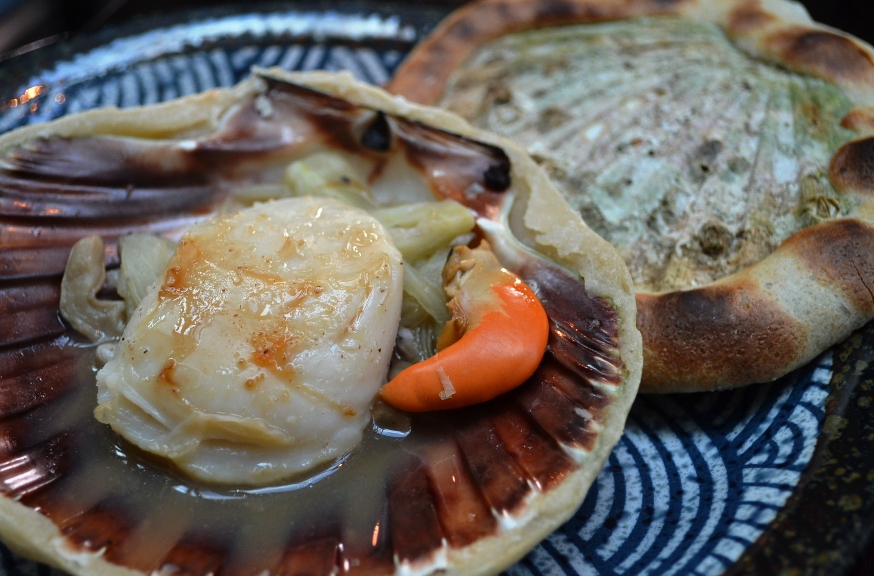 My other half, being unable to resist the temptation to order his favourite seafood, decided for us to share the amazingly large Baked Scottish Sea Scallop $35. Cooked with leek, fennel, oyster mushrooms and Tasmanian truffles. You may gasp to think that for one scallop, $35 is a huge amount of money.
When it was served to us, I could help but think that it was by far, the largest scallop I'd ever eaten! Taste-wise? Delicious. Value for money? Maybe not quite. But it was still good.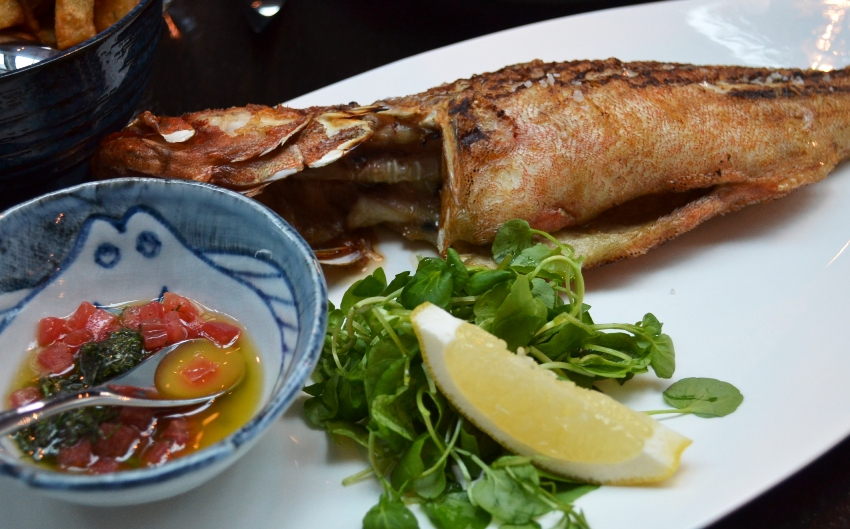 For our main, we decided to have a whole fish! On the bone! Why else would you come to a seafood restaurant and not eat a whole fish? So we ordered the Coral Trout (Maryborough, QLD) Market Price cooked wood fired and served simply with lemon and olive oil.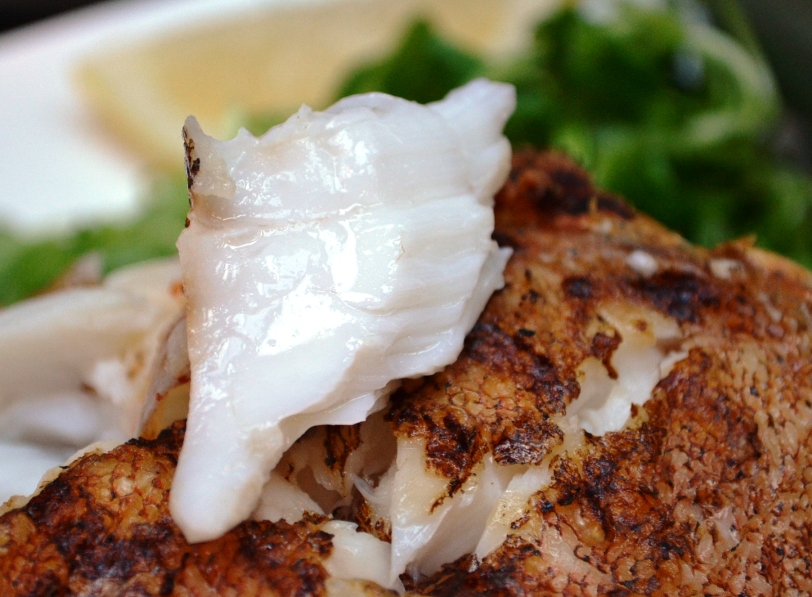 The wonderful juicy flesh of the fresh Coral Trout with its succulent meat white as snow (the Boy is sitting behind me and drooling whilst I am typing this sentence)… with a hint of smokiness from the Ironbark wood used.
Who would have thought? That we'd be able to dine on such fresh seafood in the metropolitan area?
The fish, I must admit was quite a large catch. It took all of our dedicated tummy space to finish it off, and finished it we did!
We also ordered the Thrice Cooked Russet Potatoes $12 cooked simply with rosemary, garlic and sea salt. It was so tasty and crisp, the best potatoes that we've had in a long time (the last being the Duck Fat potatoes from M.O.O)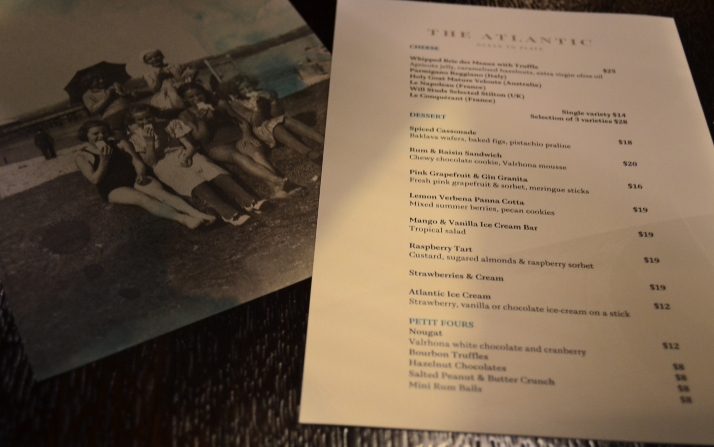 The wonderful General Manager, David Gray (previously of Manly Pavillion in Sydney which won SMH's Best New Restaurant 2011) cleared our table away and enquired how we were enjoying our night.
Upon his suggestions, we decided to go with dessert. As much as I coaxed and teased, the Boy would not let me order more than one dessert (apparently he was full, MEH!)…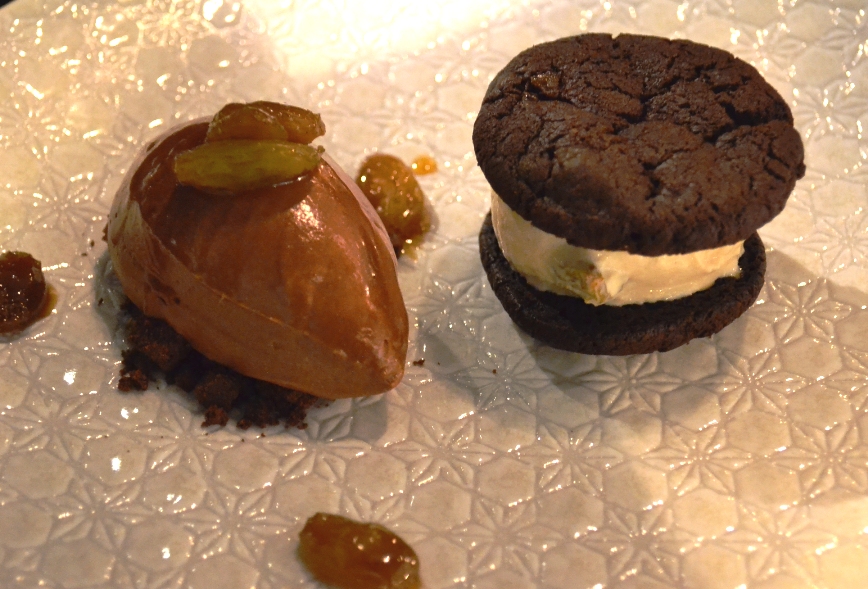 So, as a concession (and I think to keep me quiet), we ordered the rich Rum & Raisin Sandwich $20.
In case you are wondering what is a Rum & Raisin sandwich…and I couldn't be that cruel to leave you hanging on the line (another seaworthy reference!!! I amaze myself)…
This deliciously strong dessert is assembled with chewy chocolate cookie and Valrhona chocolate mousse. Mind you, the first spoon of the ice-cream is akin to taking a shot of rum…
So delicious… and the sultanas just gave it another dimension.
And then… as we asked for the bill, we were introduced to the wonderful bar and lounge area in the secret depths below… The Den!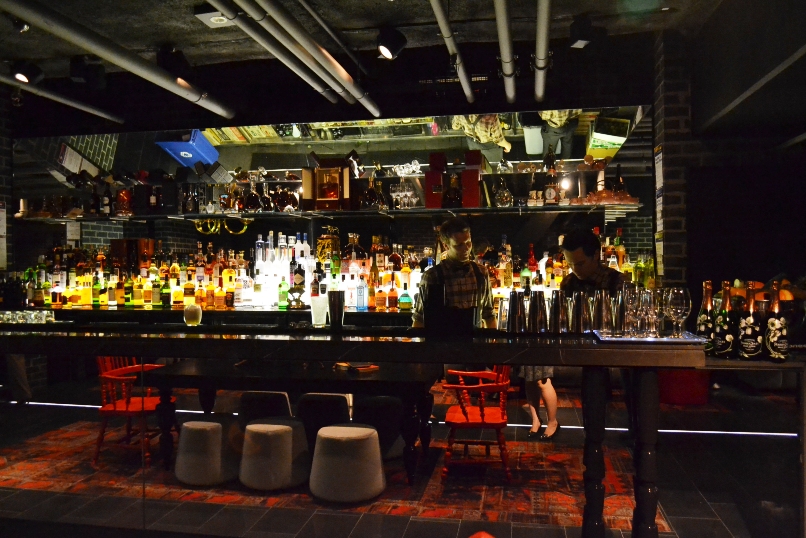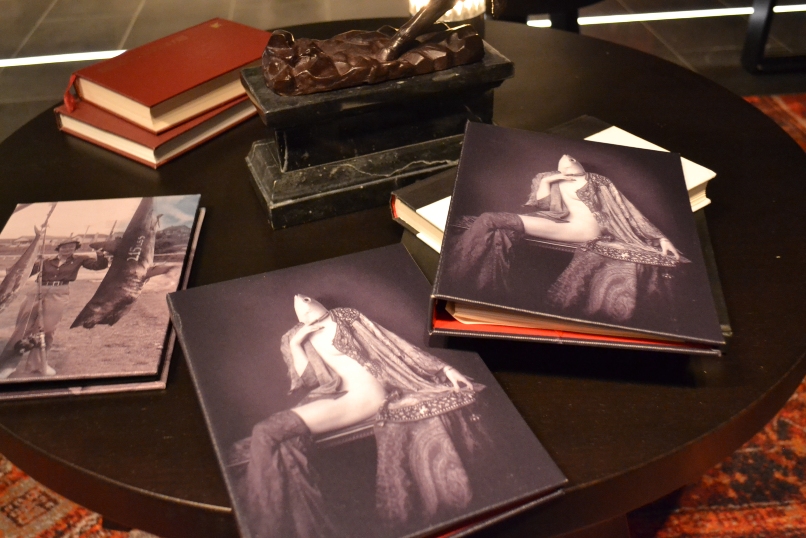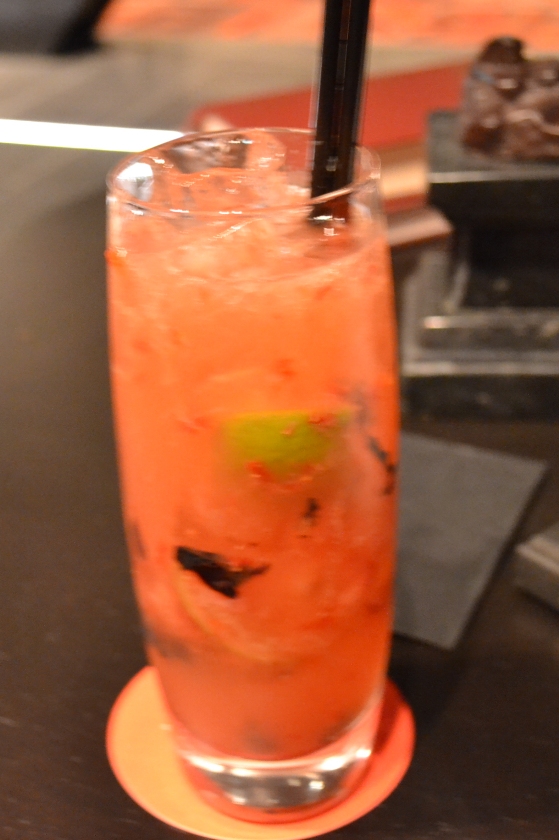 The Den was an amazing surprise. Upon entering, my first thought was that I had walked into a stately gentlemen's home in England from the 1930's.
With beautiful rustic chairs placed together with comfy sofas, bookshelves and coffee tables piled with beautiful leather bound books, fireplaces hidden between supporting beams, again the details of this place made it quite an enjoyable experience.
There were antique phones, old accountant lamps (the green shaded ones), antique clocks, a baby grand piano, I just felt like I had stepped off ship and straight into a setting for a muder mystery novel complete with hidden objects and private detectives.
I think Poirot would feel quite at home here.
For my cocktail, the bartender whipped up something special for me, as I wanted to have something sweet and fruity.
So I had a cocktail of vodka, strawberries, blueberries, raw sugar, mint, lime and wine (I think)… and it was exactly what I wanted.
A perfect finish to a perfect night.
Would I come back? Yes. I do want to try the degustation menu in the private dining rooms.
So my dear readers, can you count the number of "sea" references I have written in this post alone?
*Disclaimer: All food ratings are purely based on my own experiences and how I feel about the service, food and quality
Food/ Cuisine: Seafood
Dining Style: Fine dining/ Fish brasserie and oyster bar
Overall Food Rating (Based on the Dining style): 8/10
Restaurant ambiance: 8.5/10 (we had a fun night being seated right next to the kitchen area, where we could hear orders being relayed to the kitchen crew all night long, so just a note, this is not a quiet spot, but it made up the whole experience for us)
Service/ Attitude: 9/10
Value for money: 7.5/10 (Being located in Crown, you will need to expect that the prices are on par with the rest of the restaurants here. Saying that, our whole fish only set us back $75, but trust me.. that fish could feed a good 3-4 people with the usual sides and entrees!)
Address:
Tenancy 18 & 19
Crown Entertainement Complex
8 Whiteman Street
Southbank VIC 3006
Tel: (03) 9698 8888
Email: [email protected]
Website: http://www.theatlantic.com.au
At the moment, The Atlantic is open daily for dinners only (6pm-11pm) until 18 April 2011.
Please visit their website for updates and more information.
How to get there: