One of the main attractions for the Boy and I at the Good Food & Wine Show (GFWS) is the celebrity restaurant located smack bang in the middle of the GFWS exhibition.
At last year's GFWS, we were able to try food from the highly anticipated duo of judges from Masterchef fame, Gary Mehigan and George Colambaris along with Shaun Bowles and Pete Evans.
This year, it the focus was going to be slightly different.
It would be on two very personable ladies who won many hearts in the first two seasons of Masterchef.
Yes, you guessed right!
Instead of 4 celebrity chef's signature dishes, this year we were treated (I saw treated, but we really paid a bomb for it) to Poh's and Marion's food. Neither one owns a restaurant at the moment, but both highly talented have their own cooking show (Poh) and editorial spread (Marion) as well as cookbooks and products to boot.
Being a great fan of both these girls, I was more than happy to splurge on a few of their dishes.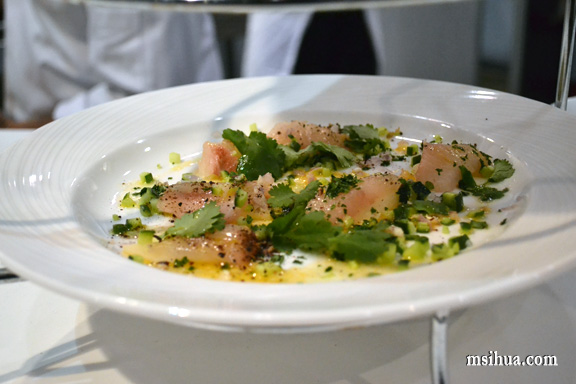 Poh's Kingfish Carpaccio ($16.00) – wine matched with Oxford Landing Estates Sauvignon Blanc.
Pretty isn't it? We didn't actually eat any part of this dish, it was being prepared for another customer and we took a quick shot of it.
What we did try was Marion's Confit Duck with Star Anise Sauce and Mash ($24.00) – wine matched with Oxford Landing Estates Merlot. I thought the duck was really tender, but wondered where my star anise sauce and mash was. It was completely MIA from this dish.
Instead, it was replaced by slow roasted potatoes seasoned with black pepper and cranberries from the duck. I was a tad disappointed as no one at the counter mentioned anything about the switch nor were there any notice on any of the signboards notifying customers of the replacement.
The overall dish was good, but I couldn't help hankering over my scammed potatoes.
We also tried Poh's Dong Do Pork with Chop House Fried Rice ($24.00) – wine matched with Oxford Landing Estates Merlot. The pork belly was beautifully seasoned and was really tender and melt-in-your-mouth.
The fried rice wasn't too spectacular, but heck, it's fried rice! The two elements on the dish went well and was really accentuated by the chopped coriander, chilli and fried shallots.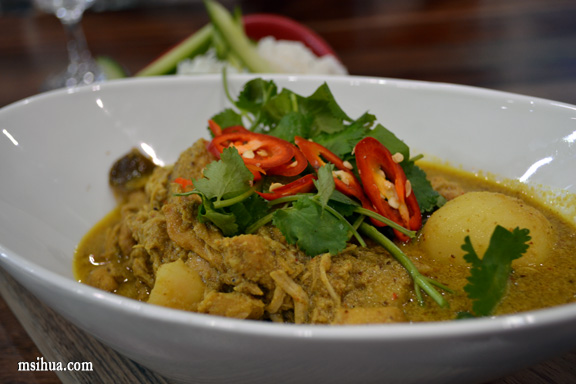 We ordered a serve of Poh's Nonya Chicken Curry with Steamed Rice ($24.00) – wine matched with Oxford Landing Estates Shiraz as well to try and I must say, we were quite blown away with this curry.
Wonderfully seasoned, the tender chicken and potatoes infused with the spices played an exciting dance in my mouth. It wasn't too spicy, but the cut chillis that garnished the dish made up for the lack of spice and provided me with a much needed kick! Malaysians would exclaim, at this point, Syok!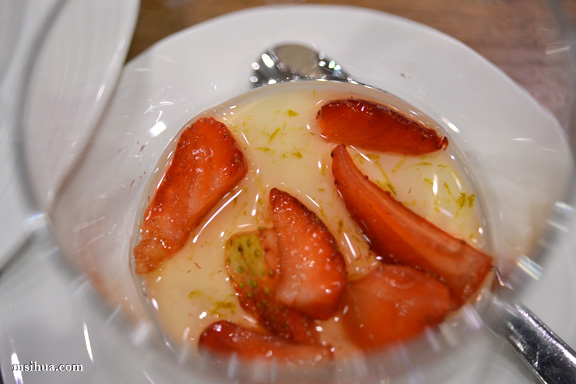 Of course we also had to have dessert. So on we went to order Marion's Kaffir Lime Panna Cotta with Strawberries and Lime Syrup ($8.00).
AH-MAHHHH-ZING!! The subtle yet creamy panna cotta went really well with the sharp taste of the strawberries and lime syrup. The taste of the kaffir lime was akin to the middle-man, helping the two flavours combine into a delicious mouth watering dessert. I want more of that.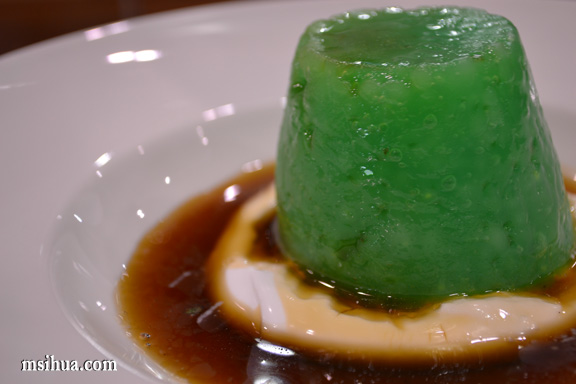 To finish off our extravagant feast, we had Poh's Sago Pudding ($8.00). What I really liked about this dish wasn't in it's presentation. You can really only do so much with sago.
What I liked about this, and what made it unique from other types of sago pudding dishes, was in the coconut milk component of the dish.
The coconut milk or cream (I should say) was made texturally like soft tofu. More like tau foo fah. Creamy yet solid. I'm not sure if that was the original idea, but I really liked it. Very different.
So what did I think of the dishes served this year compared to last years?
It was very different. I can see why both Poh and Marion were such strong contenders in the Masterchef series.
But were the dishes better than their masters (so to speak)?
I would say, that you can't really compare them. They are very different types of food. Where Gary and George's food are very strict in their cuisine (as in, English and Modern Greek), Marion and Poh's were more fusion-esque food.
Would I be attempting any of these dishes from the cookbooks? I have from Poh's books. We tried her Dong Do Pork Recipe, which was really delicious and mouth-watering. Didn't turn out quite like the one at the show (I think ours was better! 😛 Self praise!!)
Once Marion's cookbook comes out, I'm going to replicate her panna cotta recipe though. That was an absolutely smashing dessert.
Marion's food is from Marion: Recipes and Stories from a Hungry Cook (Published by Pan Macmillan in July 2011)
Poh's food is from Poh's Kitchen and Poh's Kitchen – On the Road (Published by Harper Collins)
[Entry tickets to this event courtesy of Ogilvy Public Relations & GFWS]
Read more about GFWS 2011's Part 1