When my dear BFF was here recently for her holidays, she asked that we take her to places that were uniquely Melbourne.
She didn't want the usual commercialised locations and the usual touristy things.
One of the places I really wanted to showcase to her was Garden Tuscany. I was on a mission to show the many varieties of restaurants and cafes (to both her and her Bubbly Hubbly) that we have here in Melbourne.
Garden Tuscany certainly fit the criteria, and when I brought them there one Saturday morning, they certainly appreciated the magical feeling of dining in such a place.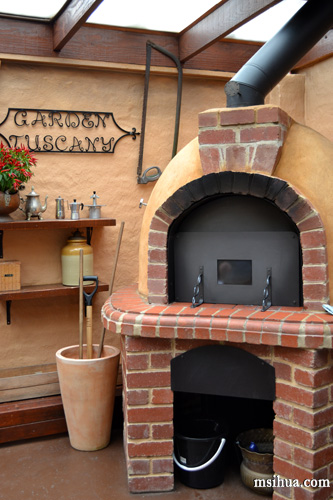 Prior to arriving, I had mentioned to Stella that I'd be bringing guests. Little did I know, Stella having anticipated our arrival, threw a magnificent welcome to us all! She was just so lovely, and took such good care of us hungry diners 🙂
The last time we were here, I missed the opportunity for a picture of the interior of this pizzeria and chocolate cafe. This time round, after friendly chats/tweets with the owners, I happily whipped out my camera and was snapping up everything. Sam, Stella and their son Lance were more than happy to accommodate!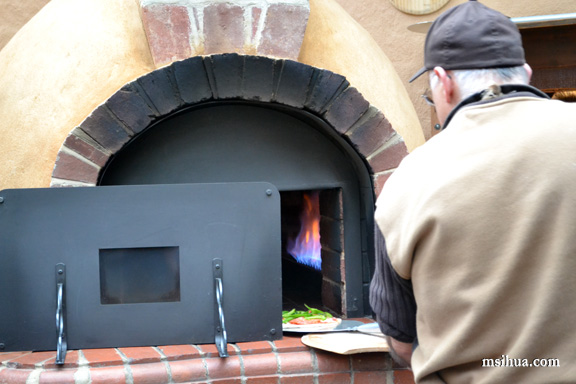 Sam in action 🙂
Potato Pizza ($12.00) & Salami Pizza ($12.00)
I wasn't too sure about suggesting to my friends that we should dine on pizza for brunch. But all of them agreed that pizza in the morning would be a fabulous idea! Hence among the 6 of us, we shared 5 different pizzas and one calzone. Apparently, all six of us had humongous appetites as well, as we polished off all 6 serves!

Salsiccia Pizza ($12.00) & Prosciutto Pizza ($13.00)
Capricciosa Pizza ($12.00) & 'Calzone' Folded Pizza – Ham ($13.00)
My favourite pizza of the lot had to be the potato pizza. That was what I really wanted to try from my last visit, and was so happy that it lived up to my expectations.
We also managed to catch Lance in action behind the coffee machine.
Stella also provided us with complimentary handmade chocolates. Can you guess which was my favourite? Of course, it was the one with chilli flecks all over it!
Stella also insisted that we give the Lemon Cupcake on Pizzelle a try. The pizzelle wasn't really what I expected at all. It reminded me of an egg biscuit dusted with icing sugar. Very interesting.
One of the nice things about Garden Tuscany is that they embrace the social media marketing tools. Check their website for latest promotions and new items.
To finish off our rather heavy breakfast, we ordered two serves of the Churro Doughnuts (six for $6.50). I know, what were we thinking right? We should have gone ahead and ordered 3 serves!!
It was a beautiful morning capped with beautiful friends, food and hospitality.
[Hand made chocolates and lemon cupcake on pizzelle were served complimentary by Garden Tuscany]
*Disclaimer: All food ratings are purely based on my own experiences and how I feel about the service, food and quality at the time of visit
Food/ Cuisine: Italian & Speciality Chocolate
Dining Style: Cafe
Overall Food Rating (Based on the Dining style): 8/10
Restaurant ambiance: 9/10
Service/ Attitude: 8/10
Value for money: 8/10
Address:
32 Young Street
Moonee Ponds VIC 3039
Tel: (03) 9375 2896
Website: http://www.gardentuscany.com
Garden Tuscany is open from
Tuesday to Saturday from 9.30am to 3.00pm
How to get there: