I really wanted to start this post by writing something do to with rap music. I really wanted to start out by busting a chorus from Dr. Dre. But I just couldn't.
I can't draw on any similarities about D.R.E to Chez Dré, because apart from the name, there really isn't much in common between the two.
One is a famous rap artist and the other, a qualified pastry chef who's making waves in the Melbourne dining scene.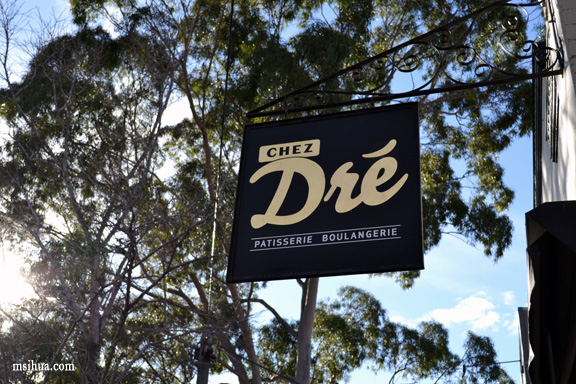 One early Saturday morning (we're talking 8.00am here), the Boy and I decided to drop by South Melbourne to pay Chez Dré a visit. We are hardly ever in that part of town and decided to do some shopping as well, whilst we were there. The sun was out and the birds were chirping. Parking was proving to be difficult with the early South Melbourne market crowd swooping in. However, we were lucky enough to find a nearby spot (someone had just backed out) and we skipped happily along. Fine, I skipped and the Boy looked on bemusedly at me.
So on we walked in, past the big black metal grilled gates, and the warm inviting wooden doors (there was a sign on the door saying that it was Open but due to the cold winds, the doors were closed).
We were greeted by smells of pastry baking and coffee freshly churned out by the barista. And I must say, those two are the most heavenly combination of smells that one can have in the early morning 🙂
I was quite excited, so much so, that right after we were seated, I jumped right back up to the patisserie end of the cafe to take pictures of their pastries and sweets. I excitedly gushed to the Boy, that there were SEVEN macaron flavours. Not one, not two… but SEVEN!
However, I couldn't stay distracted for long as our breakfast and drinks had arrived!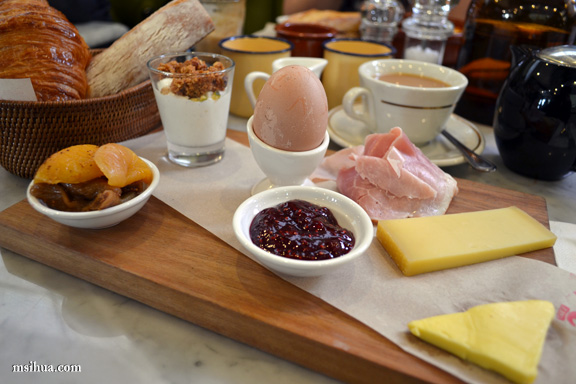 The Boy being greedy, opted for the Chez Dré Breakfast Platter ($18.50): Smoked ham, Gruyere cheese, Boiled egg, Poached fruits, Vanilla yoghurt with granola, Raspberry jam, Butter, Croissant & Baguette. When it arrived, I just thought, "Oh my, that is a lot of food!"
Amazingly, the Boy went through it all, although I did eat all of the Granola and frothed yoghurt on his behalf. It was sooooo good. Next time, I'm going to order the yoghurt!
I on the other hand (or what I thought at the time), ordered the more modest serving of Moroccan Style Baked Eggs ($17.50): With Herb lamb sausages, Minted yoghurt and warm baguette.
The cazuela (terracotta) dish was mid-sized and thus had a generous amount of food on it. The reason I ordered this dish is because I am a big fan of lamb sausages, and to discover that it had been embedded with mint, was a delight. I love mint! The Boy hates mint, which makes it all the more sweet, as I could happily eat it without having to bother about him!
For drinks I had both the Latte and Piccolo, which had a wonderful creamy texture to it. It's not as smooth and oak-y full-bodied as the ones from Seven Seeds and Dead Man's Espresso, but it was still good coffee. What I really loved about the barista staff was that every time they had coffee to serve, the barista would play a tune on the little xylophone on the counter. When the staff came to pick the drinks to distribute, they would play the reverse tune on the xylophone. So very cute 🙂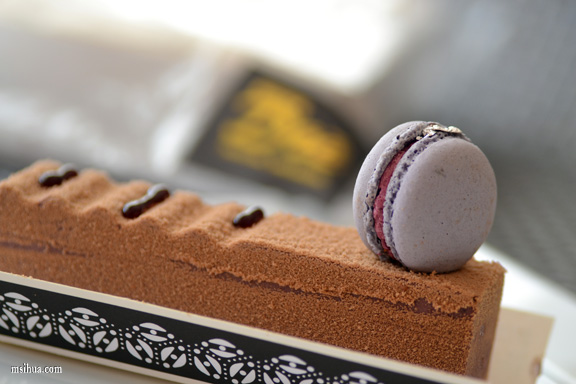 Once breakfast was out of the way, I hurriedly pulled the Boy to the sweets counter. I wanted MACARONS, and I wanted them IMMEDIATELY. Somehow along the macaron shopping spree, I was sidetracked and bought two other desserts to try.
We bought the Milk Chocolate Mousse, Blackcurrant Cream, Hazelnut and Almond Praline ($8.50). I had actually thought that this would be quite a creamy dessert due to the milk chocolate mousse description, and wasn't too keen on it. The only reason I got it was because it had such a pretty macaron sitting on top of it (I know, I judged a book by its cover).
But, when we took it home and had a taste of it, I was instantly sold on the taste. What I thought to be extremely creamy and sweet, was actually really light and airy and full of berry flavour. The hazelnut and almond praline provided a wonderful crunchy texture and together, all three flavours really gelled.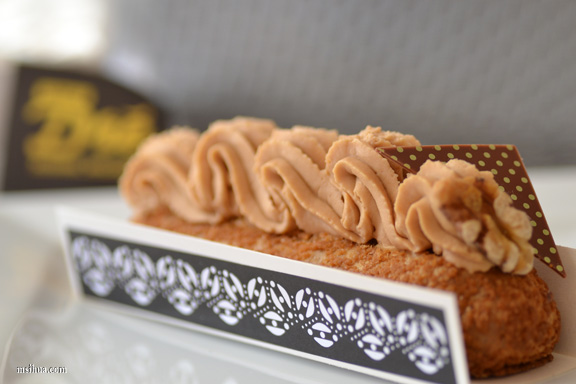 Having read about the eclairs from other food blogs, we decided to buy the Salted Butter Caramel Eclair ($7.50) to try. Although the eclair pastry was really light and delicious, I was slightly disappointed with the salted butter caramel. It just wasn't salty or caramel-y enough for me. However, that's just my personal opinion. I really really like sweet caramel with full salt bursts in them.
I would have bought the chocolate eclair instead but decided to go with something new and different. Oh well. It did look very pretty (and there's always the next visit to try the rest of them!)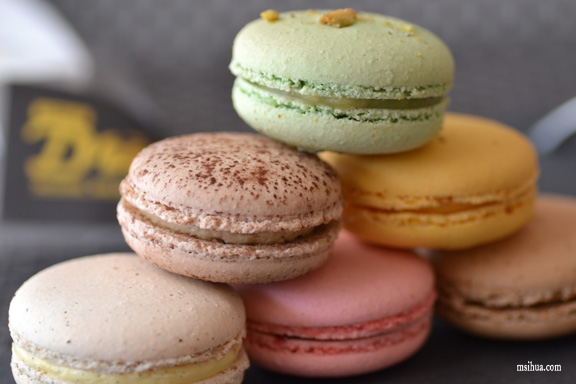 Now on to the Macarons!!! Priced at $3.00 each, they are fairly large in sized. I would say they would be similar to the sizes of Lindt macarons. We tried the Pistachio, Cafe Au Liat, Passionfruit-Lemon, Vanilla, Raspberry, Salted Caramel, and Chocolate flavour.
Our favourites? Well the Boy and I couldn't come to an agreement. I was stuck on Pistachio and he was adamant that the Salted Caramel was the best of the lot.
My justification for choosing the Pistachio was slightly skewed on the fact that it is just really that hard to find good tasting pistachio macarons. It wasn't too buttery, or too sweet and it tasted like pistachios. Brilliant! It may sound like a simple feat, but trust me, I've eaten my fair share of macarons pretending to be pistachio in flavour but were really just almond meal and colouring.
The Boy on the other hand loved the sweet and salty tang of the Salted Caramel. Indeed, what the eclair lacked in the salted caramel, was definitely packed in a pretty punch in the macaron!
We did both come to the agreement that our second favourite macaron was the Vanilla. I know, I know, it doesn't sound spectacular but it really was full of flavour. And I don't even like vanilla all that much!
All the macaron flavours were pretty safe (I've had some doozies from say, Zumbo before), and I was actually quite happy to have safe classic flavours. All of them were delicious, and I can't wait to go back for more flavours!
So, if you happen to be in South Melbourne, don't forget about Dre.
*Disclaimer: All food ratings are purely based on my own experiences and how I feel about the service, food and quality at the time of visit
Food/ Cuisine: Breakfast and Patisserie/Bakery
Dining Style: Cafe
Overall Food Rating (Based on the Dining style): 7.5/10 for breakfast and 8/10 for desserts (cakes and macarons)
Restaurant ambiance: 8/10
Service/ Attitude: 7/10 (Service was good, however once we had placed our orders we realised that no one had actually spoken to us about the specials of the day, which really annoyed me because every other table next to us were informed of the specials! Grrrr 🙁 )
Value for money: 7.25/10
Address:
(Rear) 285-287 Coventry Street
South Melbourne VIC 3205
Tel: (03) 9690 2688
Website: http://chezdre.com.au/
Chez Dré is open
Monday to Sunday, 7:30am to 5pm

How to get there: