I have a confession to make.
I like pizzas. I really really like pizzas. From the youngest age when I was allowed to play in the kitchen, I remember making all sorts of "pizzas" in the toaster oven.
I would put cheddar cheese and ketchup on white bread and toast it. I would add bits of bacon and pineapple on it and have my very own Hawaiian "Pizza".
Of course, these days, I tend to not make them any more (not as often really), and just ring the local pizza delivery when and if I have a craving for it.
Luckily for me, one of my favourite local pizza joints just happen to be Crust Pizza. I've ordered and had them with friends and family. My favourite is the Mediterranean Lamb pizza. We've tried the Mexican Pizza (which has chorizo), and their gluten-free range as well. Yes, they do GF pizzas.
So when I received an invitation to try out their new upper crust pizzas, I couldn't help but to go along. They had magic words in the invitation. Words such as Crust, pizza, NEW!
When I arrived, I was greeted by friendly staff and the marketing team who had organised this event. I noticed that Iron Chef Shellie and My Food Trail were among the guests and quickly chose a seat near them. Which was a great idea, as we were the only crazy bunch with our massive cameras taking pictures all night long. And therefore irritated no one bar ourselves (I hope!).
We were lucky enough to be entertained by Crust Pizza's Creative Chef, Peter Augoustis. Peter ran us through the method of making a proper pizza dough as well as how to make their new Five Spice Pork Belly pizza.
One advise that Peter gave out was that when you are making your own pizzas, you need to make sure that you can see each and every ingredient on it. If you can't, chances are, is that you have way too much food on your pizza, and it'll be too hard to eat.
Not long after, the tasting session began. The first pizza presented to us was the Wagyu Prawn with 4+ marble score Wagyu beef, marinated Tiger prawns, asparagus, red capsicum and shallots (tomato base). It is drizzled with Hollandaise sauce and seasoned with cracked pepper and sea salt.
I didn't get to try this as it had beef, but was assured by everyone that this was delicious (and later claimed the best tasting pizza of the night!). According to Peter, this is Crust Pizza's version of "Surf n Turf" 🙂 April mentioned that the dough was, "Nice and Chewy" whilst Michele proclaimed that this, "Tastes like AWESOME" before devouring the entire pizza (I kid, I kid!).
The Salmon Benedict with smoked salmon, Spanish onions and baby spinach (tomato base) was up next. It was also drizzled with Hollandaise sauce and seasoned with cracked pepper and sea salt.
We also had the Peppercorn Wagyu with 4+ marble score Wagyu beef, asparagus, caramelised onions and toasted pine nuts (tomato base). It was drizzled with peppercorn sauce. Again, I can't comment on this, as I didn't try it out.
For me, the next dish was my most anticipated dish of the night. But sadly, when the Five Spice Pork Belly with 5 spice marinated pork belly and pear slices (tomato base) was served, it didn't quite met my expectations. Topped with wild rocket, crushed walnuts and a balsamic glaze, I felt that the flavours were too heavy on the cinnamon side and that the pear chunks on the pizza was way too big.
At the end of the night, we made a point of telling Peter what we thought of this pizza, and he agreed that the pear should have been sliced thinly instead and thanked us for the feedback.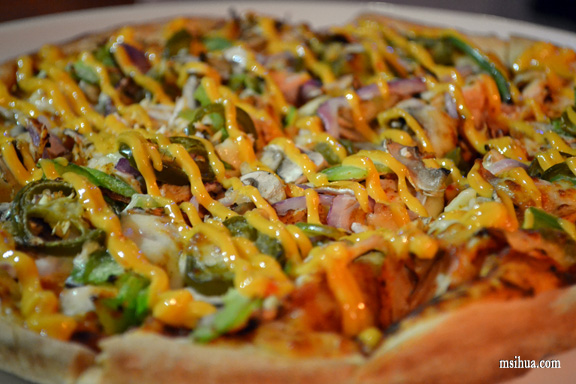 The next pizza, the Cajun Chicken with Cajun spiced chicken breast fillets, Spanish onions, green capsicum, mushrooms and jalapenos (spicy tomato base) was my favourite pizza of the night. Topped with Peri-Peri sauce, it just rocked and rolled my tastebuds.
It also ranked quite highly with the other guests and was a close second after the Wagyu Prawn Pizza.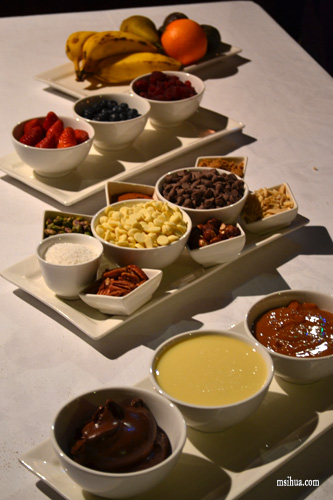 Once the last of the pizzas had been cleared away, the long table in front of us was mysteriously decorated with an assortment of dessert ingredients and fruits. We excitedly asked if we were going to be allowed to make pizzas?
The answer, Yes!
To an extent. We had to form three groups, come up with a team name and design our own dessert pizzas. The winning pizza would be introduced in the next Crust Pizza menu discussion and be in the running to hit the stores menu!
Excitedly, we formed, Team Awesome and somehow, I was nominated as team captain.
Once we were given the word Go! Michele and I decided we were going to go ahead with a Nutella base once we heard that, that was an option.
Together with the other members of the team, we created Nutella Sutra [pic below], which had coconut, Nutella, hazelnuts, banana and strawberries on it. It also tasted DELICIOUS!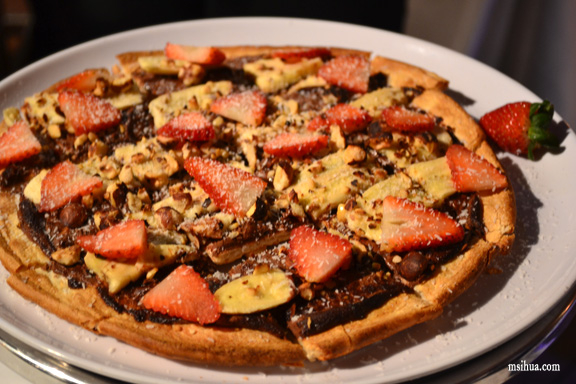 Team 5 Gals and a Guy created a Girl's Night In pizza [pic bottom-right] which had a condensed milk base, topped with blood orange, cinnamon and milk chocolate. This was an interesting flavoured pizza.
And finally, Sweet Treats came up with Bannofee Toffee [pic bottom-left], which was a delicious caramel based pizza topped with banana (caramelised with brown sugar), blueberries, chocolate bits and whipped cream.
Needless to say, they were the winners of the night (after a hilarious Masterchef-esque judging by Peter and his assistant Mahesh).
It was a seriously fun night with lots of laughter, and most importantly, pizza.
I can't wait to order more Crust Pizzas for my next night in!
Other notable pieces of information includes, Crust Pizza's Tick of Approval from the Heart Foundation (on selected items); has gluten-free bases; and is a member of the Coeliac Society of Australia.
They have also recently begun a cheeky new campaign to gain a prestigious Michelin Star! Read more about it here.
And one more thing, they are also in the Entertainment Book, so yayy! More reasons to order out and have pizza 🙂
Some of the other new menu items include: Gourmet Cheese (crumbled feta, gorgonzola & brie on a bechamel sauce base and comes topped with fresh buffalo mozzarella & basil), Pear and Gorgonzola Salad (rocket & crushed walnuts with vinaigrette dressing), Beef Fajita Tick Pizza (Mexican style ground beef, fresh tomatoes, Spanish onions, mozzarella cheese and green capsicum on a spicy tomato salsa base, sprinkled with fresh chilli), Paprika Chicken Tick Pizza (paprika spiced chicken breast fillets, Spanish onions, roasted red capsicum, mozzarella cheese and cherry tomatoes on a tomato base), Mediterranean Vegetable Tick Pizza (grilled eggplant, roasted red capsicum, rosemary potato, mozzarella cheese and bocconcini on a pumpkin puree base), Mixed Leaf Tick Salad (with healthier choice Italian dressing), Italian Tick Salad (mixed leaf, cherry tomatoes & Spanish onions with a healthier choice Italian dressing), Thai Chicken Calzone (chicken breast fillets, green capsicum, cashews & bocconcini on a sweet chilli base, served with a side of mint yoghurt), and Pizza Pockets which are available in BBQ Meat (ground beef, chicken and onions in a BBQ sauce) or Vegetarian (caponata mix of roasted vegetables) and served with a Mediterranean aioli.
For other reviews from the Candlelit Launch Night:
Iron Chef Shellie
My Food Trail
Love Thy Kitchen
[Ms I-Hua dined as a guest and attended the launch of the new Crust Gourmet Pizza menu thanks to Keep Left PR and Crust Pizza.]