Mmmm Cupcakes. That is pretty much the most you'll get out of me if you mention Cupcake Central.
That's saying a lot considering I'm not much of a fan when it comes to cakes and cupcakes in general. But the mere mention of Cupcake Central will have me swooning and pining for their chilli chocolate cupcake. It is just that good!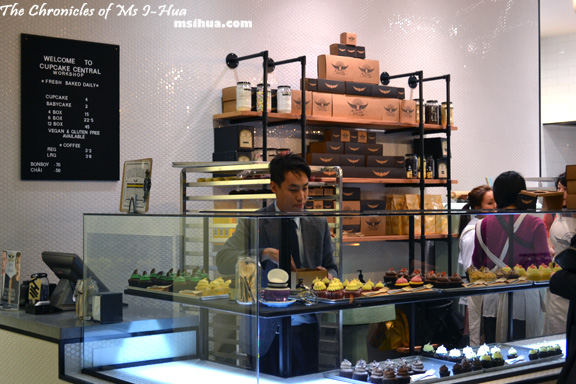 About 2 months ago, I attended a Cupcake Central masterclass hosted by the founder and director Sheryl Thai and her partner Tim. Sheryl's story is pretty amazing and motivating for me. During the GFC, Sheryl was made redundant from her job (just like me *high five* !)
However, rather than feeling down and depressed about life's uncertainties, Sheryl decided to seize the bull by its horn and start a cupcake venture.
She tells us of the times when she would be baking crazily at all hours to get the right cupcake measurements and consistency to achieve the perfect cupcake. She would take notes from everyone and source related baking items if she happened to be overseas.
She started off with catering and orders over the phone. After a while, she realised that she was onto something good and resulted in her first outlet in Hawthorn. Flash forward to 2011, she has just seen the opening of her brand new store in the newly refurbished dining hall of Melbourne Central. The similarity in having the word central is all a happy coincidence.
Now you might want to ask. Why are Cupcake Central's goodies any different from the rest of the other cupcake stores?
Simple really. They bake all their cupcakes in-store on a daily basis. Any leftovers are usually given away to charities. So expect fresh cupcakes everyday.
Every morning around 5.00am, the bakers come in and bake fresh batches of all the cupcakes you see in-store.
They use the best ingredients available such as Nielsen-Massey Madagascar Bourbon Vanilla Extract, Belgian Callebaut Chocolate, fresh seasonal fruits and locally-farmed free range eggs. Sheryl and her team work hard to perfect each cupcake recipe and you can see how passionate they are when they talk about the whole process.
I was fortunate enough to be invited to attend one of their Cupcake masterclass. On the night which I attended, it was a special class for bloggers and food enthusiasts alike. We were split into 3 groups, with each group learning to make either a chocolate, vanilla or red velvet cupcake.
Thanh, Kat, Cindy and myself were chosen to be in the red velvet team. We watched as our baker (I've forgotten his name!) go through the steps of making a beautiful smooth cupcake. The key is really in using vegetable oil in place of butter.  At this stage, we were merely a captivated audience and could only admire the speed and efficiency that went into the baking process.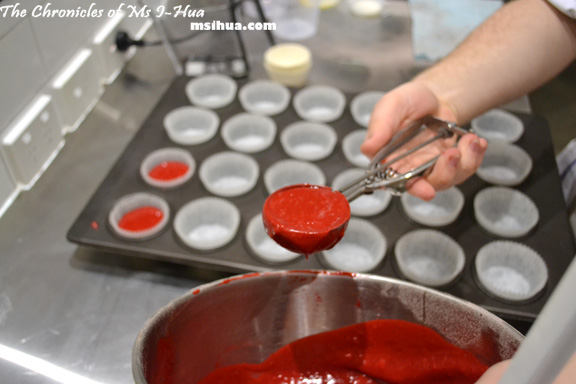 One tip which I picked up on, is to use an ice cream scoop when placing the cupcake mixture into the cupcake wrappers. This will ensure a clean and consistent amount into each and every cupcake!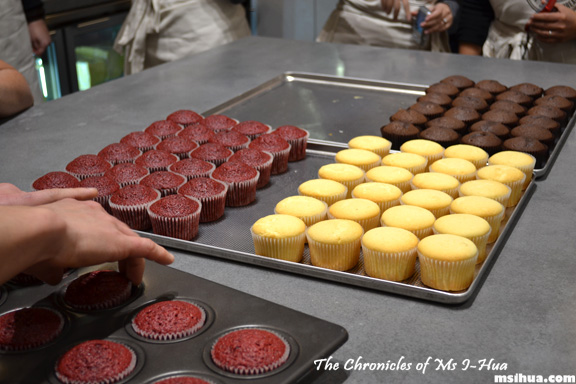 After about 30 minutes, the cupcakes were taken out of the ovens for the next part of the night.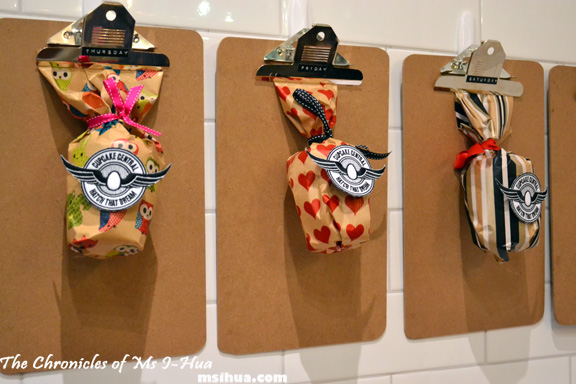 Sheryl then had an announcement to make. There would be a competition! Huzzah, I love competitions! Each team would have to decorate their very own 6 pack of cupcakes and the winners will be the most creative of the lot.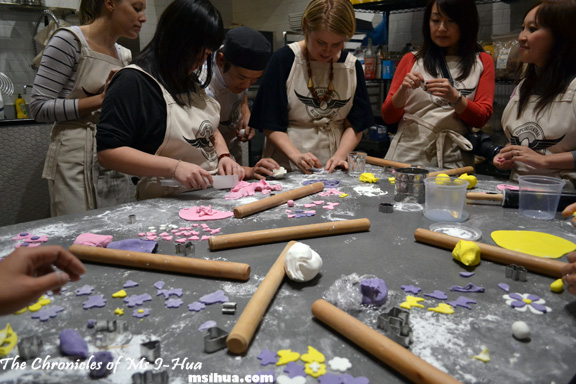 A mad dash and scramble of rolling pins, icing sugar, frosting, moulds, cookie cutters and fondant quickly ensued! Look at us go!
These were my lovely little cut-out fondants. See how professional they look in the box?! (Not really!) I placed a couple of professionally made cupcakes in there to fool the Boy.
Ahh.. if there was any doubt that I could decorate a cupcake, the proof is really in the picture above. I'm not very good at it.
But I am very good at taking pictures of them! See the wonderfully decorated cupcakes done professionally by Sheryl and her team 🙂
At the end of the night, each of us were lucky enough to pick a box of mini cupcakes also known as babycakes to take home to devour. We were also allowed to take as many of the leftover cupcakes the store had been unable to sell. More sugar-filled cheers echoed the kitchen space.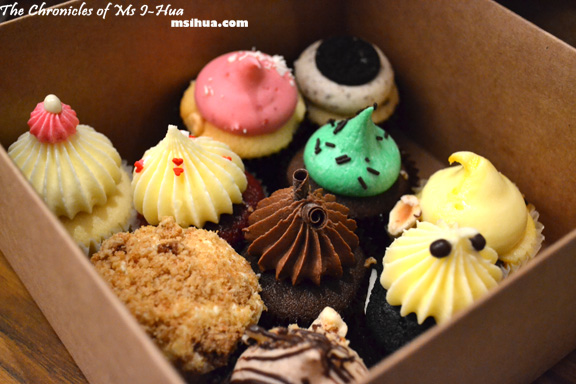 I can tell you, I was very popular at work the next day *wink*
Also, you may be asking yourself, "Who won the competition?" WE DID!! My team totally pawned the other two teams 🙂 Hahahahaha… just kidding! Alright we didn't totally pawned them, but we did win! Yayy!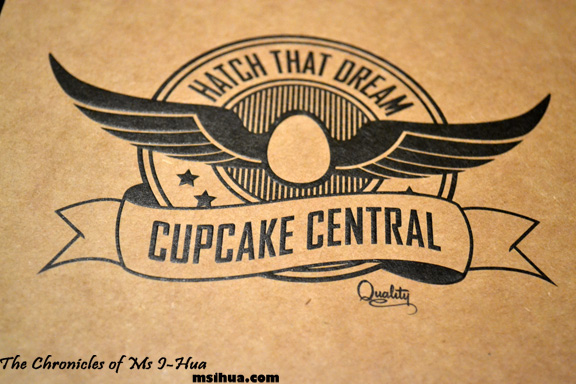 Thanks again to Sheryl, Tim and their amazing team for letting us in to tear their store apart for one night.
I have learnt a valuable lesson. Never give up, and if you dream hard enough, you can "Hatch That Dream"!
[Ms I-Hua dined as a guest of Cupcake Central in their Cupcake Masterclass]
*Disclaimer: All food ratings are purely based on my own experiences and how I feel about the service, food and quality at the time of visit.
Address:
Melbourne Central Workshop Store
Level 2, Dining Hall
Melbourne Central
Melbourne VIC 3000
Opening Hours:
Monday – Thursday, 10am – 7pm
Friday, 10am – 9pm
Saturday & Sunday, 10am – 6pm
Tel: (03) 9077 4542
Email: [email protected]
Website: http://www.cupcakecentral.com.au
How to get there: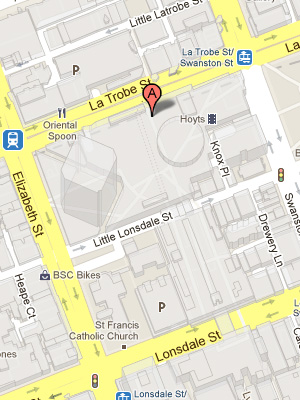 Other store(s):
Address:
Hawthorn Cafe Store
Shop 7/672 Glenferrie Road
Hawthorn VIC 3122
Opening Hours:
Monday – Friday 7:30am – 6:30pm
Saturday & Sunday 10am – 5:30pm