One sunny morning in June (the Queen's birthday to be exact), the Boy and I woke up and could not decide on a location for breakfast (What's new really?)
We knew we had to make a decision fast as we would be hitting the popular brunch hour with the public holiday crowd.
I asked the great wide Twitterverse and a reply came shortly back from Friends of Mine. They were open and were welcoming Queens of all kinds 🙂 I liked the sound of that, and ushered the Boy out the door! He's no queen, but what the heck 😛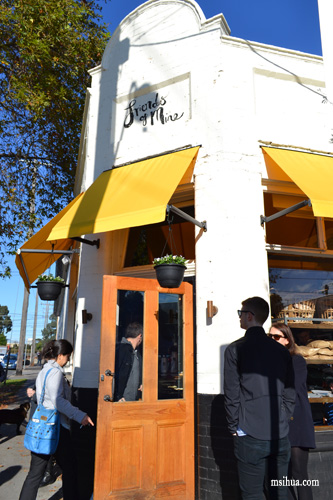 Friends of Mine is another gem owned by Jason Jones, the man behind Porgie and Mr Jones and Snow Pony. Set in the industrial side of Richmond (the other end of Swan Street) it plays with bright colours in an industrial setting. I like how big and airy the place feels. I love the chandeliers that hang from the ceilings. I really liked the vibe.
What I didn't like was the chair I had to sit on. We were ushered in towards the sunshine filled window bench area of the middle room. The chair which I had to sit on was a bit wonky and I had to keep very still as I kept feeling as if I would fall off with any movement.
I like the idea of using old chairs to keep to the architecture and design of the place. I do not like the idea of sitting on a half-broken chair. However, despite my experiences with my wonky chair, I still had an enjoyable breakfast.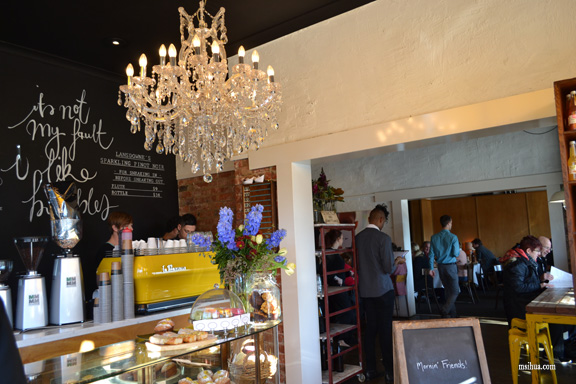 There was a crowd waiting outside before we were seated. The food did take a while to get served, but it was a crazy public holiday, so I could look past that 🙂 We had a nice spot to sit and watch the world go by. The sunlight played havoc with my food picture-taking, but it was a sunny day in JUNE!! That in itself was a miracle and entirely forgivable. I forgive you sunlight 🙂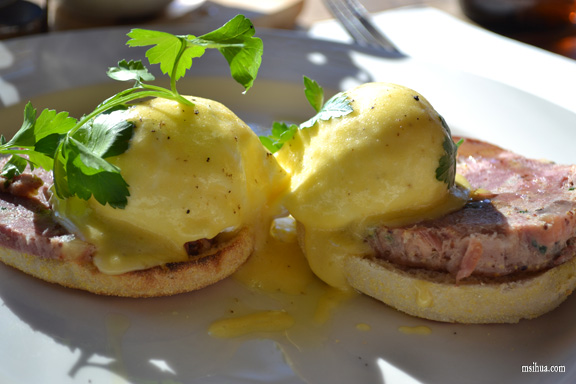 The Boy ordered a serve of Our 'Eggs Benedict' – smoked ham hock terrine, poached eggs, English muffin, hollandaise plus basil ($16.90). The smoked ham hock terrine was absolutely smashing. It was just full of flavour.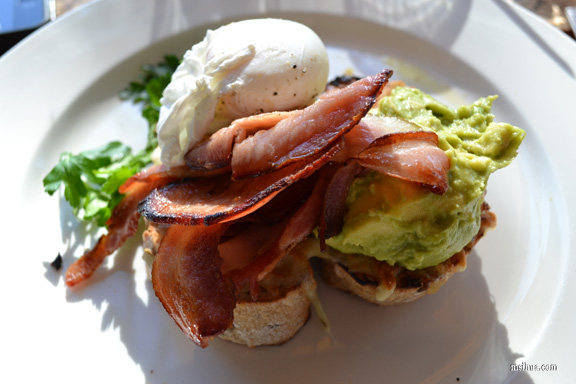 I on the other hand ordered the "Hung" Over – cheesy toast, poached eggs, bacon and smashed avocado ($18.90). I love smashed avocado, but didn't think that this dish was all that different to a big breakfast you could get elsewhere. It was good, but I was having food envy from the Boy's ham hock.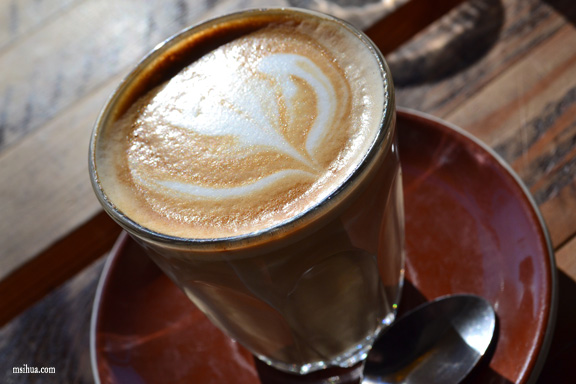 I also had a Latte which was alright. I'm not quite sure where they source their coffee from but it was decent.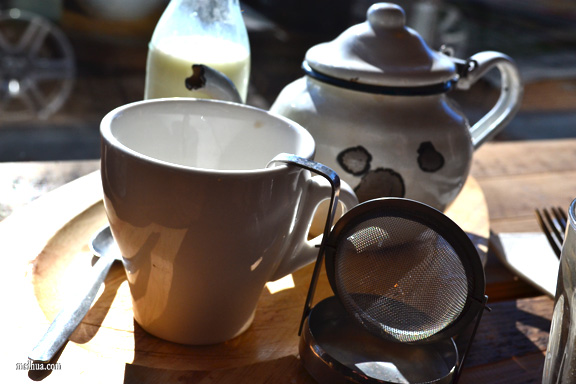 The Boy had his usual English Breakfast Tea.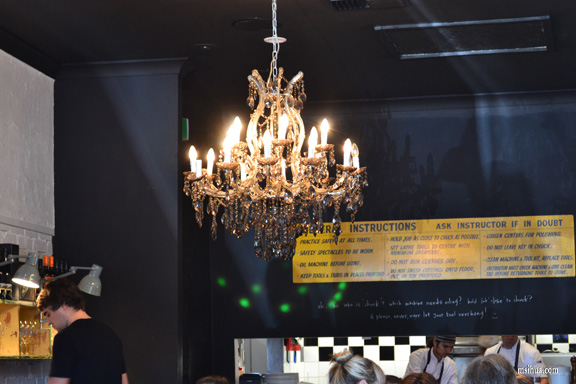 Despite a few minor hiccups, I did like Friends Of Mine. It has a quirky sense of humour that I'm not sure exists in many Melbourne cafes.
What I really liked about them is that their goods are mostly organic and they try to make everything in their kitchens (if possible).
On their menu, it says:
" Our bread is organic from Noisette, our chickens lived a happy life down Gippsland way, our eggs are the best from Shelley + Allan Green, our Mushroom man, Ricard is a legend + we LOVE Tom Cooper and everything he smokes! Our double smoked bacon is from Echuca from free range piggies.
We make everything in our kitchens using as much organic, free range happy and local produce as financially and commercially possible"
Now if that isn't a good enough motivator to drop by and visit Friends of Mine, I don't know what is 🙂
*Disclaimer: All food ratings are purely based on my own experiences and how I feel about the service, food and quality at the time of visit
Food/ Cuisine: Breakfast/Brunch
Dining Style: Cafe
Overall Food Rating (Based on the Dining style): 7/10
Restaurant ambiance: 7.25/10 (all good apart from my chair)
Service/ Attitude: 7.5/10 (everyone we dealt with was delightful 🙂 )
Value for money: 6.75/10 (it is a tad more expensive than other Melbourne breakfast spots)
Address:
506 Swan Street
Richmond VIC 3121
Tel: (03) 9428 7516
Website: http://www.friendsofmine.com.au/
Friends of Mine is open
Monday to Friday, 8am to 4pm
Saturday & Sunday, 8:30am to 4pm
How to get there: