I always say that growing up in Malaysia has made me realise what a lucky girl I am. Surrounded by so many different types of cultures and types of food, I never lacked for things to eat.
One of my favourite dishes to have whilst in school was the Nasi Tomato (Tomato Rice) and Ayam Masak Merah (directly translates as Chicken Cook Red) served in the school canteen.
I can still remember the lovely aroma every Tuesday morning where I would rush down with my friends in tow to be the first in line to savour this dish.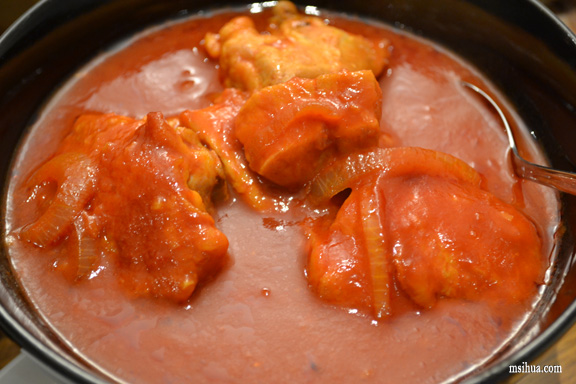 Our school menu worked with a daily ala carte menu, and with a different special dish every day. I can only remember that Tuesdays were Nasi Tomato day and that Fridays were Nasi Ayam (Chicken Rice) day.
This also meant that I would never miss attending school on Tuesdays or Fridays (Madam Mummy, if you are reading this, I was still a very good student 😛 )
So when I learnt how to cook, one of the first things I wanted to get right was the Ayam Masak Merah recipe.
The ingredients are extensive, but the dish at the end of the day is worth all the effort! There are several Ayam Masak Merah recipes out there, but I find that I quite like the one below.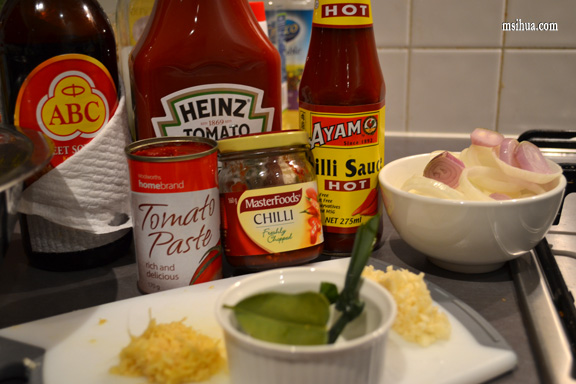 Ayam Masak Merah (Chicken in a Spicy Tomato Base)
(Recipe sourced from Kuali.com and modified)
Ingredients:
1 kg Chicken, chopped (I like to have mine in chunks with the bones still on)
2 Tablespoons of Turmeric Powder
1 1/2 teaspoons of Salt (1 teaspoon for marinating chicken, 1/2 teaspoon for the sauce)
1 cup of Red Onions, chopped
2 Tablespoons of Ginger, grated
4 cloves of Garlic, minced
125 grams Tomato Paste
125 grams Chilli Paste (can be adjusted for spiciness level)
125 grams Hot Chilli Sauce (can be adjusted for spiciness level)
125 grams Tomato Ketchup
2 Tablespoons of Dark Sweet Soy Sauce
1 large Onion (cut into onion rings)
1 teaspoon of Sugar
2 cups of Water
3-4 Kaffir Lime Leaves (you could substitute this with the zest of 1 lime)
2-3 Pandan Leaves, knotted (Screwpine leaves)
Vegetable Oil (enough for frying chicken and preparing the sauce)
Procedure:
Lightly coat the chicken pieces with the turmeric powder and 1 teaspoon of salt. Set aside for 30 minutes to marinate.
Heat a wok or a pan and add enough vegetable oil to pan fry the chicken. You just want to brown the chicken in this step. Once the oil is hot enough, fry the chicken until it turns a light golden brown. Set aside on a rack to drain the oil and cool.
Heat some oil in the wok, add red onions, ginger and garlic. Sauté for 1 minute, add the chilli paste and sauté for another minute.
Add in the hot chilli sauce, tomato paste, tomato ketchup, dark soy sauce, sugar, and salt. Stir until all the sauces are well mixed, add in the kaffir lime leaves and pandan leaves, water and bring to a boil. Simmer on medium heat for around 15 minutes.
Add the browned chicken back in, evenly coating each piece with the sauce, and bring to a boil again.
Reduce the heat to a low and let simmer until the chicken is well amalgamated with the sauce and the sauce thickens (about 25 minutes).
In the last 10 minutes of cooking, add in the onion rings to cook al dente.
Serve hot with tomato rice or white steamed rice.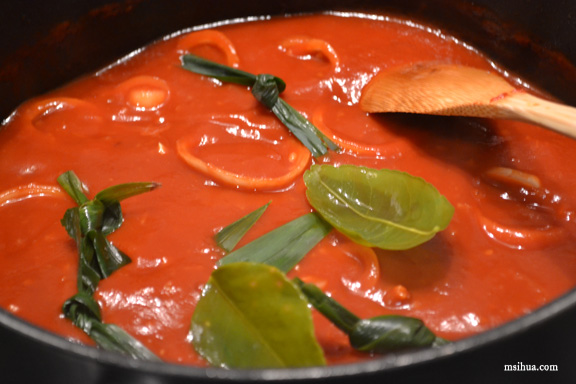 And there you have it. A delicious pot of rich, tangy, sweet, and spicy chicken that will definitely add the spring in your step!
So tell me, fanciful readers, what childhood dishes would you most like to recreate?