Really, the most awesome places to dine at are usually at the oddest locations.
That's how we came across i Spicy.
If you are out looking for cheap, authentic and deliciously mouth-watering Thai food, just head to the nearest Safeway outlet in Hawthorn.
Yes. In the middle of the Hawthorn arcade sits a little cafe painted in bright green and red colours.
Sometime in June, after the Good Food and Wine Melbourne show, a couple of my fellow bloggers decided to pop somewhere for a quick, cheap and delicious meal.
Katspat and April nominated iSpicy. Thanh, Allan and I trudged along warily as we have never ventured there before, but were reassured several times that it was worth the drive and visit.
We left the ordering to Katspat in fear of her "death stare" should we unfortunately order the wrong Thai dishes 😛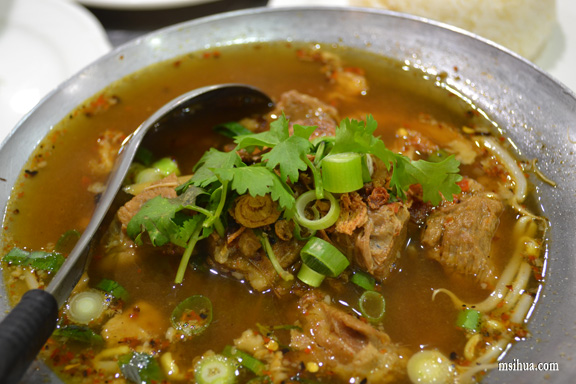 I'm so glad she did, as I could sit back, relax and enjoy all the amazingly good food coming out of the kitchen.
We started out with a rather spicy Tom Sap, which was rich with chilli, lime and pork. Just the way I like it. To me, it was somewhere between a Tom Yum and a Sup Kambing.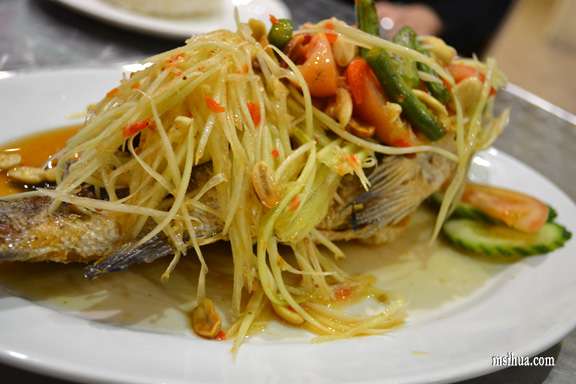 Out came the Deep Fried Barramundi with Som Tam. Another enticing dish and it was very well-balanced. I know, an over-rated and highly used word when defining Thai cuisine, but it really was just perfect.
We also had some Soft Shell Crab, which was okay.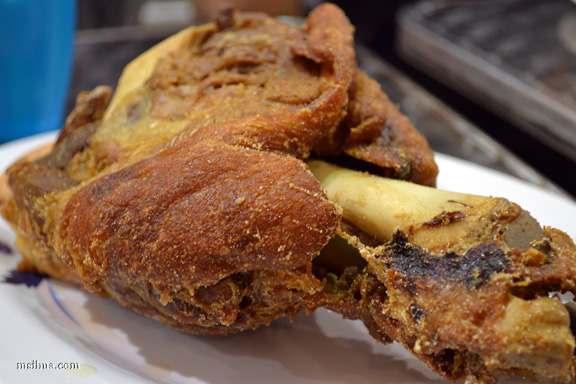 Highly recommended, Katspat ordered the Roasted Pork Shank for us to sink our teeth into. Unfortunately, it was a tad dry, and although Katspat kept saying it's usually more tender and juicy, I probably will skip this the next time I return.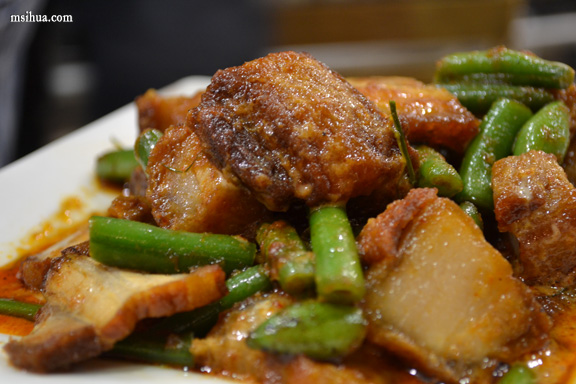 The winning dish for me (and Thanh especially) had to be the Crispy Pork with Red Curry. Everything about this dish was a win.
The sweet, crispy, succulent, and spicy pork belly was just too good.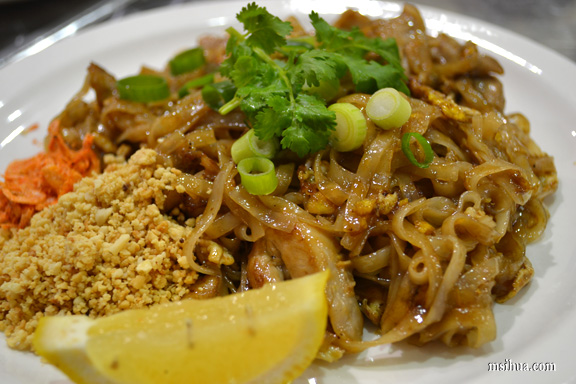 For some reason, we also had a dish of Pad Thai with no bean sprouts. I blame April 😛
It was quite a good Pad Thai, but without the bean sprouts, I just didn't enjoy it as much.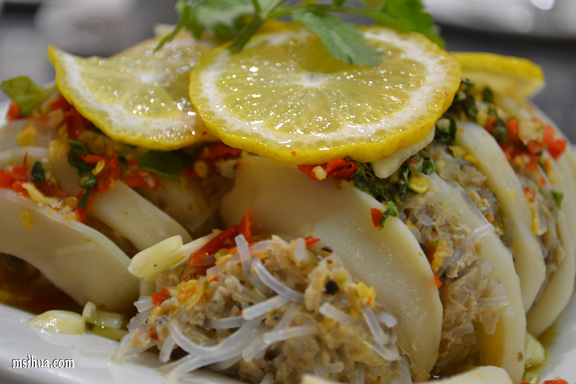 Lastly, we had the Stuffed Calamari Lemon S which was also another fantastic must have from this place.
I'm not quite sure what the S is either, but let's not go there 🙂
I can't believe how much we ate and ordered! More unbelievable is that we finished everything that we ordered.
I guess the good thing about that was that there was no wastage, but once again, I think we over-ate and over-estimated our eating capacities.
Too much "eyes bigger than belly" going on.
But, it was so worth it.
For an alternative review, read Allan's post about it here.
*Disclaimer: All food ratings are purely based on my own experiences and how I feel about the service, food and quality at the time of visit
Food/ Cuisine: Thai
Dining Style: Restaurant
Overall Food Rating (Based on the Dining style): 8.5/10 (would have gotten a 9 if it wasn't for the pork!)
Restaurant ambiance: 6.5/10
Service/ Attitude: 8/10 (they were friendly enough)
Value for money: 8/10 (I can't really recall how much we spent exactly, but I think it worked out to be less than $20 per person)
Address:
Shop 19
674-680 Glenferrie Road
Hawthorn VIC 3122
Tel: (03) 9818 4828
How to get there: