What do you get when you put a bunch of food lovers, free tastings, helpful kitchen products, a Masterchef contestant (or two) and lock them up in a stark white room?
You've got it!
An affair waiting to happen. A foodie affair to be exact!
I was invited by the lovely media peeps from 360 Focus PR to attend a night of debauchery with a few fellow food bloggers a while ago.
It was an invite too good to pass up as the selling point was to see a cooking demo from Marion Grasby! All throughout the week, I constantly reminded myself to bring along Marion's new cookbook for her to sign.
Typically, on the day itself, I completely forgot about it in my rush to get to the event in time. BOO 🙁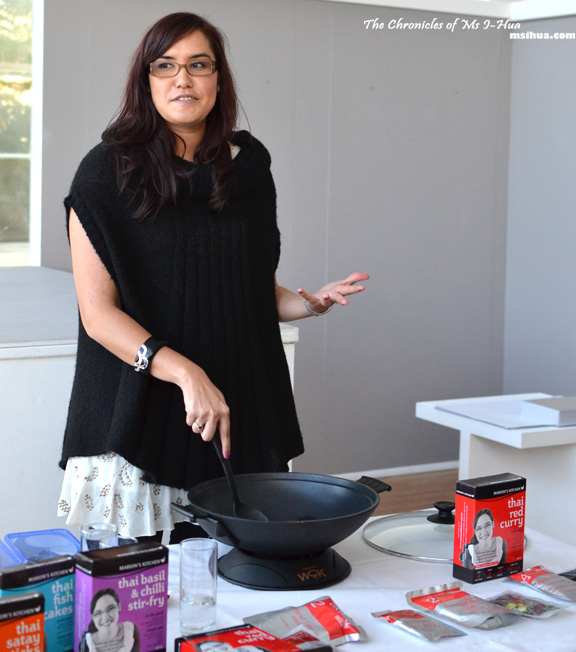 I've been a great fan of Marion ever since she so gracefully accepted her lost in Masterchef due to a certain satay paste challenge. I've also bought a few of her instant sauces/dishes and loved them for their simplicity and deliciousness.
Marion showed us how easy it was to whip-up a Chicken Thai Red Curry and that it'd even be "Daddy/Husband" proof 🙂
I've often come home from work (feeling a bit blue and tired from sitting down facing the computer the whole day) and managed to put up a beautiful Green Curry or Thai Basil and Chicken dish to my hungry tummy's approval in less than 30 minutes.
Now with more and more people suffering from allergies and intolerance to some food products (mostly gluten and dairy products) it is often quite hard to serve up a variety of food at parties without resorting to different colours and home-made signage. I know I often use different containers and different coloured materials to differentiate between food when I have guests with dietary requirements.
Allergy Riders specialises in a food labelling system for allergy sufferers which is great for parties where guests with food allergies and intolerances can easily select the proper food based on the brightly coloured cupcake cups, labels or food flags.
I find that so helpful!
The Cheesecake Shop (the beautiful chocolate cake with the vibrant red roses) I'm sure you've seen them around! Although famous for their cheesecakes, they do have other yummies in store, including a delicious cream cheese filled profiterole which made me go, "Could I have more please?"
At the moment, The Cheesecake Shop is giving a free $5 voucher on your next full cake purchase and $5 birthday vouchers every year on your birthday if you sign up to join Mamuska's Family on their website.
Annabel Trends is definitely setting trends with their bright and bold colours. I love love love their aprons! These would absolutely make great gifts for Christmas.
Cobram Estate provides award wining (over 150 awards) Extra Virgin Olive Oils. If you love EVOO, you should give them a try.
Maille originated from France and has been around since 1747. Famous for their Dijon mustard, their range have increased to include more yummy-licious sauces/dips. My favourite which I tried that day was the Honey Dijon mustard. So good you could almost eat it, on its own 😛
The German quality Fissler has been around for over 165 years and is famous for their Pressure Cooker, Pots and Pans. In the demo, 1 pressure cooker was used to make 3 different dishes which were pumpkin soup (with the help of Bamix pureeing it), mushroom risotto, and chicken fillets.
I want one for Christmas please! Kthnxbai 🙂
Magimix (from France) created the food processor over 30 years ago and still does a damn good job today.
The Swiss Bamix is also another pioneer when it comes to innovation as they were the first to invent the stick/hand mixer.
I had an absolutely fun time with my fellow food bloggers.
Oh yeah, when I told Marion I was devastated that I forgot to bring her cookbook for her autograph, she gave me a hug and took a picture with me instead 🙂 BEAMS!!!
Oh, and one more thing my dear readers, simply visit and "like" the Eat.Drink.Enjoy Facebook page and stand a chance to win a Fissler Price Pack valued at $750!
[Ms I-Hua and the Boy attended the event courtesy of 360 Focus PR]
For other round-ups on this event, please read these: