Folks, I have done it.
I have found one of the best, if not the best macarons in town. In Melbourne. In Victoria.
And I'm not exaggerating.
I've had my share of the good, bad and the ugly (GBU). Sadly, I won't be able to bore you with my GBU report on macarons, but if you are keen, feel free to browse my posts on Zumbo, Luxbite, Chez Dre and Cafe Vue.
Back to the jewel in the crown, the apple of my eye, the filling of my eclair. You get the drift.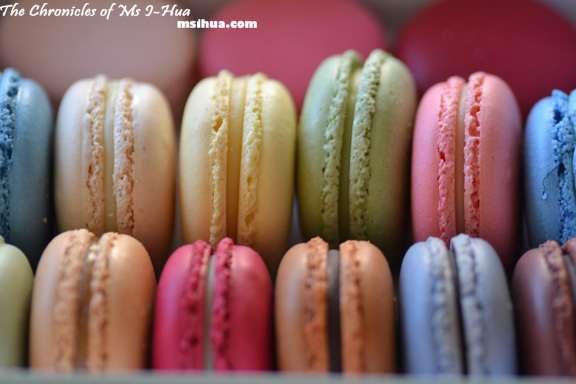 Nestled along Hardware Lane, in between cafes' and good 'ol Maccas, is La Belle Miette. A chic little Parisienne shop that specialises in macarons.
Having found it after walking right past it several times, I bounced up its little steps and froze right in front of the macaron counter. Encased in all their glory, wonderful bright and glossy coloured shells glistened at me.
The first time I was there, I couldn't resist and bought all 15 flavours they had in the shop. I ate them all. Alone.
The Boy having missed out, decided to take me back for round 2 where we bought all 14 flavours (1 flavour was not available).
You might think me as crazy, but really, if one has to properly assess the quality of the product, one has no choice but to try each and every single flavour available.
*Nods head knowingly*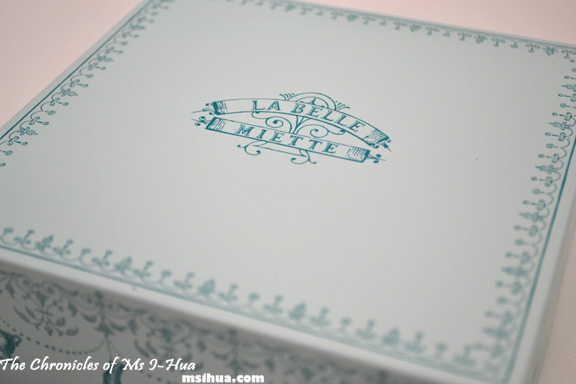 So began the sugar filled week, as I could only eat about 3-4 flavours each day. On the last day, the macarons tasted just as fresh as on the day I bought them, so my satisfaction and appreciation was evenly justified.
I won't bore you with each and every flavour, but I will highly recommend a few flavours which I could go back for over and over again.
Before I do that, I will give you a shot of each individual macaron to tease you (except for the Grapefruit flavour as they didn't have that on my second visit with the Boy).
Pimm's & Pomegranate; and Olive Oil & Vanilla
Caramel a la Fleur de Sel; and 72% Cocoa Single Origin Chocolate (Venezuela)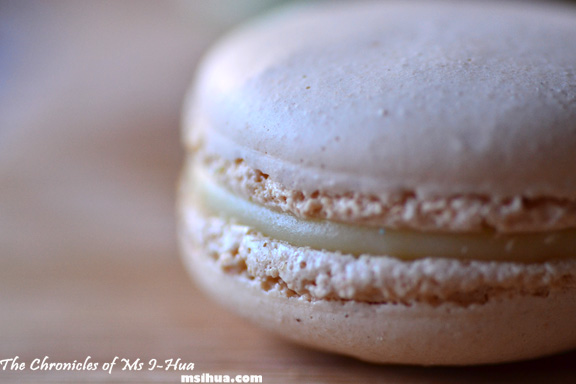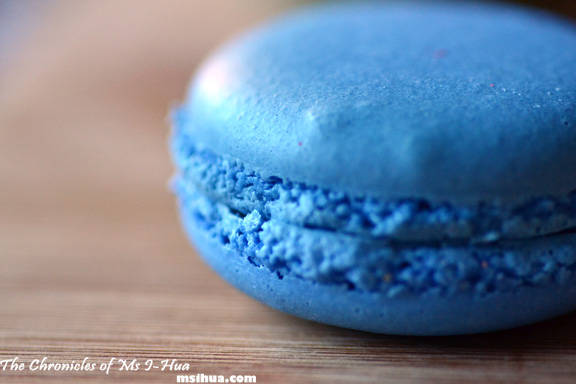 'Bastille' – Moet et Chandon and Blackcurrant; and Violet & Blueberry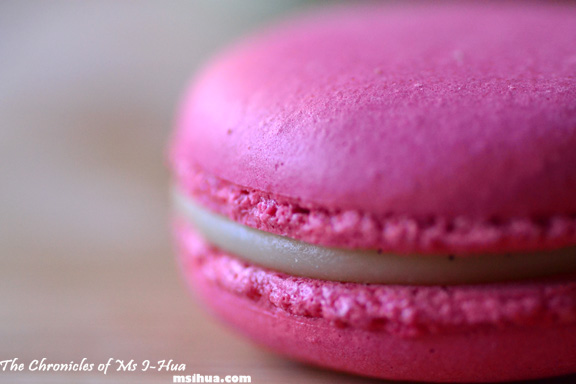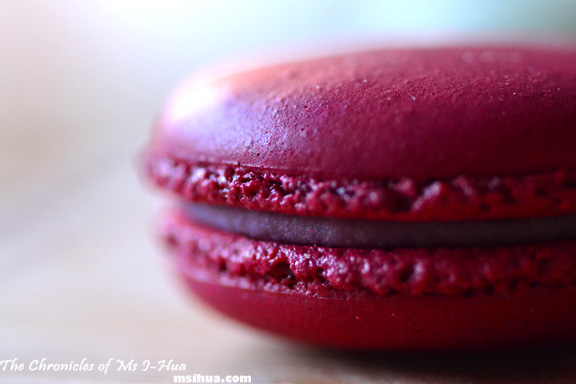 Strawberry & Vanilla; and Raspberry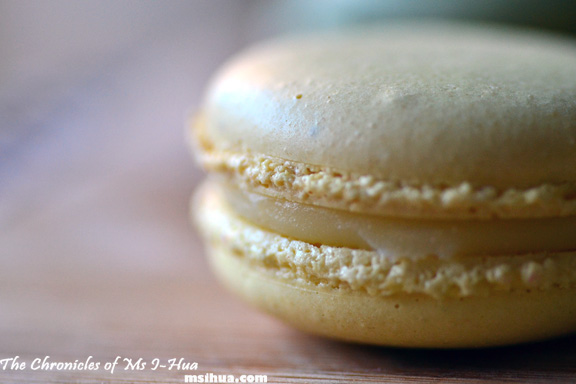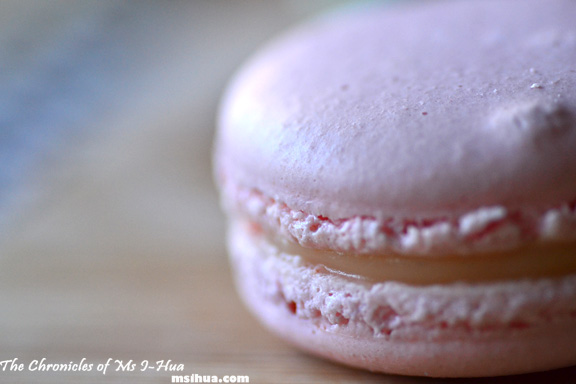 Lemon; and Cherry Blossom & Sake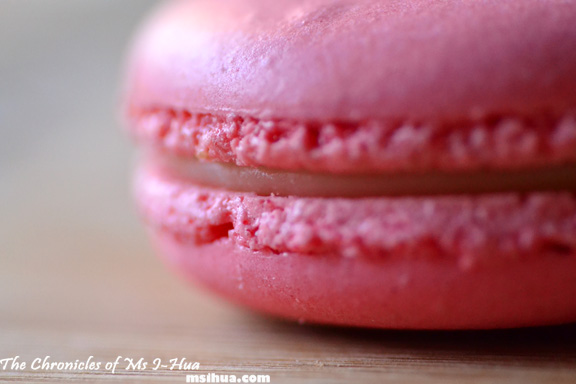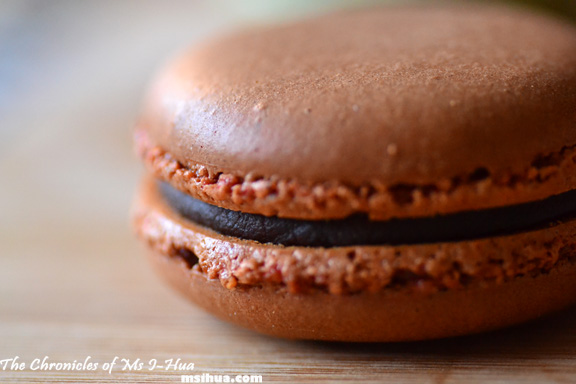 Rose; and Hazelnut Belle Miette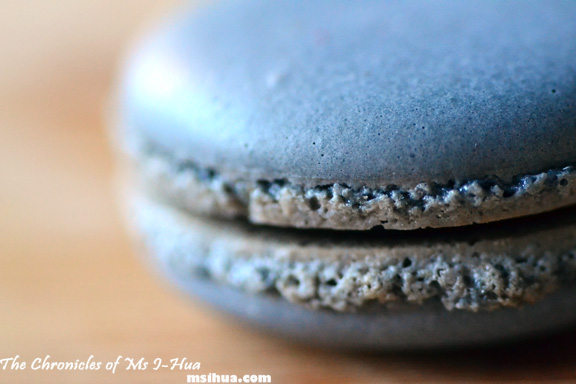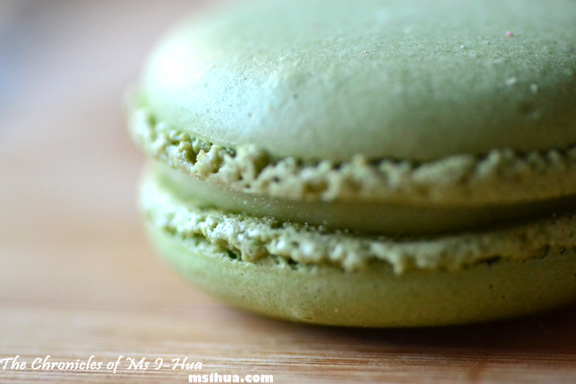 Mariage Freres Earl Grey Chocolate; and Pistachio
How did you like that?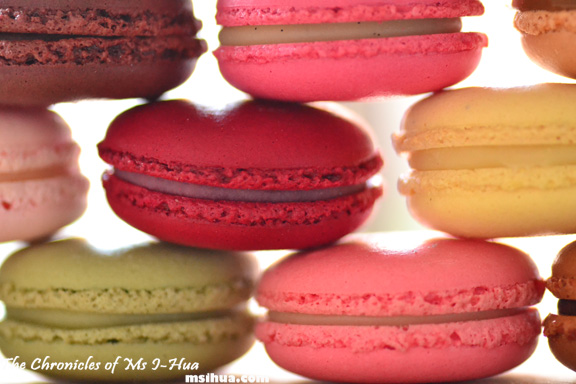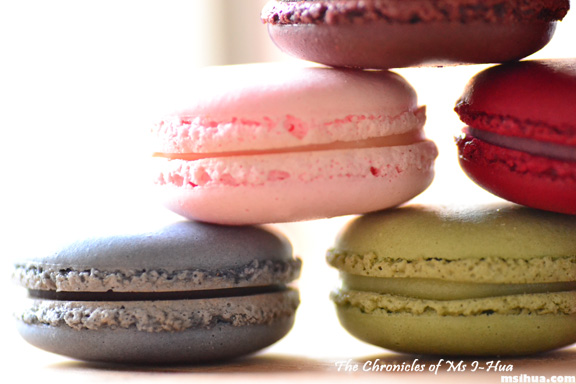 My favourite flavour of them all was the Violet and Blueberry macaron. Absolutely smashing. In my notes, I had actually written, "All macs should grow up to be like this!" So amazingly good. It's like a mini blueberry jam sandwich which really packs a punch in the flavour department.
My second favourite is the Lemon macaron. If citrus flavours makes your mouth water, then this is the macaron for you.
After these two, my favourites are the 'Bastille' Kir Royale macaron, Cherry Blossom and Sake macaron, Pistachio, Caramel a la Fleur de sel, and the 72% Single Origin Chocolate.
If you visit, and can only afford a few, I highly recommend you get the above flavours.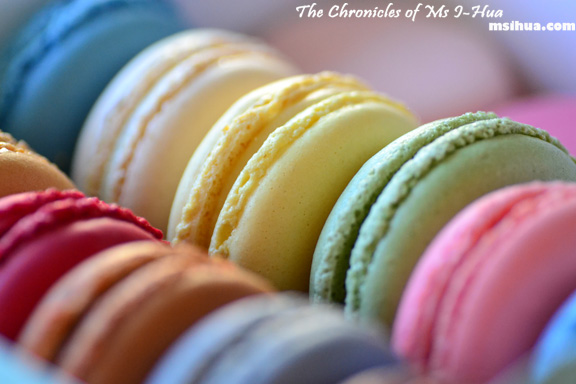 Will I go back for more? Sure thing, I've been back a few times, and every time I visit, I walk out with the Violet and Blueberry macaron.
Now, how does this compare to the likes of Pierre Hermé and Ladureé?
The simple answer is that I simply do not know as I have yet to have the luxury of tasting them.
But if this is the limited exposure I am receiving to the world of macarons, it can only get better.
*Disclaimer: All food ratings are purely based on my own experiences and how I feel about the service, food and quality at the time of visit
Food/ Cuisine: French
Dining Style: Patisserie (specialising in macarons)
Overall Food Rating (Based on the Dining style): 8.25/10
Restaurant ambiance: N/A (we opt for take away)
Service/ Attitude: 8/10
Value for money: 8/10 (pretty average pricing for their macarons, $2.50 for each)
Address:
30 Hardware Lane
Melbourne VIC 3000
Tel: (03) 9024 4528
Website: http://labellemiette.com.au/mac/
La Belle Miette is open
Monday to Friday, 10am to 6pm (or until sold out)
Saturday, 10am to 4pm
Closed on Sundays 
How to get there: