During my life growing up, I attended quite a few church sessions and even went to quite a lot of Youth Fellowship gatherings and church camps.
Now, by no means am I strongly religious, I just found that I liked people and I liked to sing, two key points in attending any Christian activities.
I'm not even Christian. I am what I would like to call, an open Buddhist.
Somehow, one way or another, life has given me my soul mate and he happens to be a Catholic.
So I dutifully follow him to church on Sundays and a variety of other religious days.
This was how we found ourselves after church on All Souls Day (Melbourne Cup Day) in Melbourne CBD, a bit lost and searching for some guidance.
Then as if the clouds had parted, sun rays beamed all around us and the Boy said, "Let's go to Naked for Satan!"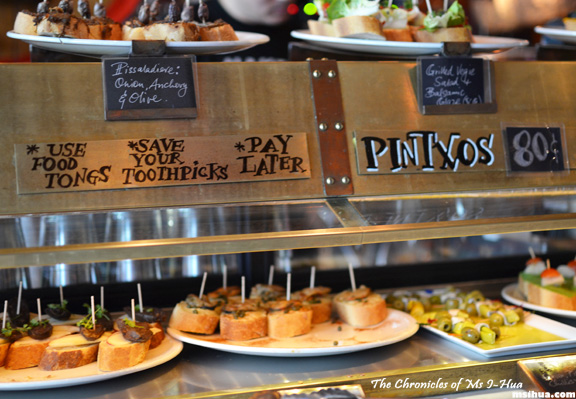 True story. I was brought to Naked for Satan by a Catholic boy 🙂
Luckily for him, there were no satanic rituals held at the premises but there were lots of bread and vodka to choose from. Sort of a holy communion for the non-believers, if you may 😛
One day, I will be struck by lightning.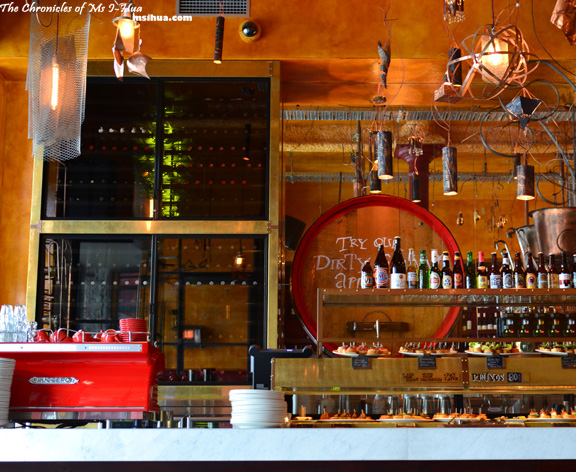 We got there at 12pm sharp and the doors were still shut. However, we could see the staff busy pottering around getting ready for the lunch crowd. We patiently waited and noticed the cool and funky steampunk-esque interior. The haphazard copper, pipes and lights all around made a great feature within the pub and a wonderful conversation starter.
Did you know that Naked for Satan refers to Leon Satanovich, a Russian cleaner and caretaker of the Moran and Cato building in Fitzroy? Apparently, Satanovich was too much for the Aussies to pronounced, and they shortened it to Satan.
What does that have to do with a pub and vodka you ask? Leon came from Russia and his grandfather was a Vodka maker, and during the Great Depression, rumour has it that he build a great distillery in the warehouse of the building he was care-taking. It was often quite hot (especially during summer) in the distillery as you can imagine, and Leon worked in conditions that often required him to be in his underpants.
News got out and he became a very popular man in the area (due to the alcohol, not his underpants, but you never know) and it came about that if you wanted to enjoy some of the glorious Satan vodka, one would have to say, "let's get Naked for Satan" as a code.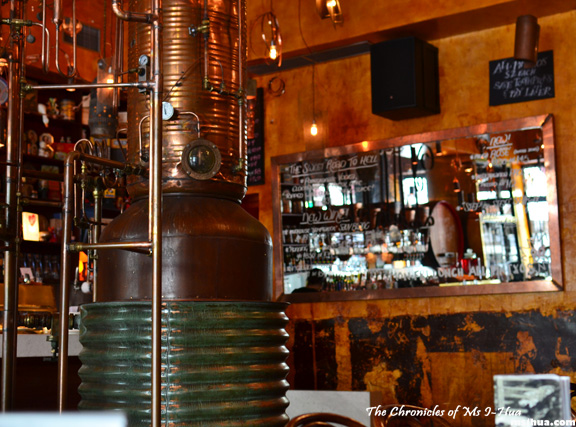 I was like a little kid lost at a long buffet table. I love buffets and I love bread. Put them together and I'll be weak at the knees.
Being a Tuesday, the pintxos were only 80 cents each (as opposed to the usual $2). What is a pintxos? Pintxos or Pinchos are typical bar snacks found in the Basque region of Spain consisting of any amount of ingredient secured to a piece of bread with a toothpick. Displayed as such, it gives it a "spiked" look, which is what pincho means.
NFS has a wonderful Monday – Friday 12pm – 4pm lunchtime 80 cent pinxtos which is great for people who are in the area or have the day off!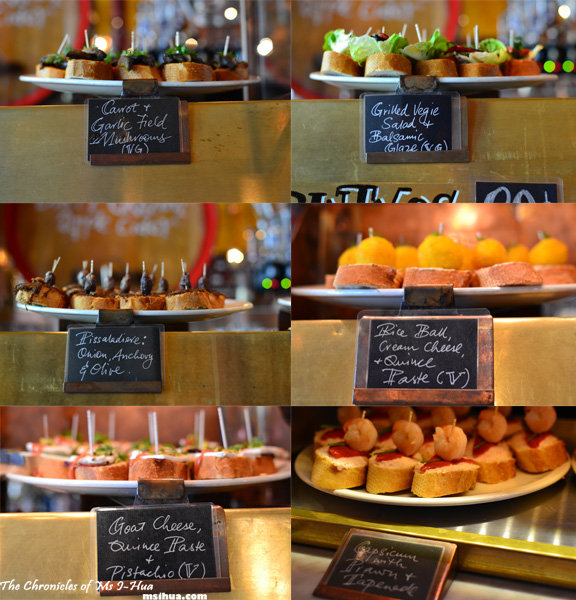 I couldn't quite decide on what I wanted as I wanted to try one of everything, but I controlled myself, and decided to share a few with the Boy.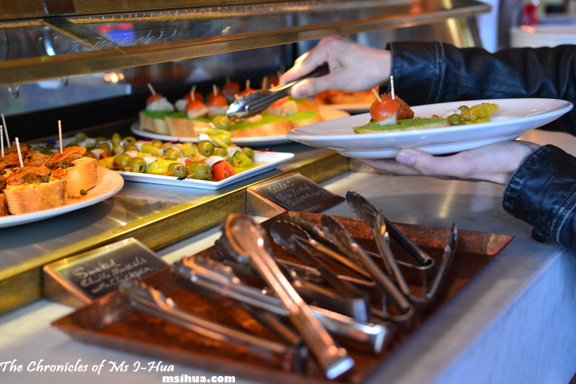 With so many items to choose from, where does one start?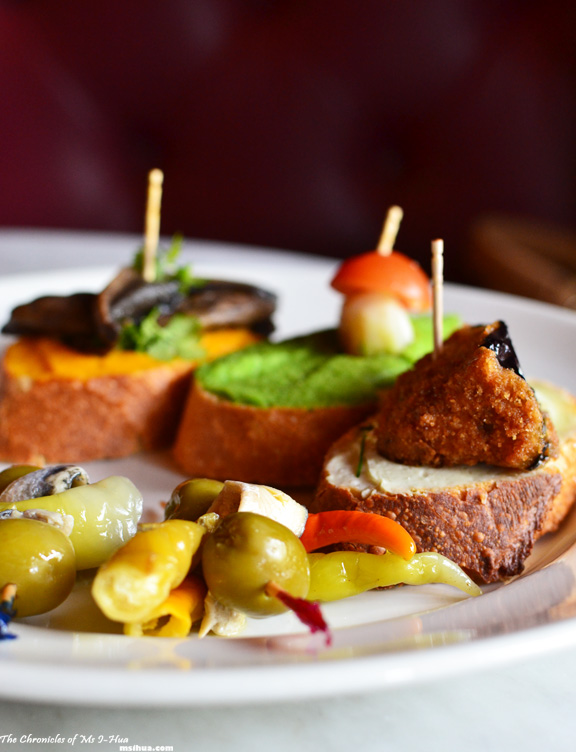 I have to say, my favourites were quite a surprise for me.
I absolutely loved the Eggplant Chips with Blue Cheese. It was a delicious little morsel. I also quite enjoyed a few pintxos of Gilda (Olives, Pickled Chilli and Anchovies) which I learnt how to make from Frank Camorra but have never bothered to do them on my own 😛
My second favourite was the Carrot and Garlic Field Mushrooms!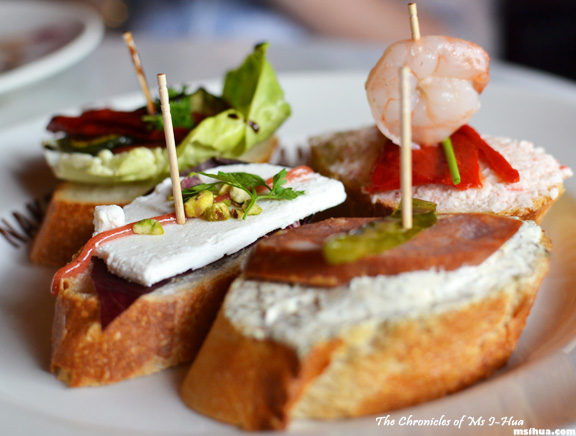 I tried to be healthy and had one with Goats Cheese, Quince Paste and Pistachios (yum!), Grilled Vegetables with Balsamic Glaze (nothing fantastic but I wanted veggies!), Prawn with Capsicum and Tampenade (nothing special as well) and Chorizo with Cream Cheese and Green Chilli (yum!).
Don't get too carried away now with the pintxos from the bar.
Remember to leave room for the wonderful hot snacks that comes out fresh from the kitchen. The staff walk around with these hot goodies which will leave you eager for more!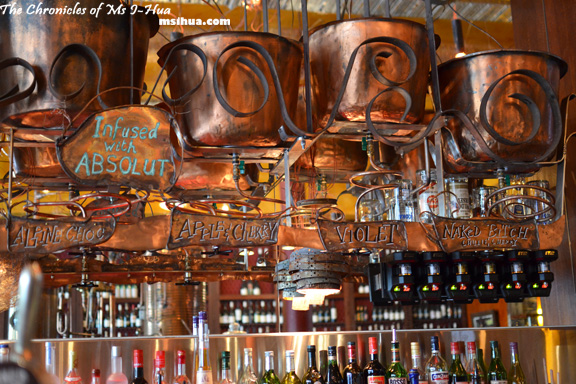 It was much too early in the day for vodka *gasp* (you may say it's never too early for vodka!), so we decided to keep it simple and easy. I really did want to try the "Naked Bitch" though!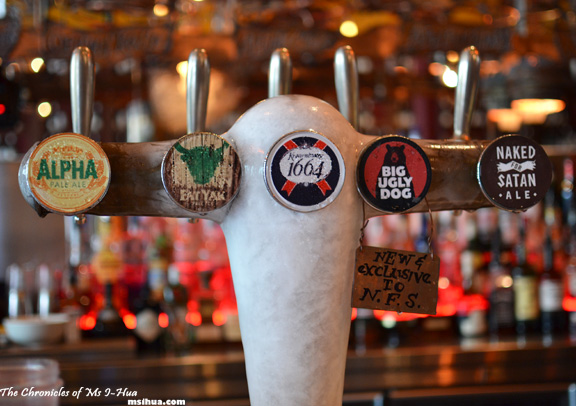 They have a variety of beers/ale on tap but the Boy wouldn't be convinced to try the Big Ugly Dog or the Naked for Satan Ale. Party pooper!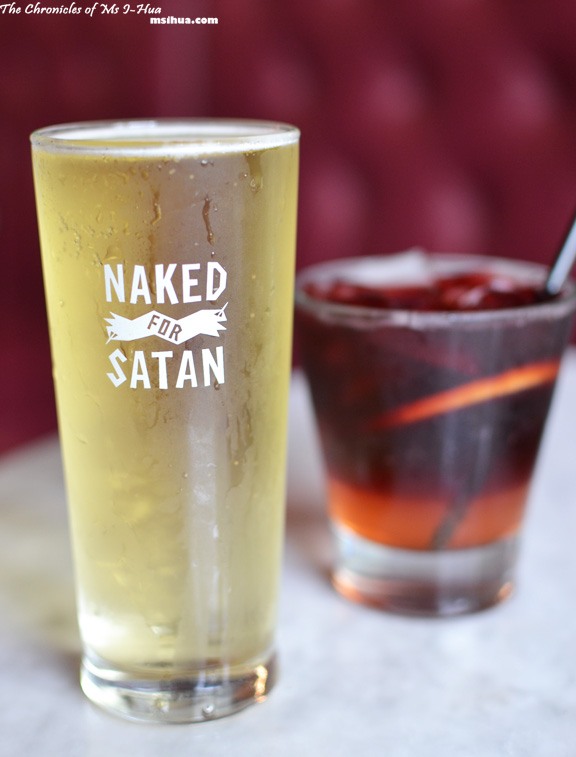 Instead, he went with the Cider on Tap, and had a glass of Bulmers Pear Cider ($5.50).
I however decided it was never too early for Sangria and went with the alternative version, Tinto de Verano (Basque alternative to sangria) $8.
Of course, I had to finish up with something sweet, and joyous of joys, they had chocolate!
I loved the Chocolate Cointreau Mousse canoli, and wanted more!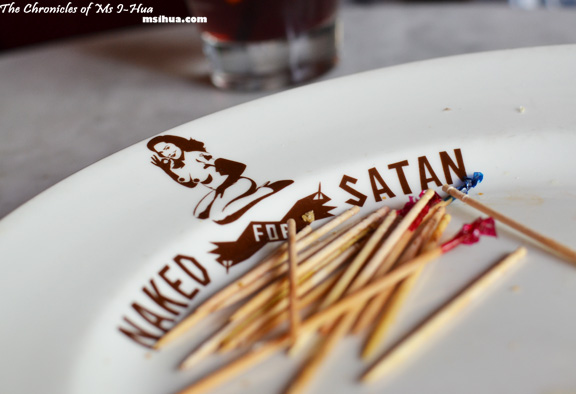 Between us, we ate 17 pintxos and spent the same amount of dollars on food as we did on beverages feeling very satisfied and happy with our lunch. It's all self-served and you pay at the bar when you've finished. They work on an Honesty Policy, so save all your toothpicks and pay later. With the drinks, you order and pay at the bar.
*Disclaimer: All food ratings & review are purely based on my own experiences and how I feel about the service, food and quality at the time of visit
Food/ Cuisine: Spanish (Basque)
Dining Style: Bar / Lounge
Overall Food Rating (Based on the Dining style): 7/10
Restaurant ambiance: 7/10
Service/ Attitude: 7.5/10 (The waitress we had was very friendly and helpful as she walked us through the process)
Value for money: 8.75/10 (ONLY if you dine here Monday-Friday (12pm – 4pm) lunch hour or Monday-Wednesday (4pm – late) dinner for the pintxos –> 17 pieces of snacks for $13.60 is amazing value!)
Opening Hours:
Sunday to Tuesday, 12pm – 12am
Wednesday to Saturday, 12pm – 1am
Address:
285 Brunswick Street
Fitzroy VIC 3065
Tel: (03) 9416 2238
Website: http://www.nakedforsatan.com.au/
How to get there: