When we were last in Malaysia, the Boy and I decided we'd take a plunge and experience fine dining in Malaysia.
We were torn between two choices.
Senses at Hilton or Third Floor at JW Marriott?
Yes, fine dining in Malaysia is usually confined to 4-5 star hotels which may or may not be connected to shopping centres (go figure!).
We finally decided on Third Floor as Executive Chef Ken Hoh had some experience working in the kitchens of Sydney's fine dining scene such as Tetsuya's, Rockpool, and Treasury at Inter-Continental Hotel.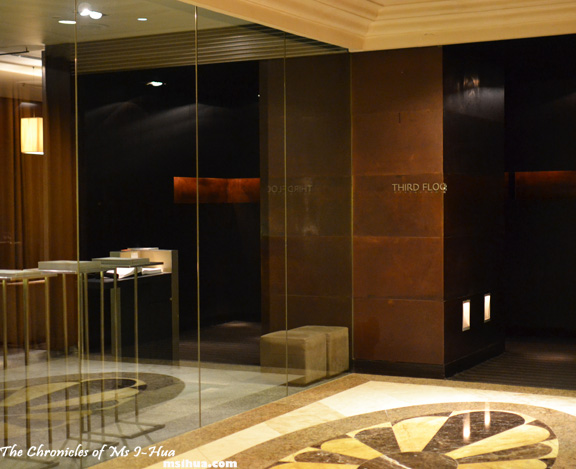 We made a noon booking as we didn't want to get too caught up in KL's mad traffic (which is often gridlock and pretty frustrating), and parked at the Pavilion shopping mall across Marriott and leisurely strolled to our location.
When we got there, we weren't quite sure if it was open as it was completely and utterly deserted.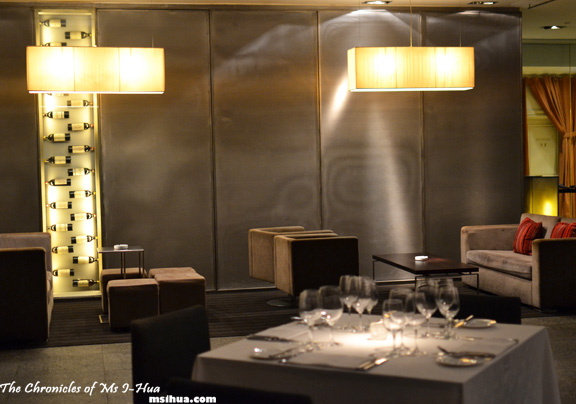 However, our fears of arriving at a closed restaurant were waylaid as we were greeted by two happy wait staff who promptly brought us to our table.
We were seated in the corner of the restaurant which was partitioned off with dark grey gauze material-like curtains which gave us a pretty quiet and secluded dim corner.
I would have much preferred to have been seated at a different table with brighter lighting, but figured we were given a more romantic spot in the restaurant and didn't want to ruin the mood.
Also, it was a busy lunchtime period and I figured that there may be tables which were booked out by busy corporate workers in the vicinity.
However, in the entire 2 hours in which we were there, we were the only patrons, which seemed as though we had booked out the entire restaurant just for ourselves.
Lovely, but kind of sad when you think about it.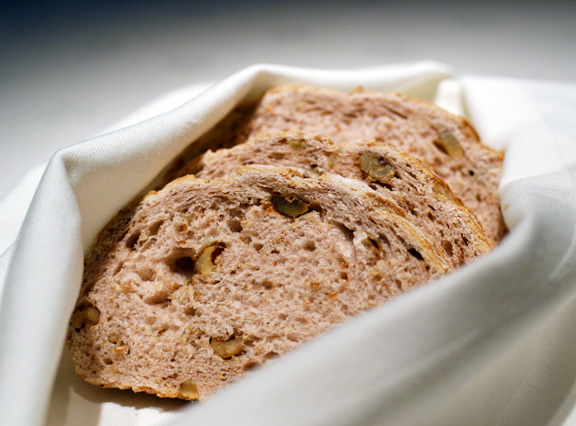 Once we had placed our orders, we were provided with fresh warm walnut bread.
There were 6 items on the menu, and we were informed that we could choose as many or as little as we would like.
With that knowledge in hand, the Boy and I alternated the items on the menu between the both of us, as we wanted to try a little bit of everything.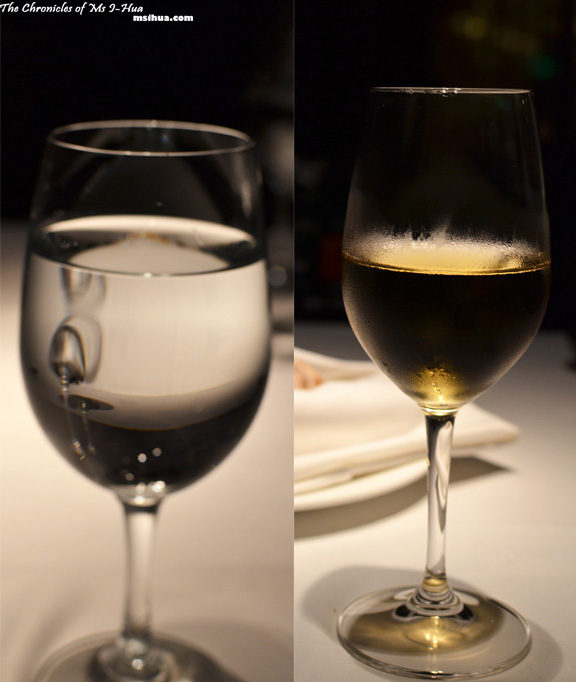 We also ordered some water (you don't order tap water in Malaysia) – Spritzer Mineral Water – Large Bottle (RM12.00) and a glass of white for myself – Oro De Castilla Sauvignon Blanc (RM38.00)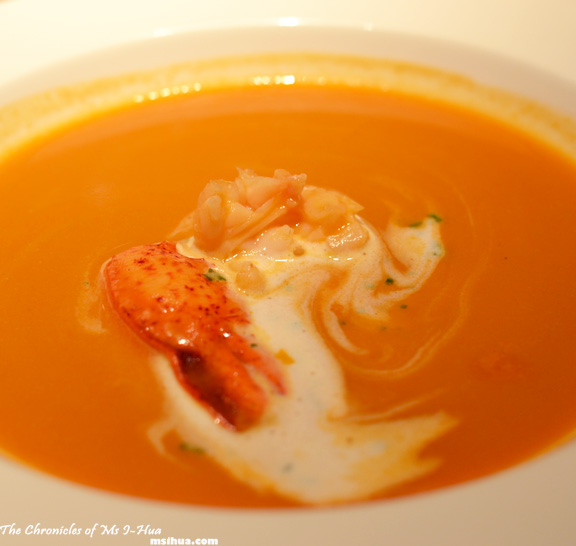 I started off with the Lobster Bisque with Tarragon Cream (RM52.00). The bisque itself had a wonderful smoky flavour which I found to be quite pleasant. What brought the downfall of this bisque was in fact the lobster itself.
Unfortunately, despite the lobster being quite fresh and sweet, the meat itself was slightly overcooked and was tough in texture 🙁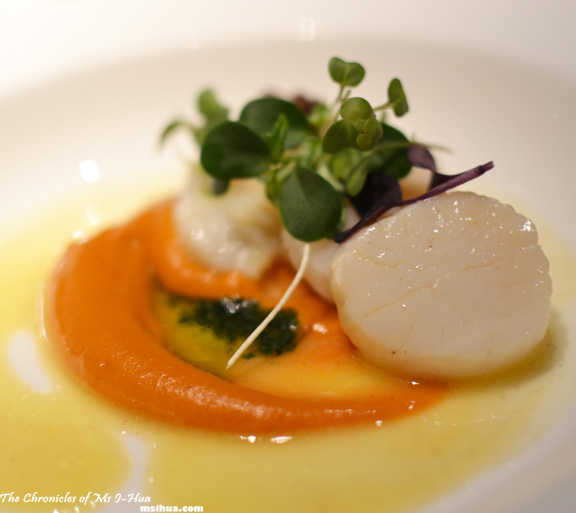 The Boy had the Etuvé (oven dried) of Sea Scallops with Aubergine Coulis & Herbs (RM52.00) which was simple and flavourful. The aubergine coulis accentuated the sweetness of the scallops.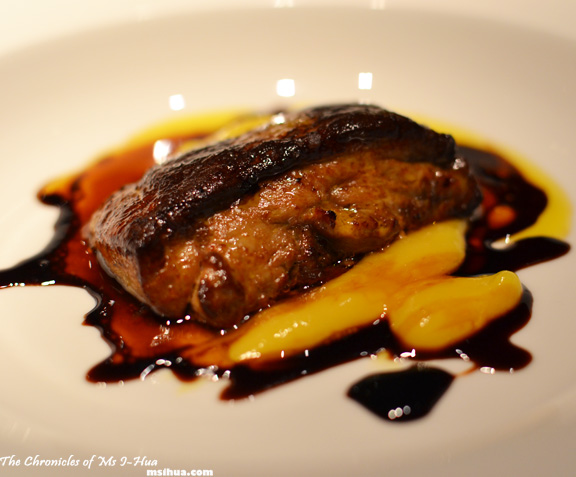 For my next course, I thought I'd be a little adventurous and have the Foie Gras with Mango Puree & Balsamic Glaze (RM68.00). This was so good, it was the clear winner for me.
The acidity and sweetness of the mango and balsamic certainly help cut through the fattiness of the foie gras, but the pairings weren't overpowering at all.
Absolutely loved this dish!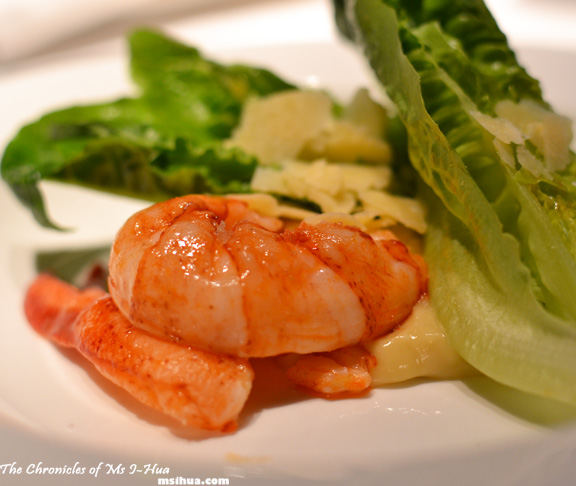 The Boy had the rather ordinary tasting Lobster Caesar Salad (RM78.00). For that price tag, we were looking for something a little more exciting. Even the presentation was a little lacklustre and he found the lobster to be a little tough.
Again, the lobster was a let down.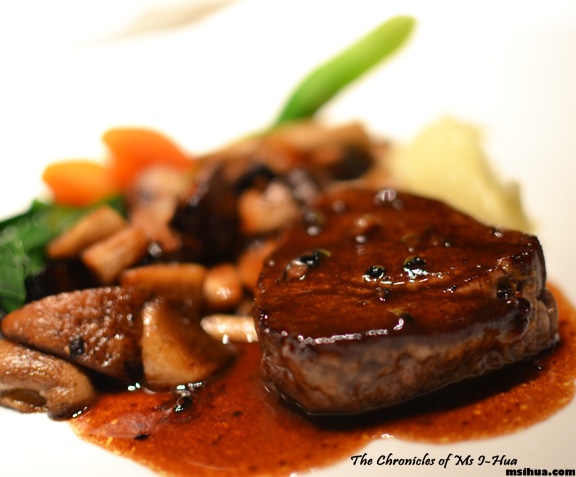 For his main, the Boy had the Beef Fillet, Sauteed Mushrooms & Truffle Sauce (RM58.00), which he thoroughly enjoyed. The truffle sauce was absolutely flavourful and brought the whole dish together.
He proclaimed it as one of his top beef dishes of the year.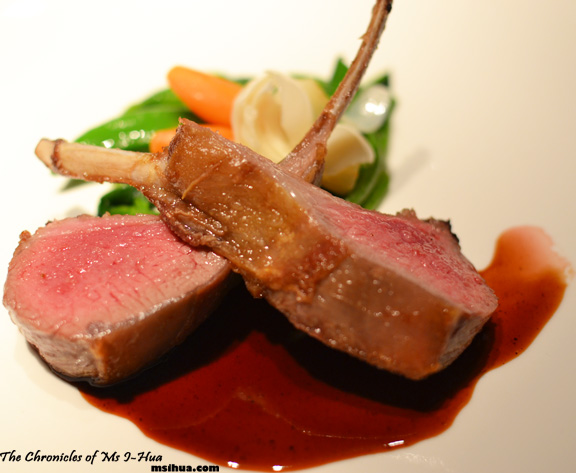 I had the Roasted Lamb, Port Wine Reduction (RM62.00). The lamb was cooked to perfection, and you could tell from this dish that Chef Ken Hoh has had some experience in the art of cooking meat to perfection.
Indeed, it felt as if I was eating beautiful lamb cutlets in Rockpool instead! Heck, I would even say it was one of the best cooked lambs I've had in a while.
Perfection!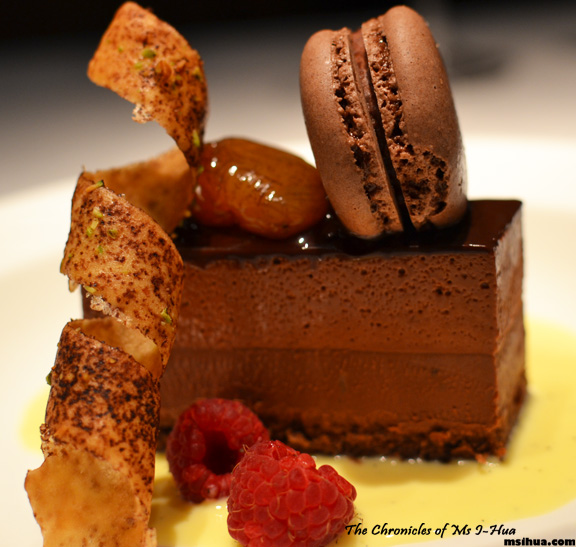 When our dishes were cleared away, the Boy and I conferred about dessert. There were two items on the menu which had chocolate, and I insisted we would be doing an injustice to our readers if we didn't order both of the chocolate desserts.
Swayed by my impressive logic (thank you very much), the Boy and I decided to share the Valrhona Chocolate & Chestnut Torte (RM38.00).
I was impressed by how dense and rich the torte was. The little wafer tuile that came with it was very light and crispy as well.
Although, I didn't quite understand the purpose of the creme anglaise as it felt slightly out of place in this otherwise perfect dessert.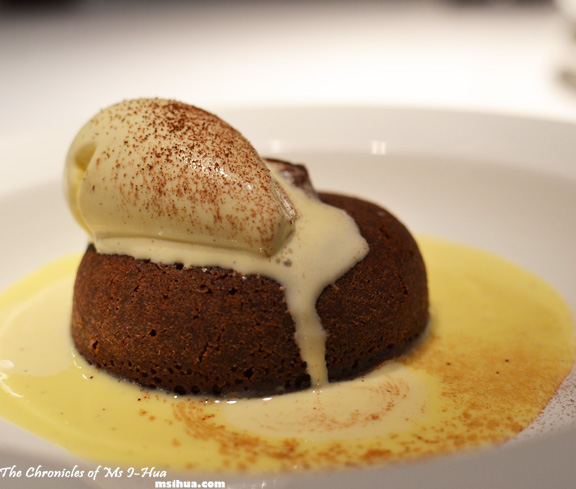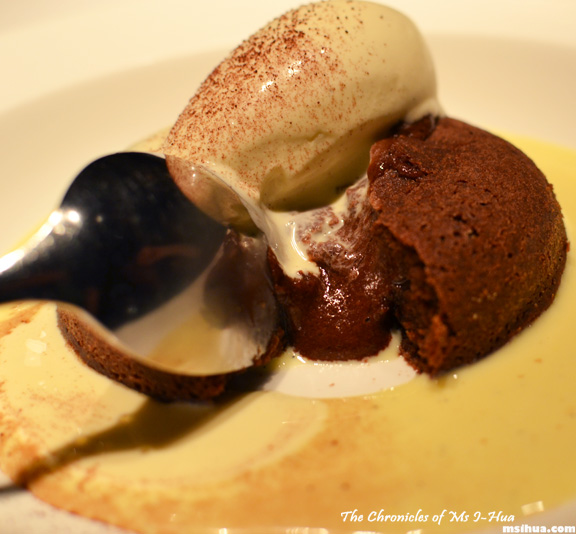 We also ordered the Liquid Centre Warmed Chocolate Cake with Vanilla Ice Cream (RM38.00). Seriously, it had me with liquid centre.
Was it molten? Was it oozy?
Indeed it was. It also wasn't as rich as the chocolate torte but it certainly hit all the bitter cacao notes and wasn't too sweet at all.
Again, the creme anglaise was a little misplaced on this dish. More so than the chocolate torte, as it had the vanilla ice cream and molten centre.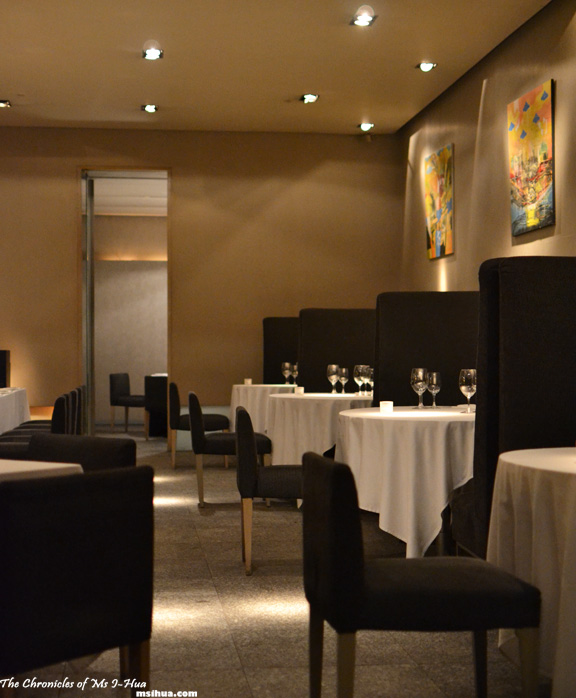 Total Spent = RM575.00 (with 10% Service Charge & 6% Govt Tax). Close to $200 AUD (depending on exchange rates).
What did I think of the entire 'fine dining' experience? There were certainly some hits and misses.
If I were to be dining in a similar restaurant in Melbourne, I'd probably say it would be just slightly below a 1 chef hat restaurant.
The food was good, but it wasn't too exciting. I felt that a few things were a little on the safe side, but it might be that they have to cater to local expectations and what I'm used to in Melbourne may be different.
The quality of the food was definitely there, apart from the lobster dishes.
However, that being said, it's not everyday I would get to dine on lobster and foie gras in Melbourne's fine dining establishments.
*Disclaimer: All food ratings & review are purely based on my own experiences and how I feel about the service, food and quality at the time of visit
Food/ Cuisine: Contemporary
Dining Style: Fine Dining
Overall Food Rating (Based on the Dining style): 7/10 (Some good hits but the lobster dishes were a serious let down 🙁 )
Restaurant ambiance: 8/10 (It had a nice romantic and classy vibe to the place, and we did have the whole place to ourselves 🙂 )
Service/ Attitude: 7/10 (I think we were checked upon a little too often as we were the only diners in the restaurant, and sometimes it was quite hard to enjoy the food due to the constant 'good intention' interruption)
Value for money: 6.5/10 (This seems to be a pretty standard price for dining in higher end restaurants in KL)
Opening Hours: 
Lunch: Monday to Friday, 12.30pm – 3pm
Dinner: Monday to Saturday, 7pm – 10.30pm
Closed on Sundays
Address:
Level 3rd Floor
JW Marriott Hotel Kuala Lumpur
183 Jalan Bukit Bintang
55100 Kuala Lumpur, WP
Malaysia
Tel: (+60) 3 2141 3363
Website: http://www.thirdfloor.com.my/
How to get there: