Hello and welcome to Thailand!!!
Sometime in January, the Boy and I decided to make our way to the Land of Smiles to have a holiday.
We have had a big roller coaster year, and this would be our first proper holiday alone.
I know, it does seem kind of weird that after nearly 11 years together, we finally have a proper holiday alone. But! It was one of the best holidays I have had in a long time!
As a first stop in our travel itinerary, I would like to take you along with me to The Market!
This isn't any old boring market at all. This is the world's largest weekend market.
Where everything and anything is available to see, eat and buy!
I'm taking you on a revisit to the famous Chatuchak Market in Bangkok.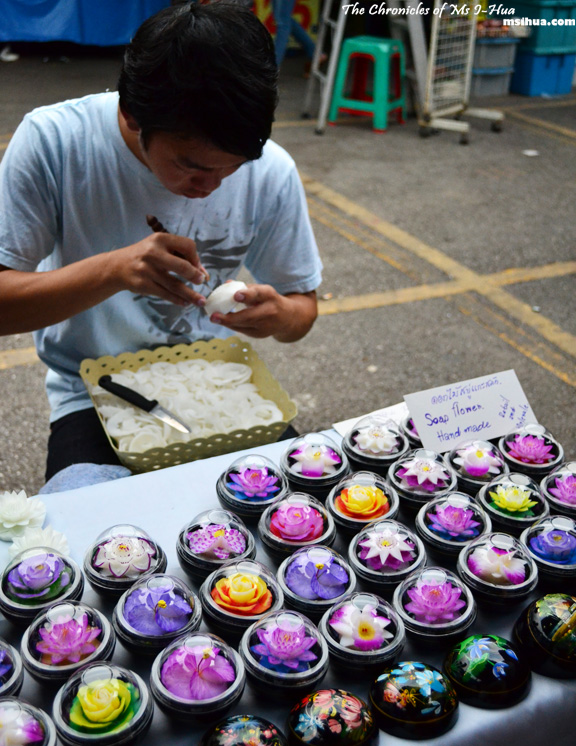 If you have been to the madness that is Chatuchak, you will understand that there is a method to the madness in the set-up of the stalls. Indeed, there is even a map (scroll to the bottom).
One of my favourite areas of the market is the Art and Decor section which housed local artists in makeshift galleries with their masterpieces on display.
Popular tourist items tend to change from time to time. It occurs in waves.
For instance, when I last visited in early 2010 with Madam Mummy, there were a lot of shops selling "coffee art", pictures drawn with coffee.
This time round, there were a few stalls selling carved soaps. I couldn't resist and bought a few as gifts. Aren't they delicate and pretty?
As we trundled up and down the market lanes, the Boy and I were tempted to eat as much as possible from the available food stalls. However due to lack of hands (too many shopping bags :P), we found that it would be much easier to find a stall with proper seats and tables and have a sit down meal instead.
For our breakfast, we found a little food court in the middle. Please don't ask me where it is located though, we somehow stumbled upon it and couldn't find it again after we left!
As per our norm for the trip, the Boy enjoyed a plate of Pad Thai whilst I inhaled my spicy Som Tum (Papaya Salad) accompanied by an abundance of coconuts.
The food at this stall (in the food court area) wasn't the best unfortunately. The Pad Thai was a bit dry and the Som Tum was lacking in the balance of flavours.
We didn't really have much choice in terms of food in the morning, as most of the food stalls weren't quite ready for customers as yet (we arrived about 9am and were hungry at 10am).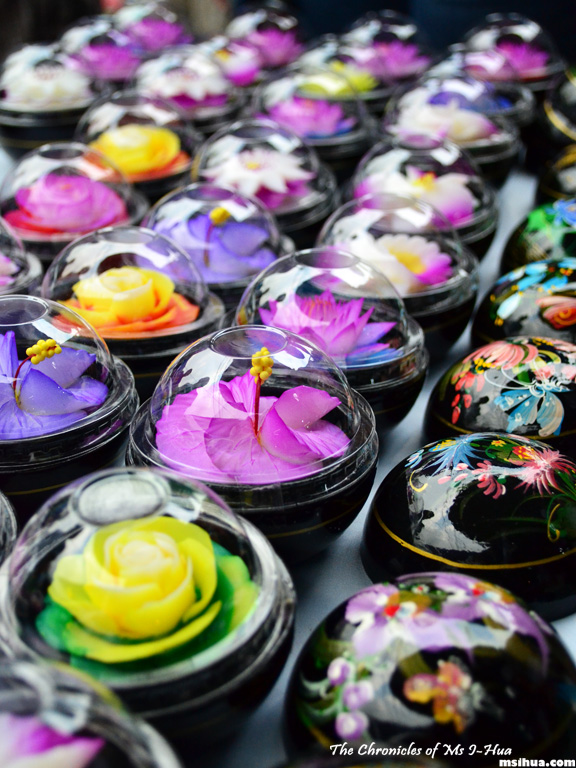 Now, I won't go through in detail on every store or sight we experienced at the market, but the Boy has compiled a very nice glimpse of the time we spent there (6 hours) in a slideshow for you, below 🙂
Because we were there for such a long time (the Poor Boy), we also spent our lunch there, which was markedly better than the breakfast we had!
This restaurant (as they had a proper shop) was big and catered to a crowded house.
Everyone stopped here, including the locals, so we knew we had found a good place to rest our tired feet.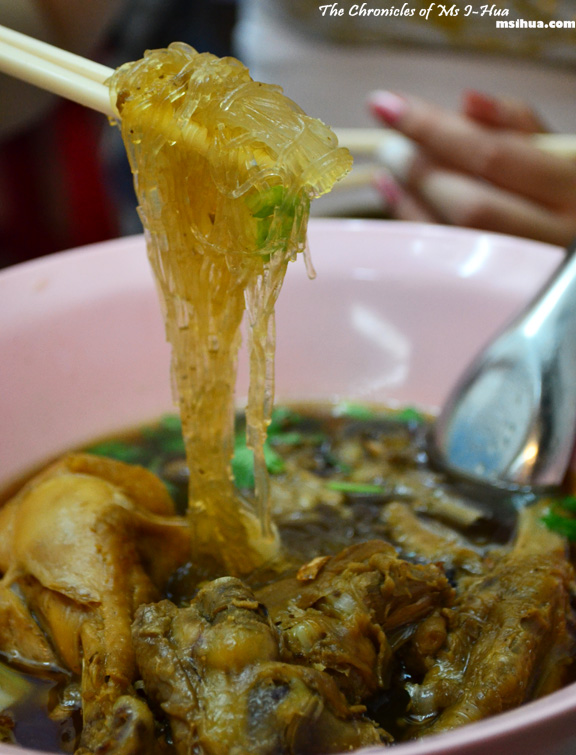 I'm not too sure what the proper name for the dish is, but the sign displayed read, "Noodles with Chicken Soup".
It was definitely a rich, dark herbal broth.
We were able to choose the type of noodles to go with the dish. The Boy went with flat rice noodles and I went with glass noodles.
Quite a lot of the locals and school children (teens) ordered the soup with Thai instant noodles, which was quite an interesting thing for me to see.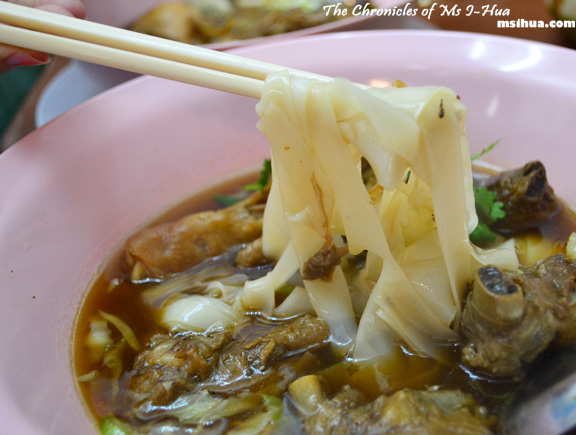 It was truly a satisfying meal to be had.
Whilst we continued to shop, the Boy and I made several pit stops for fresh coconut water, sugar cane, and Thai Milk Tea!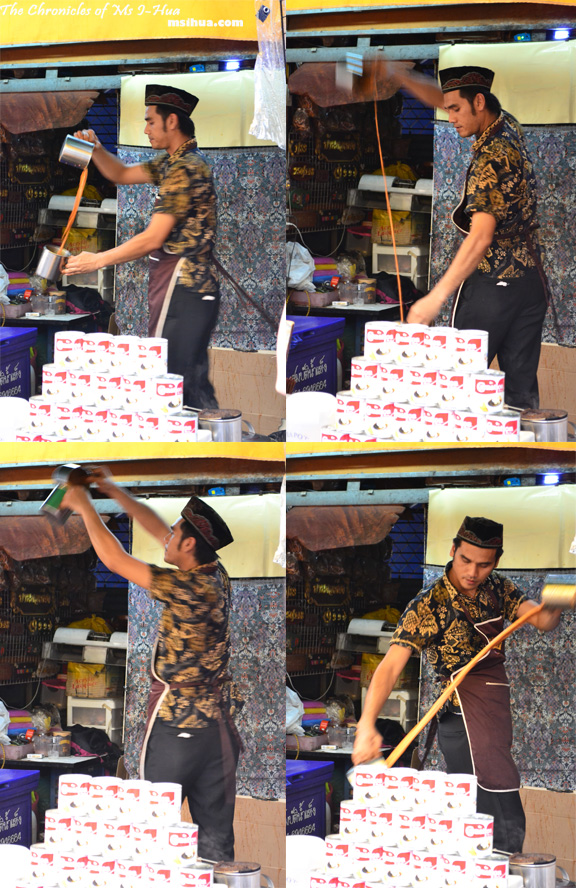 We also curiously found a stall selling Teh Tarik (the Malaysian version of Milk Tea) with the seller proudly stepping up on stage to twist and turn to pull the tea for his customers.
If you have a spare weekend in Bangkok, do make sure you drop by this market.
Full of bargains, exotic foods, art, craft, you name it, they have it!
Address:
Kamphaeng Phet 2 Road
Chatuchak (or Jatujak; Thai: จตุจักร)
Website: http://chatuchak.org/
Chatuchak Map:
How to get there: