Welcome hungry hordes.
I bring to you the second instalment of my MFWF Express Lunch.
Now I'm not sure you realise how difficult it is sometimes working for my blog. If I'm surrounded by like-minded people (such as my foodie, Asian, blogging, family, friends), I'm fine and I'll happily whip out my DSLR camera and proceed to snap away.
More often than not, I do dine out with my colleagues (who are well trained) and clients (who look on amusedly) which can somewhat be a little trickier.
I always ask if they mind me taking snap shots of their food before they can dive in. I always check to see if their mood is one of acceptance or total faux pas horror.
It helps that most of them are intrigued and a little tickled to be dining with a food blogger. It helps that my manager and GM will announce to anyone new in the vicinity of what I get up to with my free time.
However, that still doesn't make me any more comfortable with the situation of taking pictures whilst dining out with non-foodie or non-food blogger people.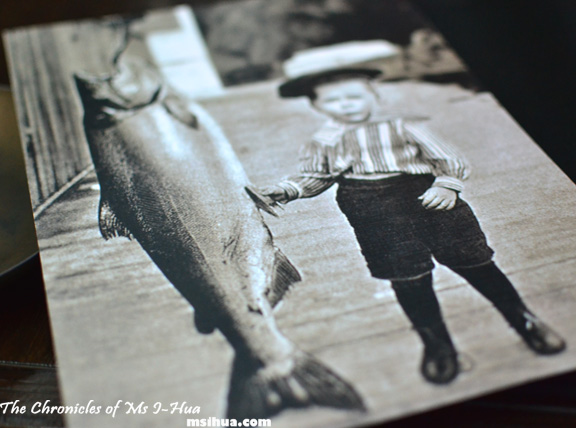 So when I was asked to choose a place for a farewell lunch for a particular client/consultant of ours, I submitted a whole range of MFWF Express Lunch restaurants within walking distance from our office, and we ended up with The Atlantic (Headed by Executive Chef Donovan Cooke) at Crown.
For the price of $35 (as previously mentioned in my No 35 Express Lunch post), it's such a tremendous bargain, as if you can recall, I paid $35 dollars alone, for one huge scallop here at The Atlantic when they first opened up their doors to the Melbourne crowd. The Atlantic's MFWF $35 Express Lunch deal has now ended but hopefully will make a comeback in 2013.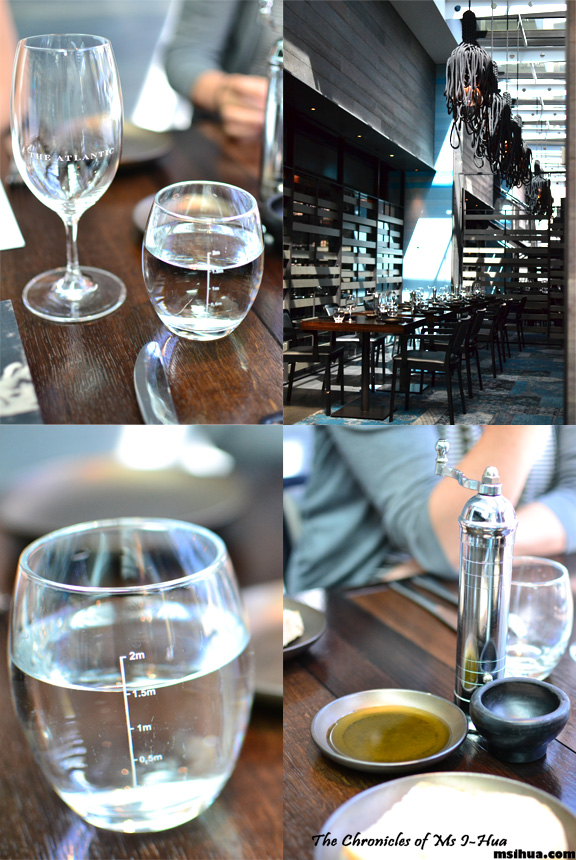 It was a beautiful day to walk along the riverside. The sun was out and there was a light cool breeze out.
As we were being shown to our table, I could hear shouts, "I-Hua! I-Hua!"
At first I put it off to my active imagination. I have always wanted to be heralded by cheers as I walked into a dining establishment.
But as the shouts got louder, I deigned to look up to see my fellow Fake Photography Society (FPS) members (Bryan, Ashley and Fake GF, minus Allan) jumping and waving their hands in the air (like they don't care, yeah!)!
With an abashed smile on my face and an apologetic look at my work companions, I ran over to my buddies and exclaim that I would much prefer dining with them on that day, knowing that they would have no fear or shame, taking a hundred shots of each item that was served to them.
Unfortunately, I could not and trundle back slowly to my dining companions with a heavy heart I did.
It's not that I don't enjoy their company, but I have to be more reserved and professional and hurry with my picture taking so as not to interrupt the natural flow of eating (more than I already have).
So, I do apologise if the pictures taken aren't the best, and I wish I could have done better 🙁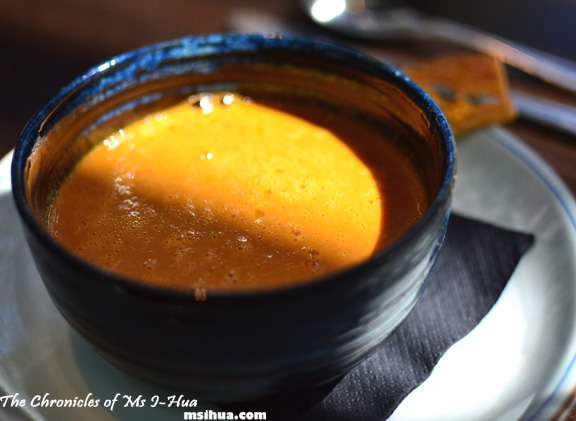 Entree (Option 1): Rockfish Soup, Saffron and Rouille
As there were 3 entrees to choose from, my dining companions and I chose each item on the menu. The Rockfish soup was delicious and creamy.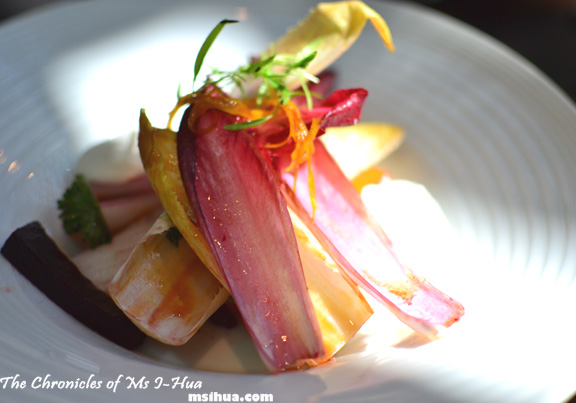 Entree (Option 2): Beetroot Salad – Asparagus, Navel Orange, Witlof, Coriander, Goats Cheese Curd
One person decided to go with a salad, as she is crazy about goats cheese. This salad did not disappoint.
Entree (Option 3): Salad of Smoked Ham Hock, Green Lentils, Slow Cooked Egg
I really wanted to opt for the soup, but my blogger mind said that I should eat something else, so that I could take pictures of all the options available.
I was glad that I did, as my ham hock and slow cooked egg was surprisingly delicious. I hadn't had much hope in store when I read the menu. But the taste and the balance of flavours really came through in this dish. The creamy egg yolk, when popped, just oozed delightfully between the cracks of the ham hock and croutons of the salad.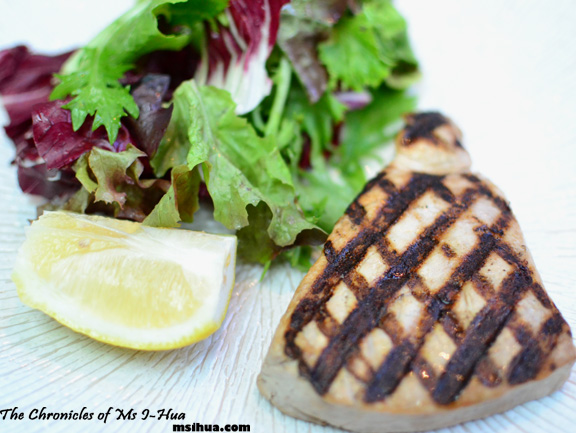 Main (Option 1): Grilled Fish Fillet (Fish of the day), Sea Salt and Lemon
For one reason or another, all 4 of us chose the Fish option as our mains. The argument being, "We are at a seafood restaurant. To not order the fish would be blasphemy!"
The fish of the day for us was Tuna. You can't see it here, but the tuna steak was lightly seared on all sides, maintaining its reddish-pink in the middle. It was delicious, with the usual hint of smokiness associated with the use of Ironbark wood.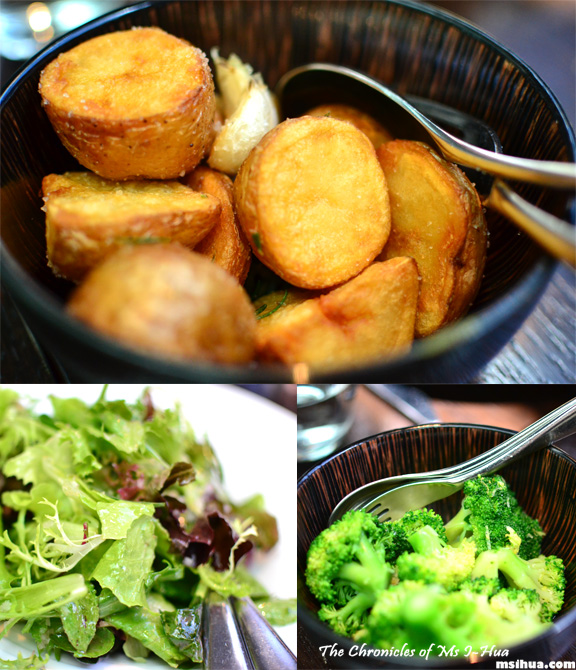 Sides (Additional $9 each): Thrice Cooked Russet Potatoes, Mixed Young Leaves, Steamed Brocolli
For some reason, we also ordered each of the sides that were available.
I wanted to cry, "Stop! Let's do dessert instead!", but again as I wasn't in my normal crowd and my dining companions weren't big on dessert, I decided to let it slide.
Sadly, I glanced up at my FPS friends and saw them oohing and ahhing at their desserts. Boo 🙁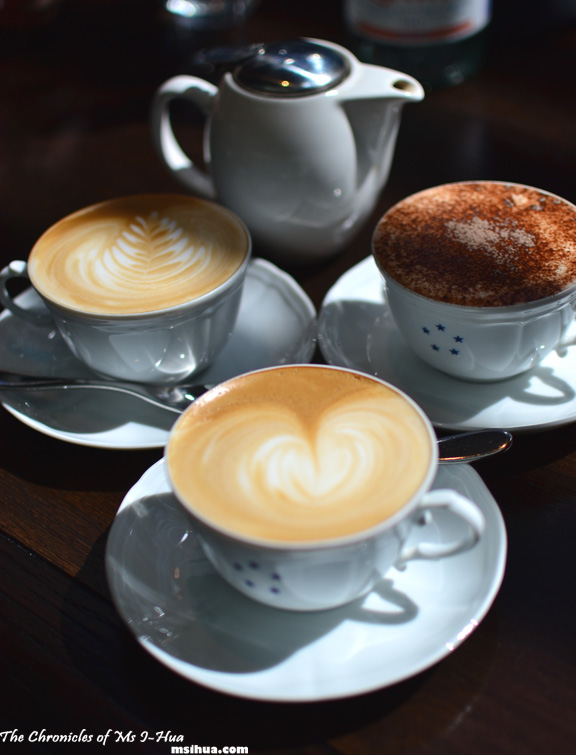 We did however, stay for our coffees, tea and hot chocolate 🙂
Was the meal worth it? Most definitely, as most mains are usually around the $40-$45 mark.
The fact that you get to have a wonderful snapshot of what the kitchen can serve up is rather amazing for that price.
Service was a bit of a mix. An example, our waitress spilt white wine on the table, and instead of apologising and cleaning the mess up, she simply ignored it and walked away. Maybe she didn't realise it, or maybe she couldn't see the spill upon the dark amber wooden tables, either way, it wasn't very professional. We managed to flag down another waiter who came to clean the spill.
Please note: The Melbourne Food & Wine Festival Express Lunch (Choice of 2 courses, a glass of Victorian wine, and tea/coffee for $35 per person) has ended for 2012 and will return in 2013.
*Disclaimer: All food ratings & review are purely based on my own experiences and how I feel about the service, food and quality at the time of visit
Food/ Cuisine: Seafood
Dining Style: Fine Dining/ Fish Brasserie and Oyster Bar

Opening Hours:
Monday to Sunday, 8:00am – 11:00pm
Address:
Tenancy 18 & 19
Crown Entertainement Complex
8 Whiteman Street
Southbank VIC 3006
Tel: (03) 9698 8888
Website: http://www.theatlantic.com.au
Twitter: @theatlanticrest
How to get there: