[This post is sponsored by Kellogg's and Nuffnang Australia]
As most of you know by now I am on a weight-loss journey on my on-again off-again relationship with the Paleo diet.
To date, I have lost about 5.5 kilograms and have never felt better.
However, I still have an issue with my fibre intake. Being the carnivore that I am, I still find it hard to manage a meal which contributes towards the recommended Daily Intake for fibre (which is 30 grams).
So when Nuffnang recently contacted me to ask if I'd be interested in partaking the All-Bran 7 Day Challenge, I couldn't help but feel excited!
What would I need to do? Well, all I have to do for the next 7 days, is to have at least one meal a day with a serve of the all new All-Bran Fibre Toppers.
The winning key message for me had to be that a serve of All-Bran Fibre Toppers can be incorporated into any meal! Any meal!!!! Breakfast, lunch, dinner, supper, tea or snacks!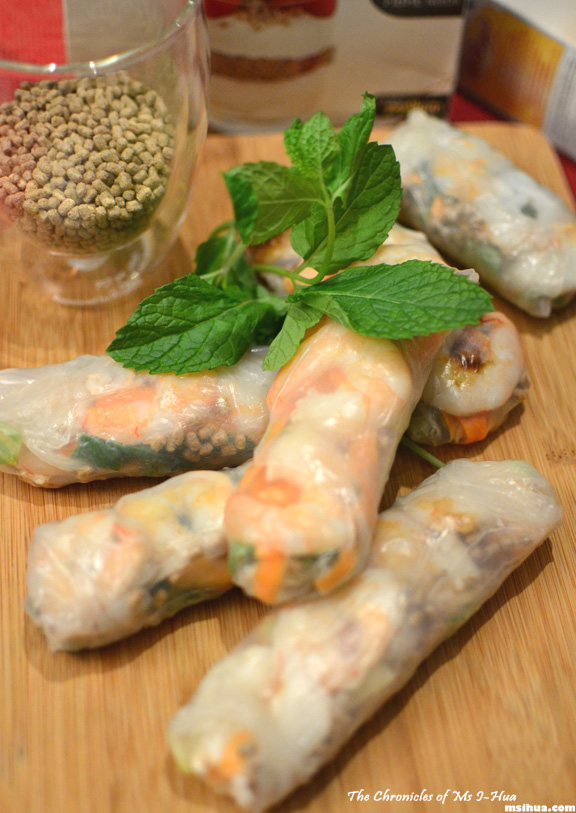 You see my dear readers, I don't usually have 3 meals a day. I'd be lucky to have one meal at the rate I'm going with my work hours.
In the morning, I usually scoff down one liquid breakfast drink, have a latte whilst starting up my PC, a can of tuna for lunch and dinner at home (which is kindly prepared by the Boy).
So the first thought that popped into my head was, oh no, I don't usually eat a proper meal for breakfast, how can I survive this challenge?
It was then, that I remembered that I could use the All-Bran Fibre Toppers in anything! Brilliant!
Not only is it high in fibre and low in fat, it is also a good source of B1, B2 and niacin, iron and folate, and a source of zinc and magnesium.
For my All-Bran Challenge Day 1 intake, I give you the Crunchy Rice Paper Roll with All-Bran Fibre Toppers!!!!
Bon Appetit!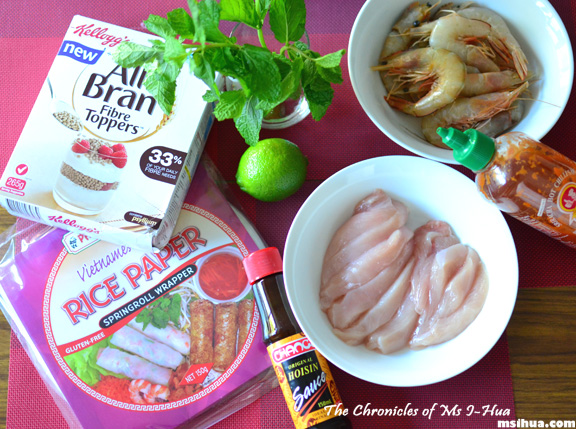 Crunchy Rice Paper Roll with All-Bran Fibre Toppers Recipe
Ingredients (serves 3-4 people):
1/2 cup of All-Bran Fibre Toppers
10-12 Sheets of round Rice Paper Spring Rolls wrapper
1/2 Chicken Breast (trimmed of all visible fat and skin removed)
12 Prawns (raw)
3-4 stalks of fresh Mint Leaves
1/4 cup Hoisin Sauce
Hot Chilli Sauce
1 Carrot (shredded/grated)
2-3 Lettuce leaves (shredded)
1/2 Cucumber (thinly sliced)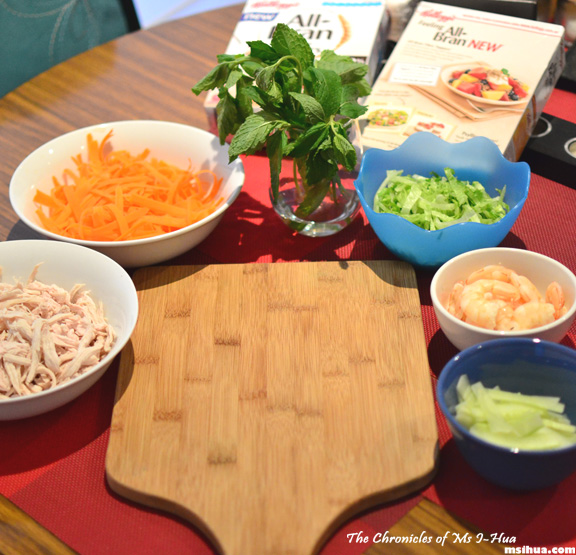 Procedure:
Shell and de-vein the prawns. Place the prawns in hot boiling water for 2 minutes to cook. Dish out and set aside to cool. Once cooled, slice the prawns into halves.
Slice the chicken breast into strips. Place the chicken strips in hot boiling water for 4-5 minutes to cook. Once cooked, dish out and set aside to cool. Shred the chicken into thin long strips when it's cool enough to handle.
Following instructions on the packet, prepare the rice paper roll wrappers on a flat surface.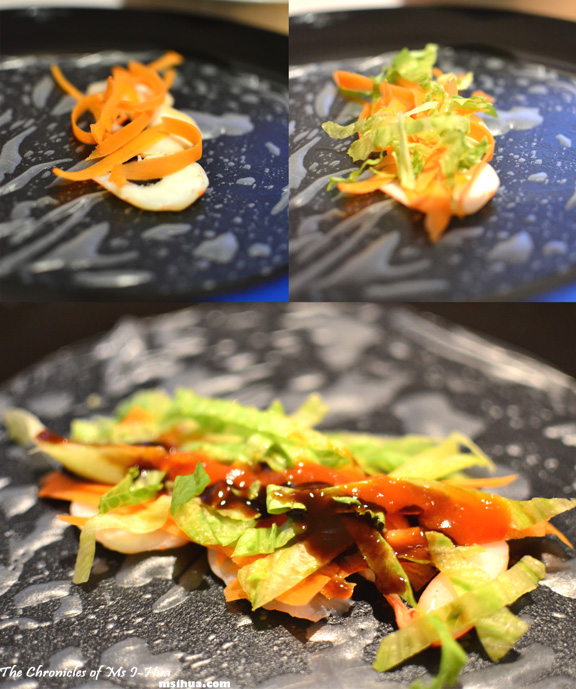 Once the wrappers are ready to be used, place 3 slices of prawns onto the rice paper and layer with the other ingredients: Carrots, Lettuce, Hoisin sauce (about 1 teaspoon), Hot Chilli Sauce (adjust according to preferred level of spiciness), Cucumber, Chicken strips, Mint leaves and lastly 2 tablepoons of All-Bran Fibre Toppers.
Remember to use the ingredients sparingly to avoid the roll from splitting 🙂
Roll the rice paper up carefully (according to packet instructions), by placing the ingredients towards the top end of the roll (instead of the centre of the rice paper) and you will have more space to maneuver the roll.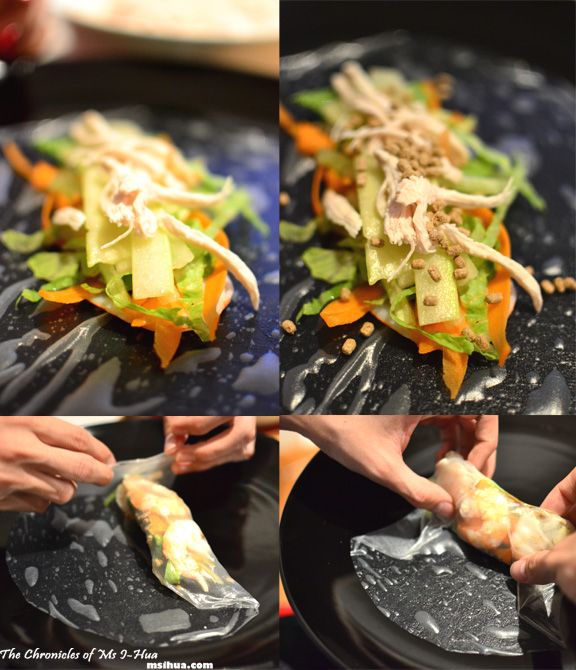 I tend to fold the top over the ingredients, followed by the sides, and then rolling until the end (holding it all tightly).
Cover with a damp cloth (or tea towel), and continue until all ingredients have been used up.
With this recipe, you won't need any dipping sauces as the sauce is already in the rice paper roll 🙂
And remember, as the Heart Foundation states, all fresh fruit and vegetables automatically qualify for the Heart Foundation Tick!
The rice paper rolls were quite tasty. The All-Bran Fibre Toppers provided an additional crunch to the roll and provided some sweetness to the flavours.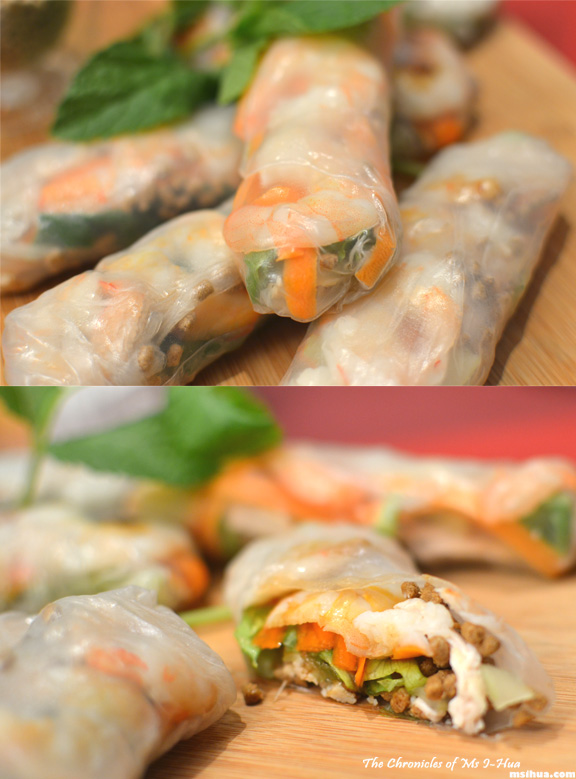 Key Messages:
All-Bran Fibre Toppers Nutritional Facts (quantity per 25g serve):
 310 kJ (energy)
2.4 grams of Protein
0.4 grams of Fat
10.1 grams of Carbohydrate
4.9 grams of Sugars
10.0 grams of Fibre
Ingredients:
Wheat bran (52%), sugar, oat fibre (15%), psyllium (8%), maize flour, salt, colour (Caramel IV), rosemary extract, vitamins (vitamin E [soy], niacin, thiamin, riboflavin, folate) & minerals (iron, zinc oxide)
Contains gluten containing cereals and soy. May contain traces of tree nuts.
So I guess I'm off the Paleo bandwagon again (for the next 7 days at least), and my question for you would have to be, who's with me?