Once in a while, my blogging gets me an invite where I go, "Hmmmmm, that would be interesting".
Other times, "Nope, sorry, not interested".
However, when I received an invitation to be part of the Gaggenau Australian launch where Adam D'Sylva, The Age 2008 Good Food Guide's Young Chef of the Year and Executive Chef/Owner of Coda Bar & Restaurant, was going to be showcasing some of his classic recipes, I decided, "Why not?"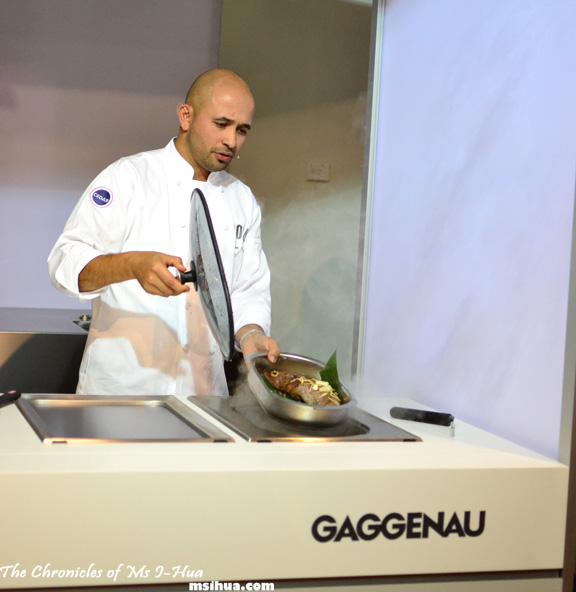 Thus, we found ourselves in the world of luxury kitchen appliances. Gaggenau (not to be confused with the German town of the same name) is a German manufacturer of premium home kitchen appliances.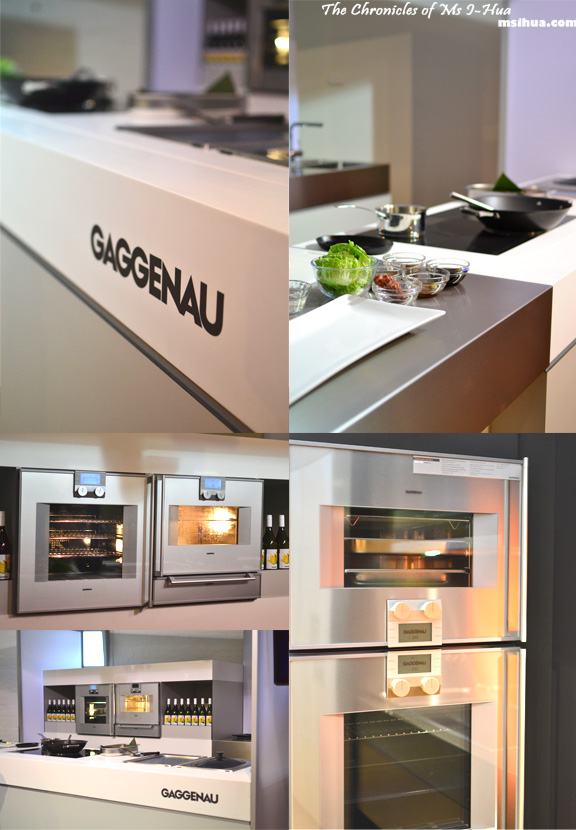 The launch we attended however, wasn't earmarked at the everyday cooktops, steamers and ovens.
It was to introduce the new mobile kitchen unit showcasing all their cool gadgets used at cooking demonstrations and Adam D'Sylva was the nominated chef for this event.
Gaggenau doesn't have a "fixed" ambassador for their brands, preferring to utilise local talent in the areas where they introduce their brand instead.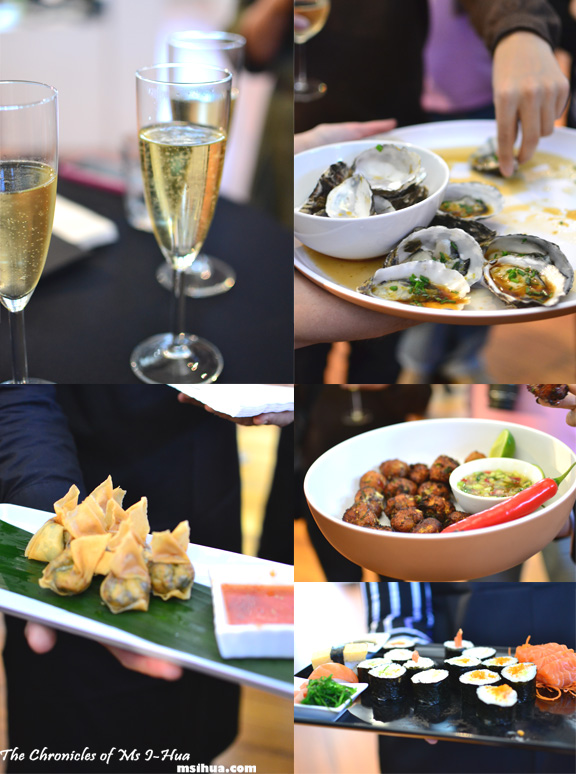 However, before the cooking demonstrations were to begin, we enjoyed a couple of hors d'oeuvres.
It wasn't too long, when Adam finally took to stage and showcased his twist to the classic Sang Choy Bau dish.
Quail Sang Choy Bau! Using the Full Surface Induction Cooktop (which heats pots, pans or any other cookware regardless of where it has been placed on the surface). When Adam moved his wok, the cooktop recognised the new position and continued to heat, following its movement. He was also amused at the large touch screen display that acted as the cooktop's control panel.
It was seriously cool and akin to watching a sci-fi kitchen program.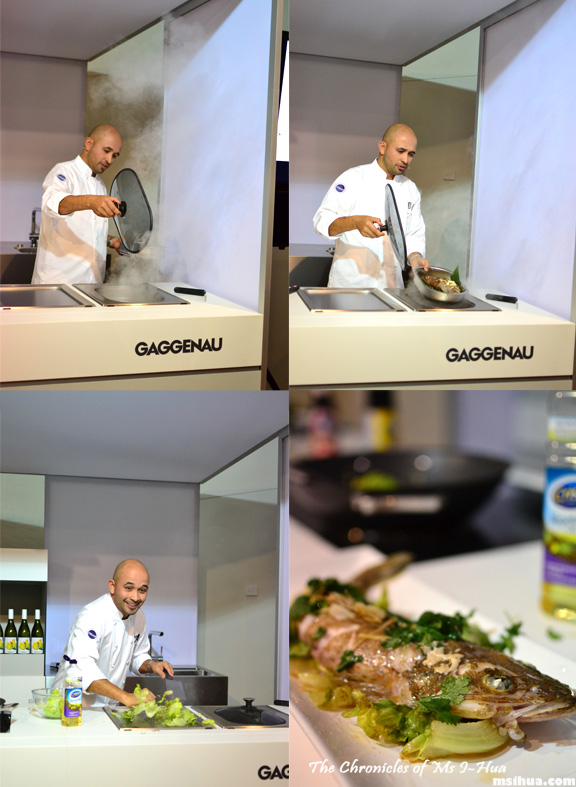 Next up, Adam cooked a classic Chinese-style Steamed Fish served on a bed of lettuce using the Multifunction Steam Cooker & Teppanyaki Cooktop. The lettuces were tossed and cooked on the Teppanyaki Cooktop.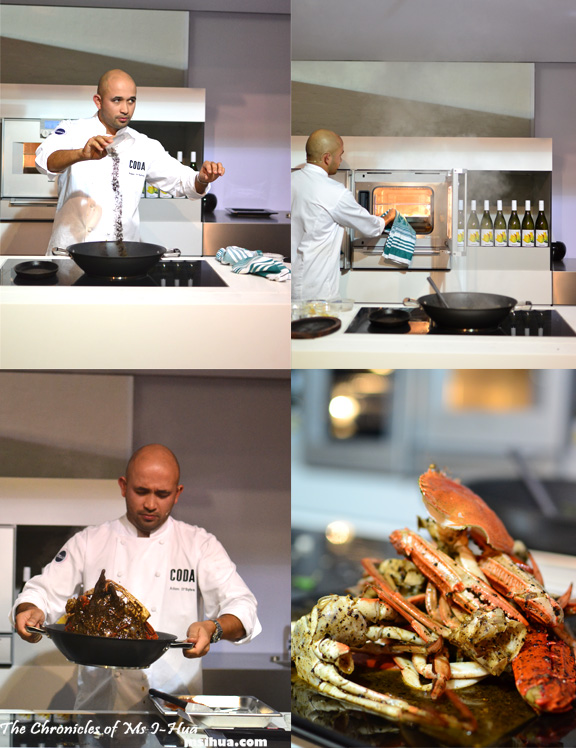 Using what looked to be a Combi Steam Oven, Adam cooked the blue swimmer crabs before tossing it up in some buttery and spicy black pepper sauce. His version of Blue Swimmer Crab in Black Pepper Sauce was finger lickin' good.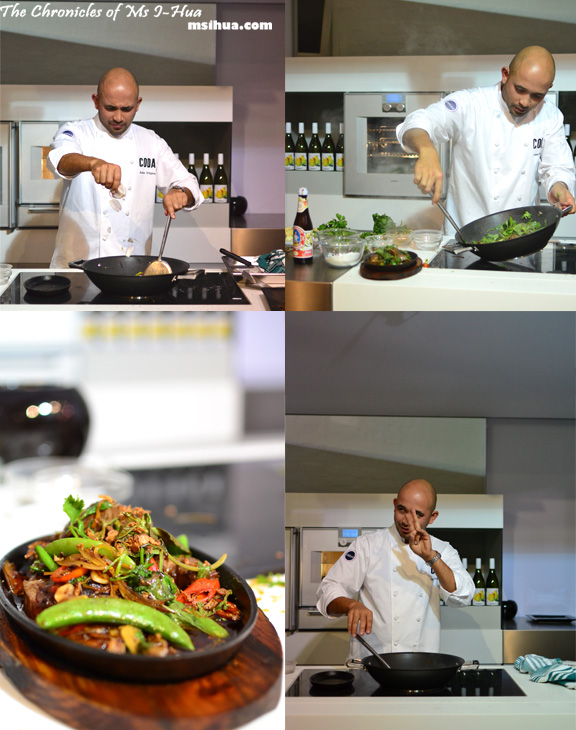 Lastly, Adam cooked up a Sizzling Beef on Hot Plate dish using the versatile Full Surface Induction Cooktop. The hot plate was heated on the induction cooktop similar to how you would heat it on a stovetop.
Gaggenau's Mobile Kitchen is a fully useable kitchen (as demonstrated above) and can be used at various events and functions for those interested.
I must say that Adam D'Sylva was certainly an interesting chef to watch in action. It was something I wasn't expecting. He was full of comedy and cheekiness, much to the delight of everyone in attendance that night.
So, if you are interested in Gaggenau home kitchen appliances, please note that Gaggenau is distributed by Sampford IXL in Australia.
Find a showroom or retailer near you if you wish to see the Gaggenau products first-hand.
[Ms I-Hua and the Boy attended the launch as guests of Gaggenau and Max and You PR]