If you're like the many Melburnians who answer Lygon Street whenever a visiting friend or relative asks the question, "Where should I go to experience Melbourne's famous Italian heritage?", you are right on the money.
I do tend to shudder when people suggest dining at Lygon Street these days, as I find it a little too touristy. But I do remember that there was a time when I couldn't get enough of  Papa Gino's and Brunetti's, but the thought of visiting it now just doesn't excite me anymore (damn tourists!)
Maybe it's all part of the Melbourne snobbery I have suddenly developed (along with superior coffee snobbery and wet weather resistance *cough cough cough*), but why I feel this way, I'm just not so sure anymore.
So when an invite came through, with the promise to "hear why the very best in Italian food & wine, fashion, arts & craft, travel and tourism will be converging on Melbourne in 2012" had me thinking that it was probably about time I got re-acquainted with Melbourne's Lygon Street community for the launch of their annual street party.
This year however, we were informed that it would be bigger and better. So big in fact, that it will no longer be a street party, rather a three day bonanza showcasing the very best of Italy at the Royal Exhibition Building.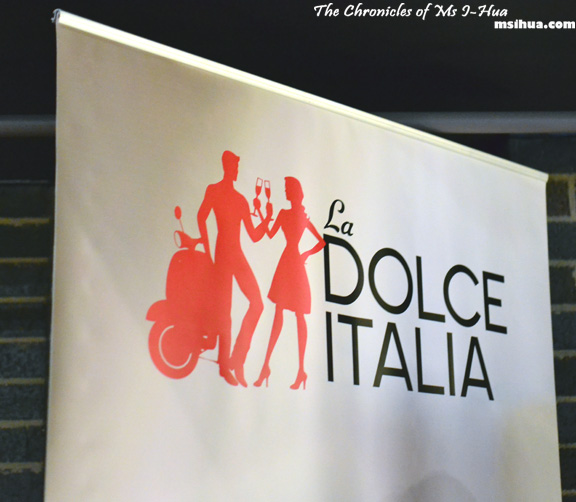 The launch was held at The Den, in the Crown Entertainment Complex, and we were provided with bubbles, as well as some light finger food to eat.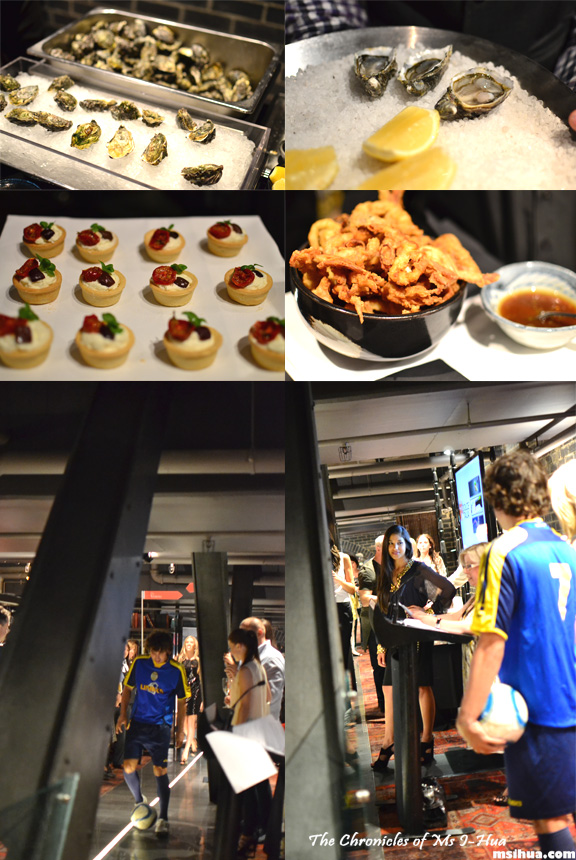 Then both event directors of La Dolce Italia, Dario D'Agostino and Connie Paglianity took to the stage to speak about the event as well as showcase a short clip introducing us all to the event. There was even a mini fashion show to showcase Italy's latest fashion on the catwalks of the world.
In association with the Federation of Italian Chef's Australia delegation and the Australian Culinary Federation, La Dolce Italia will run cooking competitions for professionals and food lovers alike with the winners walking away with amazing prizes.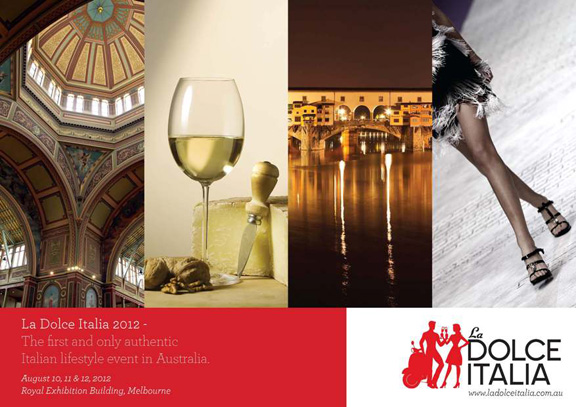 If you are interested in finding out more about Italy and about the Italian lifestyle in Australia, the details are below:
Dates: August 10, 11 & 12 2012

Venue: Royal Exhibition Building, Carlton
Session Times:
Friday: 12pm-4pm and 5pm to 9pm
Saturday: 12pm-4pm and 5pm-9pm
Sunday: 11am-5pm
Ticket Prices:
Early Bird General Admission (Valid until 31 May 2012) $25
Standard General Admission (Only available in advance) $30
Day Admission (Available at Door) $35
For more ticket pricing and information, please click here.
Special Food & Wine Event:
$495 for a Six-course VIP luncheon by Top Italian Chefs with matching wine (also includes General Admission, Gift Bag, Raffle Ticket, Access to Spanish Steps, Access to VIP area plus one drink, Reserved Seating at Milano Runway, and 15% discount to 2 Master Classes of your choice)
$850 for a Nine-course VIP dinner by Top Italian Chefs with matching wine (also includes General Admission, Gift Bag, Raffle Ticket, Access to Spanish Steps, Access to VIP area plus Drink, Reserved Seating at Milano Runway, 25% discount to 2 Master Classes of your choice)
For a full list of the program, attractions and exhibitors, please visit La Dolce Italia's website: http://www.ladolceitalia.com.au
[Ms I-Hua was invited to the launch courtesy of La Dolce Italia and Red Agency]