For as long as I can remember, "Sing a Song of Sixpence" was my favourite nursery rhyme of all time. I used to get Madam Mummy repeat it to me until I had the words engraved and etched in my brain. At the last line of the rhyme, Madam Mummy would sing "When down came a blackbird and pecked off her nose" and tweaked my nose leading to me laughing uncontrollably from the tickles that would ensue.
Up to this day, I have fond memories of the tune and the song. It wasn't until later in life did I notice that the ending of the nursery rhyme ended quite gruesomely. Actually, most nursery rhymes are quite violent come to think of it.
So when I heard about a new restaurant with the name of Counting House which had recently opened at Mornington, my heart skipped a beat.
Could it be? Was it a sign? Would I come away laughing with giggles?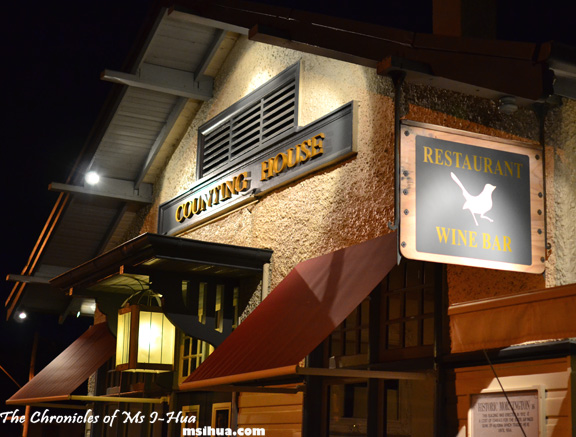 Then the invitation came which included a lift to the Mornington Peninsula (thank goodness) and an introduction to the Counting House Restaurant, which used to be the town's old bank.
The old bank vault is currently being restored to be the restaurant's wine cellar 🙂 I found that really cool.
The restaurant is co-owned by Max Griffin and head chef Gavin Ong (who trained under Curtis Stone and Marco Pierre White) who have gathered forces to bring a little touch of "French finery to Mornington" without the fuss of fine dining.
All I knew, was that when I read the invitation, there was Marco's name in there somewhere and the food, had to be at least passable in standards. MARCO! I love Marco!!! (very necessary use of exclamation marks)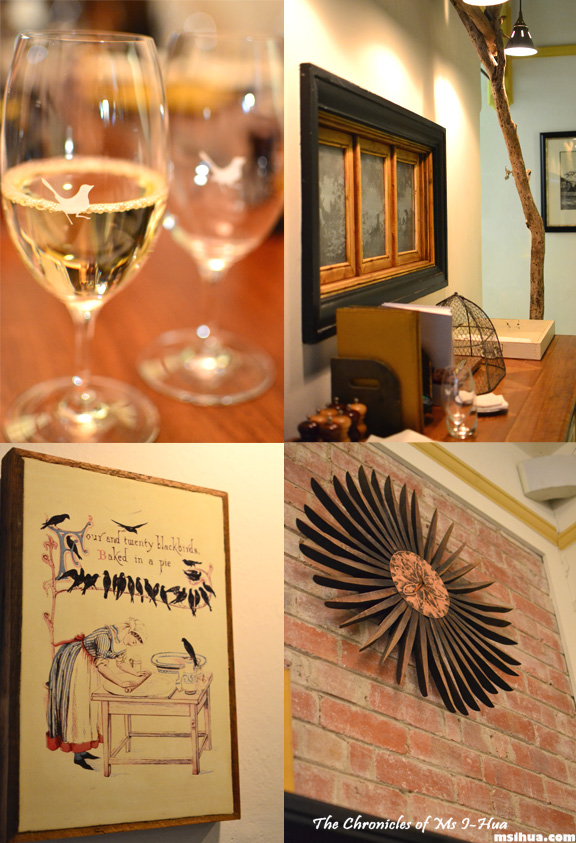 As we were the first guests to arrive, we were given a little tour of the restaurant and I couldn't help but run around excitedly snapping the portraits of the famous illustrations by Walter Crane (located in each dining area) taken from the nursery rhyme, such as the counting room  and the parlour.
It was too cute!
I also liked the use of recycled furniture scattered throughout the restaurant, such as the dining chairs, which are recycled Merlot wine barrels.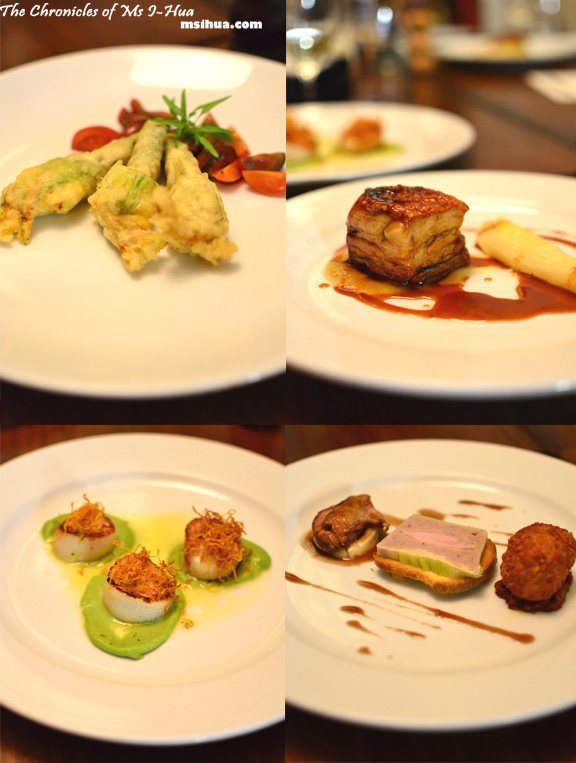 Entrees – Zucchini Fritters, Persian Feta, Leeks; Pork Belly, Ginger Vinegar, Apple Puree, Braised Witlof; Scallops, Pea Puree, Crispy Carrot, Sweet Wine Reduction; and Quail Trio, Pan Seared Breast, Terrine, Scotch Egg.
All too soon, it was time to behave and sit prettily as the food arrived. The scallops were perfectly cooked even though it came resting on pea puree 😛
Other notables were the crispy pork crackling on the pork belly and the zucchini fritters had a nice ooze with the use of Persian feta (oozier than the normal ricotta cheese commonly used elsewhere).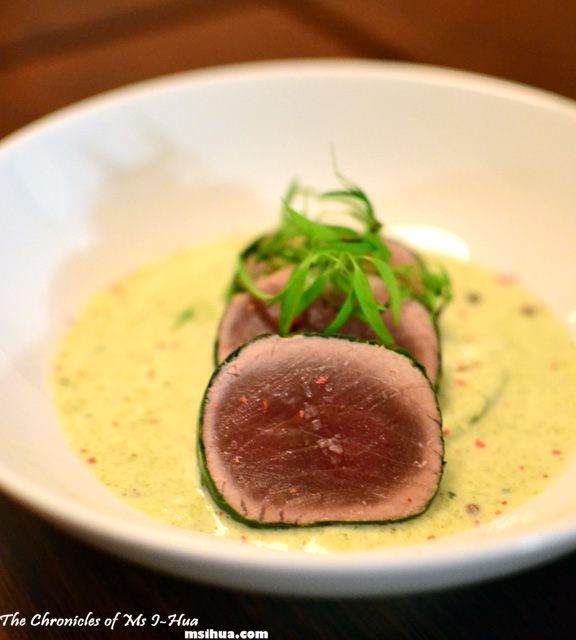 The final entree was a Sashimi Style Tuna, Avocado and Gazpacho Sauce. It was delicious and I couldn't get enough of the minty Gazpacho sauce. Upon further digging down into the sunken plate, we were rewarded with slices of avocado.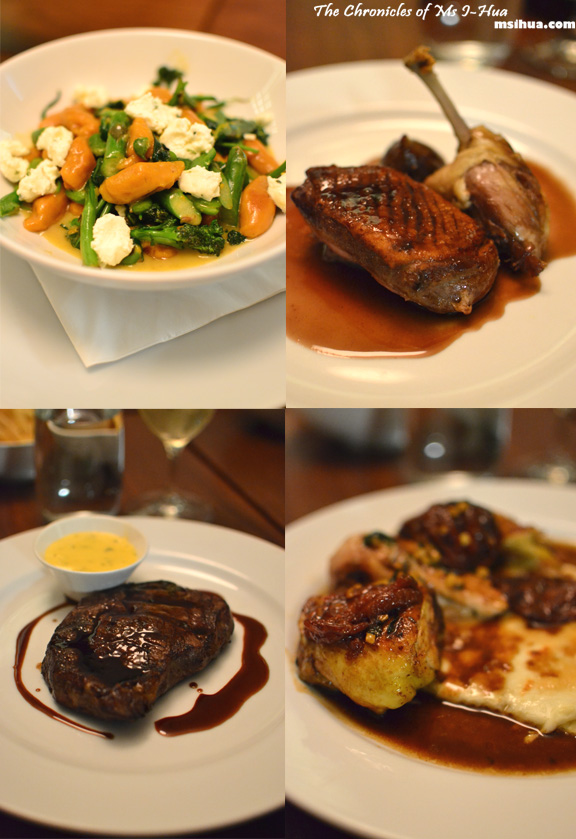 Mains – Pumpkin Gnocchi, Sauteed Green Vegetables, Boursin Cheese; Crispy Duck Breast, Foie Gras Stuffed Figs; Scotch Fillet, Bearnaise Sauce; and Corn Fed Chicken, Sherry Vinegar Sauce, Macaroni Cheese.
When it came to the mains, each of us were allowed the freedom to choose from the main menu, and from around the table, we managed to get pretty much one of everything! Win!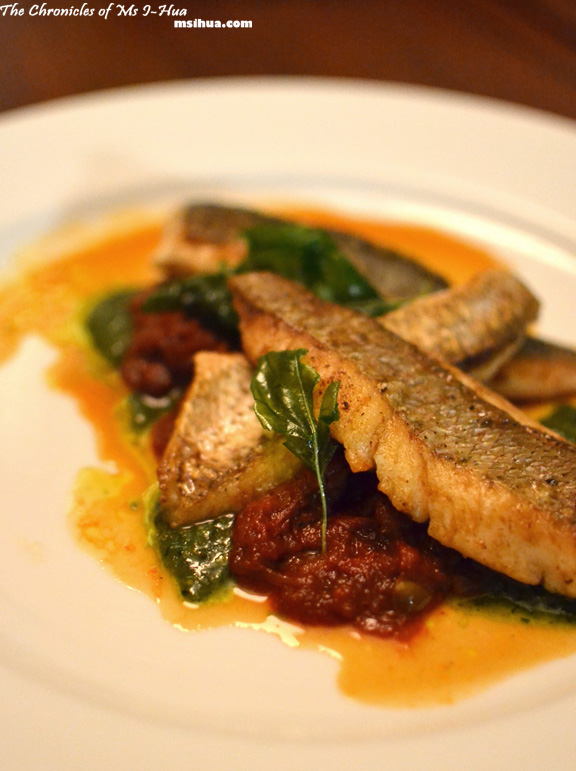 For ourselves, the Boy had the Snapper, Pepperonata and Pesto Sauce which he found to be sweet and fresh. The beauty of dining at Mornington Peninsula is the freshness of the seafood available in the area.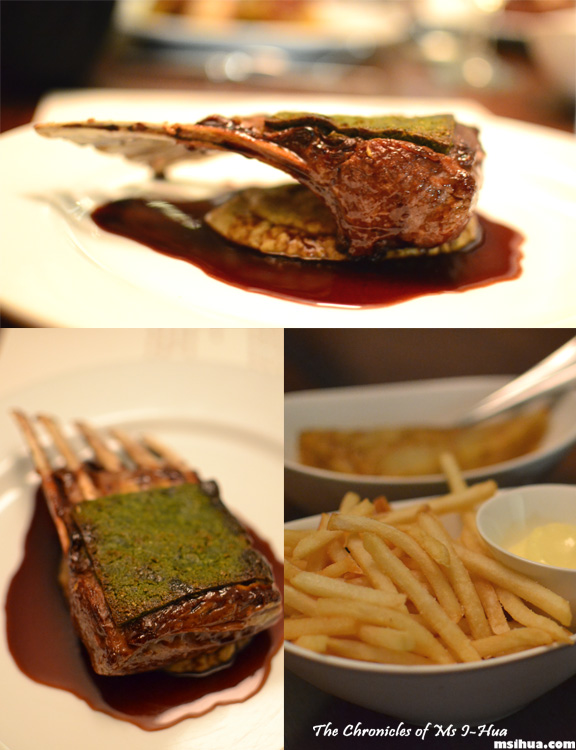 I, of course, had to have the Herb Crusted Rack of Lamb and Eggplant Puree which was delicious! The meat on that lamb was just so tender and succulent. Mmm… Mary should be proud of her lambs, that's all I'm saying 😛
We were also given a side of frites, French peas and potato dauphinoise to share.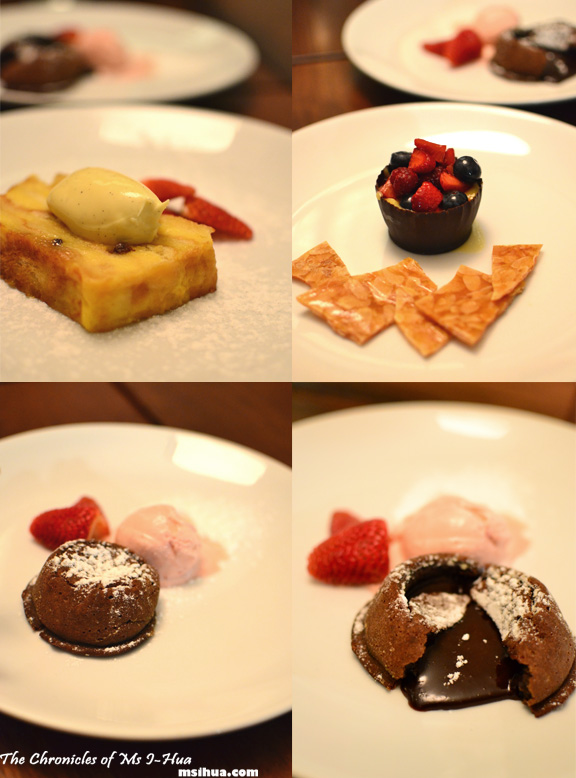 Desserts – Bread & Butter Pudding, Clotted Cream; Lemon Curd, Chocolate Basket, Fresh Berries; and Chocolate Fondant, Strawberry Ice Cream.
For desserts, the winning dish for me had to be the chocolate fondant. Rich and creamy, it certainly was one of the better ones I've had this year.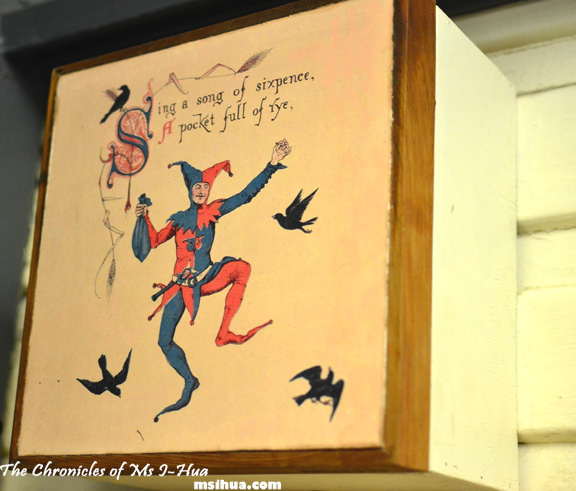 Counting House certainly surprised me with the quality of the food. The potential to rise up the ranks of notable country restaurants is certainly there and it can be seen with a kitchen team that respects local produce and has the passion of cooking good quality food.
It certainly is heart warming to see that more and more good quality restaurants are emerging in Victoria's beautiful country side with high-end quality style food, that won't burn a considerable hole in your pocket.
I would most certainly drop by for a visit if I'm ever in the area and tuck myself in to those lovely scallops, zucchini flowers, that amazing lamb rack and finish off with soft gooey chocolate fondant.
[Ms I-Hua and The Boy dined courtesy of  Counting House Restaurant and Gun Communications]
*Disclaimer: All food ratings & review are purely based on my own experiences and how I feel about the service, food and quality at the time of visit
For other recaps of that night, please visit:
Iron Chef Shellie
Popcorn & Toast
Food/ Cuisine: Modern Australian (French Inspired)
Dining Style: Restaurant

Opening Hours:
Tuesday to Sunday, from 12pm for Lunch & Dinner
Closed on Mondays
Address:
787 Esplanade
Mornington VIC 3931
Tel: (03) 5975 2055
Website: http://www.countinghouse.com.au/
Facebook: http://www.facebook.com/CountingHouseRestaurant
How to get there: