Would you believe it, nearly 3 months have come and gone since the Melbourne Food and Wine Festival (MFWF), and I'm still posting up about the events we went to.
No matter, it just means I get to relive it together with you and have bang for my buck so to speak 🙂
Just to refresh your mind, my dear readers, the MFWF occurs once a year (usually March) and this year marked the 20th anniversary of the event. As such, notable big names of the dining scene were invited down to humble Melbourne to cook for us hungry souls out here.
The night before the Boy and I were to dine with Neil and René at the Noma event and watch our eagerly anticipated show with Anthony Bourdain, the Boy and I paid a one-night only degustation visit to the newly revamped Circa, the Prince at St. Kilda, where Australia's very own rising star Brett Graham who is making waves over at the U.K. was getting ready to cook for us.
If you're unsure who he is, he runs the famous Ledbury (highest jumper on the San Pellegrino World's 50 Best Restaurants 2012 list, moving up 20 spots to number 14 just one step below from The Fat Duck!).
However, if the ranking system sponsored by a branded mineral water does not take your fancy, let me remind you that at the infamous London Riots, the kitchen staff at The Ledbury in Notting Hill were the ones who brandished rolling pins and kitchen tools to fight off looters and rioters to protect their diners.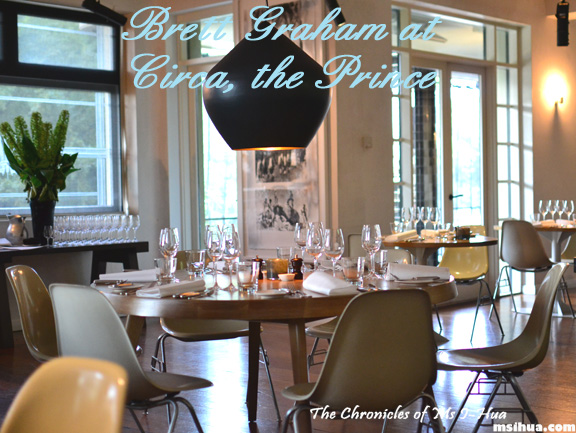 With that knowledge in mind, the Boy and I got ourselves fancied up and were taken on an amazing night of spectacular food, amazing service and a surprise behind-the-scenes kitchen tour with The Ledbury team in action at Circa, the Prince.
It was also our first visit to Circa, and it was the relaunch of the brand new fit-out. I loved loved loved the wide bright windows that enclosed the restaurant in its entirety. So lovely with natural lighting streaming through (food bloggers dream).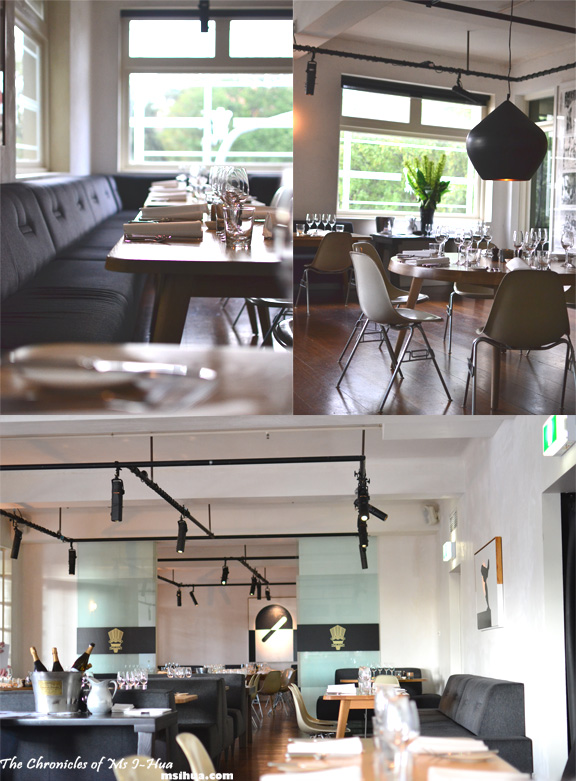 We were the first to arrive, and thus we took as many shots of the layout of Circa to our hearts content 🙂 Luckily for us, we were seated in a corner section which allowed us to see all the action as well as allowed for some privacy.
It was quite romantic 🙂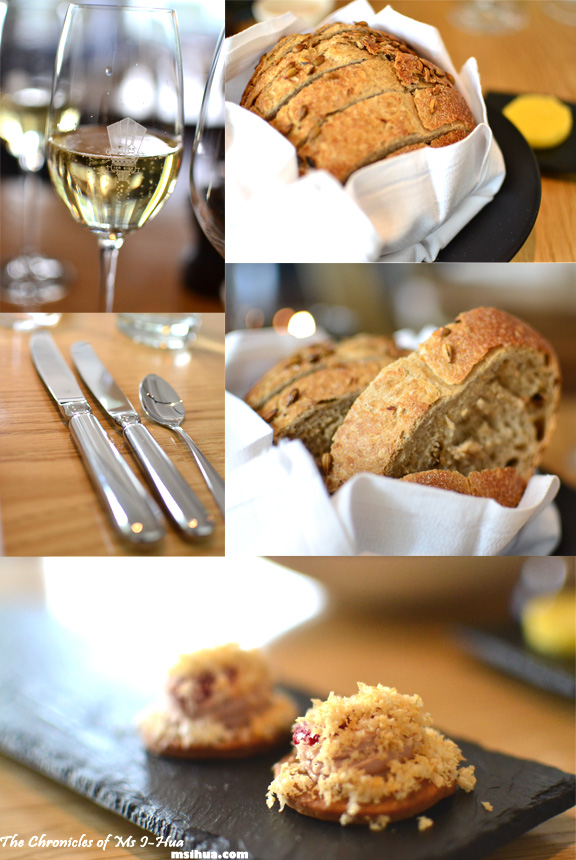 To start us off, we were given a canape of Chestnut Shortbread with Creamed Rabbit Livers which was both at once sweet and savoury.
The rabbit liver was very smooth and creamy as well and we absolutely loved the shaved toppings of hazelnuts.
The warm breads of multi-grain & sunflower seeds were excellent as well. Warm and soft in the middle, toasty and crusty on the outside, just the way good bread should be.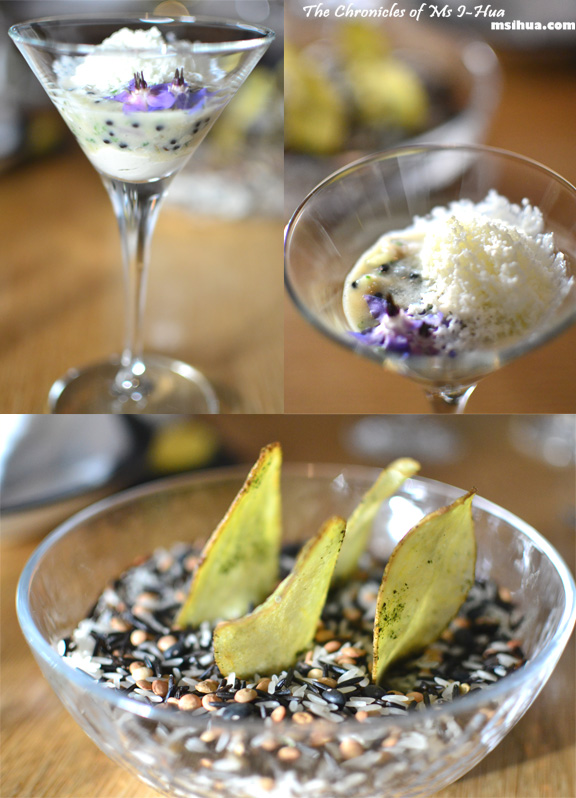 First Course: Chantilly of Coffin Bay Oysters, served with Chips. Paired with Larmandier Bernier 1er Cru, NV – Champagne, France.
I love oysters. Absolutely love them, and I couldn't help but gasp in dismay when I couldn't actually see the oysters in their shell when it was served. However, my disappointment didn't last long as the balanced of flavours slowly brought me back to happy Zen mode.
The oysters were creamy, the chantilly complete with bits of ice, jelly, caviar and a mix of dill and chives bringing together a mouthful of wonderful textures.
By the end of the meal, I was literally scraping the sides of the glass for more. Encore! Encore!
I also did wish there were more of the parsley chips as well…*greedy tummies*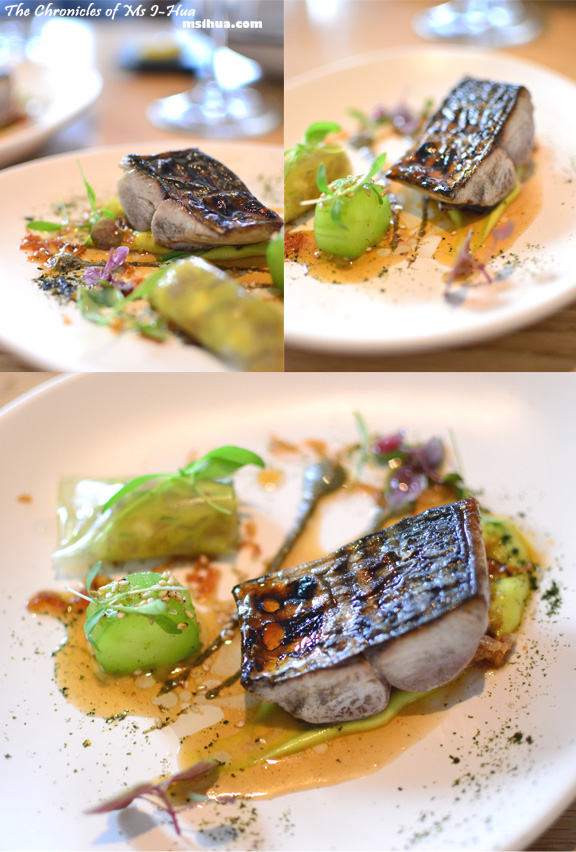 Second Course: Flame Grilled Mackerel with Celtic Mustard and Shiso. Paired with Von Buhl Riesling Trocken, 2009 – Pfalz, Germany.
We were told that at The Ledbury itself, the fish used in this dish would usually be a Bonito (skipjack tuna, a type of mackerel) as the taste of the fish is richer.
I was in heaven with this dish, and couldn't get enough of the crispy shallots, and cucumber jelly with mackerel tartare. The fish itself had a nice smoky flavour to it, with the added sesame seeds providing a nice umame dimension to it.
I wanted more, and tried to distract the Boy, so that I could steal his. Sadly, he didn't fall for my tricks.
The Riesling which was paired with this dish had a dry, spritzy finish to it, and just a bit floral.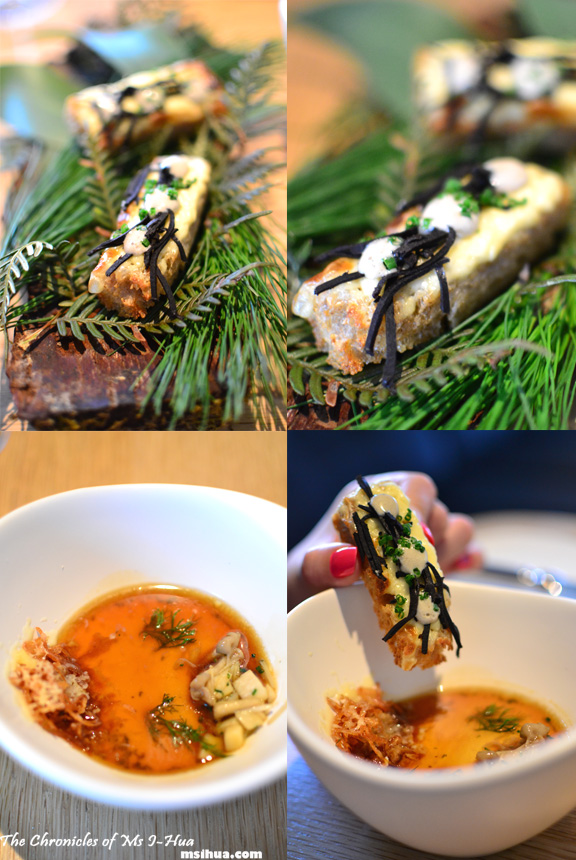 Third Course: Fresh Curd of Buffalo Milk with a Broth of Grilled Onions, St. Nectaire and Truffles on Toast. Paired with Mac Forbes 'Gruyere' Chardonnay, 2010 – en Magnum – Yarra Valley, Australia.
The next course had to be one of my favourites of the night. It could not get any posher than this. Imagine, sitting back and munching down on truffles on toast!
It was utterly decadent! The buffalo milk was so smooth it reminded us of tau foo fah but it tasted even better, with fried shallots and cubed mushrooms. I was in heaven.
The Chardonnay amazingly went really well with the dish. I'm not a fan of Chardonnay in general, but this was earthy and robust. The sommelier mentioned that it had "all the characters of good wine without the fancy wine making".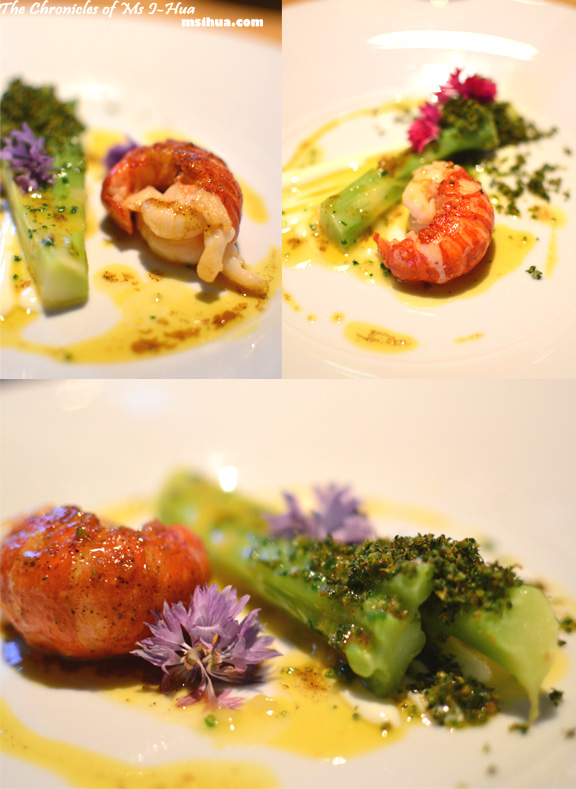 Fourth Course: Western Australian Marron with Broccoli Stem and Brown Butter with Indian Spices. Paired with Valdesil 'Montenovo' Godello, 2010 – Valdeorras, Spain.
Next was the marron served with Indian spices. The dish looked very pretty and well, there wasn't anything too fancy with this. Keep it simple and easy when dealing with good quality seafood.
The Indian spices used were actually very light and didn't overpower the dish in any way.
The wine, which we were told, is Spain's answer to a Chardonnay, which I felt was certainly more fruity than a normal Chardonnay. Quite like a Riesling actually. Maybe it should have been Spain's answer to a Riesling? 😛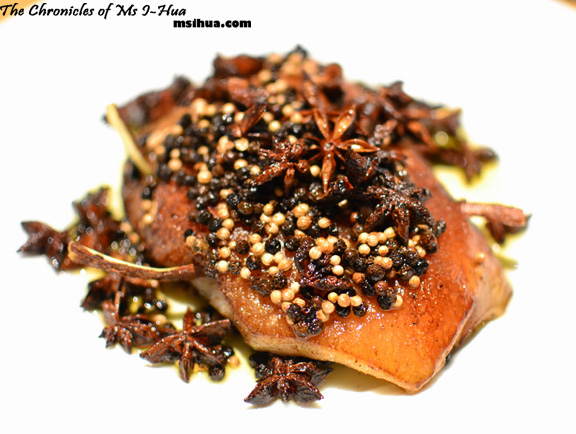 Then, our waiter brought out the next course to the table. But wait! We weren't meant to eat it or touch it!
We were just being shown the actual pork jowl which we would only be having a piece of, but they wanted us to take a picture of it, before they butchered it (nicely) for our consumption.
How sweet 🙂
Seeing all the spices on the pork jowl, got me feeling really excited about trying the flavours which would have been infused into the meat.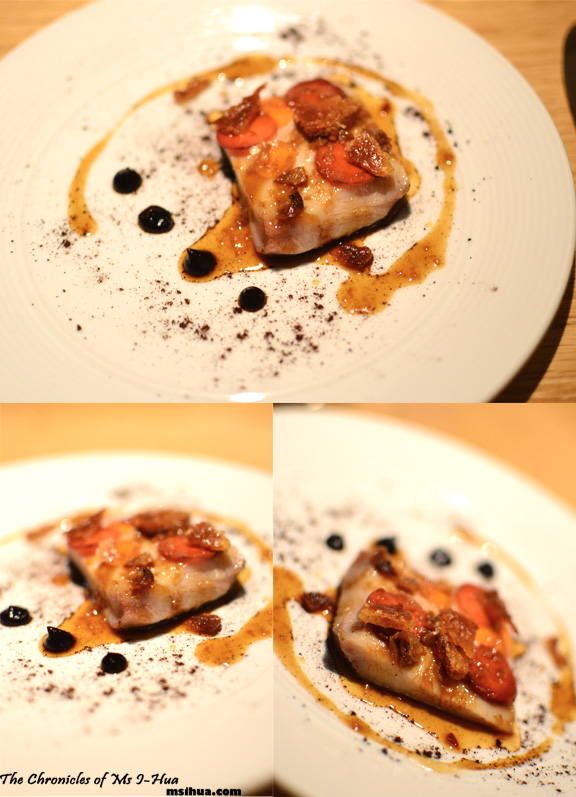 Fifth Course: Slow Cooked Pork Jowl with Camp Coffee, Liquorice and Carrots. Paired with Maxime Graillot 'Equinoxe' Crozes-Hermitage, 2010 – Southern Rhone, France.
Indeed, that when I tasted this, I declared rather loudly to the Boy, "I have ascended so far into heaven with this jowl!". Giggling merrily as I said it (by this stage I've had 5 glasses of wine, and had some of the Boy's wines as well), but I was holding up.
The pork jowl was just so tender and very much a melt-in-your-mouth kind of dish. So good.
The paired wine with this dish, sadly was my least favourite (I'm not big on reds, but I'm learning!) of the night as I found it too tart.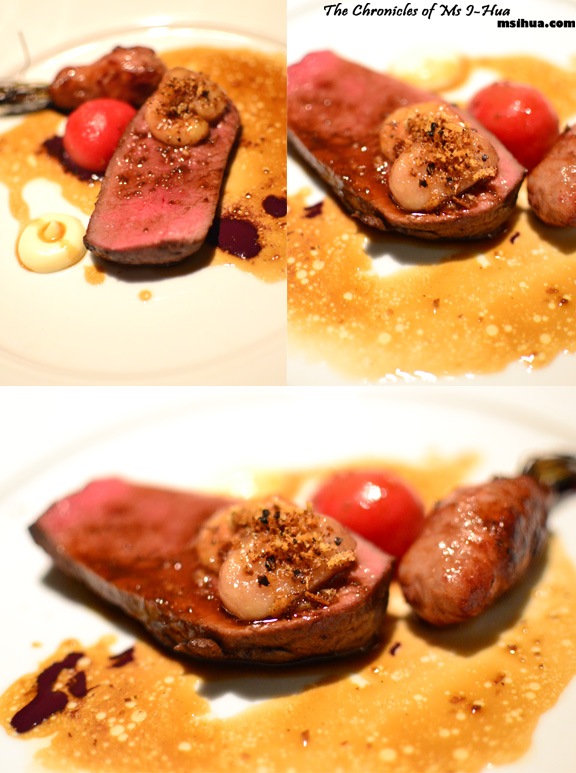 Sixth Course: Loin of Venison Baked in Hay with Beetroot, Red Wine Lees and Smoked Bone Marrow. Paired with Domaine Bernard Baudry 'Le Clos Guillot' Chinon, 2009 – Loire Valley, France.
This last savoury dish, was smokey with a slight hint of vinegar in the gravy. The meat itself was very tender and perfectly cooked. The smoked bone marrow was so subtle and light and my very first deer bone marrow 🙂
I found the paired wine very well rounded and "buttery" whilst the Boy found it quite full bodied and strong.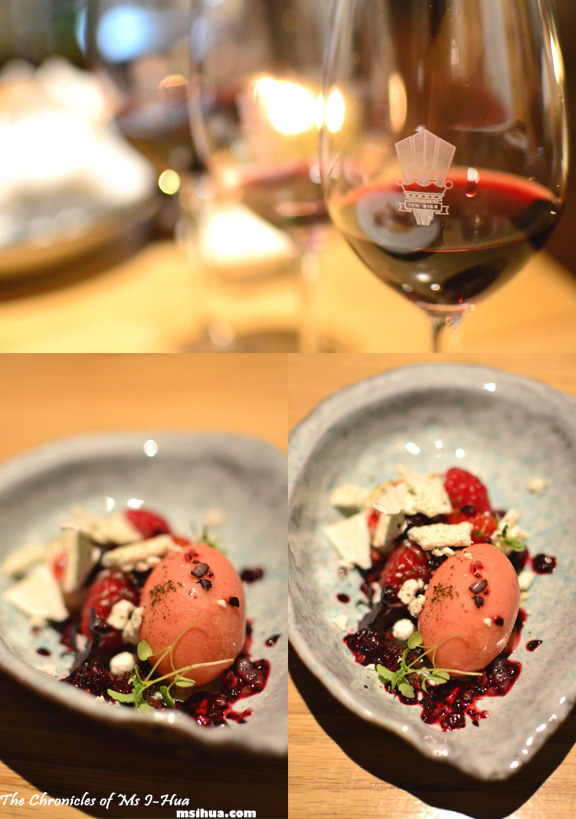 Palate Cleanser: Whipped Ewes Milk Yoghurt with Blueberries, Strawberries and Blackcurrant Leaf Meringue.
The sweet acidity from the berries definitely help cut through the heaviness of the previous course and certainly refreshed us. It was such a visually-appealing palate cleanser as well.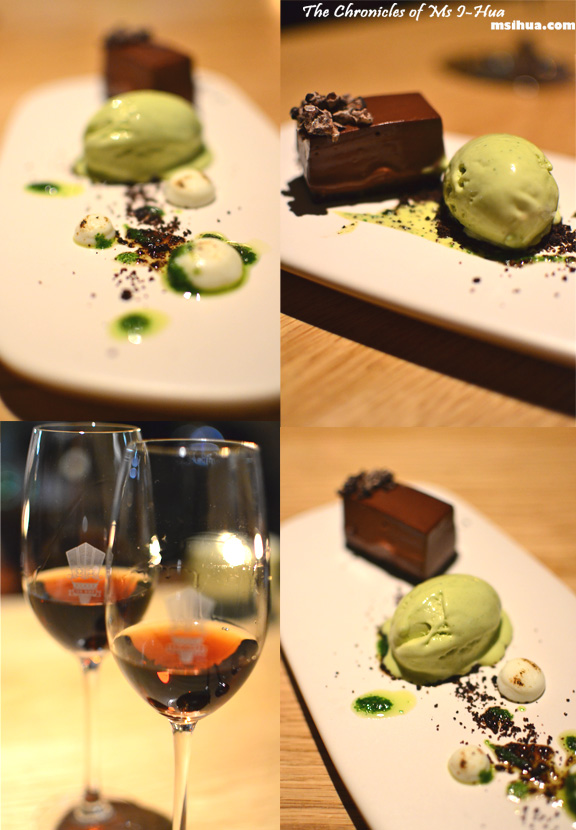 Seventh Course: Pave of Chocolate with Lovage Ice Cream and Burnt Milk Puree. Paired with Henriques & Henriques 15 year old Malmsey – Madeira, Portugal.
Our last course was a beautiful dreamy end to a magnificent meal. The chocolate pave was rich and creamy (seemed to be the theme for the night) and the Lovage (a perennial plant with tastes similar to celery) was refreshing.
Matched with this was an amazing madeira. Though not as sweet as a Pedro Ximenéz (px), it was so smooth and delicious (can you tell I am a fan of sweet and sticky wines?).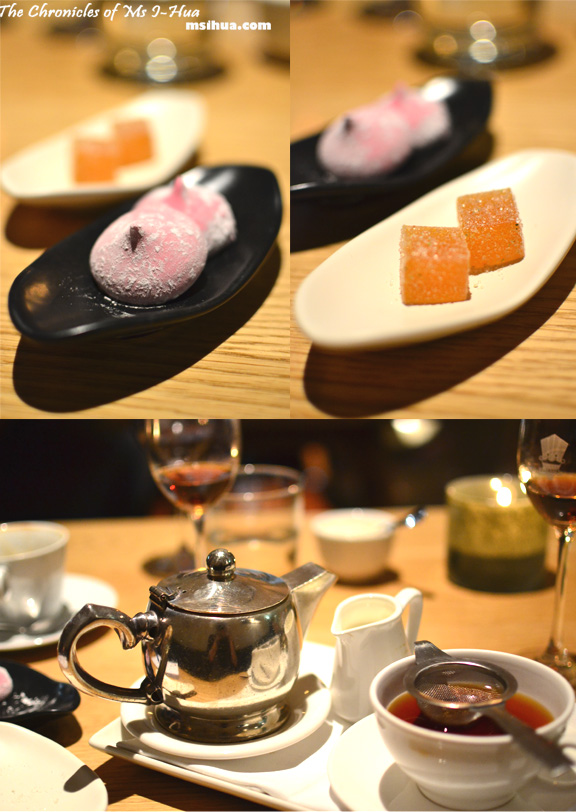 Petit Fours: Beetroot Marshmallows and Passionfruit Jubes.
All too soon, petit fours were brought to our table.
But first, a quick visit by Brett Graham himself to our table (we weren't treated any differently, as he went to greet other patrons as they were leaving as well) where he sat and chatted with us for quite a while.
He was such a joy and very enthusiastic about food, cooking, Melbourne, London, his life and was quite interested to find out that the Boy and I were in the food blogging scene.
He even invited us into the kitchen for a rare tour! Imagine, us in the kitchen where a 2 Michelin starred restaurant team were cooking dinner for us! Aaaaaahhhhhh!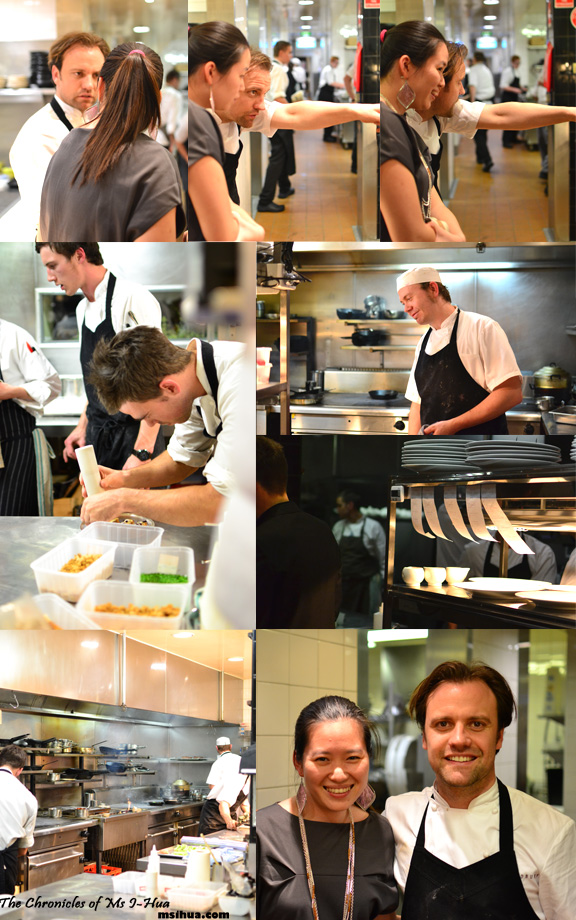 It was sensational!!! We even met the chef who brandished the first rolling pin at the rioters! (I'm such a groupie 😛 )
If I can say only one thing about our experience with The Ledbury's food, then it will be this.
The fact that the food was so good, and the staff were taken out of their comfort zone and original kitchen whist still being able to serve such amazing quality dishes, I can't wait to make a visit to Notting Hill and dine at their restaurant itself.
It's going to be amazing!
*Disclaimer: All food ratings & review are purely based on my own experiences and how I feel about the service, food and quality at the time of visit
Event: Brett Graham's Dinner Event at Circa, The Prince
Date: This event took place on 7th March 2012, as part of the Melbourne Food & Wine Festival 2012
Price: $195 pp (set menu with matched wines)
Circa, The Prince Details:
Opening Hours (Bar & Dining):
Monday to Sunday, 7:00am – 2:00am
Address:
2 Acland Street
St Kilda VIC 3182
Tel: (03) 9536 1122
Website: http://www.circa.com.au/
Twitter: @CircaThePrince
How to get there: