Konichiwa! Hajimemashite!
How are we all this fine wintery morning?
Today I would like to take you on a brief Japanese lunch tour around Melbourne. I say tour, but I really just mean two places.
These two places have quickly taken the Melbourne public over and have created a little niche area in my belly (where my heart is 😛 )
First up, we bring you Akachochin.
Remember the last time we were here? We had an amazing selection of food that night and we were keen to return for more of the good stuff.
One bright sunny Sunday afternoon, the Boy and I decided we would take the day off from chores, and spend the day at South Wharf Promenade, as we were keen to eat and revisit Akachochin and The Sharing House.
We decided that we would have a Japanese lunch, walk around Crown and U-turn back to the DFO (Direct Factory Outlet) for some retail therapy and then settle in for an early dinner at the Duplo house 🙂
Akachochin – South Wharf Promenade, Melbourne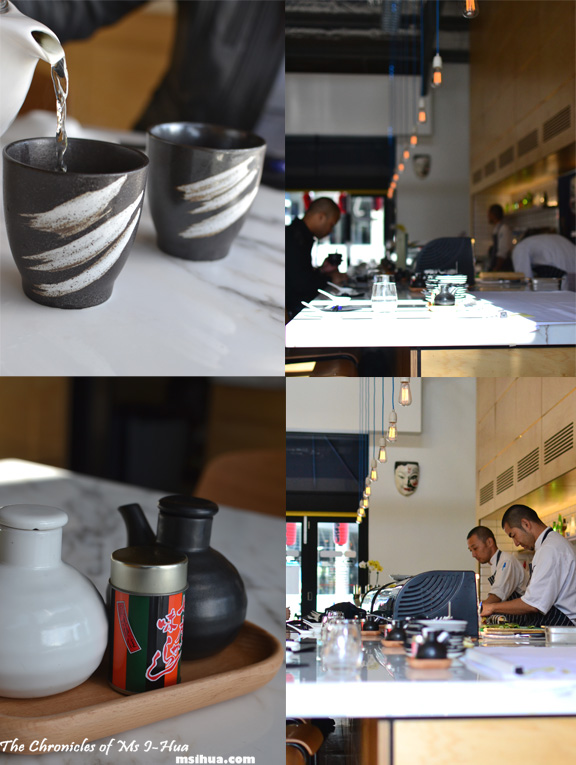 As we arrived, pleasant cries of "Iraishaimase" welcoming us in. We waved to Head Chef Kengo Hiromatsu, who thanked us for coming back for a visit! So sweet 🙂
For some reason, that Sunday, the lunch menu being served was the special Akachochin Set Lunch Menu $20 which is only available weekdays (12pm-4pm).
I was ecstatic to find out that a set lunch menu existed for weekdays, meaning I could come back anytime during work lunches and have a blast!
So the Boy and I happily chose our set lunch options but we decided to be greedy. We decided to choose one dish each from the normal ala carte menu to have all on our own (without sharing with each other!).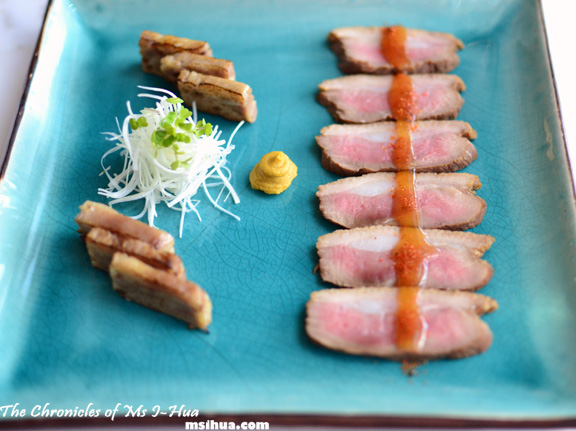 Reisei Kamo Munaniku with Nikogori ($18.00) – Duck breast marinated in soy, mirin, chilli & ginger with a confit duck jelly.
The duck was so tender. Very well prepared and it pretty much melted in my mouth. I loved this dish.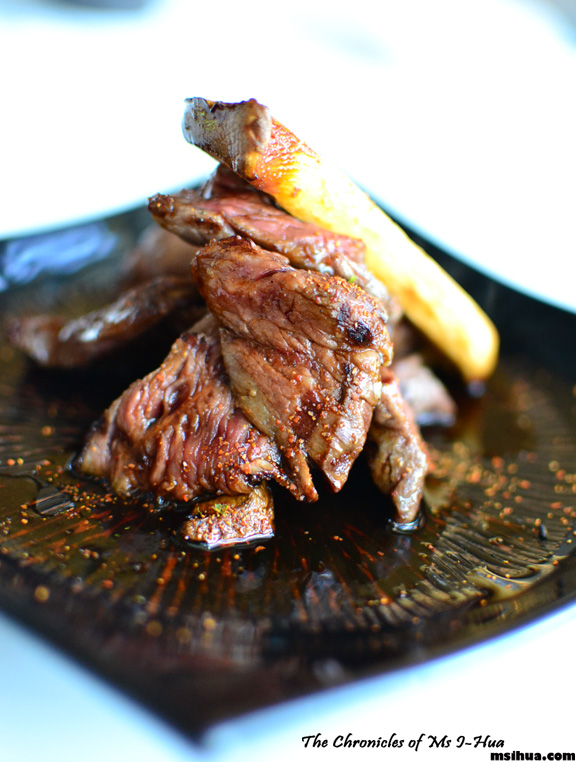 Yakimono – Wagyu ($18.00) served with a spicy teriyaki sauce
The Boy couldn't get enough of the fantastic wagyu dish he had the first time he had it, so decided that he needed to try it again, just to confirm that it was as good as he remembered that night.
All for you my readers, all for you!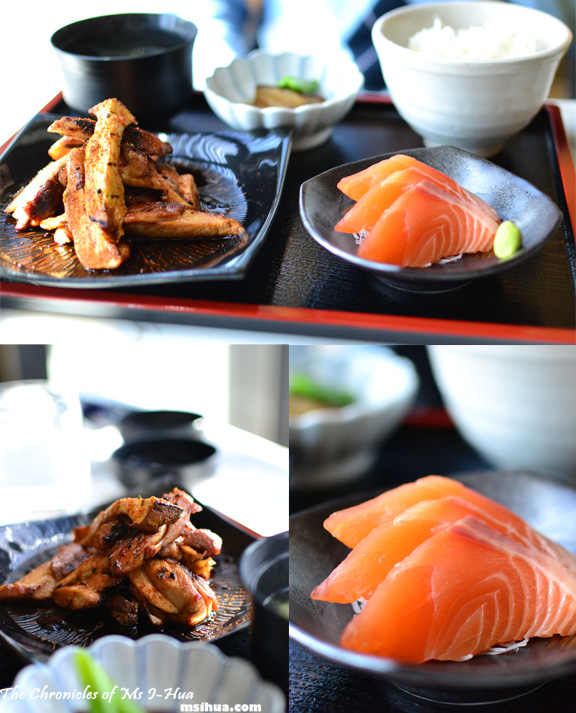 Akachochin's Set Lunch Special – Option 1 ($20.00) – where you get steamed rice, miso soup (dashi stock base with fish & soy bean paste) and yasai ohitashi (seasonal marinated vegetables in dashi stock) served with your choice of sashimi (salmon or kingfish) and a main option.
For his main, the Boy chose the Tori Yakimono, grilled chicken with a spicy teriyaki sauce and I went with the Butabara Yakimono, grilled pork belly with spicy teriyaki sauce.
There was a third option as well if you aren't a fan of meat, which was the Sansai Age Dashi Tofu, deep-fried soy milk egg tofu with Japanese wild mountain vegetables.
Option 2 (which we didn't choose) had steamed rice, yasai ohitashi, the choices of sashimi and noodles (of soba noodles with chicken and bonito broth.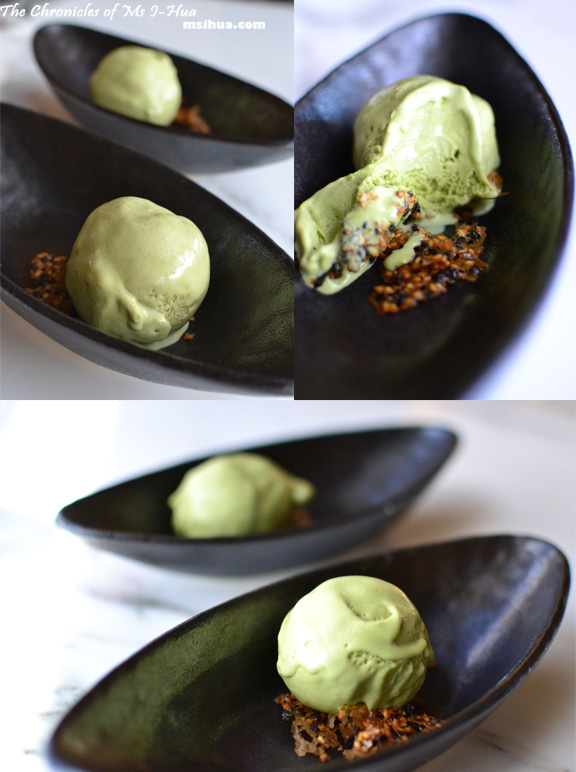 Green Tea Ice Cream ($4.00 per scoop) – served with a white & black sesame tuile
Seriously, one of the best bento meals I have had in Melbourne. Everything served was fresh, and delicately seasoned.
I can't wait to go back for more, particularly in the blistering cold afternoons, where I can sip on hot miso soup happily and eat spicy teriyaki meats!
*Disclaimer: All food ratings & review are purely based on my own experiences and how I feel about the service, food and quality at the time of visit
Food/ Cuisine: Japanese
Dining Style: Restaurant (Izakaya)
Overall Food Rating (Based on the Dining style): 8/10
Restaurant ambiance: 8/10
Service/ Attitude: 8.25/10
Value for money: 8/10 for the set lunch option, but for the normal ala carte menu 7.25/10 as they were slightly expensive given the portions served
Opening Hours:
Monday to Sunday, Lunch: 12:00pm – 4:00pm, Dinner: 6:00pm – late

Address:
Shed 7
33 South Wharf Promenade
South Wharf VIC 3006
Tel: (03) 9245 9900
Twitter: @AkachochinMelb
Website: http://www.akachochin.com.au/
How to get there: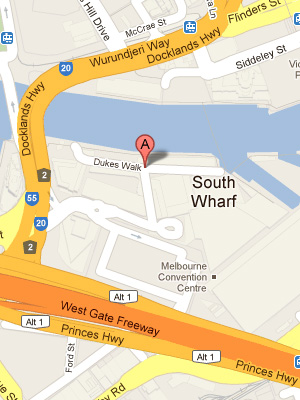 Purple Peanuts Japanese Cafe – Collins Street, Melbourne CBD
The next place I would like to take you probably needs no introduction. It is not as fancy schmancy as Akachochin. The clientele and environment is completely different.
But the food is still top notch quality. Where is this I speak of?
Located on Collins Street, around the corner of Southern Cross Station, lies a busy little Japanese Cafe called Purple Peanuts.
I have only been there twice as I usually can't be bothered once the clock ticks past 12.30pm as the surge of people lining up snakes around the little cafe and spills on to the pavement, not something I look forward to in winter (lining up, I mean).
However, if you time it right, and head there at 12pm sharp, you can rub your hands in glee for you will be in for a good meal!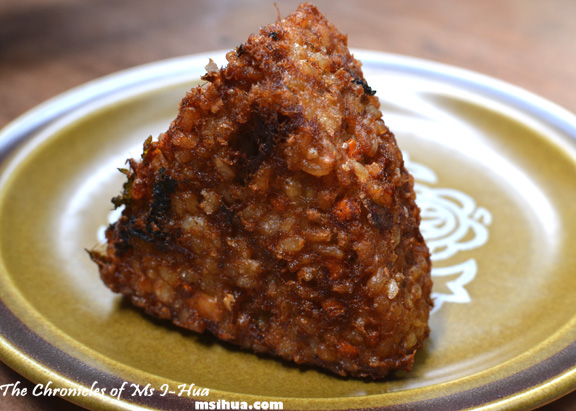 At my first visit with Baboon, we shared the Tuna Onigiri ($4.00) made with brown rice.  It had such a lovely crunchy exterior crust which when you bit into, revealed a lush soft and tasty tuna filling. So good!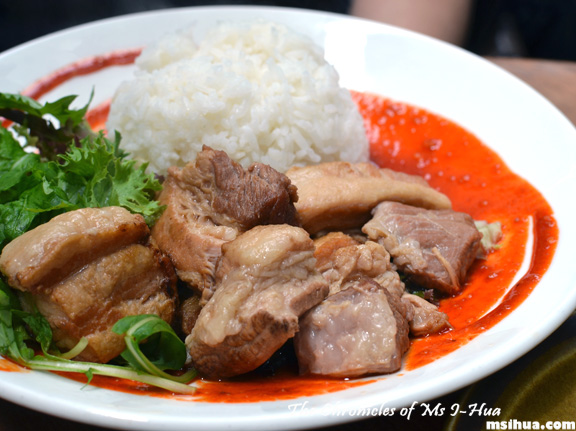 Baboon ordered the Kakuni Pork $9.50 (with miso soup, $11.50) which was a slow braised pork belly dish with rice and a hint of Korean chilli.
We both found the meat incredibly tender and as it felt apart with gentle prodding, gave it a thumbs up. Don't be afraid of the red chilli you see splashed around the plate artistically, as it was a lot sweeter than it looked.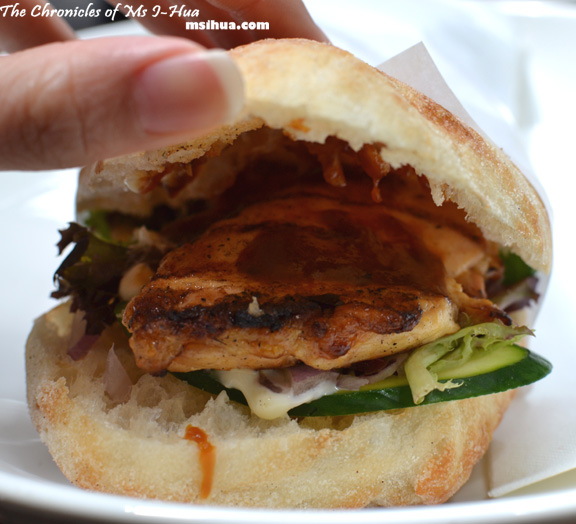 That day, I tried the Chicken Burger ($9.50) which is a flame grilled chicken marinated in soy, sake, sesame and ginger served with a Turkish bread roll. So good, so tender and so delicious!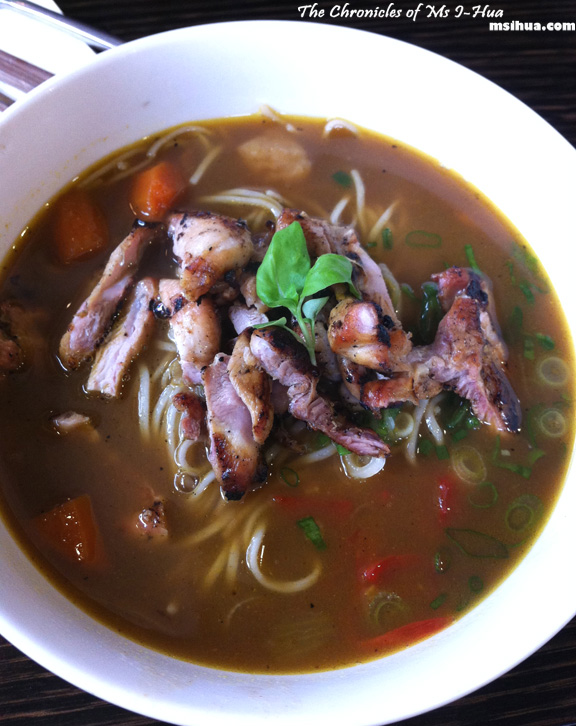 The second time I was there, I had the most addictive bowl of Chicken Curry Soba ($9.50) which is hot buckwheat noodles with mild Japanese curry served with flame grilled chicken (the same as the burger). Apologies for the picture quality as I didn't bring my camera and had to rely on my phone 🙂
The flavour of the curry broth was not as spicy as I would have liked, but then again, Japanese curries are very mild anyway, but it was delicious enough for me to drink the whole bowl and warmed me up for my return to the cold winter air.
*Disclaimer: All food ratings & review are purely based on my own experiences and how I feel about the service, food and quality at the time of visit
Food/ Cuisine: Japanese
Dining Style: Cafe
Overall Food Rating (Based on the Dining style): 8/10
Restaurant ambiance: 7/10 (it's a very tiny cafe during the peak hours where people are squished at the sides. You can choose to sit out at the front or at the alley by the side, but there is no heating. Good during summer time, bad during the colder months, I strongly recommend getting take-aways!)
Service/ Attitude: 7.5/10
Value for money: 7.75/10
Opening Hours:
Monday to Saturday, 10:00am to 8:30pm

Address:
620 Collins Street
Melbourne VIC 3000
Tel: (03) 9620 9548
How to get there: