Momo-friggin-fuku.
The hype generated when Momofuku Seiobo was announced over the twittersphere, blogosphere and atmosphere was amazing.
Every major newspaper wanted to be the first to feature this restaurant the moment it opened.
What was all the excitement for? WHO would have been able to cause so much hyperventilating in Australia?
David friggin Chang, that's who.
If you still don't know who he is or what Momofuku is, please stop reading this post right now, and go look it up on Google.
The man that caused us so much pain and delight all at once when we attempted to cover a few of his crazy-ass recipes in our Momofuku Cookbook challenge, had finally decided to open up a branch in Sydney's The Star Casino.
The man who doesn't allow photos to be taken when dining at the original Momofuku, has relaxed somewhat for his guests in Sydney.
There are only 2 rules when dining in Momofuku Seiobo:
You are allowed to take pictures but 

no

flash is allowed
You may not use your mobile phones in the dining area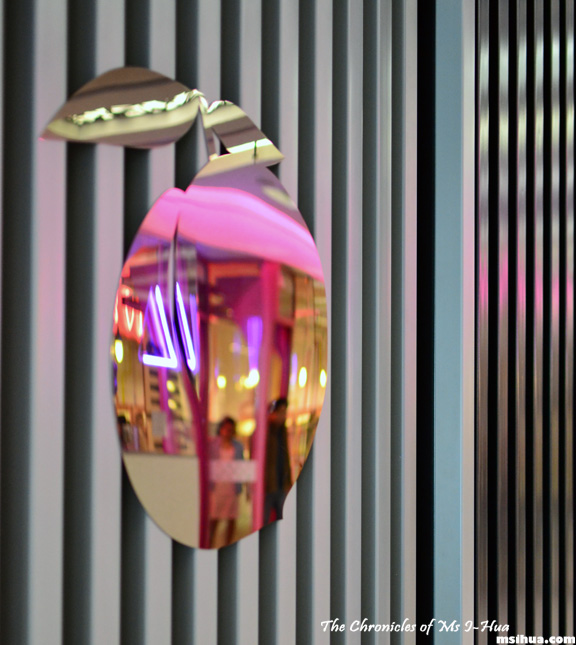 Simple rules really, but people still broke them. And Seiobo staff zeroed in on them pretty much straight-away to nicely, but politely telling them to please respect fellow diners and to follow the rules 🙂
The Boy and I were amazingly lucky enough (he has skillz this one) in getting a reservation pretty much on the first try for a Saturday night dinner 🙂 We were on a pretty tight schedule that weekend, and we were only available for that one dinner, and we got in! Years of purchasing concert tickets via online ticketing websites were put into good use.
You see, to make a reservation for Seiobo, customers have to sign-up and login to the website. Seats are only available 10 days in advance with new seats being put up at 10am every morning. So for us to get a dinner reservation for a Saturday, we had to log-in on the Thursday (10 days before) and quickly click on the day and time that we needed.
We managed to get in to the very much hyped (and deservedly so) 14-Course Dinner Tasting Menu at $175 per person.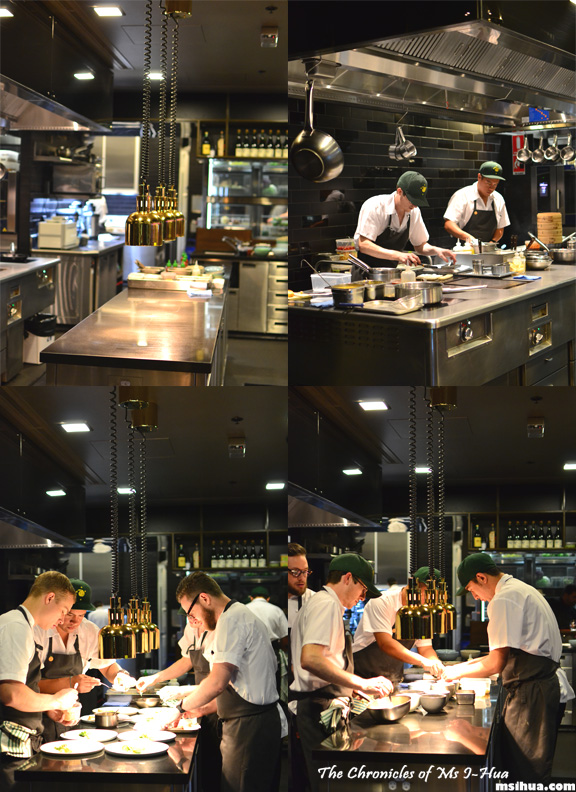 As we walked into the restaurant that Saturday, I couldn't help but silently pray that we would be offered seats at the kitchen bar area. Firstly because the whole restaurant is shrouded in darkness and this was the best and brightest area to sit in (blogger mode) and secondly, we would get to see all the action in the open-planned kitchen!
Happily, this was the case and it pretty much set the mood up for us for the rest of the night 🙂
One of the fun things about Seiobo is that besides the alcoholic matched drinks (wine, sake and beer) for $95 (per person for dinner), there was the non-alcoholic version which paired the meals with seasonal juices. It was no surprise then, that I chose the Juice Degustation for an additional $55 (per person).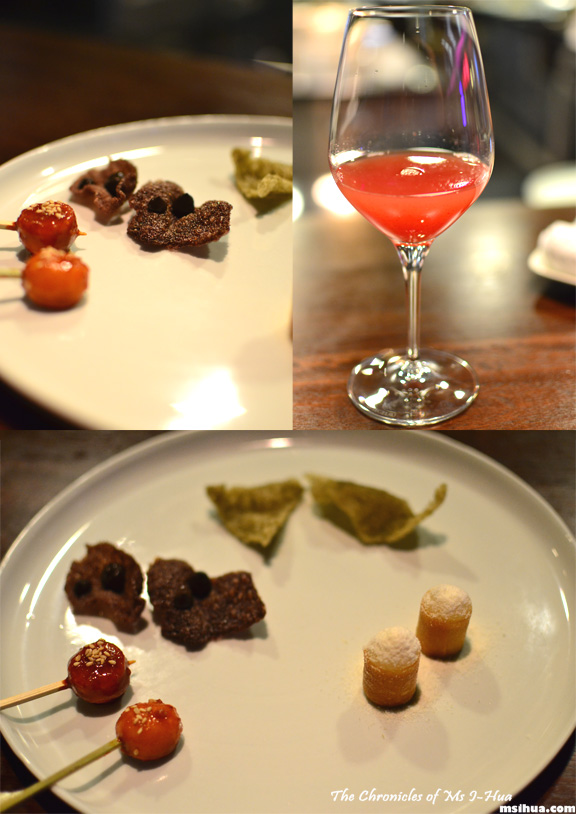 1st Juice: Watermelon juice to be paired with the 1st and 2nd courses.
1st Course: Snacks (left to right) – Mochi with Korean Red Dragon Sauce, Fried Pig's Blood Cracker with Pig's Blood Gel, Potato Puff with Nori and Smoked Eel with Freeze Dried Apples and Apple Gel.
The Mochi on toothpicks were similar to the Roasted Rice Cakes with Korean Red Dragon Sauce we attempted from David Chang's Momofuku Cookbook. The Mochi were chewy in texture and covered in an addictive sweet and sticky red dragon sauce.
My favourite was definitely the smoked eel with freeze dried apples and apple gel. I think it partly encouraged the Boy in making his Apple Verrine!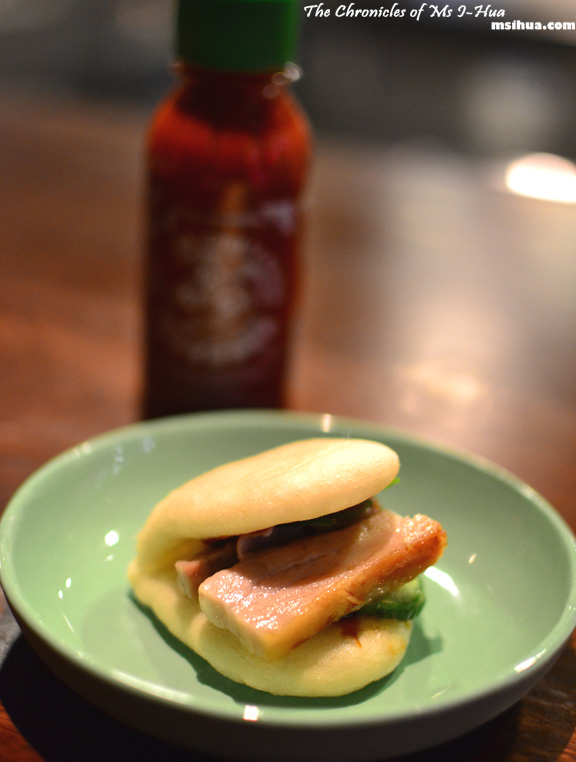 2nd Course: Momofuku Pork Bun – Steamed bun with pork belly, cucumber and Hoisin sauce.
This is Momofuku's signature Pork Bun and it definitely lived up to its high expectations. The bun was extremely fluffy and soft which went so well with the melt-in-your-mouth tender pork belly slice.
It was everything I imagined it to be and more! The fact that this was the most hyped-up dish and it still lived up to my expectations pretty much said everything.
I'm sorry Azzie, your attempt was worthy, but the original is definitely the king!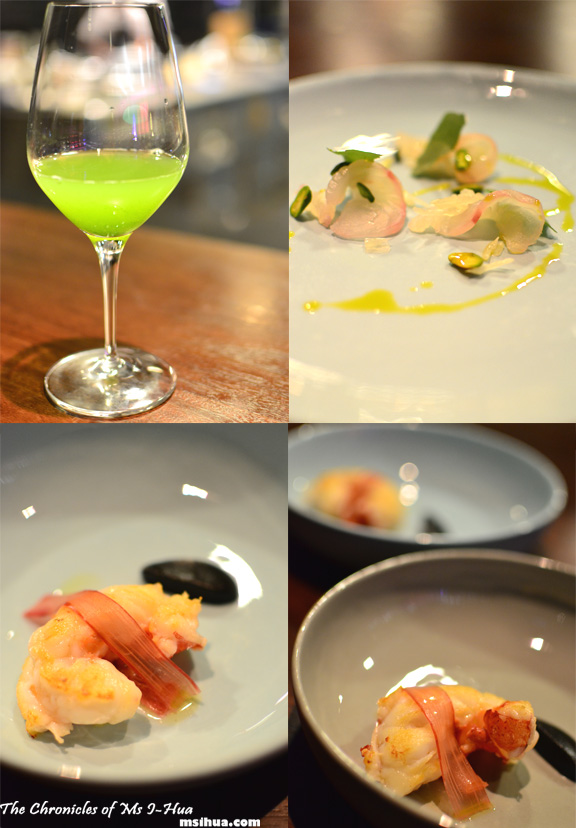 2nd Juice: Cucumber juice to be paired with the 3rd and 4th courses.
3rd Course (top right): Striped Trumpeter with pomelo, salt bush and pistachio. This was a refreshing dish. The poor waiter. I kept saying, "What? What fish?" And he kept saying, "Trumpeter, striped trumpeter", so very patiently and amused with me.
4th Course: Western Australian Marron with rhubarb and burnt eggplant. The burnt eggplant reminded me slightly of baba ganoush and I just couldn't get it out of my head that it was black in colour.
3rd Juice: Beetroot juice to be paired with the 5th and 6th courses.
5th Course (top right): Confit Potato with Quandong, bottarga, beef fat, mullet roe and watercress (mine was cooked with duck fat or regular confit in place of the beef fat). The mullet roe flavour was extremely intense and I can see why it was used sparingly, just lightly grated over the top.
6th Course: Grilled Watermelon with radish, fermented black bean and wagyu. I had the vegetarian version of this which had no wagyu in it.
The Boy described his dish as texturally fun with the crunchy radish slices pairing well with tender wagyu and juicy sweet watermelon cubes. I felt rather cheated with this dish as I was missing the protein element!
Waa waa guitar as my good friend Azzie would say 🙂
4th Juice: Apple & Parsnip juice paired with the 7th and 8th courses, and this was my least favourite juice, as I felt that the parsnip had a slightly bitter taste to it, and I'm not fond of bitter things in general 🙂
7th Course (top right): Spanner Crab with Yorkshire pudding, old bay, curry reduction sauce.
This was a weird pairing. On one hand you have an English style Yorkshire pudding, while on the other hand, you have Spanner crab covered in an Asian curry reduction sauce. They don't sound right but somehow, they went well together, in a weird-good way. I really liked this dish and was not expecting it at all. The pudding was so light and pillowy and the crab reminded me of chilli crabs.
It felt like we were eating fried mantous and chilli mud crabs in Asia.
8th Course: Slow Cooked Egg with toasted rice, green tea (genmaicha), brown butter.
The slow cooked egg had a chawanmushi texture topped with brown butter. The toasted rice provided a really lovely crunch whilst the genmaicha complimented the dish by providing a robust earthy taste to round it all up.
So I guess, all in all, the 7th and 8th course was a nod to more general Asian street-food cuisine?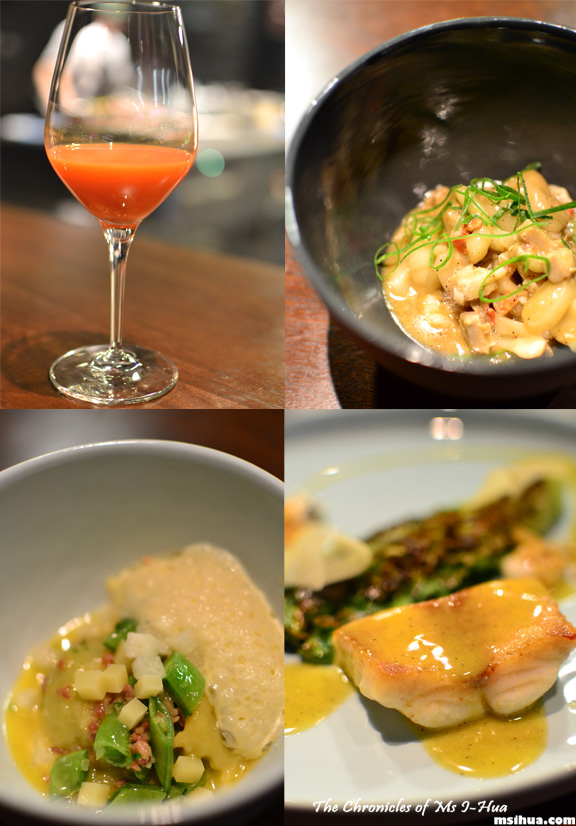 5th Juice: Carrot juice paired with the 9th and 10th courses.
9th Course: Orecchiette, tripe, chilli and marron (top right). Surprisingly, this was the Boy's favourite dish of the night. He described it as a full-flavoured dish with great balance of saltiness and sweetness. Marron and beef, who would've thought that they made a great pairing. I called it the surf n' turf dish 🙂
9th Course (non-beef alternative): Pancetta, pasta, snap peas, cheddar cheese, pear and radish (bottom left). Look, at the risk of having the waiter laugh in my face for making them repeatedly repeat themselves, as I couldn't quite catch the descriptions and names of the components, I meekly nodded my head when he told me the name of my pasta. I have no idea what it was. But I really liked it. The interplay of the many different textures to this dish was just so fun and I couldn't get enough of it.
10th Course (bottom right): Longsnout Boarfish with smoked roe, cos lettuce, kohlrabi and leek ash. The fish was beautifully cooked and I was just loving the fact that we had just been served leek ash!
6th Juice: Red Currant juice paired with the 11th and 12th courses.
11th Course (top right & bottom left): Pork Neck with turnips, stormshell clams and ramen broth. We tasted the ramen broth and we couldn't help but immediately compare it to the ramen broth we made following his (David Chang) recipe. It was nothing like this at all. Whilst ours had a smoky robust taste, this was clear and light but much saltier. It was similar but not quite the same, which only meant that it had a different finishing to ours, as we made ours strictly for ramen (of course that was the only answer 😛 )
12th Course: C2 Cheese with honey licorice, bee pollen, star anise and cider jelly. This immediately reminded me to my cheese course at Pei Modern and I couldn't help drawing comparisons to them both.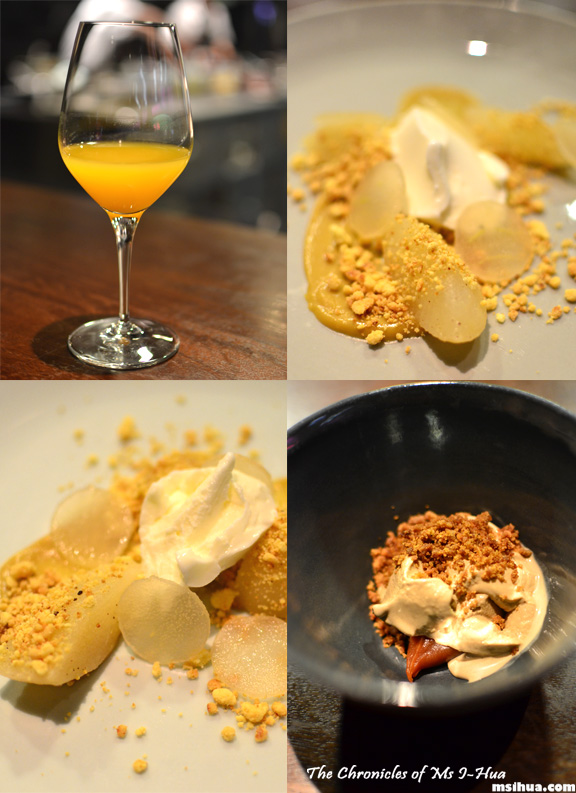 7th Juice: Mandarin juice paired with the 13th and 14th courses. This was certainly the best juice of the night.
13th Course (top right & bottom left): Poached Pear with yoghurt sorbet, sultana miso and whey. I still found the combination as weird as when we first tried it at the Cookbook challenge when Shellie and Cherrie made it. It was weird, but this time I couldn't stop eating it. The yoghurt sorbet and the milk crumbs were so addictive that I managed to forgive the existence of the miso in this dessert.
14th Course: Malt with brown sugar and smoked butter caramel which was the winning dessert of the two.
So there ended our amazing 14 course dinner.
Was it everything I expected it to be?
We pondered this question as we rubbed our full bellies and contemplated asking for the bill.
I secretly wondered, "what would the petit fours look like?"
As these thoughts were going through my mind, one Final Course (which was a surprise course) was served, Bo Ssam (slow cooked pork with brown sugar crust).
This was to be our final "dessert" in lieu of petit fours. Yup. Slow cooked pork coated and glistening in sugar was our dessert.
OH YEAH! We had been staring at the hunk of meat towards the last hour of our meal, wondering when we would be served pulled pork and it never appeared. Who knew that it would materialise as a dessert. We were flabbergasted and thrilled.
We did what any normal person would do. We got down and dirty and went straight for it 🙂
We were given 2 packets of Momofuku Kim Chi compliments of Momofuku Seiobo (every patron had one as they left) which we have since devoured when we made chirashi zushi a few weeks ago. So so so good. I love pickled and preserved vegetables!
We also bought 2 issues of David Chang's Lucky Peach magazine, issues 2 and 3. Issue 4 is now out! Aaaaah! I MUST GETS ITTTTT!!!
*Disclaimer: All food ratings & review are purely based on my own experiences and how I feel about the service, food and quality at the time of visit
Food/ Cuisine: Contemporary/Modern Australian (Asian/Korean Inspired)
Dining Style: Casual Fine Dining
Overall Food Rating (Based on the Dining style): 8.25/10
Restaurant ambiance: 7.25/10
Service/ Attitude: 8/10
Value for money: 7.5/10
Opening Hours:
Lunch: Friday & Saturday
Dinner: Monday to Saturday
Address:
The Star (entrance at Edward and Union street)
80 Pyrmont Street
Pyrmont NSW 2009
Tel: (02) 9777 9000
Bookings: Reservations strictly via Momofuku's online reservation system only.
Website: http://www.momofuku.com/restaurants/seiobo/
Twitter: @momofuku
How to get there: