Now as you are all aware of, I am no wine connoisseur. I drink wine purely out of enjoyment and that I like the taste of it. Don't ask me about the hints of bergamot, lavender and fairy dust in each swivel and sip. Don't ask me to distinguish between the regions and don't ask me to differentiate between the barrels in which the wine was kept in.
I will be completely honest with you. I'd be hopeless.
However, that being said, I can tell a good wine from a bad. And really, at the end of the day, that's what counts, correct?
I recently attended a Wine dinner hosted by the good folks of Wirra Wirra Winery (South Australia) at my local (that's how I roll) one hatted restaurant, Livingroom in Malvern.
Wirra Wirra is an aboriginal name meaning "amongst the gums", which should give you an idea of the surrounding areas of the winery.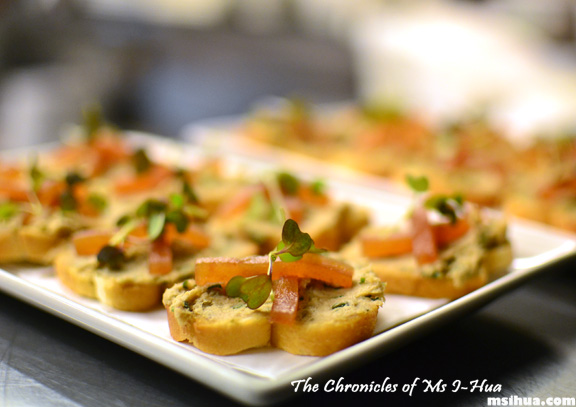 As Azzie and I arrived, it was clear to us, that everyone in attendance were already having a good time, and lost no time in whipping out our cameras and joining them in their revelry 🙂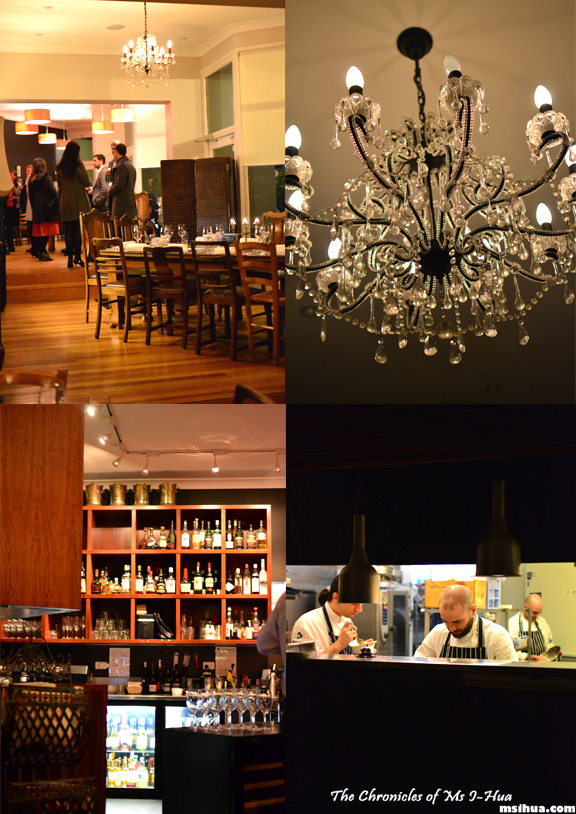 What I like about dining at Livingroom is the fact that it looks and feels as if you are actually standing or sitting in someone's private living room. It's comfortable and extremely cosy.
The dim lighting, although proved to be quite challenging with my pictures, is a lovely romantic mood lighting for the place.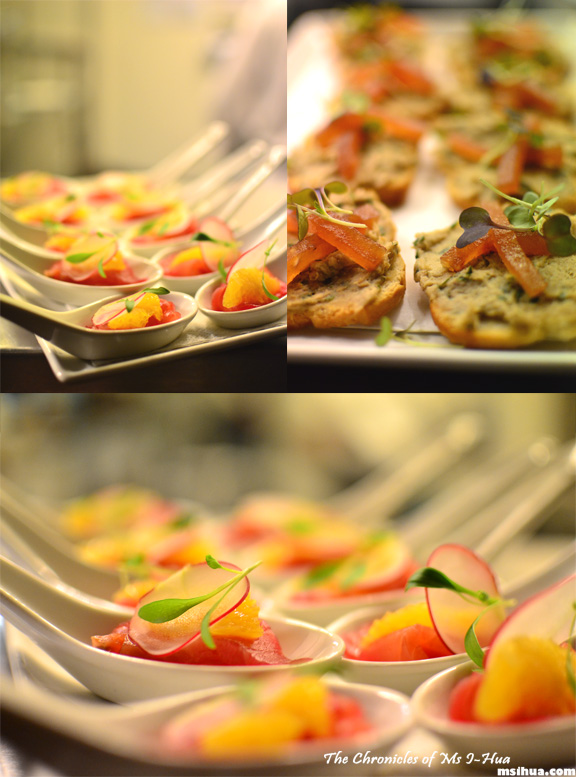 We started off with Canapes paired with 2012 The Last Watch Adelaide Hills Riesling. The Riesling we were informed, was picked only 2.5 weeks ago from Adelaide Hills (which has good climate for these grapes). The grapes are hand picked and gently crushed before being bottled for production.
As we stood around sipping our lovely Riesling, we enjoyed two types of canapés from the kitchen. We had a Cured Salmon with baby beets, orange, radish and coriander on a cute soup spoon as well as a Rabbit Rillette with quince paste.
The favourite for us was that rillette.
When someone asked, "How long should a Riesling age?", Paul Smith (Senior Winemaker) informed us that in terms of Rieslings, it ages rather uniquely. You either drink it within its first 18 months or wait after 5 years, if not, you get what winemakers call, the "dumb years".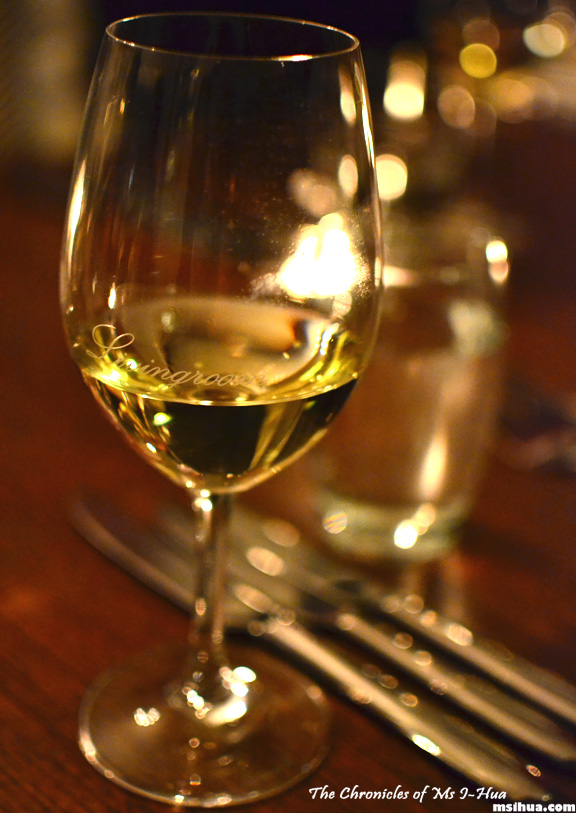 When we were seated, we were poured the 2011 12th Man Adelaide Hills Chardonnay. Why is it called the 12th Man? The founder of Wirra Wirra Wines, Robert Strangways Wigley, always wanted to be the 12th man of the Australian cricketing team. If you would like to read more on the history of Wirra Wirra winery as well as the founder, click here 🙂
According to the notes, this Chardonnay has a buttery and creamy taste on the palate with hints of citrus from nectarines and peaches.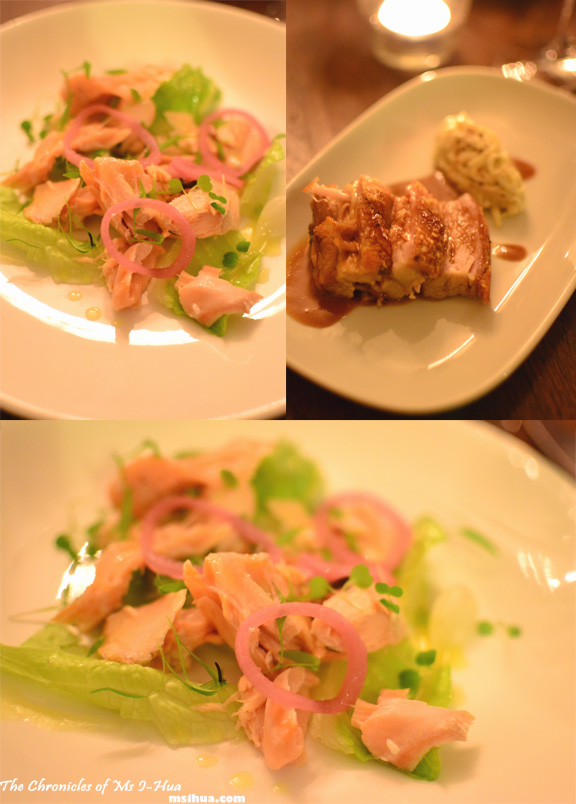 Salad of Slow Cooked Salmon with Pickled Young Onions paired with 2011 12th Man Adelaide Hills Chardonnay.
The salmon was cooked beautifully and I loved the pickled onions (which I have had on my previous visit) and liked the freshness of the dish. However, I didn't quite think that the dish matched the Chardonnay very well. There was just a missing element.
Next up, we were served a delicious Crispy Belly of Pork with Celeriac Remoulade which was paired with 2010 The Absconder McLaren Vale Grenache.
The pork belly came resting on a hazelnut and pork emulsion made with pork jus and Pedro Ximenez.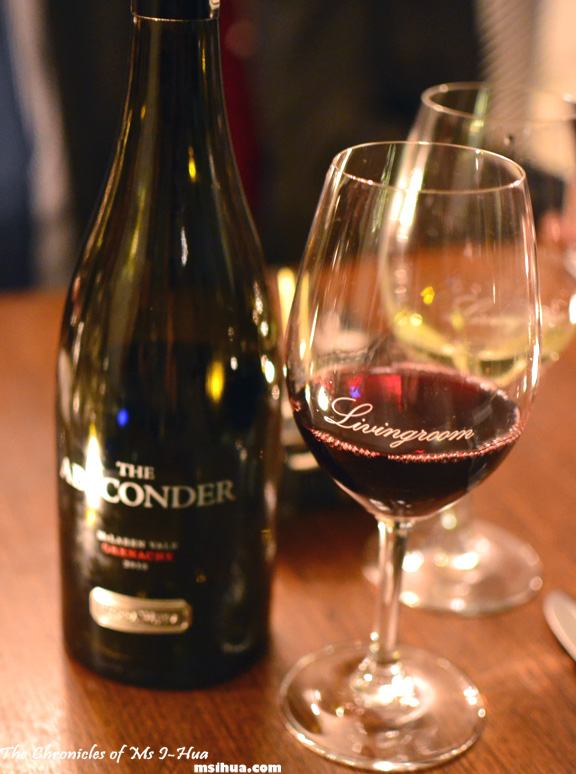 The dish was perfectly matched with the red. I'm not usually a fan of reds, but I think because the Absconder was slightly on the sweeter side of things, I absolutely loved it.
The fruit that goes into this wine is again hand picked, and given a 5 day cold soak, before letting it sit on its skin for around a week. From there it is aged for 12 months in very old French oak (to soften and round the wine), producing the slightly musky floral notes which is distinct on the palate.
Once the Absconder was cleared away, the team behind the winery decided to play a little wine guessing game, with the winner walking away with 5 bottles of wine. All we had to do was to say true or false, or yes or no to each of the "facts" they presented.
It was a nail biting neck-to-neck competition and Azzie won! Yayy! The wine which we were all tasting (and failed to correctly identify) was the 2004 CHURCH BLOCK Cabernet Sauvignon Shiraz Merlot which is a wood matured dry red, blended consistently to a medium weight.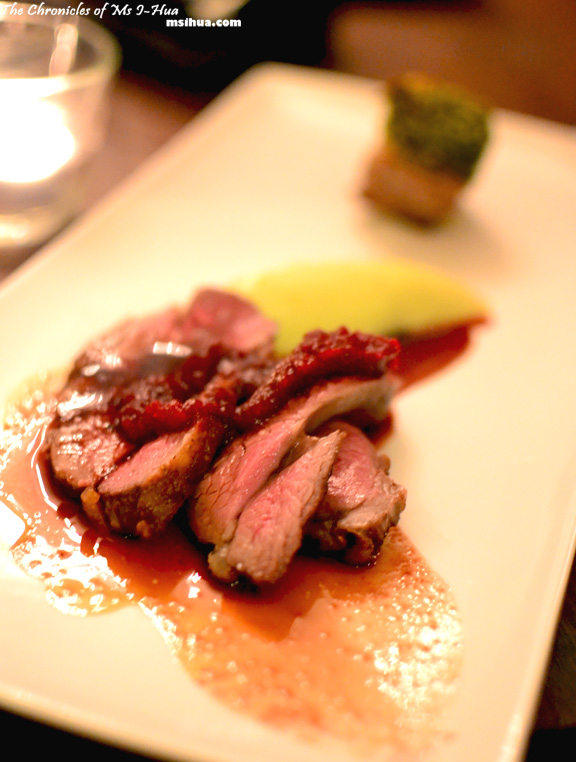 Duo of Lamb – Slow Cooked Shoulder of Lamb with Persillade and Roast Rump of Lamb with Beetroot Chrian paired with 2009 RSW McLaren Vale Shiraz and  2010 Woodhenge McLaren Vale Shiraz.
The lamb…OMG… the lamb was too good to be true! It was tender, it was juicy and it was every bit a piece of lamb should be. The roasted lamb rump had the most amazing crumbs of which included parsley. Just so good.
Matched together with the Shiraz named tongue-in-cheek to Stonehenge, the Woodhenge is grown on vineyards quite close to the sea, with clay soil and lime stone base. This produces a very juicy rich fruit which is then hand picked and stored in a combination of French and American oak barrels.
The resulting taste you get on the palate is a lovely raspberry and plum with a slightly sandy texture.
Also matched with the lamb was the 2009 RSW McLaren Vale Shiraz and is named after the founder or as one naughty individual shouted out, "Real Sexy Winemaker!".
This shiraz has great intensity, very perfumy and very spicy adding to the great depth and flavour with hints of licorice (or aniseed), chocolate, raspberry and plum.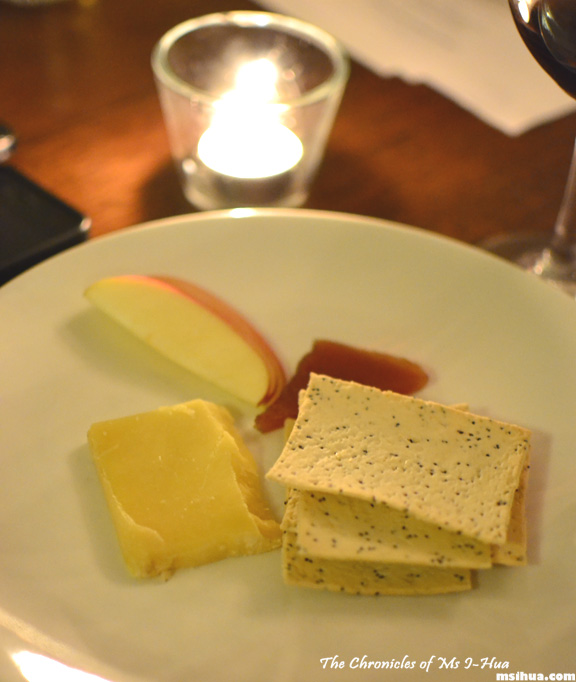 To end the fun night, we had a Calendar Selection Farmhouse Cheddar served with the amazing house made quince paste (which topped the rabbit rillette on the canapés).
The food at Livingroom Restaurant, Malvern was once again very enjoyable. I can't help but feel like a lucky duck that such an establishment exists in a suburb so near me.
The Boy and I visited Livingroom some time in March and still haven't gotten round to posting about our 5 course degustation surprise date dinner yet (slack!). I promise, it will come soon *looks pointedly at the Boy*
I had a great fun night tasting the many wines from Wirra Wirra (I think each dining guest had about 1 bottle of wine each by the end of the night) and again, I have learnt a lot about wines (but never enough!) through this experience.
More information on Wirra Wirra Wines at http://www.wirrawirra.com/
[Ms I-Hua dined courtesy of Livingroom Restaurant, Wirra Wirra winery and Hot House Media and Events]
*Disclaimer: All food ratings & review are purely based on my own experiences and how I feel about the service, food and quality at the time of visit
Food/ Cuisine: European/Mediterranean
Dining Style: Restaurant

Opening Hours:
Lunch: Wednesday to Sunday, 12:00pm to 3:00pm
Dinner: Tuesday to Saturday, 6:00pm to 11:00pm
Weekend Breakfast, 8:00am to 3:00pm
Address:
12-18 Claremont Avenue
Malvern VIC 3144
Tel: (03) 9576 0356
Website: http://www.lroom.com.au/
Twitter: @LivingroomR
How to get there: