What is the best way to compliment your lazy Sunday's and make
them even more perfect? A hot cup of frothed coffee of course!
Devondale Barista's Own is made to deliver a consistent smooth
creamy froth to your favourite style of coffee at home.
______________________________________________________________________
I think its safe to say that the Boy and I are admirers of great chefs.
We have tried to emulate the cooking styles of many greats (Halloween I and Halloween II; Charcoal) and been lucky enough to eat food in which they have served up (Rene Redzepi and Brett Graham).
Given the opportunity, we would love to have been able to dine at the famed El Bulli by Ferran Adria.
Alas, this is no longer possible with the restaurant now closed to the public.
However, there is one thing we can still do to imitate the great Ferran and that is by replicating a recipe from his cookbook!
The pressure is on and it felt as if we were copying a Picasso painting! Eep!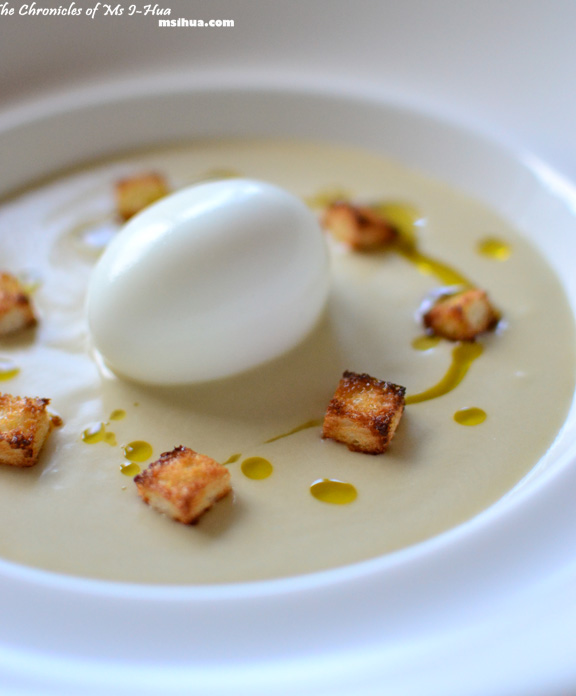 Overall, I loved the distinctive taste of potato and naturally consumed each spoonful with a moan and a deep sigh.
The soup was magnificently smooth and the croutons partnered well to provide a different layer to the depth of this simple dish.
Vichyssoise (Leek & Potato Cold Soup) Recipe
(Recipe taken from Ferran Adria's 'The Family Meal: Home Cooking with Ferran Adria')
Ingredients:
1 x Leek
1/2 x large Potato (washed, skinned and cut into cubes)
1/2 x Red Onion (thinly sliced)
2 x Eggs (room temperature)
400ml of Chicken Stock
40ml of Whipping Cream
1 1/2 Tbsp of Butter
2 Tbsp of Croutons
Extra Virgin Olive Oil (to drizzle)
Procedure:
Trim away the dark green leaves from the leek and cut it in half (lengthwise). Rinse them under running water to rid of any dirt. Slice them thinly.
With a large saucepan, melt butter over low heat. Add sliced onions and cook for about 5 minutes until they turn soft. Be careful not to brown them. Slow cooking helps bring out the "sweetness" from the onions.
Add your sliced leeks and cook for another 10 minutes until softened. Stir them often.
In a separate pot, pour in the chicken stock and bring it to a boil.
Once your leeks and onions are soft enough, add potatoes into the saucepan and cook for a few minutes.
Add in the hot chicken stock and simmer for 30 minutes (lid covered).
After 30 minutes, take your soup off the heat and blend it with a stick blender until smooth and creamy. Be careful when blending as the soup is hot!
Pass the soup through a fine-meshed sieve to rid of any lumps. Leave it aside to cool. Once slightly cool, place it in the refrigerator to chill until very cold.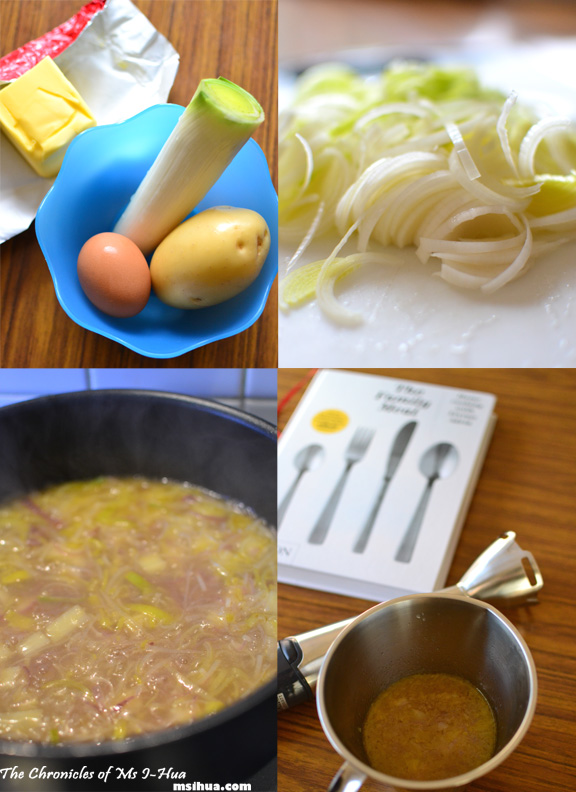 While waiting for the soup to chill, you can prepare the eggs by bringing a small pot of water to boil.
Add eggs and cook for 3 minutes. Take eggs out and place in a bowl of ice water to cool. Once cooled, peel off the shells and place them in another bowl of warm water until ready to serve.
Once your soup is chilled, whisk in the whipping cream and season with salt and pepper.
To plate the dish, place an egg in the middle of your serving bowl and pour in the Vichyssoise.
Place croutons around the egg and drizzle with some extra virgin olive oil.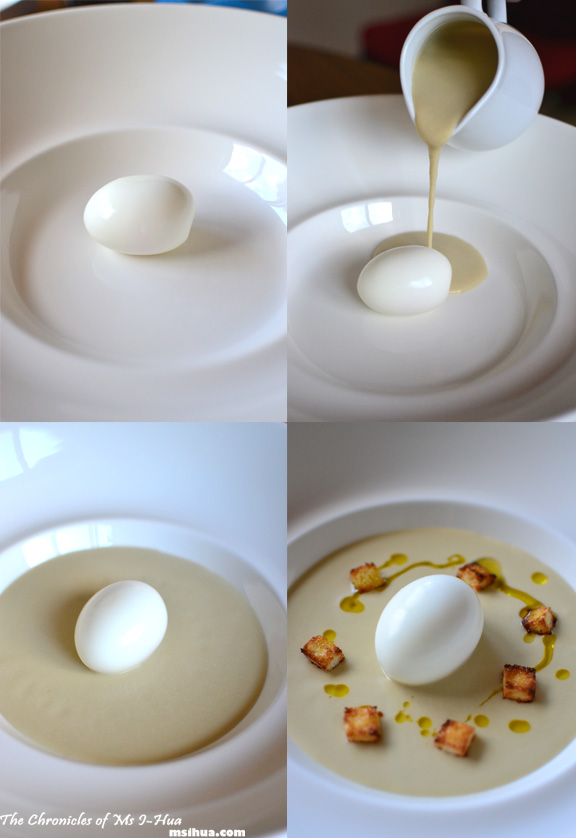 Voilà! There you have it, Ferran Adria's simple Vichyssoise soup.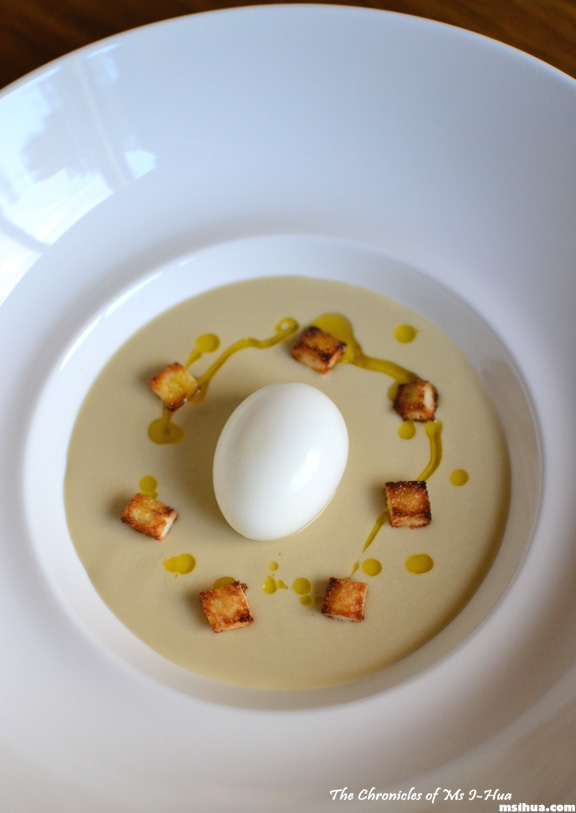 Truly, the best things in life are the simplest pleasures.
Not only does it taste good, it looks so dainty and pretty in the soup plate 🙂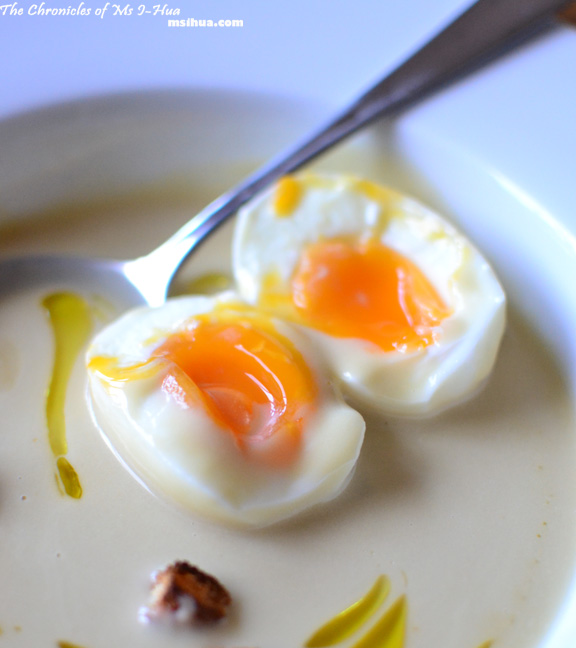 I could have happily had this soup for three meals a day for the whole week and would not have gotten sick of it!
Absolutely delicious. Creamy, smooth and simple, what more could you ask for?
**********************************************************************************
To celebrate the launch of Devondale's new product, the lovely people at Nuffnang Australia are giving away a weekly prize of One Set (6 pieces) of Orange Espresso Cups and Saucers from Espresso Italia (RRP$40).
Take note that this is the final week that this competition is running! So if you want these espresso cups and a chance to win the swanky coffee machine, enter NOW!
All you need to do, is to:
Like my Facebook Page (if you have done so, you are awesome! If you haven't, what are you waiting for?)
Tell me "Which chef would you like to cook for you and why?"
*Please leave a valid email address in the email box (emails won't be published) as a contact point. Competition is open to all Australian residents, aged 14 years and over, other than management, employees or contractors of the Promoter and other agencies, firms or companies associated with the Promotion (including suppliers of prize), and their immediate families ("Eligible Entrants").
The competition closes Monday 17th September 2012 at 6:00pm (AEST). The top three entries will be chosen by me (so be creative!) and the winner will be drawn by Nuffnang Australia. Results will be published on this post.
Terms and Conditions for the Giveaways:  T&C's for Barista's Own Espresso Cups Giveaway
********************************************************************************
[18/09/2012] Announcement: Winner of the last Espresso Cup Giveaway:
Thank you to everyone who signed up, liked my Facebook page and left a comment here.
My top pick was:
Thanh @ I Eat Therefore I Am
Congratulations Thanh! I'll be in touch via email soon 🙂
COMPETITION IS NOW CLOSED
********************************************************************************
______________________________________________________________________
What is the best way to compliment your lazy Sunday's and
make them even more perfect? A hot cup of frothed coffee of course!
Devondale Barista's Own is made to deliver a consistent smooth
creamy froth to your favourite style of coffee at home. Check out some
of the fantastic breakfast recipes in the Lazy Sunday Series thanks to
Devondale Barista's Own