What is the best way to compliment your lazy Sunday's and make
them even more perfect? A hot cup of frothed coffee of course!
Devondale Barista's Own is made to deliver a consistent smooth
creamy froth to your favourite style of coffee at home.
______________________________________________________________________
Having lived in Carnegie for the last 8 years, it is safe to say that I know the area by heart.
I've watched business come and go, restaurants rise and fall and the populace triple and soar.
I'm always tinged with slight apprehension when a new cafe or a bakery opens up as I'm never quite sure if they have what it takes.
So when the Boy and I noticed a new cosy cafe open up a couple of months ago, we thought we would do the neighbourhood friendly thing and drop by for a visit on their second weekend of operation.
Not expecting to be blown away as they were fairly new, I did however enjoy our first visit there.
I particularly loved the warm welcome and genuine vibe from the staff and not to mention the decor and cute menu stole my heart.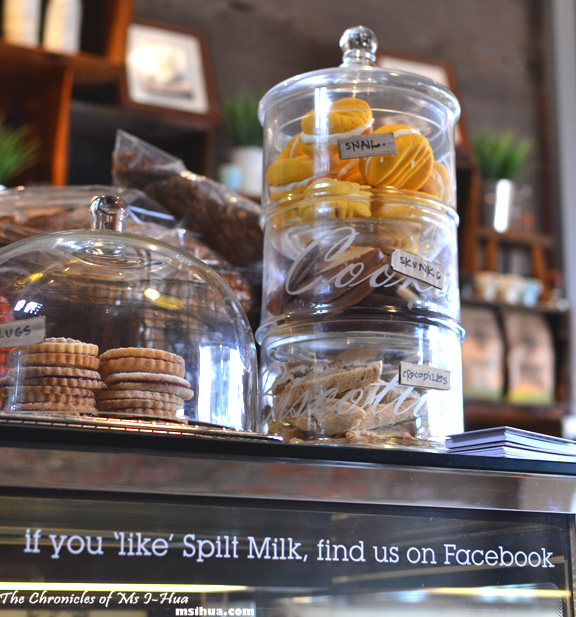 So it was only appropriate that we returned armed with camera and hungry bellies for our second visit.
Their menu as I said is very cute, with breakfast and lunch options named after animals.
Cakes, sauces, wraps and salads are also on offer with their own respective animal names.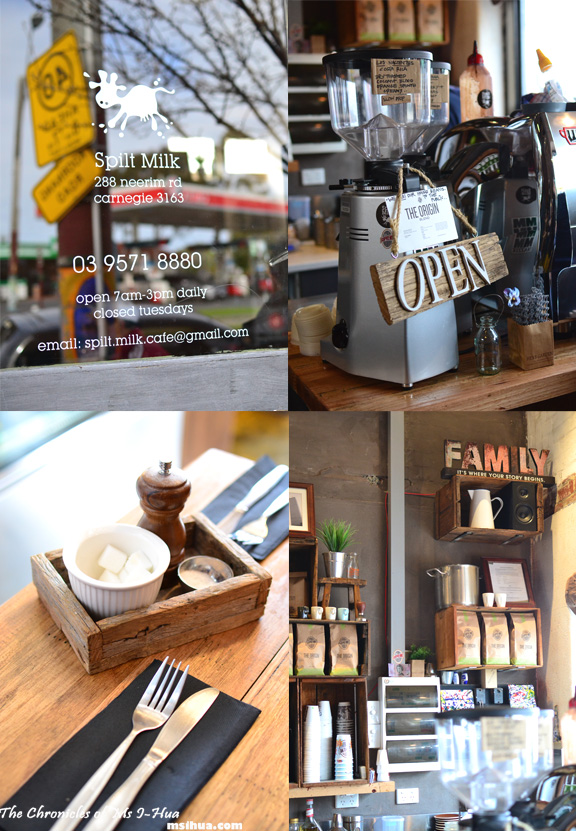 In terms of coffee options, I was delighted to note that they catered for self-professed coffee snobs like myself *grin*  who are part of the ever growing third wave coffee followers (check out my Coffee Hits Guide if you are interested: Part I and Part II).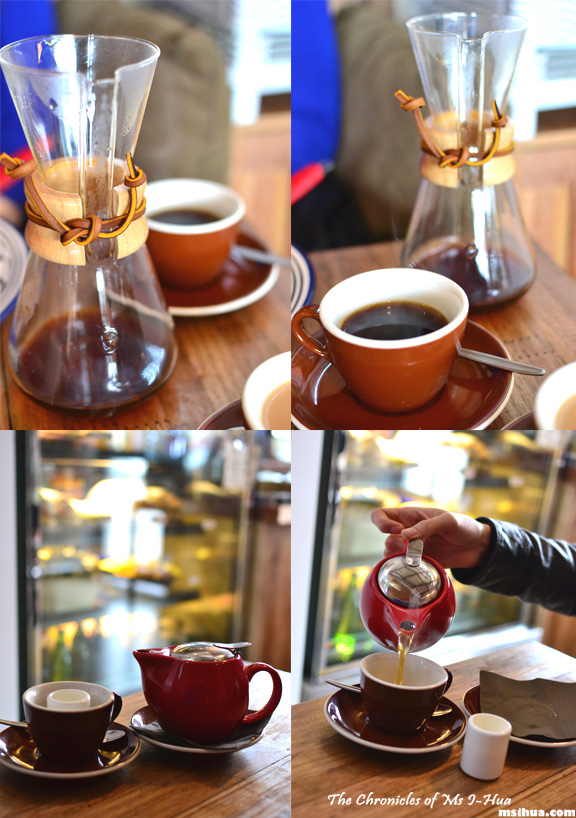 Split Milk uses Supreme coffee beans and I decided to try their Chemex Coffee ($6.00) on offer. The Boy as usual went with his choice of English Breakfast Tea ($3.50).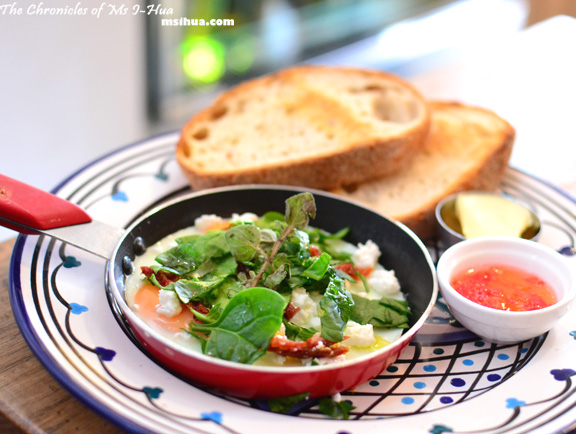 On both our visits, I have ordered the Sheep ($10.00)  (Baked free range eggs served in a pan with sun-dried tomatoes, spinach and feta with sourdough and chilli jam) which I absolutely adore due to the freshness and simplicity of the dish.
I especially like the sweet chilli jam which cuts through the feta and sun-dried tomatoes beautifully.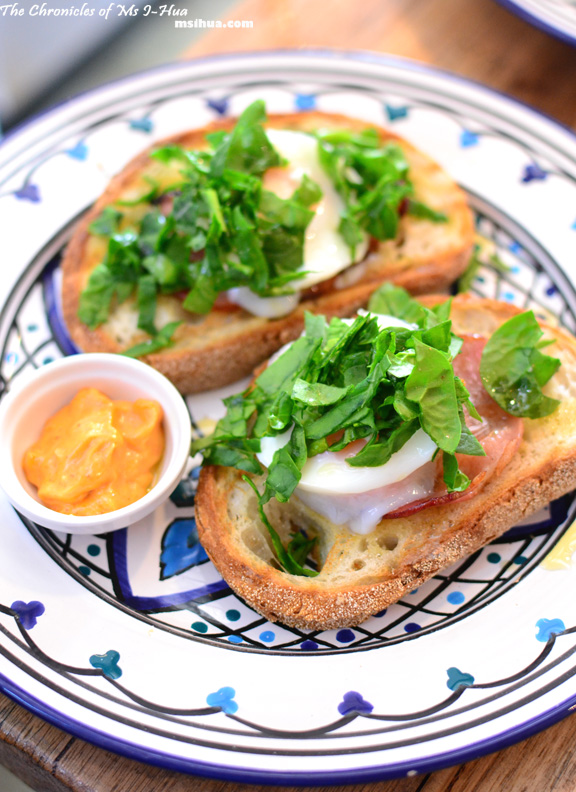 On both his visits as well, the Boy has ordered the Donkey ($10.50) (Poached eggs, bacon and spinach on sourdough with spiced capsicum aioli).
It seems that it is aptly named as the Donkey's spiced capsicum aioli has a "kick" to it. HEE HAW!!!
I love that Carnegie has a new local cafe to go to, to just chill, relax and enjoy some good quality service in comfortable settings.
We'll definitely be making it one of our local favourites 🙂
*Disclaimer: All food ratings & review are purely based on my own experiences and how I feel about the service, food and quality at the time of visit
For other creamy delights, visit:
Eat and Drink for Tomorrow We Die[t]
Food Made With Love
Pocket Carnival
Food/ Cuisine: Breakfast & Lunch
Dining Style: Cafe
Opening Hours:
Wednesday to Monday, 7:00am – 3:00pm
(Closed on Tuesdays)
Address:
288 Neerim Road
Carnegie VIC 3163
Tel: (03) 9571 8880
Website: http://www.facebook.com/Spilt.Milk.Cafe
How to get there: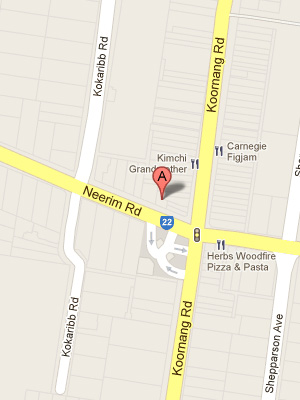 **********************************************************************************
To celebrate the launch of Devondale's new product, the lovely people at Nuffnang Australia are giving away a weekly prize of One Set (6 pieces) of Orange Espresso Cups and Saucers from Espresso Italia (RRP$40).
All you need to do, is to:
Like my Facebook Page (if you have done so, you are awesome! If you haven't, what are you waiting for?)
Tell me "What's your favourite local cafe and why?"
*Please leave a valid email address in the email box (emails won't be published) as a contact point. Competition is open to all Australian residents, aged 14 years and over, other than management, employees or contractors of the Promoter and other agencies, firms or companies associated with the Promotion (including suppliers of prize), and their immediate families ("Eligible Entrants").
The competition closes Monday 10th September 2012 at 6:00pm (AEST). The top three entries will be chosen by me (so be creative!) and the winner will be drawn by Nuffnang Australia. Results will be published on this post.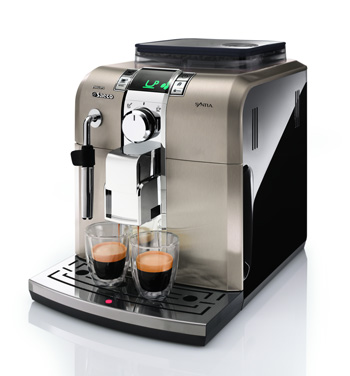 In addition to the weekly giveaway, one of you lucky things will win a PHILIPS Saeco Syntia Class Automatic Espresso Machine worth $1,499!!! (I'm so jealous!)
The most creative answer overall** across the 5 blogs for the weekly competitions will win (leave a creative comment each week to better your chances) this awesome giveaway!
Competition for the major giveaway will run from the 14th August 2012 until 11.59pm Friday 7th September 2012. The winner will be announced and contacted on Monday 10th September 2012.
Terms and Conditions for the Giveaways:
********************************************************************************
[11/09/2012] Announcement: Winner of the Espresso Cup Giveaway for this week:
Thank you to everyone who signed up, liked my Facebook page and left a comment here.
My top 3 picks were:
Muppy @ Muppys
Penny @ Pocket Carnival
Heidi @ Apples Under My Bed
With no further ado, the competition winner selected by Nuffnang is:
*DRUM ROLL*
Muppy! Congratulations Muppy. I'll be in touch via email soon

COMPETITION IS NOW CLOSED
********************************************************************************
______________________________________________________________________
What is the best way to compliment your lazy Sunday's and
make them even more perfect? A hot cup of frothed coffee of course!
Devondale Barista's Own is made to deliver a consistent smooth
creamy froth to your favourite style of coffee at home. Check out some
of the fantastic breakfast recipes in the Lazy Sunday Series thanks to
Devondale Barista's Own