Lately, work has been doing my head in. The volume keeps getting higher and I keep working longer, harder, smarter, later, so payrise please? *blink* *Ka-ching*
Well, one can always hope and dream 😛
So when the week's getting you down and the only thing that you look forward to is the weekend, there is only one thing in which we can do.
It's time for…
Travel Tales Saturday!!!
We bring you to Phuket Thailand where we travelled around via speedboat all around the Phi Phi Islands and its beautiful surroundings.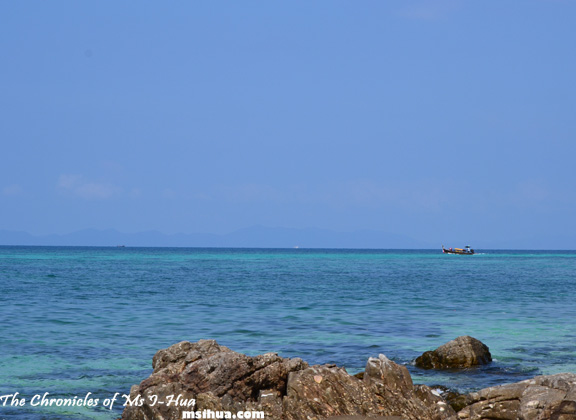 I'm not even going to say much about the pictures below as I think it pretty much speaks clearly on its own! Hooray!
Okay, it's also partly because we have lost our travel notes (Shock and Horror!!!) and that we can't remember the name of the islands (Double Shock and Horror!!!)
Phi Phi Islands consist of the larger more populated Ko Phi Phi Don and the smaller inhabited rocky isle of Ko Phi Phi Leh.
As we took a day trip on a speedboat ride around the islands and to do some snorkelling (our first experiences) with an ultimate goal to relax and chill out, we didn't take too many pictures or write any notes down 🙂
The Boy even got into the water and attempted to snorkel (he's not a big fan of water and only did this with me out of love!).
Funnily enough, even with his life jacket and holding on to me, he kept thinking he would drown. So I banished him back on the boat. I love him dearly but he was interrupting my water time!
Unfortunately after I'd banished him, a jellyfish (not deadly) decided to wrap itself around my left leg, rendering me with red welts and stings for quite some time.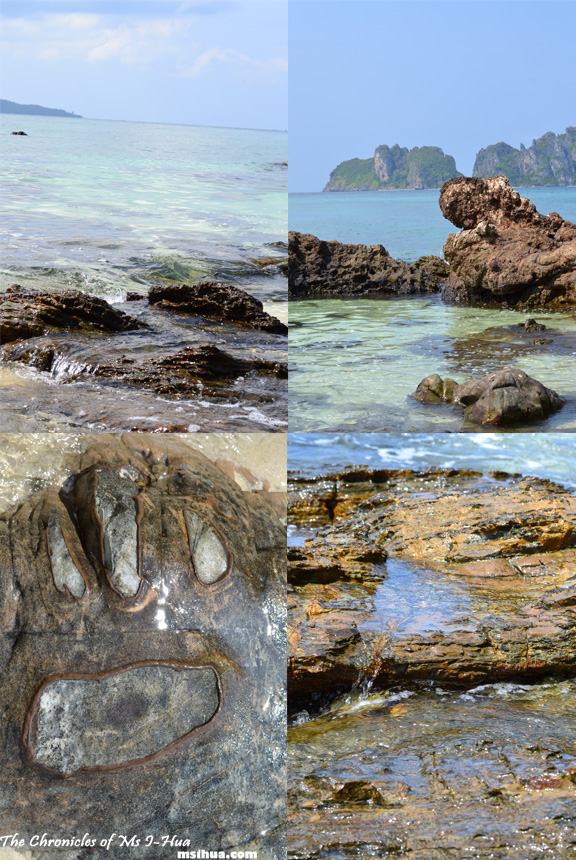 The name Phi Phi derived from the Malay name of Pulau Api-Api (Fiery Island) which refers to the Fiery Trees or Grey Mangrove that grows all around the islands.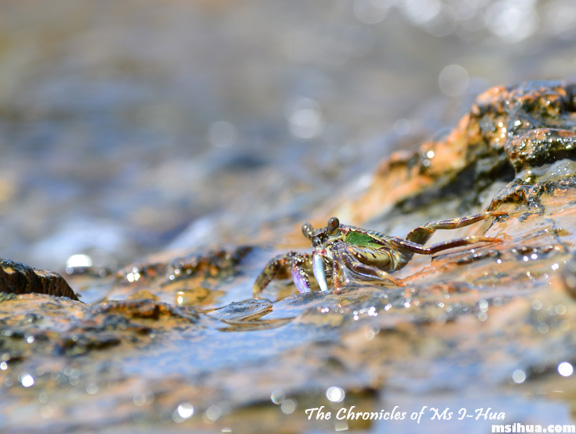 After a hard morning of basking in the sun and stopping intermittently twice for some snorkelling activities, we were all ready for some lunch (3rd Stop)! It wasn't anything too fancy and consisted of a buffet style Thai cuisine (part of the tour). We couldn't help but order additional coconuts as we sat back to tuck in by the seaside!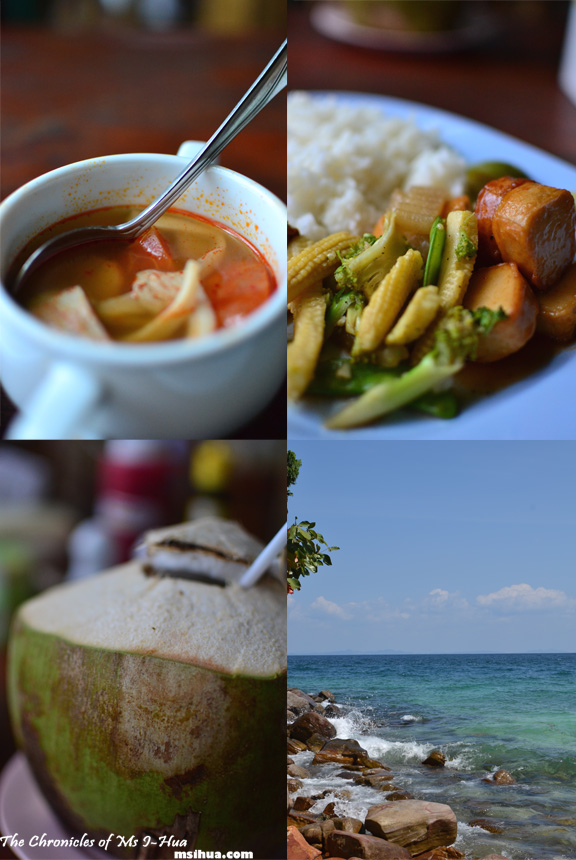 We were given around 20 minutes to recuperate in the sun before moving on to the next activity.
On the way to Phi Phi Leh our speedboat stopped long enough by the Monkey Beach for us to snap some pictures of the wild monkeys who inhabit this place.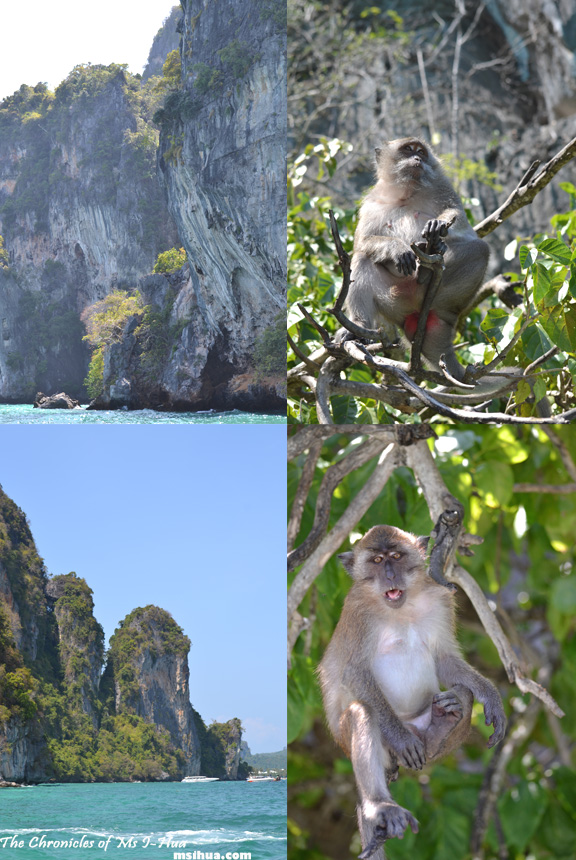 They seemed just as curious about the humans on odd speedboats as the humans were about them!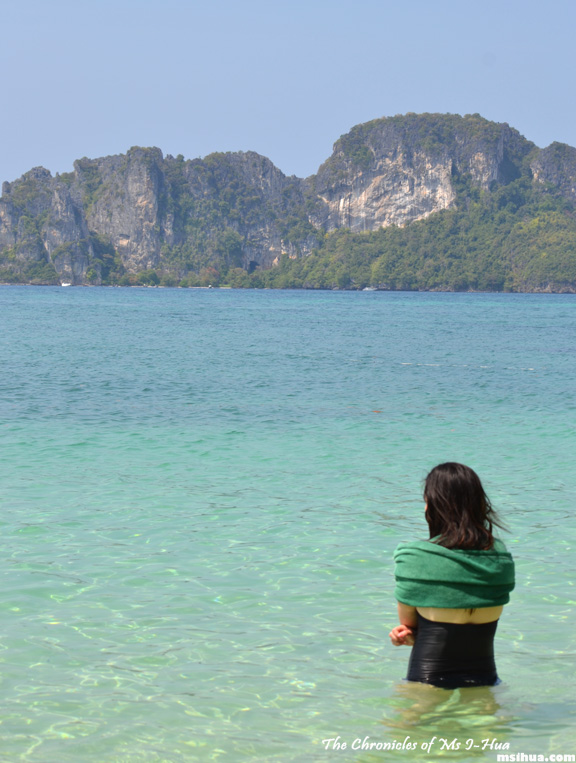 Just before we headed off to Maya Bay (where the film The Beach was partly filmed) we stopped by this beautiful and quiet beach with the clearest blue-ish green water we'd ever seen.
I couldn't help but gaze off and relaxed in the beauty that was all around us.
The Boy attempted to take some 'James Bond'-esque shots whilst I was in the water as well. Luckily you can't see me from the front! *gasp*
So will you book yourself in for a much deserved retreat anytime soon? We did and we absolutely loved it!