Ever noticed as you're out dining in a restaurant those little green triangle display thingamajigs on your table? Been handed a DineSmart card along with your bill? Left behind a $2 gold coin or leftover tip to this charity? Wondered what the whole DineSmart concept was about?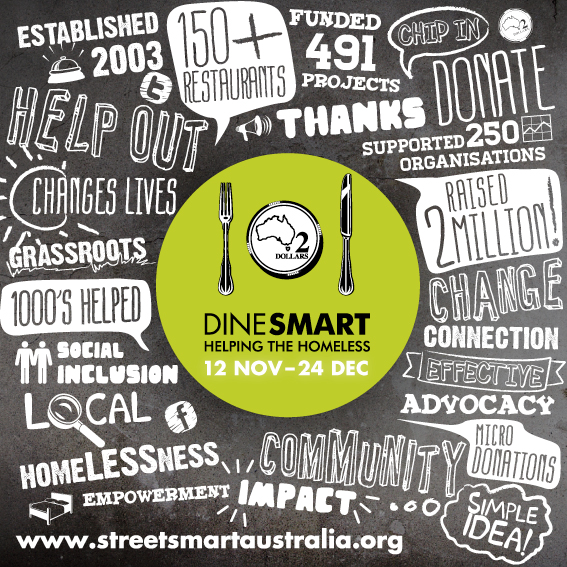 DineSmart event is an event launched by StreetSmart which supports smaller grassroots projects and organisations who don't have truckloads of media campaign, awareness and volunteers or supporters to assist in their charitable work and often struggle to raise extra funds to support their work.
This year, being their 10th shiny anniversary of the event**, StreetSmart has kicked off this year's DineSmart event with a fun competition to promote this charitable event. With a minimum of $2, you can go a long way in helping the homeless with your generosity. For cool stats (if you like numb3rs) jump on to the DineSmart website here.
As of Monday last week and for the next few weeks leading up to Christmas (12th November – 9th December), you can enter DineSmart's photo competition and share your "dine smarts" 😛
Simply shoot pictures in your favourite DineSmart participating restaurant and upload them to Twitter or Instagram with the hashtags #shootyourdinesmarts #dinesmart.
It could be your food, your drink, your friends, the venue or whatever you want, but it has to be at a DineSmart participating restaurant at the time of the shot.
What you have to do:
Choose a DineSmart restaurant
Have an awesome time
Take pictures with your smart phone and "'shoot your food' 'shoot your friends' 'shoot your night'… but shoot smart"
Share on Twitter and Instagram using #shootyourdinesmarts #dinesmart with notes stating which restaurant you're dining at
Prizes:
DineSmart will be offering prizes for their favourite 'shoots', which comprises of:
1st Prize – An awesome Crumpler bag (The Soupansalad Son-O Messager Bag ) and Crumpler T-shirt
2nd Prize – Beanscene Magazine 12 month subscription plus Gridlock Coffee Pack (4 premium coffees) and T-Shirt
3rd Prize – Limited edition StreetSmart All Stars Apron and T-shirt
Our judging crew:
Jess Ho from That Jess Ho
Ed Charles from Tomatom
StreetSmart CEO Adam Robinson
The important points:
Only pictures taken of or in participating DineSmart venues will be eligible.
You must use the hashtags #shootyourdinesmarts #dinesmart to enter the competition either on Instagram or Twitter.
The judges decision is final and no correspondence will be entered into.
The restaurant you are at must be tagged through mentioning it by name.
Most of all, have fun, eat well and know that you are attaining good karma 🙂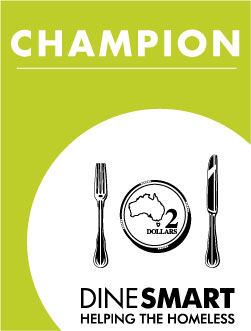 Fun Fact:
**10th anniversaries are tied to tin or aluminium