Somewhere in Spring, Tazzie and I were lucky enough to be amongst the attendees to the X-Treme Chinese Cuisine Dinner special hosted at the RACV club.
When Tazzie told me who the line up to the event would be, I readily said, "OMG! YES! I'll be your date!"
Much to the Boy's dejected look, as he wanted to be Tazzie's date too 😛
You see my friends, the reason why we were so excited was because the Demon Chef a.k.a. Alvin Leung was going to be cooking, serving, talking, cursing and swearing on stage!! The man himself from Bo Innovation *hyperventilates*
I was so excited I very nearly had a heart attack. It was his Molecular Xiao Long Bao that inspired the Boy to attempt a Deconstructed Bak Kut Teh.
I was also really enthusiastic about the desserts as our good friend Pierrick Boyer (Executive Pastry Chef of Le Petit Gateau) would be in charge of making the night end in a sweet sweet climax *WINK*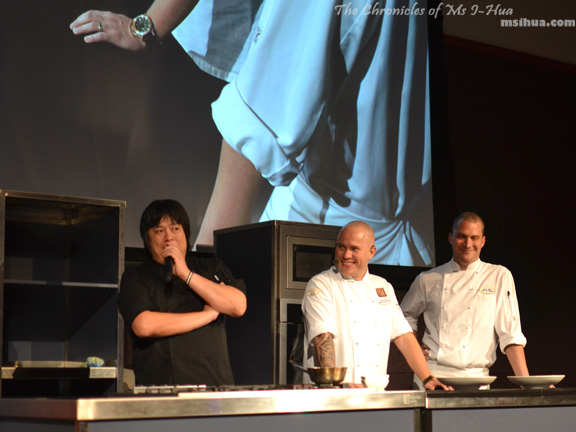 Also cooking for us that night and making his very first appearance on a cooking event was Chef de Cuisine of RACV City Club, James Blight.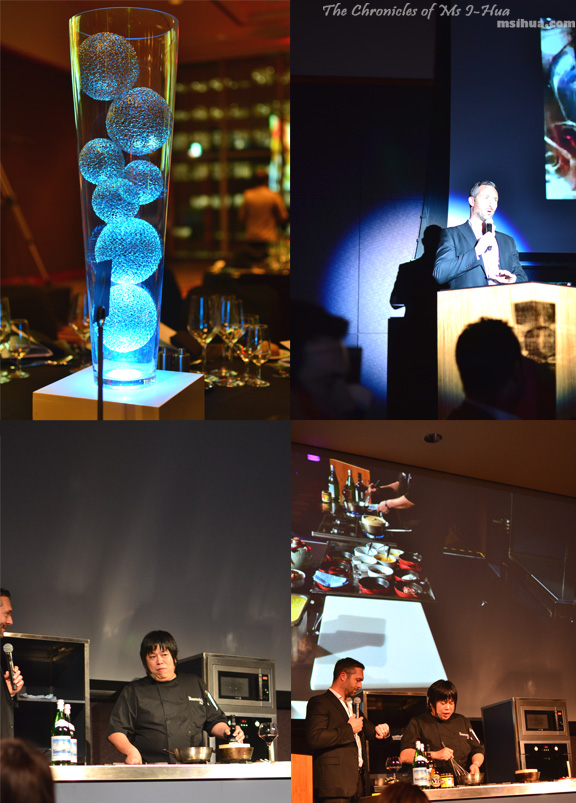 Right from the beginning, Alvin Leung had the crowd in gales of laughter and by the end of the night I swore I had six packs from laughing so much.
We were in stitches at all his inappropriate jokes (they somehow all ended up that way even if they started out with good intentions).
I seriously think that if his restaurants ever went bust, he would have an awesome career in stand-up comedy!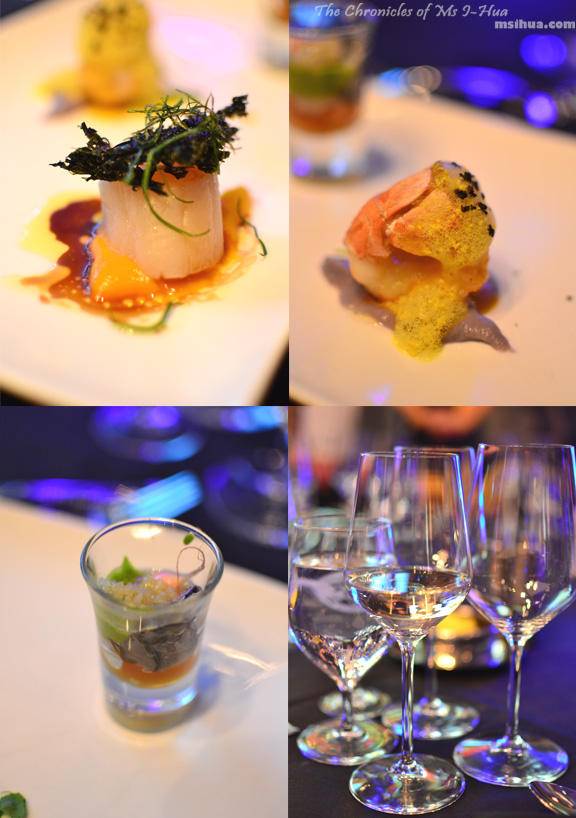 Entrées by Alvin Leung (Bo Innovation) paired with 2011 Oakridge Chardonnay '864 Single Block Release', Yarra Valley, Vic.
Scallop – Beer, Crispy Seaweed, Pumpkin Puree and Chilli Vegemite Butter
Langoustine – English Mustard, Preserved Duck Egg, Red Cabbage and Cauliflower Puree, Black Truffle
Oyster – Spring Onion, Lime, Ginger Snow, "Xiao Shing" Seaweed Jelly
Alvin explained whilst he whipped up the three seafood entrées the inspiration behind the flavour of the scallop.
"Aussies only drink beer and eat Vegemite", he said. So VB and Vegemite went into the beautiful Australian scallop dish. The beer was used as the liquid component in steaming the scallop. As he pondered on the next steps of his cooking, he swiveled straight out of the bottle (just like on his TV shows!)
Surprisingly, the scallop didn't have any strong flavours coming from either the Vegemite or the alcohol content, rather a mild weave of the two flavours in the background instead.
I also have to say that I loved the Langoustine entrée as it reminded me of Salted Duck Egg Crabs! So delicious and spicy!
What I did love about the oyster entrée was the ginger snow as that was made with liquid nitrogen. That man loves this stuff!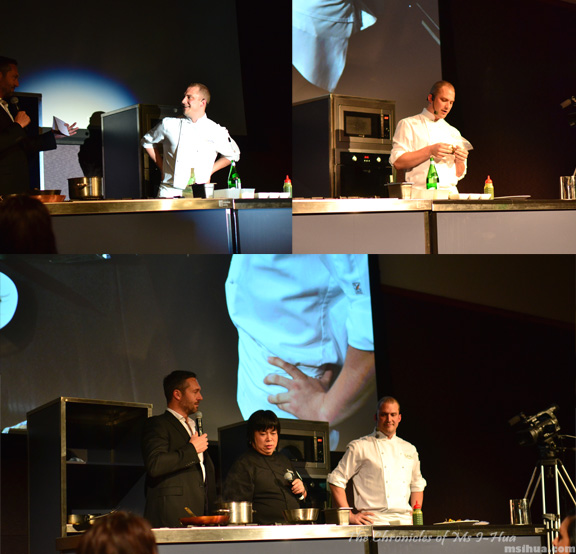 It must have been nerve wrecking for poor James as he took over the spotlight from the Demon Chef. Not only did he have to keep the crowd entertained and serve up a decent main dish, he also had to take-over the spotlight by Alvin.
He didn't fare too badly and seemed to get more comfortable with what he was doing after about 5 minutes 🙂
So the first main cooked by James Blight (RACV City Club) was a delicious lamb dish. This wasn't going to be any lamb dish, it was going to be a LAMB dish with all its glory and trimmings 🙂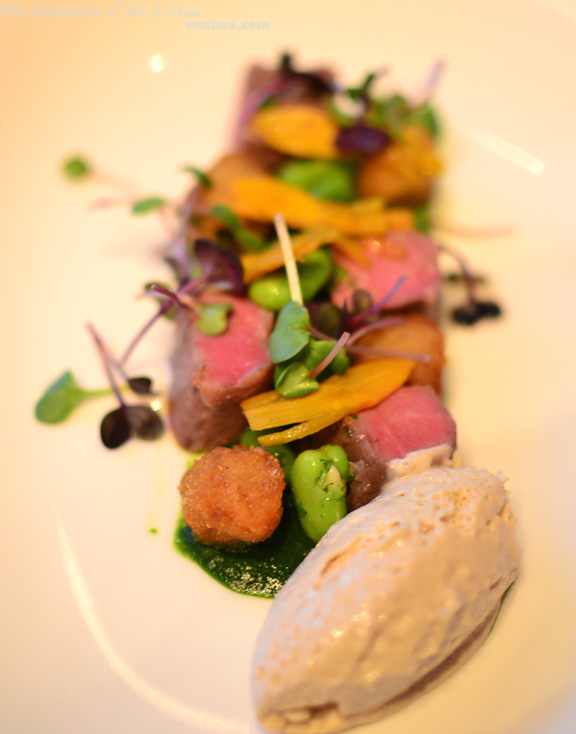 Honey Poached Lamb Loin, Brain Espuma, Beetroot, Broad Bean Vinaigrette paired with 2010 Chrismont 'La Zona' Barbera, King Valley, Vic.
What I found interesting and will attempt to replicate in my kitchen one day, is to infuse the lamb with lavender in sous vide.
However, back to the dish. If you're wondering where the brain espuma is, it is the beautiful quenelle you see above 🙂
There was also lamb's tongue cooked in milk and then crumbed into the delicious balls you see in the picture. I was so happy that there was lamb's tongue as I'd never been able to taste ox tongue. I can now say, I am not a fan 🙂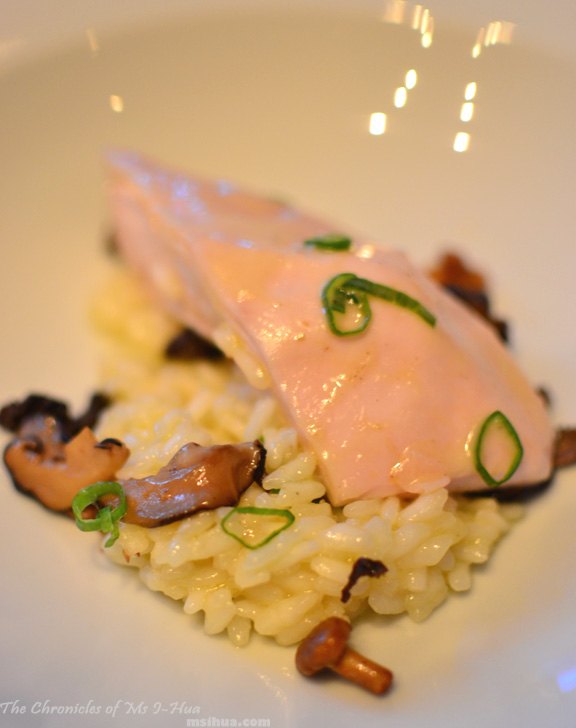 The second main for that night was cooked and presented by Alvin, who having never really left the stage (as he was hovering around James as he cooked) jumped happily back into the spotlight.
I have to admit that his Organic Chicken with Aged Acquerello Rice, Yellow Chicken Stock, Mushroom Medley, Sand Ginger Cream (paired with 2011 Vinea Marson Grazia, Heathcote, Vic) is definitely the best chicken by far I've eaten in a long time. It reminded me of Neil Perry's beautiful poached chicken during the Noma lunch.
Alvin went on to mention that the acquerello rice he used that night was aged for 2 years. However, at his restaurant Bo Innovation in Hong Kong, the rice used is aged for 7 years which gives a more intense flavour.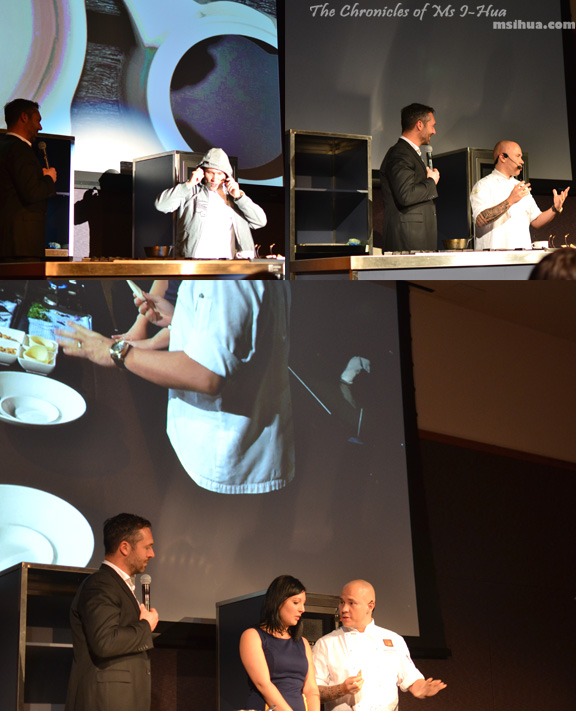 Not to be overshadowed, Pierrick Boyer  (Le Petit Gateau) jogged onstage with his hoodie on to the beat of something similar to Rocky 🙂
Pierrick launched straight onto his dish for the night and cheekily asked Dani (previous Masterchef contestant) to join him on stage to assist him in the prep work.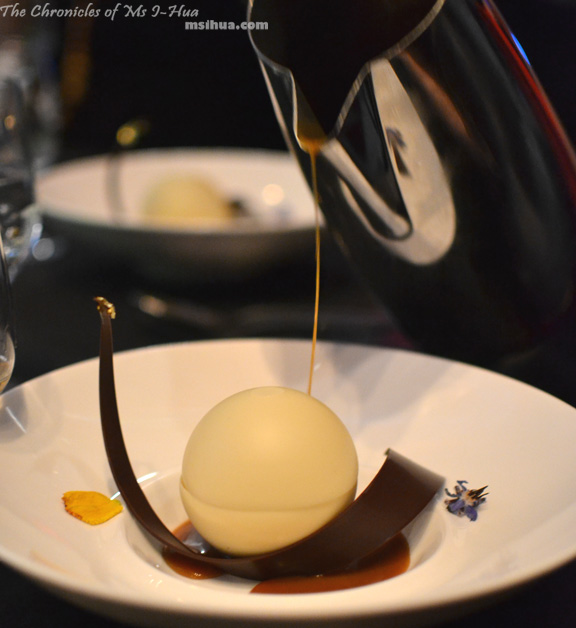 Pierrick being the innovative chef that he is, pondered about what to serve for dessert. He is after all a French chef and he was cooking for a Chinese dinner!
So he came up with the Chocolate Sphere with Lemongrass, Coconut Cremeux, Triple Tonga Vanilla Sauce (paired with 2010 Hollick, The Nectar, Coonawarra, SA).
Why was it such a genius dessert? As the warm caramel sauce was drizzled over the chocolate sphere, it parted open to reveal the 'insides'. Quite like a Heston idea, no?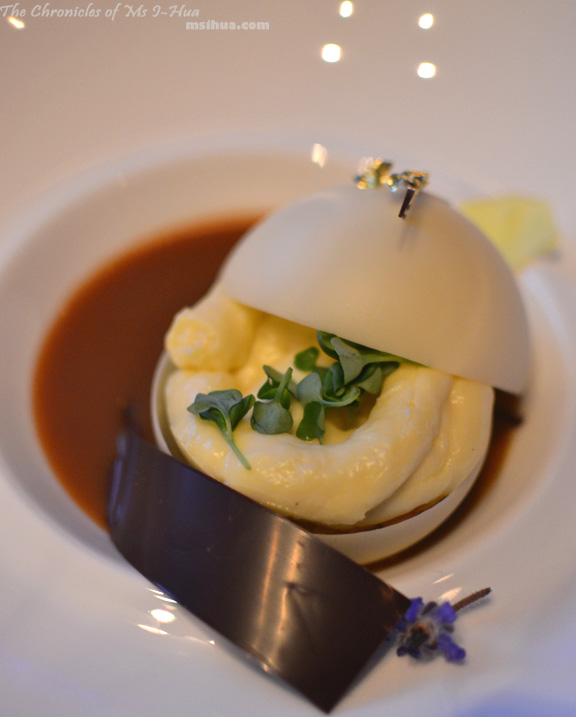 I took the top off my sphere as I wanted to take a picture of what it looked like inside!
I really liked how the flavours of the lemongrass came together with the sweetness of the caramel and vanilla in this dessert.
Magic!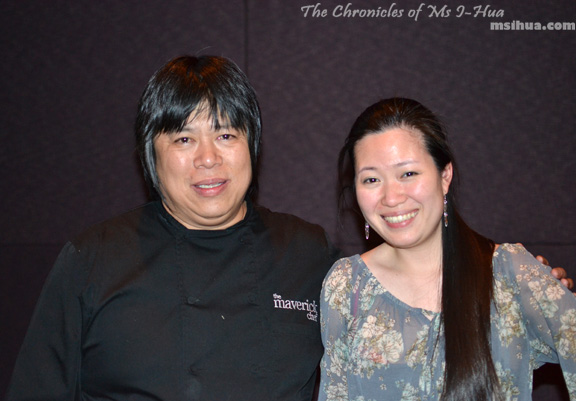 All in all, I had such an amazing night! Thanks again Taz and the LPG team for the invite!
Just look at me! I couldn't believe I was taking a picture with Alvin! I'm not sure if I was excited or scared in that shot 😛
[Ms I-Hua was invited as a guest to the event at RACV by Pierrick Boyer and Le Petit Gateau]