ATTEN-SHUN!!
Who is the new kid in town?
"Sir, Petty Officer, Sir!"
I can't hear you?!
"SIR! PETTY OFFICER, SIR!"
You're damn right there is, Corporal! And we are going to whoop yo ass!
"Sir, Thank You, Sir!"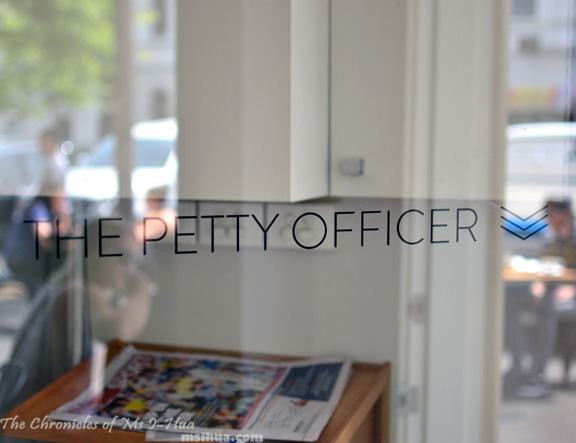 Indeed, there is a new cafe in town at Albert Park. I heard about it from Bryan Boo recently as he was instagramming the beautiful interior pictures and going on and on about their coffees.
It was only appropriate that the Boy and I dropped in for a quick bite and a quick sip to see what the fuss was all about 🙂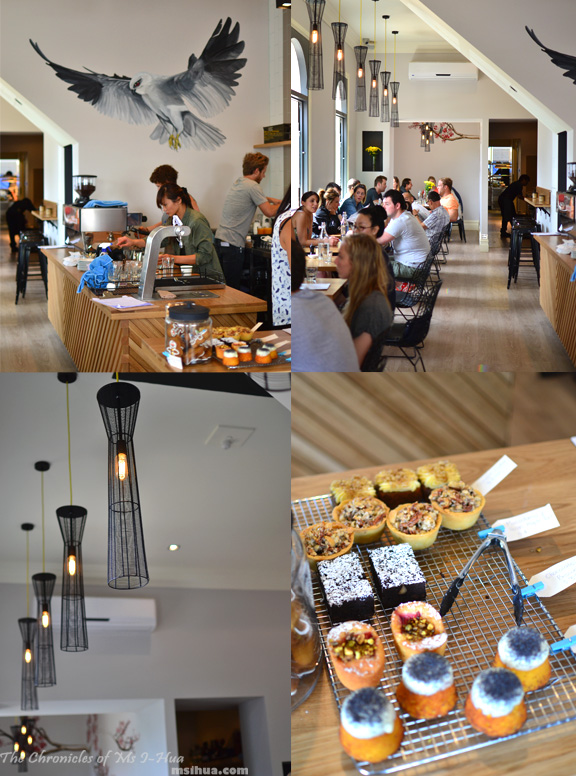 It was no surprise to us when we discovered that Dave Makin (guru behind Axil Coffee Roasters) was behind this new venture at Albert Park.
Somehow though, I preferred the coffees served at The Petty Officer more than at Axil 0_0
If coffees and teas aren't your thing during breakfast and lunch (Who are you?), the peeps at Petty Officer won't judge you (but I will) and you can order a beer or two, or something stronger!
They have a liquor license, so take full advantage of it 🙂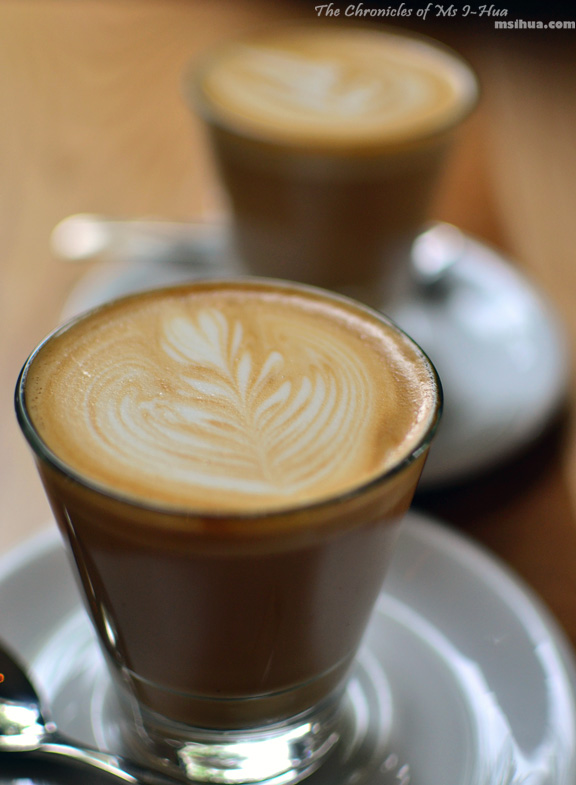 As we were patiently waiting for our breakfast to arrive, (after a 10 minute wait, so pretty good!) who did we see sauntering in with his lady love in tow?
Why, Pip from Patricia Coffee Brewers! That gave me extra confidence about the coffee at this place. If another barista from a popular coffee outlet comes by to have nothing but coffee, you know you're onto a good thing 🙂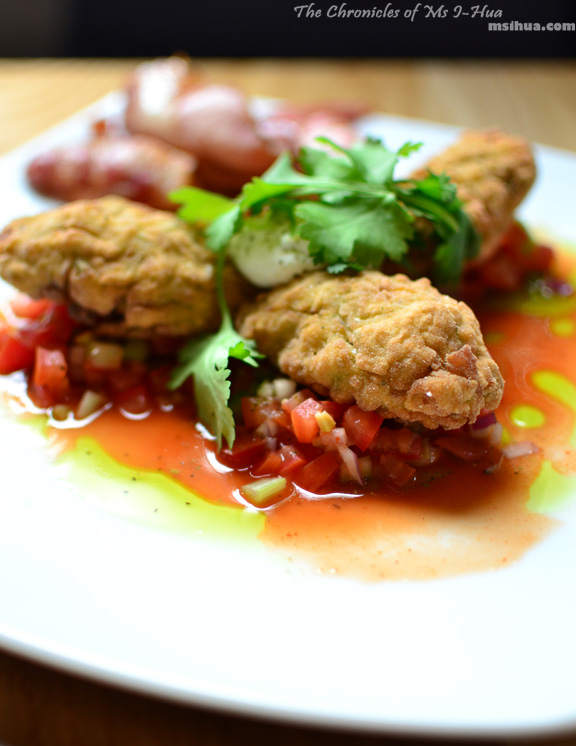 I couldn't help but order this. It was a dish that had corn fritters. So you know I was all over it. Just for you my readers *nods head*
My Corn, Zucchini & Mint Fritters with Bloody Mary salsa, Celery salt & Creme Fraiche ($15.00) wasn't quite what I expected as it came out as little footy-shaped balls whilst in my head, I was envisioning delightful flat fritter cakes.
The fritters were lovely, with an almost chiffon-cake feel to the texture.
It was certainly different but I enjoyed it all the same. I loved the Bloody Mary salsa that came with it as well.
I also ordered a side of bacon ($4.00) which I forgot was even on my plate as I was having a moment with my fritters. I FORGOT THERE WAS BACON!
That's saying something 🙂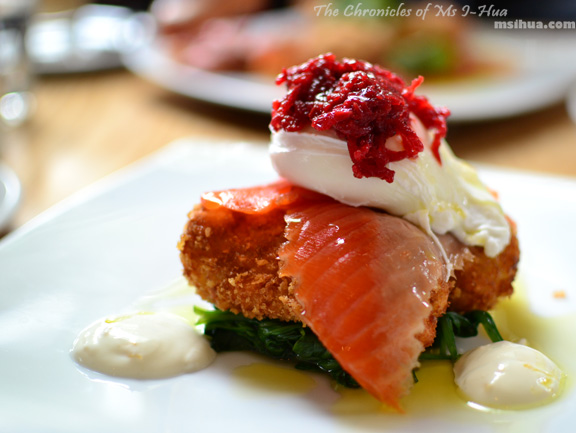 The Boy went with the House smoked Ocean Trout on Potato Croquette with Beetroot Relish, Spinach, Preserved Lemon Yoghurt & a Poached Egg ($17.50) after I told him our readers didn't want another baked eggs shot.
They want #eggporn #yolkporn.
So he obligingly ordered this dish for you too 🙂 We are so kind to you *wink*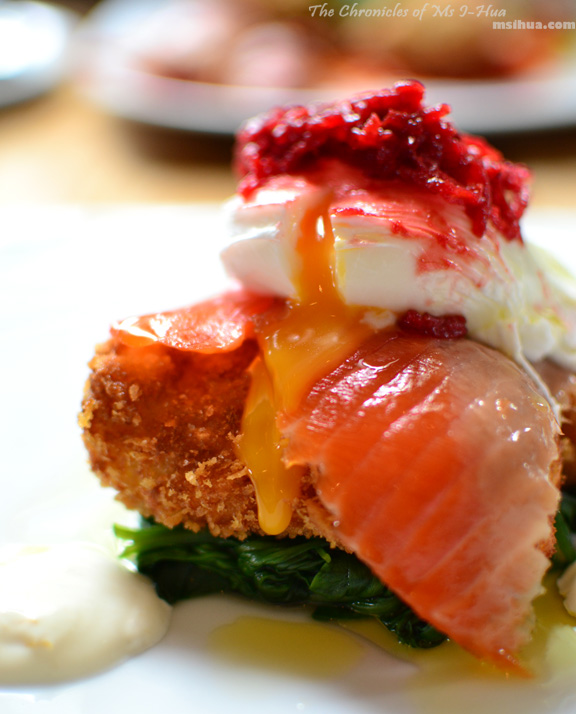 Wasn't that shot worth it all?
Look at that. Stand back and put you tongue back in your mouth. No licking the screen!
Normally I would have ordered the dish he had because of the croquettes, but couldn't stop myself when I saw the corn fritters on the menu.
The Boy enjoyed this dish and said the yoghurt dressing and beetroot relish help make the dish.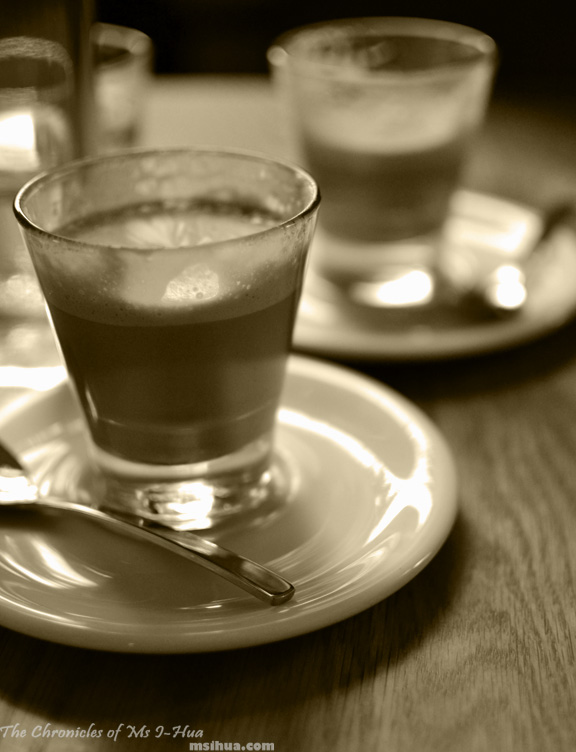 As we were finishing up, I couldn't resist myself ordering a Piccolo ($3.50) to finish (we had lattes $3.50 to start)
Upon first taste, I was in heaven.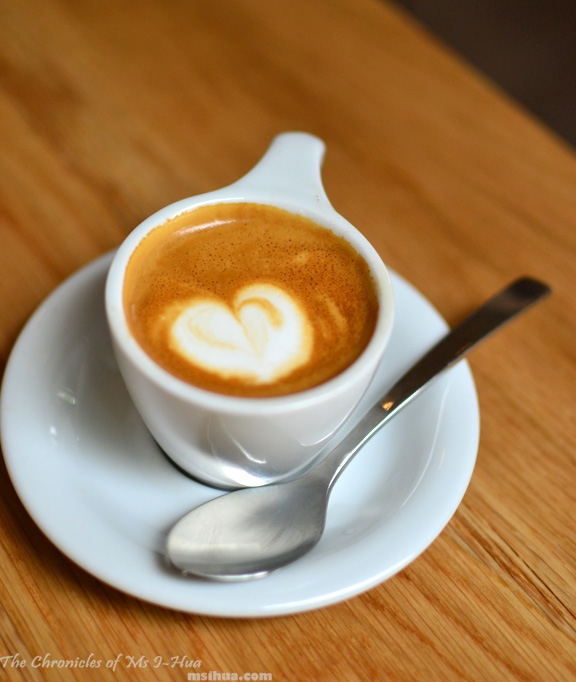 I did love The Petty Officer very much and am bookmarking it for days when I have no idea where to head to for brunch and for road trips.
Between this and Dead Man Espresso (my other fail safe option), I'm on to a winning strategy 🙂
For other blogger raves:
Brunch Addict
Let's Get Fat Together
Petit Miamx
*Disclaimer: All food ratings & review are purely based on my own experiences and how I feel about the service, food and quality at the time of visit
Food/ Cuisine: Breakfast, Lunch, Coffee
Dining Style: Cafe
Overall Food Rating (Based on the Dining style): 7.5/10 (Coffees 8/10)
Restaurant ambiance: 8/10
Service/ Attitude: 7/10
Value for money: 7.5/10
Opening Hours:
Monday to Sunday, 7:00am – 4:00pm
Address:
113 Victoria Avenue
Albert Park VIC 3206
Tel: (03) 9686 3000
Website: http://www.thepettyofficer.com.au
Twitter: @pettyofficers
How to get there: