It is summer!
I like to state the obvious. Because the last few days, the weather has been extreme. From high 30s to low teens. The weather in Melbourne is incredibly insane.
Nevertheless, the hot summer season has arrived, and with that, the annual summer Suzuki Night Market at the historic Queen Victoria Market (lovingly called Vic Market) is in full blown swing.
It's a bit embarrassing to admit that having lived here for nearly 10 years, the Boy and I have never been to this night market before.
There are a few factors as to why:
a.) We come from sunny tropical Malaysia where night markets are the norm
b.) We are just too lazy
c.) I don't deal well in crowded places in the heat
Despite all that, when our good friend Tazzie recently won a competition organised by Suzuki and got a VIP tent (like a BOSS!) he invited a few of us to go along with him.
So late last year, we were ready to rock and roll (I had my summer battle gear on!).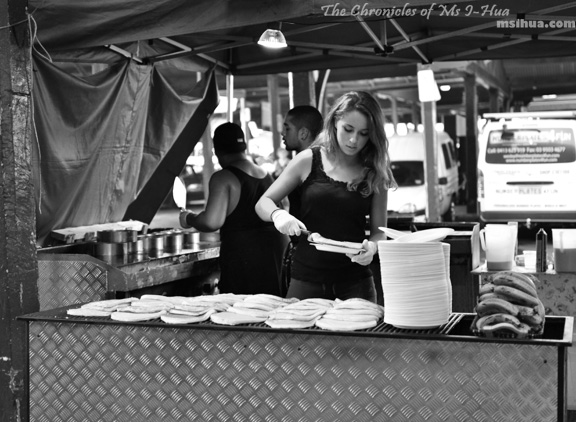 The Suzuki Night Market is now in its 15th year! And I've only just been this year (2012/2013). I feel like such a loser 😛
What you can expect to see and experience whilst at the night market is an array of hawker style food stalls, artists & regional oroducers, wine bars, health, healing & wellbeing, live music & entertainment.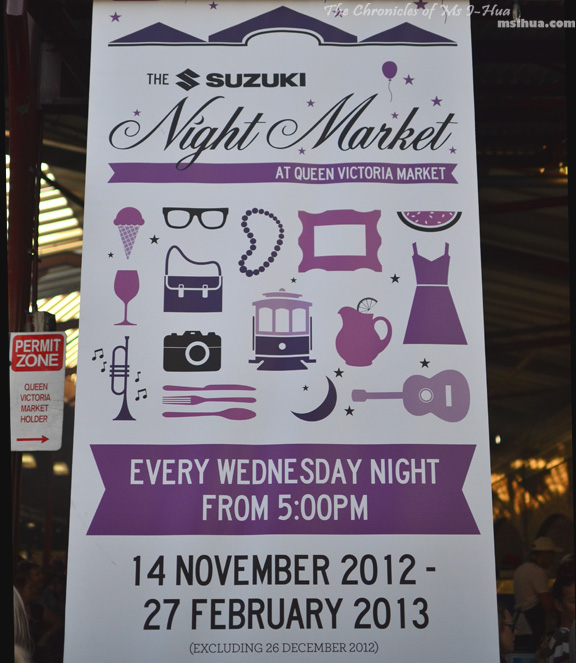 It's pretty much a food market meshed together with the normal market stalls you would normally see in Vic Market with larger crowds, more music, merriment all happening at night.
They even had 2 stages with live entertainment on the streets (one attached between the food court and meat/cheese/deli section of the market) and the other at the top of the road where all the action is.
If you are like us and haven't been or you have some tourists guests staying with you, I highly recommend a visit. It was mad but it was fun!
Some of the food stalls are repetitions but watch out for this Paella stall with about 6 paella stoves going on at once!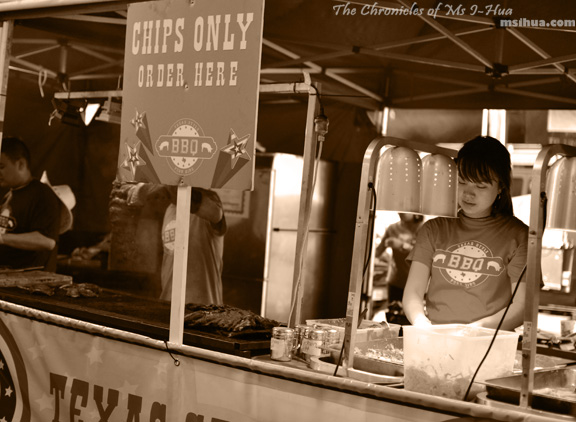 The queues to each of the food stalls is massive, so to avoid them, our advice would be to come early. Get in quick, in-out and you're done for the night.
When we were there, we arrived at 5.30pm and it was relatively quiet. By 6.00pm the crowd had started to pick up and by 6.30pm it was a nightmare navigating through the market with plates of food, drinks and people to find our table.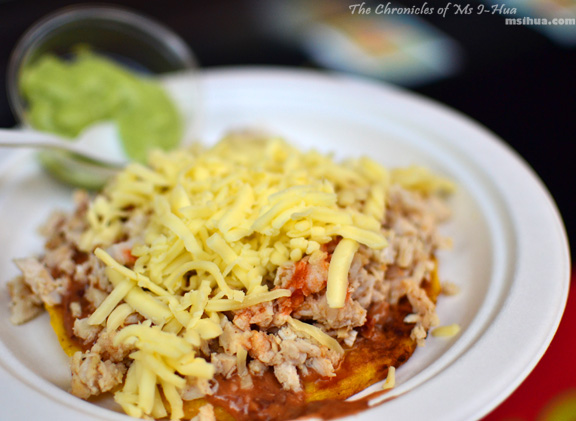 We haven't highlighted much of the food we ate (lighting wasn't great in our red tent) but we highly recommend that you try this Chicken Arepa with Guacamole, Hogao (Salsa) & Cheese from the South American food stall.
It was all kinds of nomness and awesomeness. Gooey, cheesy and full of flavour, I can't wait to go back to have another one! Made from ground corn dough, it had a delicious sweetness attached to it. It was like eating a lumpy taco where the shell was soft (like hash brown but sweet).
We also had coconuts (for $6 each, I thought it was ridiculously expensive, but, oh well!), fried calamari, dulce de leche in cones and some pulled pork.
If you want to go, don't worry, there's still nearly a month and a half left where this market will run! Just make sure you get in quick (take public transport if you can to save money on parking) and be early 🙂 Enjoy!
Details:
Date: Every Wednesday night from 14 November 2012 to 27 February 2013
Venue: Queen Victoria Market, Melbourne
Time: 5.00pm to 10.00pm
Cost: Free Entry
What's There: Hawker Style Food Stalls, Artists & Regional Producers, Wine Bars, Health Healing & Wellbeing, Live Music & Entertainment
Website: http://www.qvm.com.au/snm/snm_home.aspx