As you all know, I turned the big 3-0 this year.
Life as we all know it has not dramatically changed in the slightest.
To be honest, I still feel like a young immature 20 year old. However that didn't stop me from bemoaning to everyone who reminded me I was turning 30 that my life was over.
I think I went a little overboard with the Boy as he cooked me up two amazing pre-birthday dinners before taking me out to lunch at Vue de Monde *hooray* (blog post to come later).
Here's the first pre-birthday dinner he made me. Knowing my love for potatoes and pies in general, he served me a work of art.
An aesthetically pleasing koi pond that was both edible and beautiful to look at. So, to start this year's Playground Series off, I bring to you, the mad man's Koi Fish "Pie".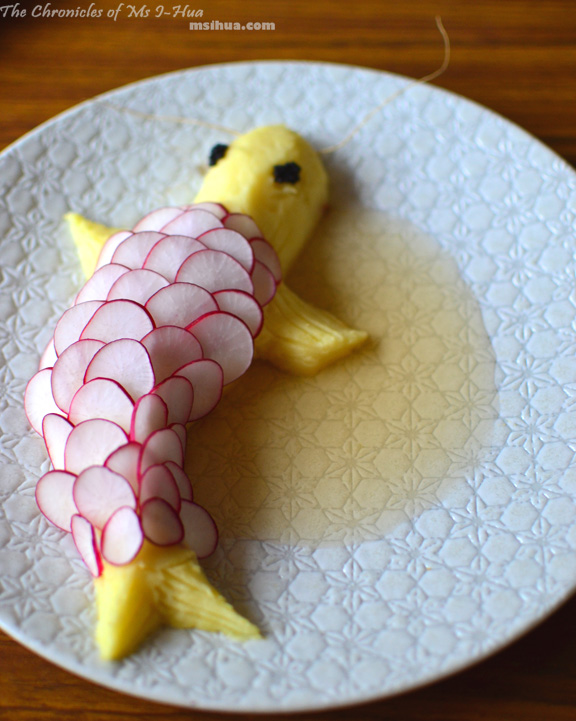 There's no real recipe behind this madness as usual as he pretty much made it up as he swam along *grin*. He did have to enlist my help with the fish at the end as he was too engrossed with the vision and final look, that he nearly gave up!
But here are the key ingredients needed.
Koi Fish "Pie" Recipe
Ingredients:
4 large potatoes (boiled, mashed and mixed with milk, butter and salt)
Baby Radishes (keep the roots)
Fish Fillets (we used leatherjacket fillets due to their shape or alternatively, any white flesh fillets)
Lumpfish Caviar
Shiitake Mushrooms, 1 clove of smashed garlic and 1 small roughly chopped shallot (for consommé)
Ground Sweet Smoked Paprika
Ground Cayenne Pepper
Onion powder
Salt & Pepper to taste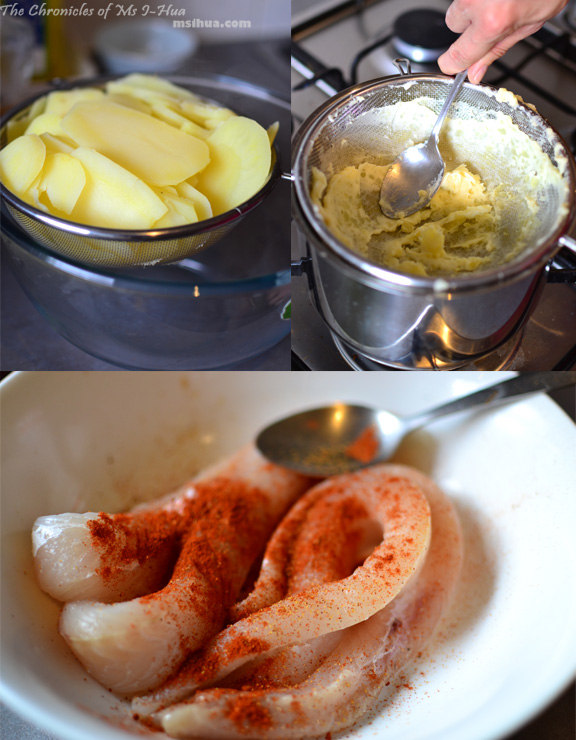 Procedure:
With the potatoes, we followed a simple mashed potatoes recipe by mixing in butter, milk and salt to get an even mixture. Working out all the lumps by putting it through a sieve or tamis, we ensured that we had the right consistency in texture (not too wet or else it wouldn't hold its shape).
For the fish fillets, we marinated them with ground sweet smoked paprika, ground cayenne pepper, salt and onion powder.
From there, it was transferring it to a pan to fry until "just cooked" (1-2 minutes each side depending on the size of the fish).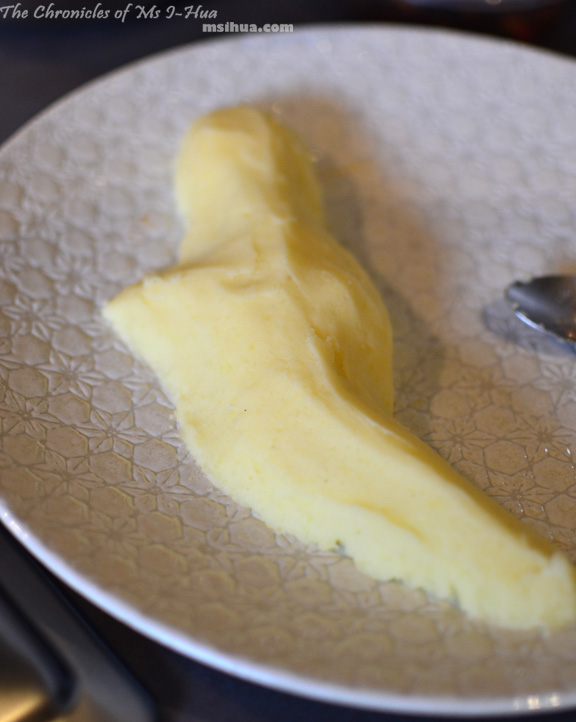 To form the koi fishes, first place a piece of cooked fish fillet on a plate. Start covering it with the mashed potatoes, moulding it to a koi fish shape.
Use the back of a fork to "draw" the fins and tail. Thinly slice baby radishes using a mandolin and use them to form the "fish scales".
Start arranging the radish slices from the head and move towards the tail.
Use lumpfish caviar for the "eyes". As for the barbels (whiskers), we used radish roots for them.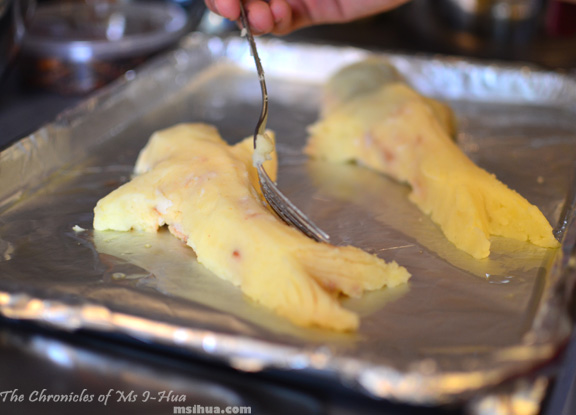 The koi fish "pie" can also be baked. We tried something different and flaked the cooked fish fillets and mixed it with the mashed potatoes.
Form the fishes on a tray (shaped similar to the first koi), brush with butter and bake them at 200°C in a pre-heated oven for 10-15 minutes or until golden brown.
Koi Fish No.1 – Pan fried fish fillet, Mashed potatoes, Baby radish, Lumpfish caviar served with a Shiitake mushroom consommé.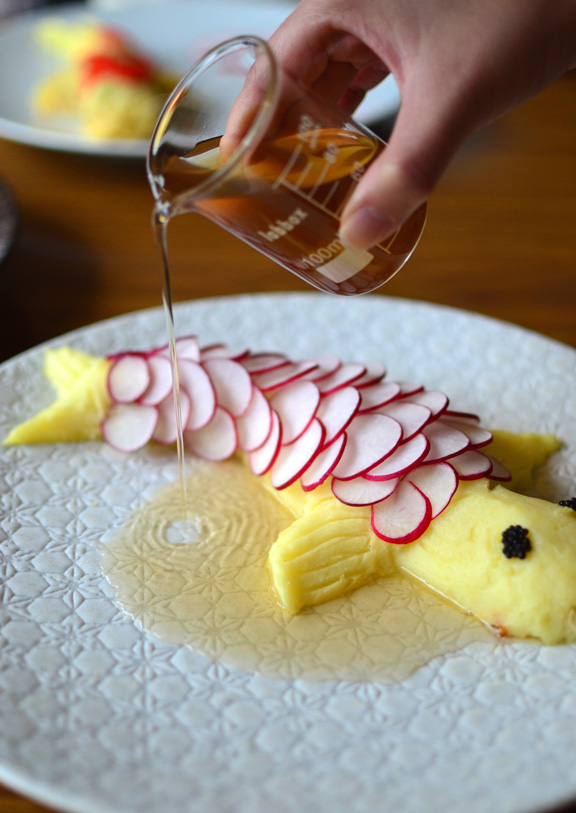 I thought it would look prettier if we served the fishes "swimming" in the Shiitake consommé pond.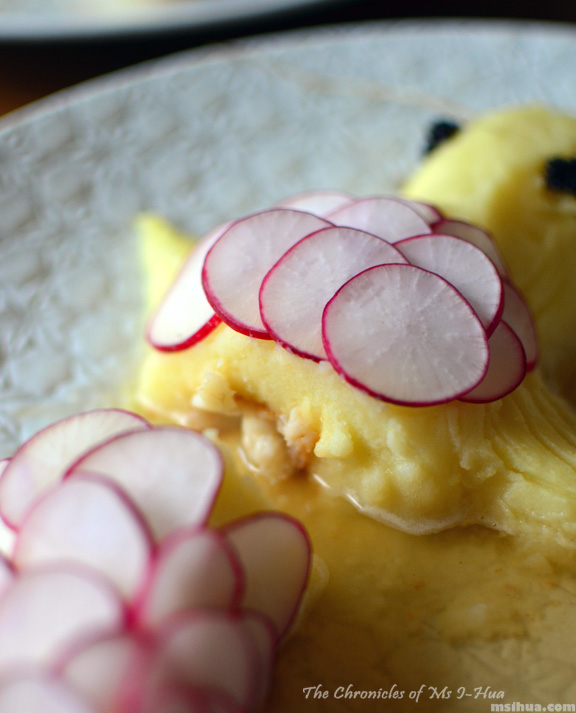 The encased fish was a tad too salty as I was a bit heavy handed in the seasonings, but eaten together with the mashed potatoes and broth, it was very delicate and earthy.
The crunch texture provided by the raw radish "scales" went really nicely as a whole as well.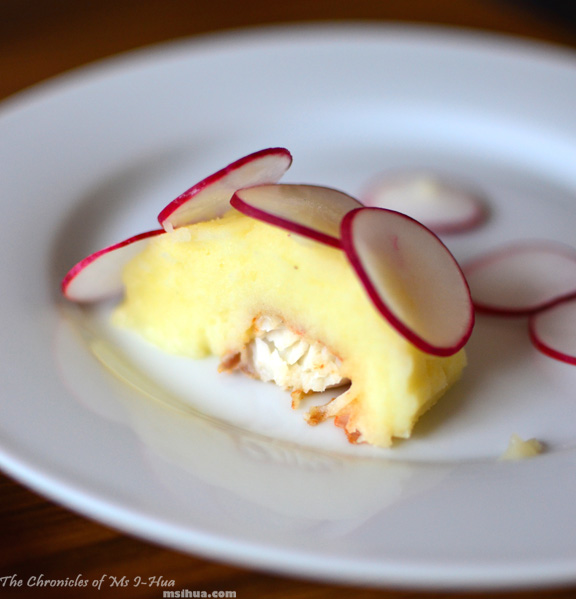 As you can see, we had more potatoes to go than the fish (due to the type of fillets we used) which could be improved if we used a bigger type of cut.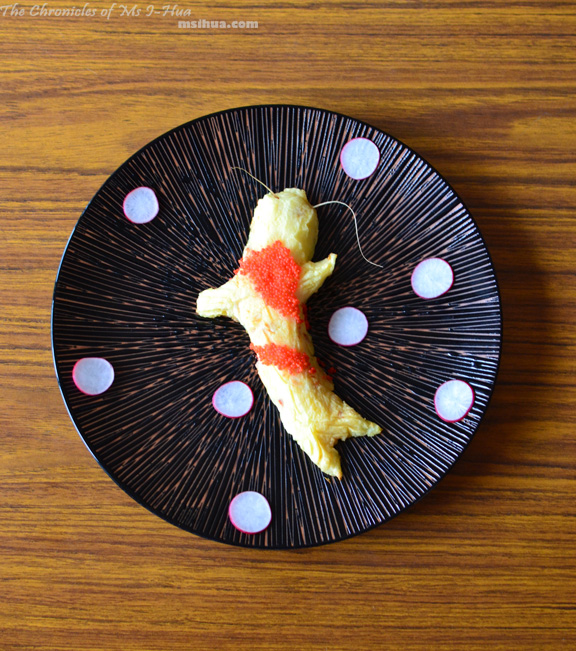 Koi Fish No.2 – Baked mashed potatoes, Pan fried fish fillet, Lumpfish caviar, Baby radish slices served with a Shiitake consomme.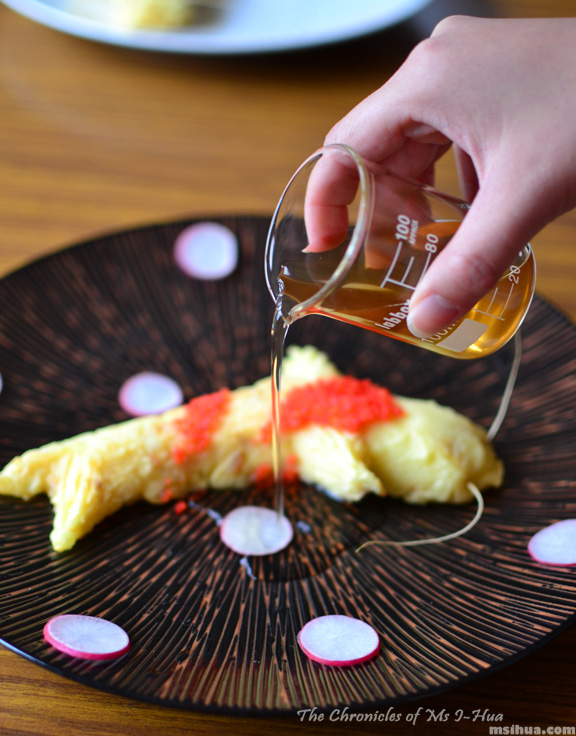 Having been baked in the oven prior to being served, the potatoes didn't take on the mushy texture as the first plate. The only downside was the shape of the fish after baking.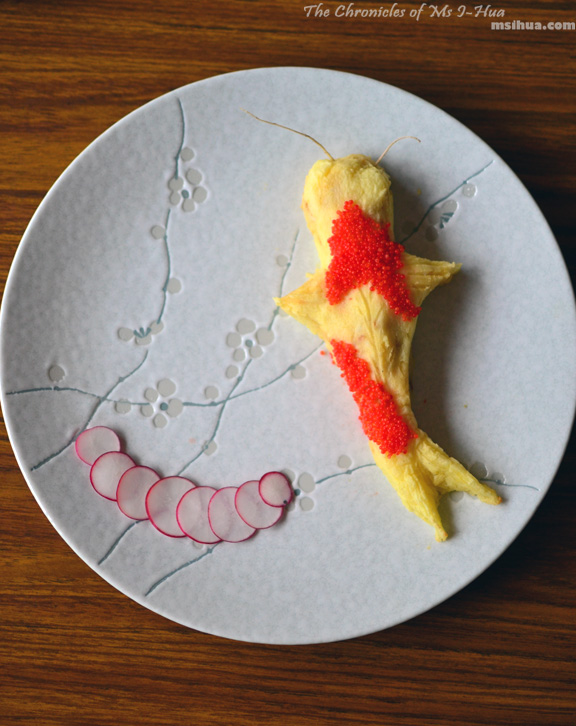 Koi Fish No.3 – similar to the 2nd Koi Fish.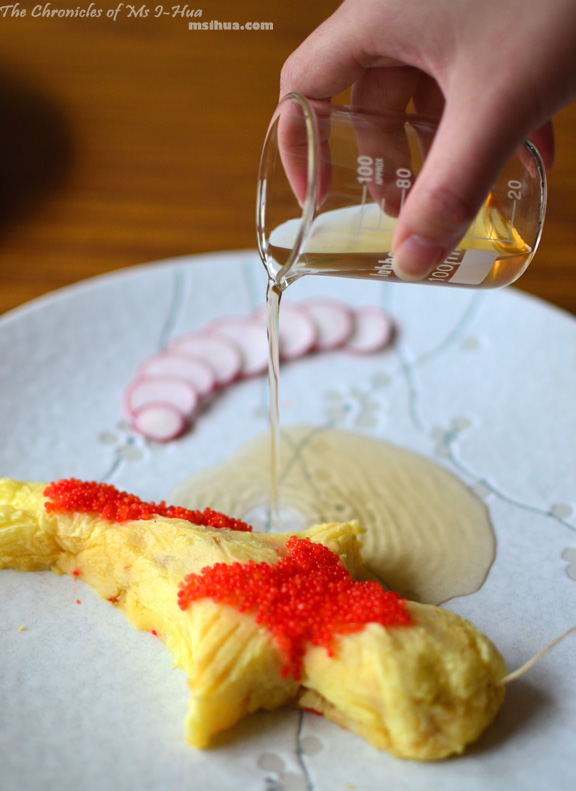 Hello little fishy!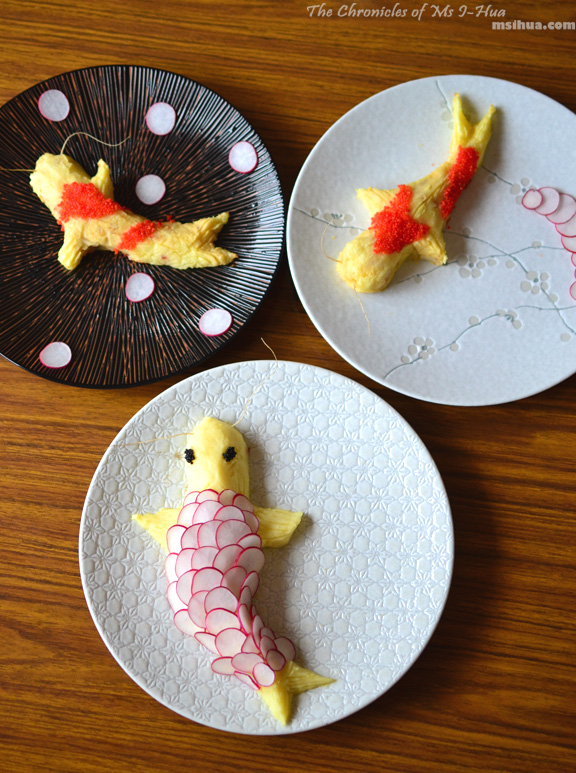 There you have it, my pre-birthday dinner and birthday present of koi fishes swimming elegantly in a Shiitake consommé pond 🙂
Just to end this post, I thought I'd share with you a hilarious YouTube clip I found on the interwebs whilst looking up Fish Pie. I hope it makes your day!