Is it time?
Is it? Is it? Is it?
By Golly, Miss Molly! I do think it is time!
It's time to hit the next brunching around Melbourne post! This time we bring the focus to both Windsor and Richmond, and showcase what you can eat on both sides of the river 🙂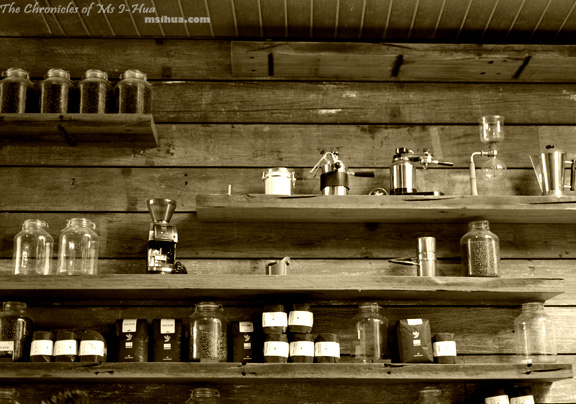 We bring to you Dukes Coffee (in Windsor), Pillar of Salt and Top Paddock (both in Richmond) for this belly gallivanting adventure 🙂
_______________________________________________________________________
Dukes Coffee – Windsor, Vic
Brunching adventures for us is getting a tad ridiculous. There are way to many options and not enough time. Even with that statement, we are constantly stumped when thinking of a new place to visit for our brunching adventures 🙂
One day I got so frustrated with the Boys indecisiveness, I told him to just drive to Windsor and we'd figured it out based on where we would get a car park.
Luckily for us, our luck had made a car spot available at the corner from Dukes Coffee Roasters, a café which I've been meaning to go to for ages.
Having listed our names down on the wait list, we waited for about 15 minutes before we got a table.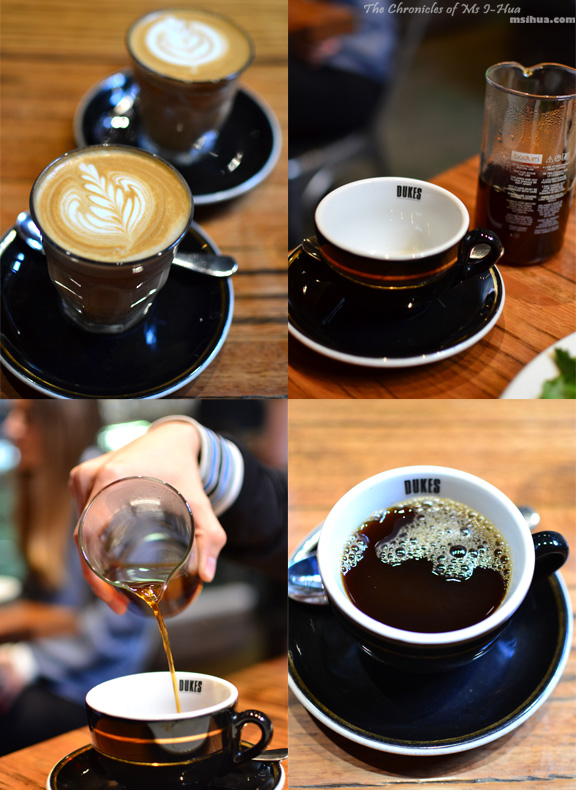 As Dukes Coffee doubles up as a coffee roaster, I knew I had to get in on some pour over action.
For the Lattes ($3.80), we simply went with the House Blend, and with the Pour Over ($4.00) of El Salvador Santa Isabel Cup of Excellence Lot #17 which was really lovely, with a slight tinge of acidity.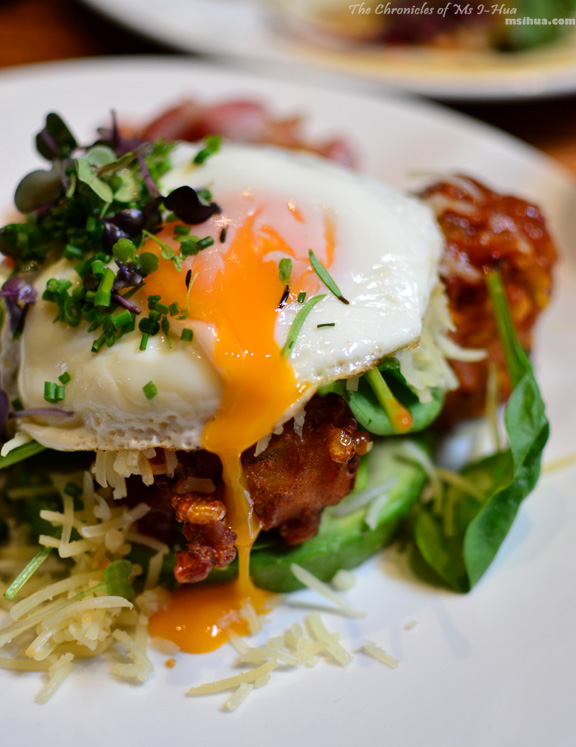 Corn & Zucchini Fritters with Spicy Tomato Relish, Manchego Cheese, Spinach, Avocado & Fried Egg ($17.00)
You know when there are fritters, I am there. Say no more.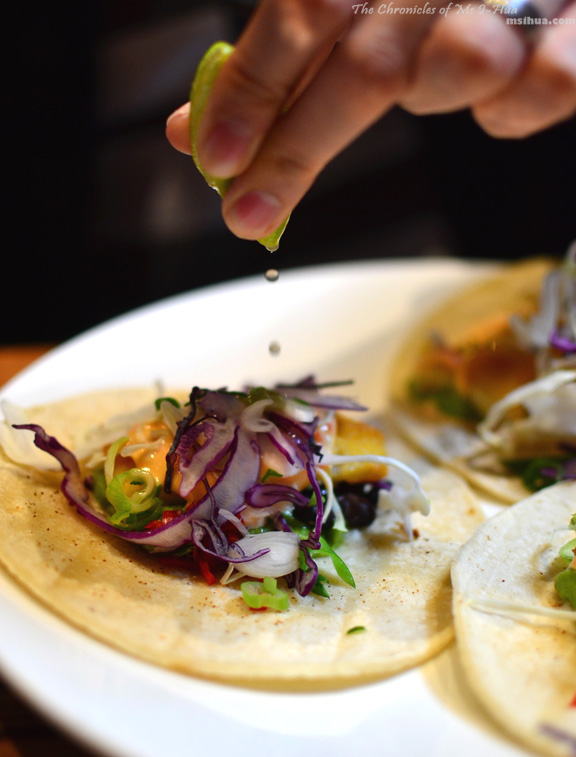 Soft Corn Tacos with Spicy Crust Fish ($15.00)
The Boy also enjoyed his tacos.
Come here if you are looking for good coffee and oozy eggs.
Seating is a bit tight, so prams won't be recommended unless you are willing to squeeze!
*Disclaimer: All food ratings & review are purely based on my own experiences and how I feel about the service, food and quality at the time of visit
Food/ Cuisine: Breakfast, Lunch & Coffee
Dining Style: Cafe
Opening Hours:
Monday to Sunday, 7:00am – 4:00pm
Address:
169 Chapel Street
Windsor VIC 3181
Tel: (03) 9521 4884
Website: http://www.dukescoffee.com.au/
How to get there: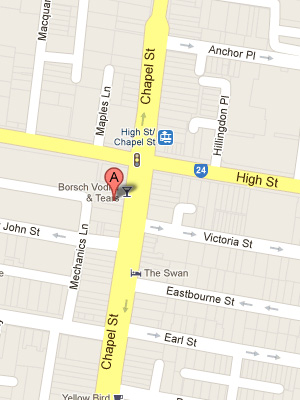 _______________________________________________________________________
Pillar of Salt – Richmond, Vic
To be honest, we got to Pillar of Salt one day after a heavy breakfast (it was the same day we paid Nama Nama a visit 🙂 ) and running errands.
The Boy didn't think he was quite full enough from breakfast but he wasn't hungry enough for a heavy lunch.
We dropped in at PoS around 2pm and we noticed that despite the time, the crowd had not died off. Such is café culture in Melbourne!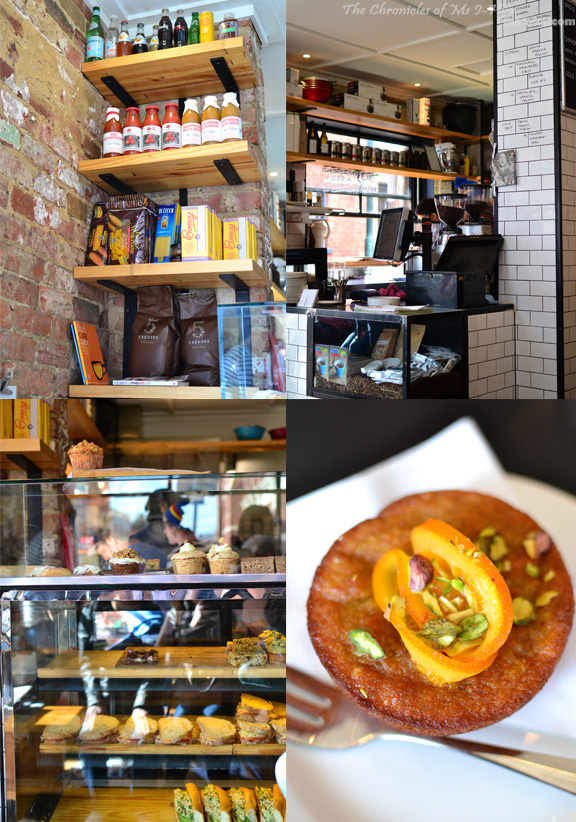 I went on the dessert haunt, which is quite unlike me if you must know, but I just couldn't move my eyes away from the cake display counter. This was definitely a first for me!
I chose a Flourless Orange Cake with Pistachios.
The tart was everything I thought it would be. Rich orange flavour with a gooey thick syrup just begging to be licked!
Jimmy's Indonesian Iced Coffee ($4.00)
I also ordered Jimmy's coffee which was abso-freakinglutely amazeballs. I can't wait to head back for a proper brunch session! So sweet and heavy, this was definitely an Asian coffee!
Coconut Poached Chicken Salad – Shredded vegetables, vermicelli noodles, mixed herbs & nahm jim dressing.
We were quite keen to sample their Asian-inspired menu. I convinced the Boy to order the Coconut poached chicken salad.
The balance of flavour was perfect. Tangy, salty and sweet. So good to have something refreshing like this. It reminded me of the duck salad I had from De Clieu.
Come here for an upbeat brunching experience partnered with good food. There are wide open spaces in between the crooks and crannies between tables, so you could navigate prams if you so wish 🙂
*Disclaimer: All food ratings & review are purely based on my own experiences and how I feel about the service, food and quality at the time of visit
Food/ Cuisine: Breakfast, Lunch & Coffee
Dining Style: Cafe
Opening Hours:
Monday to Friday, 7:30am – 4:30pm
Saturday & Sunday, 8:00am – 5:00pm
Address:
541 Church Street
Richmond VIC 3121
Tel: (03) 9421 1550
Website: http://www.pillarofsalt.com.au/

Twitter: @_pillarofsalt

How to get there: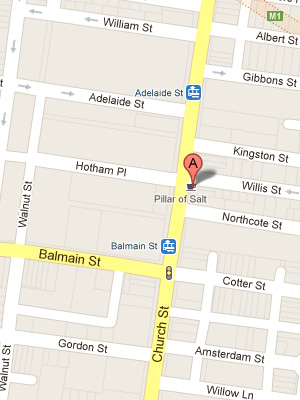 _______________________________________________________________________
Top Paddock – Richmond, Vic
We first heard of Top Paddock from Jo's (The Hangry Bitch) instagram feed. It looked good, had a great vibe, which wasn't surprising as it is the sister cafe to Two Birds One Stone across the river (and the old Three Bags Full; since sold).
Needless to say that we were there like canary bears (say, what?).
I fell in love at first sight. I completely judged the book by its cover and was rewarded for it as well.
My favourite décor item from Top Paddock? The recycled road signs used as seat covers! Brilliant! I also loved the wide open kitchen/coffee area smack bang in the middle of the café.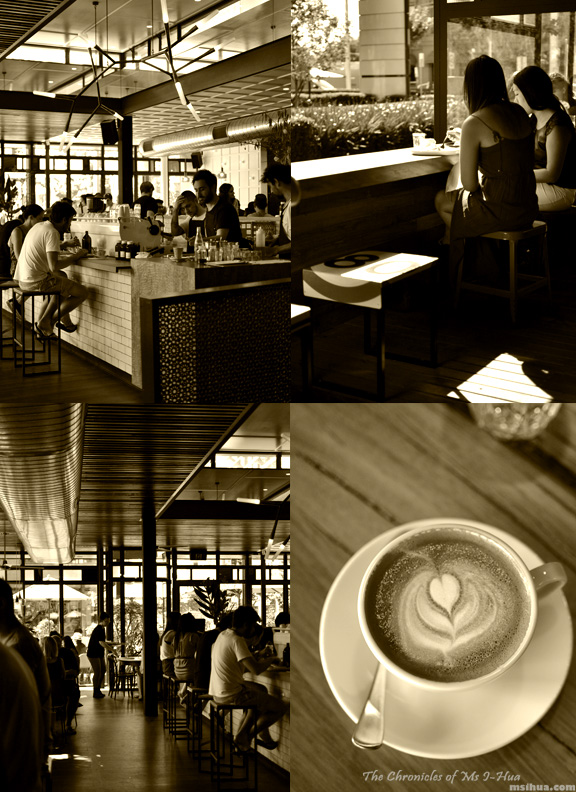 Whilst we each enjoyed a Latte ($3.80), highly impressive considering I am not usually a fan of 5 senses coffee as I find them to be a little too bold for my liking.
The coffee served here was excellent and I found myself wishing for another cup.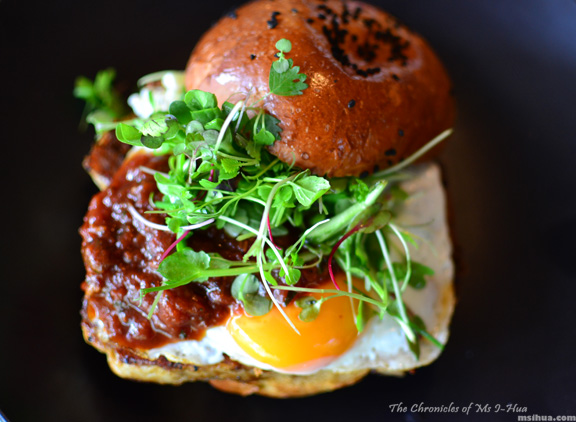 When the menu was shown to us and I saw that there was a pork belly roll, I knew I had to get the Pork Belly & Fried Egg Roll with Relish ($12.00).
I was hoping that it'd be similar to the breakfast burrito roll I so loved from Oscar Coopers. However, it was a completely different version to what I had in mind.
It was spectacular, oozy, sweet, tart, rich, full, well balanced, I was on the edge of my seat for more hits to my senses.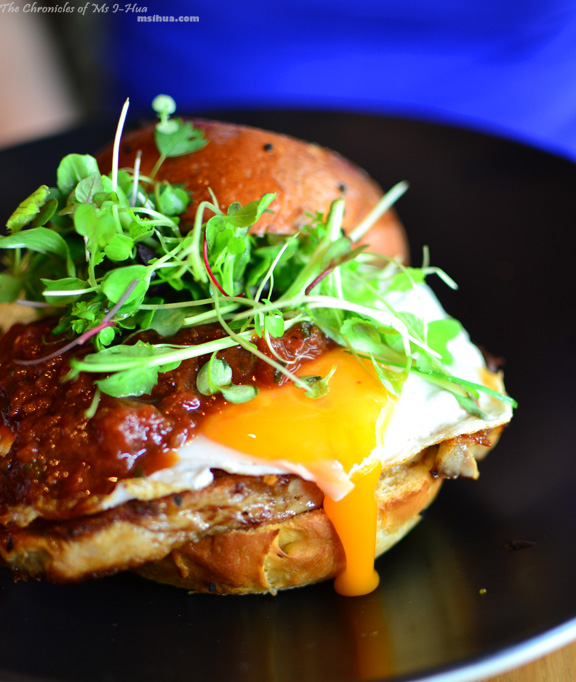 The egg was perfectly cooked too 🙂
What did the roll taste like? It was a slight variation to my favourite pork belly sandwich from Deadman Espresso, with a twist. It was lighter and wasn't as heavy (or fat) as the one there. I secretly liked Top Paddock's version more!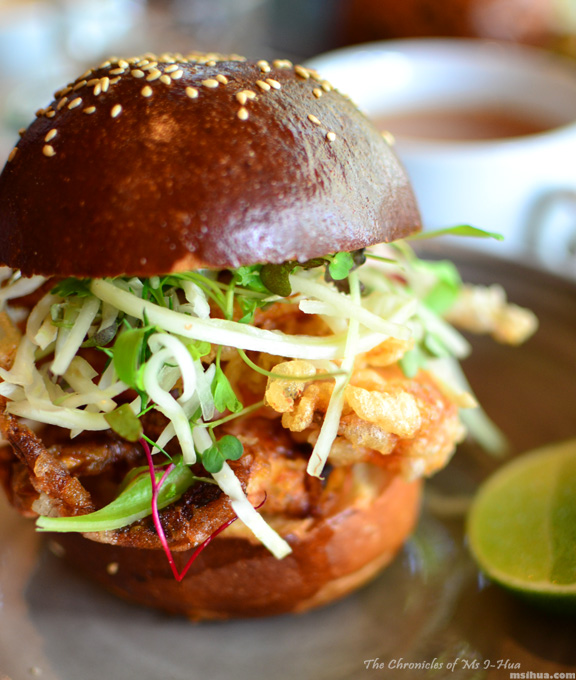 My second choice to order was the Soft Shell Fresh QLD Mud Crab Roll with Fennel, Dill, Lime Mayonnaise in a Brioche Bun ($21.00), which luckily for me was the Boy's first choice!
Hooray for husbands 😛
The soft shell crab was incredibly well done. Crispy and succulent.
The only gripe we have with this dish was that it was quite dry, which we assumed was to stop the soft shell crab from becoming too soggy. But it needed something more, more sauce or gravy on the side. Otherwise a pretty good dish.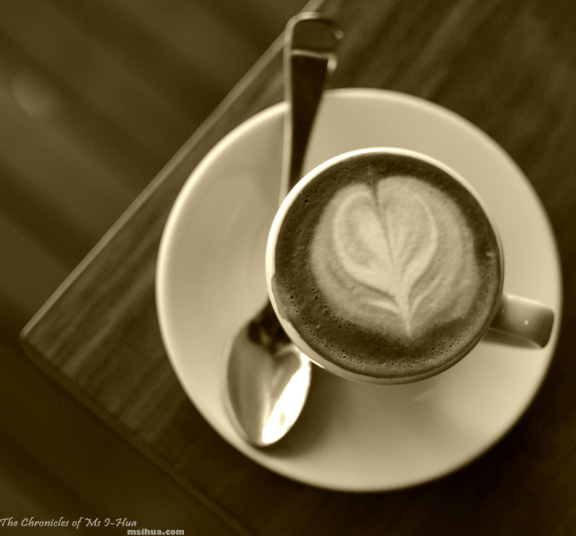 As I sat on my chair twiddling my thumbs watching the Boy finish his Soft Shell Crab (he eats really slowly), I decided to cave in and order a Piccolo Latte which was just heavenly.
Though we sat away from the hustle and bustle of the busy bee hive that was, we were quite happy with our secluded cosy (and leafy) corner at Top Paddock.
Summer FWP, was that we had a buzzing bee during our entire meal that would not leave me alone ;(
This place would be suitable for all asunder with their wide open plan and spaces for kids (indeed there were a few running around the greens next to the cafe), pooches, babies, oldies, goodies, heck, the whole town should be here 🙂
*Disclaimer: All food ratings & review are purely based on my own experiences and how I feel about the service, food and quality at the time of visit
Food/ Cuisine: Breakfast, Lunch & Coffee
Dining Style: Cafe
Opening Hours:
Monday to Thursday, 7:00am – 5:00pm
Friday, 7:00am – 9:00pm
Saturday & Sunday, 8:00am – 4:00pm
Address:
658 Church Street
Richmond VIC 3121
Tel: (03) 9429 4332
Website: http://www.toppaddockcafe.com/

Twitter: @TopPaddock

How to get there: