Having both sides of my family originating from Colonial Penang in Malaysia, I have been exposed to quite a lot of old British glamour, architecture and types of food that were served during the British occupation in Malaysia.
Yes, if you were after a history lesson, forgive me. If you were after a story about food, then you've come to the right place 🙂
Stories of how and why the cuisine in Malaysia, and in particular in Penang is what it is today can be traced back to these times.
These genius creations in food can mostly be attributed to the Hainanese people who used to work in kitchens and as chefs to the British during their time in Malaya.
Items such as Inchi Kabin (fried chicken with Worcestershire dipping sauce) and Kaya Toast (a take of jam and bread replaced with local coconut jams) have survived through the generations and have remained popular in our current times.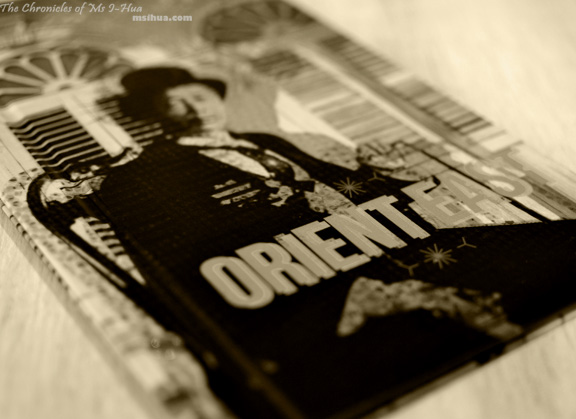 In Melbourne, there has been a shift in acceptance to more local and traditional Malaysian food. What I mean is that the current Malaysian cuisine you can find these days are run by a new influx of Malaysians who are keen to go back to their roots to showcase their classic food.
No longer are these catered by generic Chinese restaurants that just so happen to have Nasi Lemak or Hainanese Chicken Rice.
One of these restaurants situated at the lobby of Seasons hotel (Botanical), on St Kilda Road, combines old school glamour, a bar that is part speakeasy part Shanghai (Tang-esque) as well as traditional Malaysian comfort food.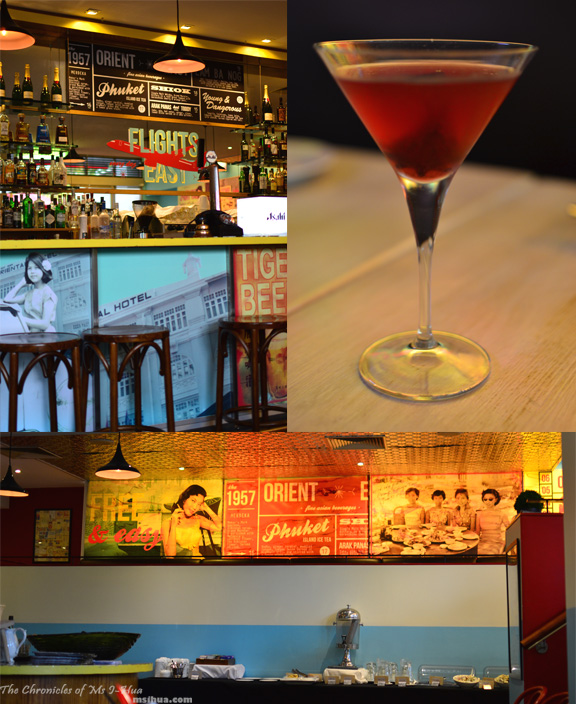 Grab cocktails on offer such as The 1957 (the year Malaysian gained independence from the British hands).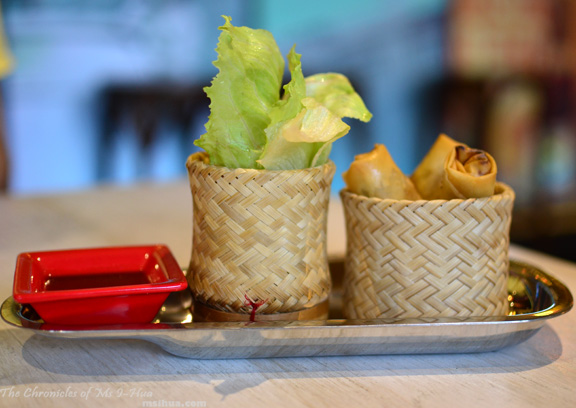 The first time we went, the menu was still going through some experiments. As it is located within the hotel premises, you may find the inclusion of items such as steak and burgers to sit slightly out of place (but we were informed that this was due to the fact that they cater for room service as well, and these items are popular with guests).
On our second visit (a few weeks ago), we decided to try their Nyonya spring rolls with jicama radish & chilli dipping sauce ($4.50). Lovely and crispy, these were served hot (so beware when you bite into them).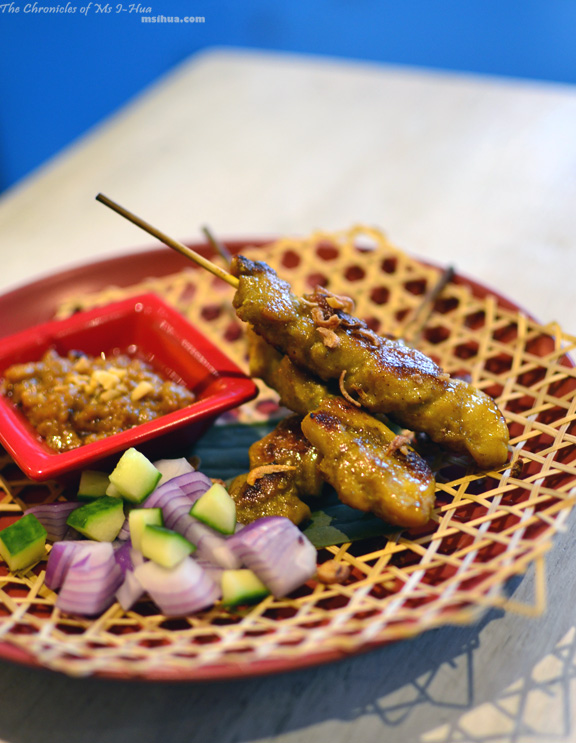 We ordered their satays as we knew they would be good. The Satay (flame-grilled skewers served with traditional peanut sauce) was delicious and had the aromatic charcoal aroma as the ones you would find a street side vendor in Malaysia.
Sadly though for 3 sticks and the price of $8.90 I kicked myself for not eating more satay when I was home in Malaysia a few months ago *sniff*.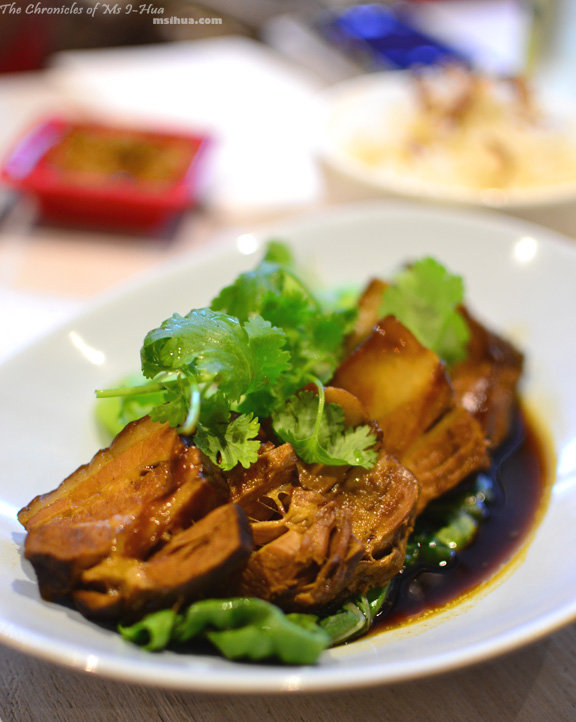 For our mains, I ordered the Dongbo soy stewed pork with rice & bok choy ($18.90). I do love dongbo pork belly.
I did wish that this came with buns and peanuts sauce like the ones served at Taiwanese cafes, but that is a different cuisine from a different country all together 😛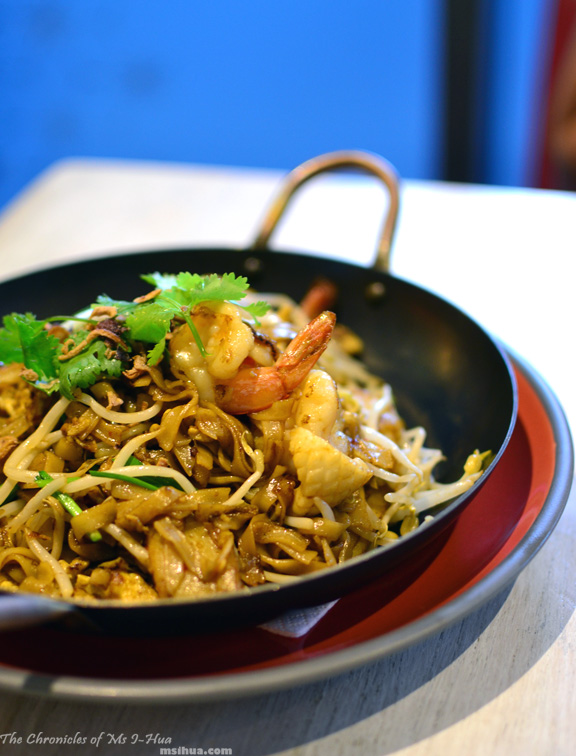 The Boy surprisingly had an aromatic and delicious tasting Penang Seafood Char Kway Teow ($16.90).
Full of wok-hei, this dish really brought me back to Malaysia 🙂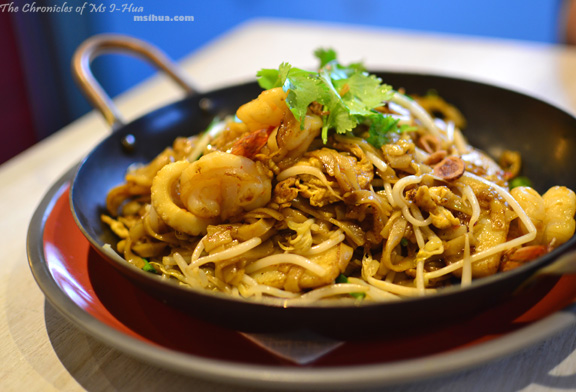 Prices are steeper than most other Malaysian joints, but as mentioned, it belongs to the hotel and we all know what hotel food prices are like.
Come here if you're looking for some Malaysian/Singaporean golf-clubhouse in-cafe experiences (if you are from Malaysia/Singapore, you'll know the exact vibe I mean).
If you aren't from these two countries, let's just say the experience is akin to dining in the upper-end cafe/restaurant that serves hawker food, club sandwiches, steaks and fish & chips whilst you lounge by the poolside, the kids at the arcade or bowling alley and the husband at the golf course. These are very common activities if you have a golf-club membership in these countries.
Come here too if you're looking to get away from the hustle and bustle of the CBD life and do something different (to avoid lining up in the heat/cold of Melbourne to get into a restaurant).
*Disclaimer: All food ratings & review are purely based on my own experiences and how I feel about the service, food and quality at the time of visit
Food/ Cuisine: Malaysian
Dining Style: Restaurant

Opening Hours:
Monday to Friday, 11:30am – 2:30pm & 5:00pm – 10:00pm
Saturday & Sunday, 5:00pm – 9:00pm
Address:
348 St Kilda Road
Melbourne VIC 3004
Tel: (03) 9685 2900
Website: http://www.orienteast.com.au/

How to get there: