Lazy weekends are the best sorts of weekends. Better yet if I had a restful sleep during the night.
More often than not, I'm rudely awaken in the wee hours of the morning with the Boy jumping up and down the bed, shouting "Get up! Get up! It's Saturday! Get Up!"
Mind you, most Friday nights I sleep around 1am, thus for him to wake me up at 8am is a bit rude 😛 8am is much too early to be awake on a Saturday morning.
Gone are the weekends where I got to sleep in, knowing that when I wake up, Madam Mummy would have bought breakfast home for me to enjoy whilst Big Sis and I sat at the dining table watching the morning cartoons.
Now, I get a crazed monster who won't let me catch up on my rest and insist that we either get to our groceries, chores or out for breakfast.
It's the latter that I usually forgive him for.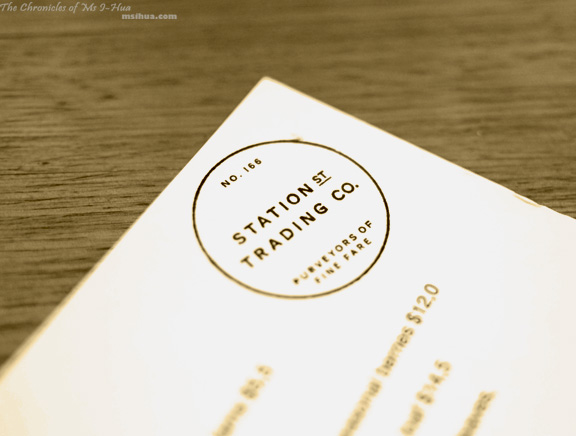 I'd forgive most idiosyncrasies for bacon.
Heck, I'd forgive most people for their misguided actions towards me, if they offered up their apologies with a plate of crispy bacon.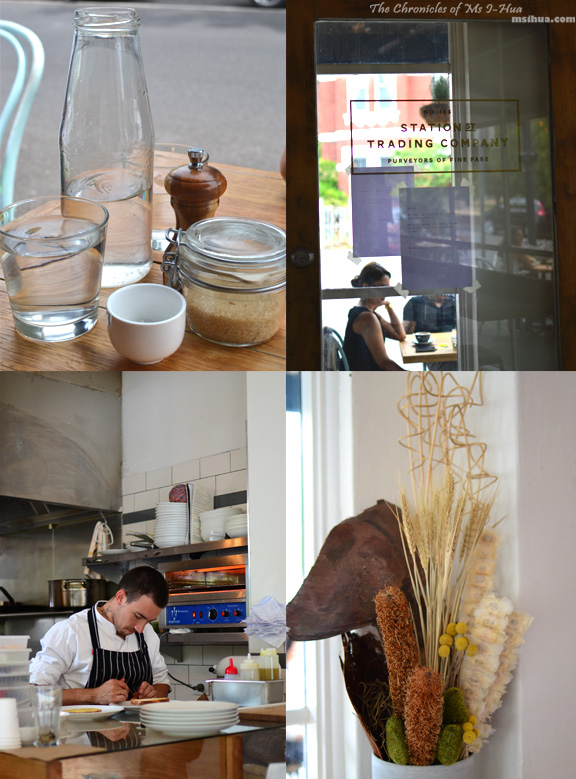 Bacon…. Mmmm…
Which brings us to Station St Trading Co. at Port Melbourne. You'll understand why soon enough.
Sister cafe to Coin Laundry in Armadale, Station St brings to you the same comfy feeling that envelopes you as you walk through its doors. Staff are friendly, service is great and food is simple but good.
As this was before the Boy had his medical checkup, we both ordered Lattes ($3.50 each). Station St uses coffee by Allpress.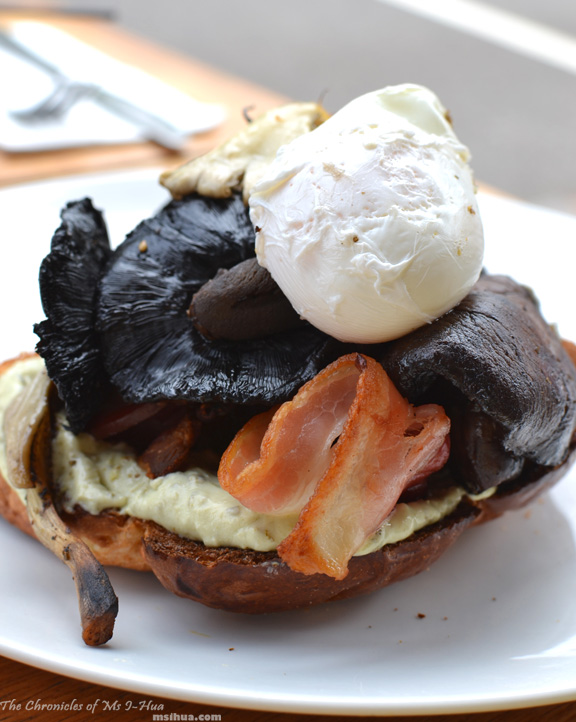 As a creature of habit, I usually go for fritters if it's on the menu. However, the only fritter choice available was a roast pumpkin and goats cheese fritter. As appealing as that sounded, I could not go pass the mushrooms.
Sauteed Mixed Mushrooms, Basil Goats Curd, Poached Egg Served on a Toasted Brioche ($14.00) with extra Bacon (of course!). But it's not my bacon that you should come here for 0_0 (double meaning completely intended).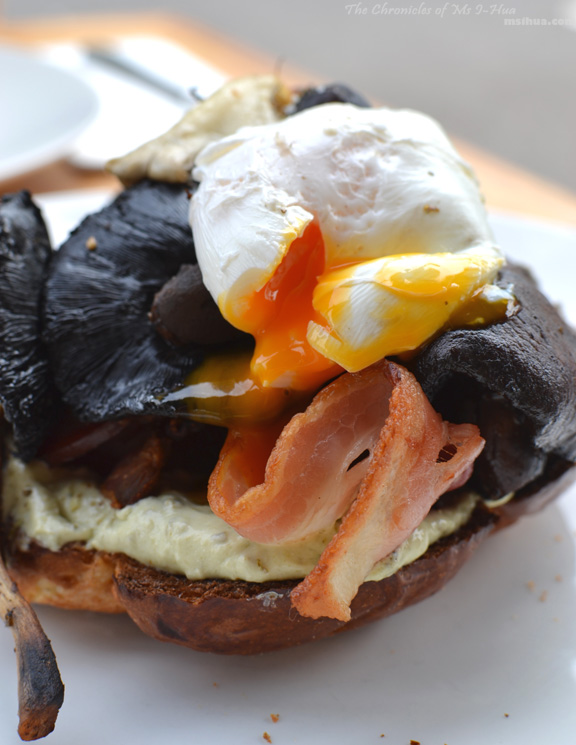 I thought I was the smart one in the breakfast decision making process that morning.
I was literally moaning out loud (TMI?) with each juicy squirt my mushroom was making and the salty flavour from the bacon which hit my palate (Has your mind completely and utterly ended down the gutter path?).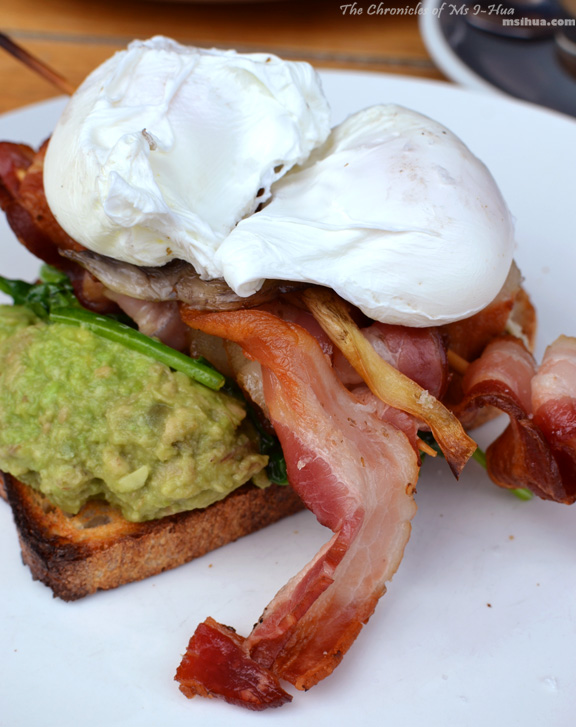 However, whilst I was in breakfast-gasmic heaven. The Boy beat me to the journey with his version of Station St's big breakfast.
Station St. Breakfast Stack with Smashed Avocado, Spinach, Bacon, Mushrooms, Poached Eggs & Beetroot Relish ($17.00)
It may not look it, but that piece of bacon jutting out in the picture above is the best thing since sliced bread.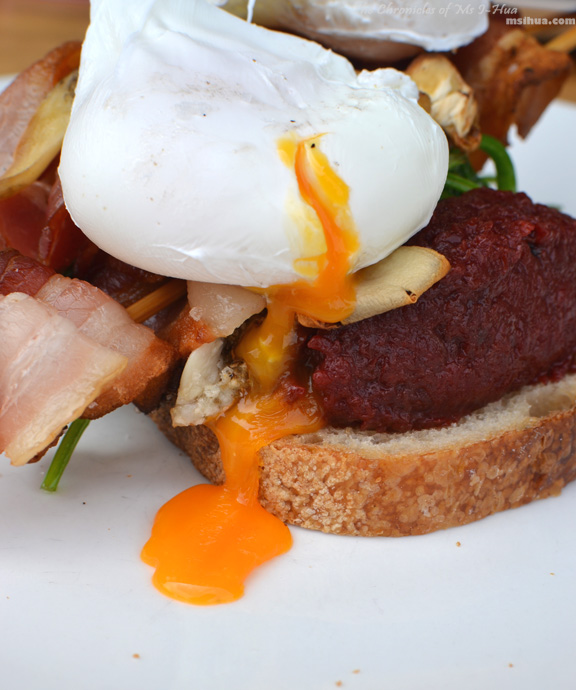 Hands down, the Boy states that this is by far the best bacon he's ever had in any cafe in Melbourne.
*BIG BIG CALL!*
The reason for this proclamation?
The bacon was perfectly rendered on satay sticks. Maintaining both the bacon texture as well as the crispy crunchy goodness that all pigs should dream of becoming when they die.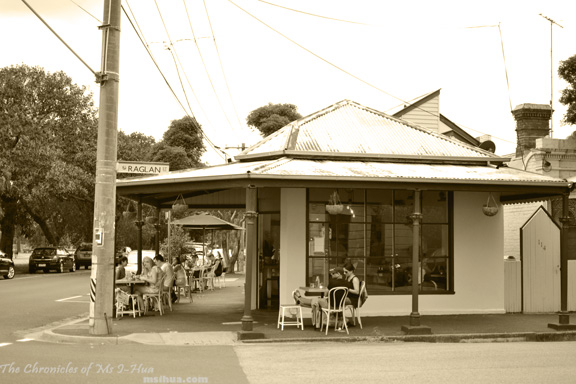 Come if you are in the neighbourhood. Heck, trek down to this idyllic little street side corner cafe even if it's out of your way.
If you are a bacon lover, you would have been there yesterday 🙂
It is a tight fit in here, so you may want to reconsider should you have a large pram.
If you have a dog (or dogs), nearly every table had a dog under their table as they sat in the sun outside. I did my own share of doggy-ogling whilst we were there.
How many idioms can you find that I've included above? What are your favourite idioms?
*Disclaimer: All food ratings & review are purely based on my own experiences and how I feel about the service, food and quality at the time of visit
Food/ Cuisine: Breakfast, Lunch, Coffee
Dining Style: Cafe

Opening Hours:
Monday to Sunday, 7:30am to 4:30pm
Address:
166 Station Street
Port Melbourne VIC 3207
Tel: (03) 9646 6663
Website: https://www.facebook.com/StationStreetTradingCo
How to get there: