I suffer from bad cases of First World Problems at times.
I complain when the air-conditioning is too cold and I whinge when the heating is too hot.
I moan about having to go to work and bitch about not having enough hours in the day to try out all the restaurants I want to.
Really, human nature is pretty bad.
I count myself lucky that I get to complain about these things so often. I am after all, a truly lucky person living a very wonderful life.
I come home most days, and dinner is already half way completed with the Boy usually plating up something spectacular for me.
I'm lucky enough to have reached my 30th birthday this year and even luckier that I have the Boy to pamper me.
The Boy decided that I should have not 1 but 3 celebratory meals and this pork belly dish he recreated for me was just divine (Part 1 was the Koi Fishes).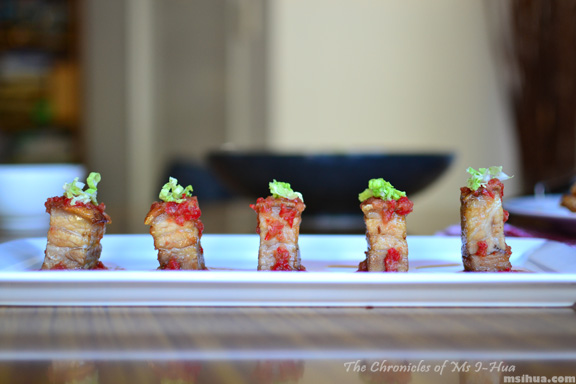 When I fall in love with a certain dish after trying it at a restaurant, I would constantly crave for it and want to return to the restaurant for more.
Not so for the Boy. He takes it as a personal challenge and will do his best to cook a similar dish in his attempt to recreate the meal. I think it takes too much effort but he seems to revel in it.
With this Sticky Pork Belly recipe, he has cooked this dish a few more times now and we know that it is a guaranteed crowd pleaser. Certainly one of my favourite meals the Boy has cooked up in recent times. I just can't get enough!
Sticky Pork Belly with Red Nam Jim Sauce Recipe
(Recipe inspired by Taxi Dining Room's 12-hour Sticky Pork with Red Chili Dressing)
Ingredients:
1kg Pork Belly (deboned & scored)
Brine (2 Tbsp Salt + 2 Tbsp Sugar + 1.25L water)
100g of Gula Melaka (Dark Palm Sugar)
6 Tbsp Fish Sauce
2 Garlic Cloves (chopped)
3 whole Garlic Cloves (smashed)
4 Long Red Chillies (chopped)
30g Ginger (chopped)
1 Tbsp of chopped Spring Onion/Scallion (white part only)
2 1/2 Tbsp of Caster Sugar
Juice from 1 Lime
Sea Salt Flakes & White Ground Pepper
Procedure:
Combine the salt, sugar and water in a large bowl to make the brine. Stir the solution to dissolve the solids and place the pork belly in. Refrigerate for 6-8 hours or overnight.
Pour some water into the roasting tray (to a height of about 2cm) and place smashed garlic cloves in the tray.
Remove pork belly and rinse with running tap water to wash off any excess brine. Pat dry with kitchen towel and place on the roasting tray rack. The pork should not be touching the water in the tray.
Preheat your oven to 220°C.
Rub sea salt flakes all over skin and into the scores. Turn over to the meaty side and rub with more salt and pepper. Turn it over again (skin side up) and leave it for 20 minutes on the rack.
Pat dry any excess moisture from the skin with a kitchen towel. Rub with a little more sea salt.
Take 4 strips of aluminium foil and cover each side of the pork belly (leaving the skin and bottom exposed). This should keep the meat from drying out too much during the cooking process.
Place the roasting tray & pork belly in the oven.
Roast for 30 minutes on 220°C. If required, re-adjust your aluminium foil as the heat would cause the meat to shrink.
Turn the heat down to 140°C and leave it to roast for 3 hours.
Prepare the Nam Jim sauce while waiting for the pork belly to cook.
Combine the 4 chopped red chillies, 2 chopped garlic cloves, 30g of chopped ginger, 1 Tbsp of chopped spring onions and caster sugar into a mortar and pestle.
Start pounding & grinding until you get a paste-like consistency. Add lime juice and 4 Tbsp of fish sauce and mix thoroughly. Taste the sauce and adjust accordingly to get a nice balance between the sweet, sour, salty and  spiciness.
We've made this twice now and on both occasions, the sauce needed adjusting as the flavour is very much dependent on the fresh produce used. And it also depends on your personal preference, whether you prefer it sweeter or spicier. Once you get the balance right, transfer the sauce into a small bowl.
After 3 1/2 hours of cooking, take the pork belly out to rest for 10 minutes. Remove the aluminium foil. Using a very sharp knife, slice the pork belly into squares (it's easier to slice the pork belly while the skin is soft).
Place the pork belly back onto the roasting tray and place it under a hot griller (in your oven) to crisp the skin up.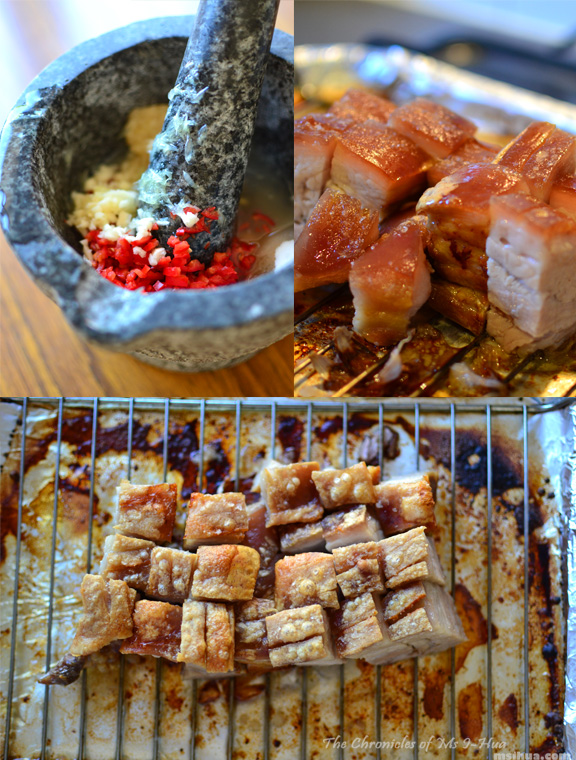 Melt 100g of Gula Melaka with 2 Tbsp of water and 2 Tbsp of Fish Sauce. Pour the molten hot syrup over the pork belly pieces and coat each side. You can avoid coating the skin if you prefer the crackling to stay crispy.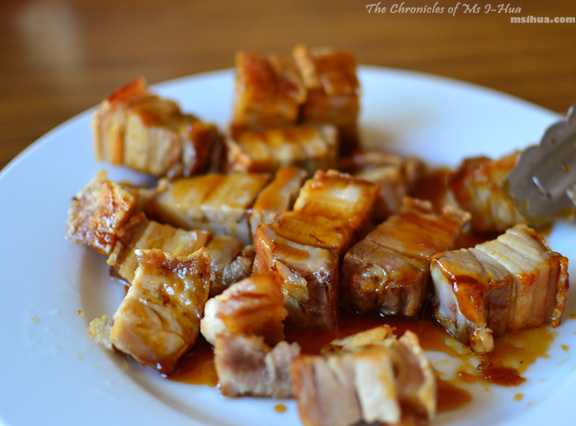 Pour the Red Nam Jim Sauce over the coated pork belly pieces and you should be ready to plate up.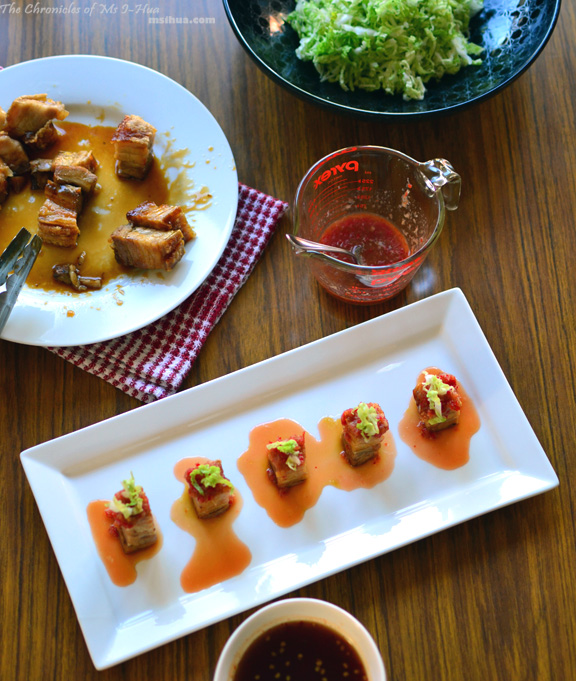 You can garnish it will some greens. We went with shredded Chinese cabbage/wombok.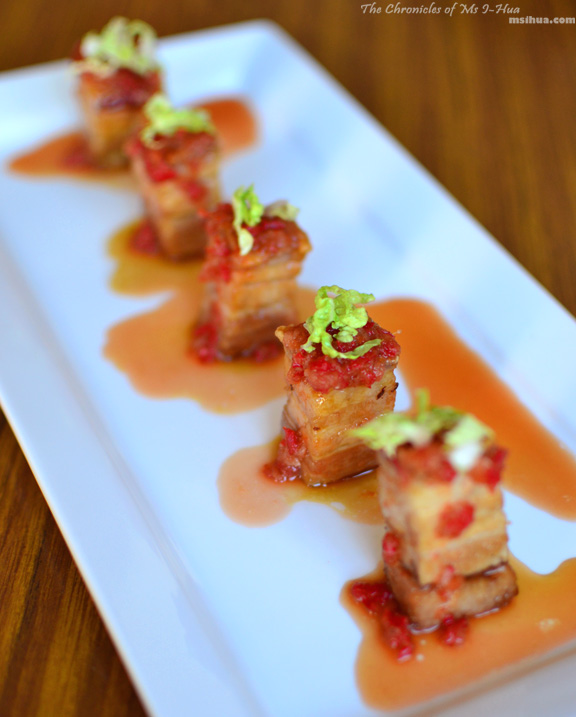 Alternatively, you can add pan fried prawns or scallops to the dish and dress with the same sauce.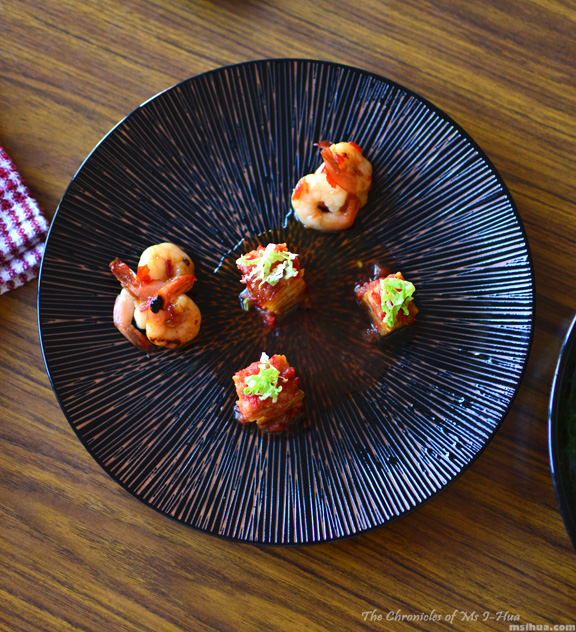 We made another variation of this dish by slicing the pork lengthways (so it fits into a sandwich or a bun) when April hosted a Momofuku bun party and got us all to bring the fillings 🙂
It went really well with the buns as well!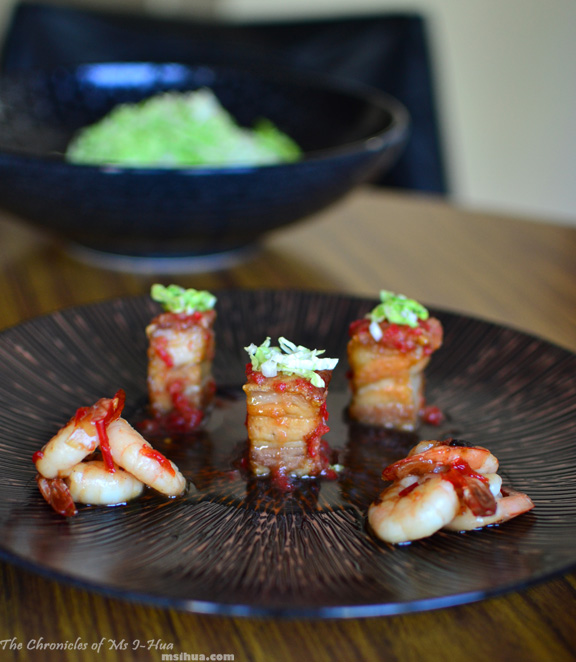 My biggest complaint with this dish is that there is never enough! I never want to share this dish but it's always so popular that I feel there's not enough to go around.
It's just that addictive!
Have you tried the original from Taxi Dining Room before? What did you think?