In my post for Andrew's Hamburgers, I took you down memory lane about how going to McDonald's or KFC whilst growing up was like a treat. We would only go there for major occasions, like if you were an absolutely perfect daughter or you had a birthday.
Occasionally we would go there for Chinese New Year as well. There were several reasons for this:
A.) To avoid the crowd
B.) To avoid the price hike that occurred at hawker stalls and restaurants during the festive season
C.) Keeping with the family tradition (odd I know).
But these were different times. Places like KFC had proper plates and cutlery and you would sit down to a full 2 course meal. I don't think that ever caught on here in Australia, but trust me, it was pretty big in Asia.
Flash forward a few years, more fast food chains from America started opening up. Wendy's, White Castle, Carl's Jnr and Kenny Roger's (yes, he started a fast food diner chain that's still surviving in Malaysia).
Having grown up around that fast food culture in Asia, the higher end fast food chain (diners) such as Chili's and TGIF was the next in line for when a little cash came into my pocket. Plus it made more sense dining in these higher ends at later years as they served alcohol 😛
Coming to Melbourne, I was shocked that American diner styles weren't too popular and it took some time to adjust to pub grub.
Lo and behold! 10 years on and we've had a sudden influx of American inspired diners in Melbourne. Here's looking at a few 🙂
_______________________________________________________________________
Huxtaburger – Collingwood, Vic
Wondering around after a chocolate party one night, the Boy decided to drive towards Collingwood in search of food. I was convinced that he wouldn't find a parking, but he proved me wrong. Once again, our plan of eating around where our car found a parking proved to be a gem.
Walking towards Huxtaburger, you will be daunted by the crowd waiting for their orders and pick-ups and the sheer volume of burger patties and buns that are constantly on the griller.
Having managed to snag a seat on the counter to watch the action, I discovered that I couldn't eat 5 out of the 6 burgers as they use beef patties (duh!). I didn't order the 6th one as it was a tofu burger and I was running on the logic that if I was going to commit carbocide, I would commit it full steam ahead with greasy meaty bacony chunks of meat.
Unbeknownst to me, you can order a burger with the lot (including the bacon) without the pattie for cheap! Gah!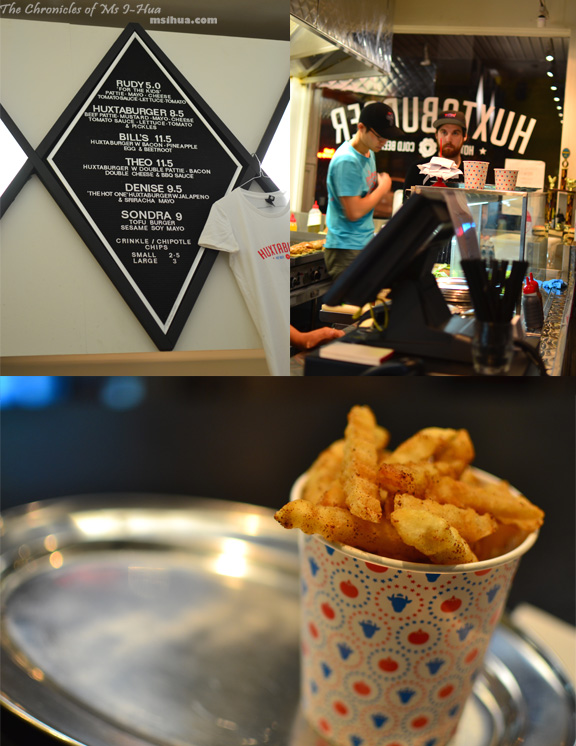 So instead, I snacked on the Chipotle Crinkle Cut Chips ($3.00) which I found to be super fresh, crunchy and fluffy! It was probably a good thing that there was such a high demand and turnover of food, as everything we experienced was at its freshest!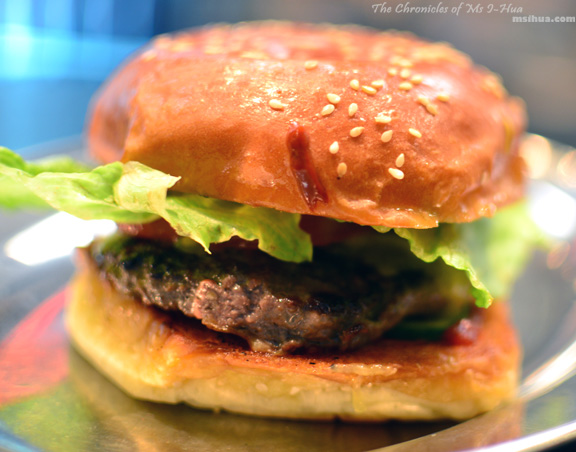 Whilst I sat there enjoying my chips, the Boy enjoyed his The Huxtaburger – beef pattie, mustard, mayo, tomato sauce, tomato, cheese, lettuce & pickles.
He said that it had the right amount of salt and balance of flavours, the only let down was the texture of the pattie. He did like the wrinkly burger buns!
Now that they have opened up an outlet in the CBD next to my work building I know what to do! Order their breakfast burger (which is just bacon!). HOORAY!
*Disclaimer: All food ratings & review are purely based on my own experiences and how I feel about the service, food and quality at the time of visit
Food/ Cuisine: Burgers
Dining Style: Cafe
Opening Hours:
Monday to Thursday, 11:30am – 10:00pm
Friday to Saturday, 11:30am – 11:00pm
Sunday, 11:30am – 10:00pm
Address:
106 Smith Street
Collingwood VIC 3066
Tel: (03) 9417 6328
Website: http://www.huxtaburger.com.au/

Twitter: @HuxtaBurger
How to get there: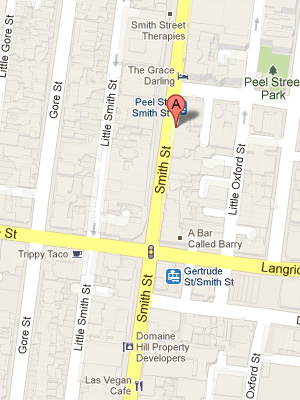 _______________________________________________________________________
Jus Burgers – South Yarra, Vic
I first tried the burgers at Jus Burgers when Taz, Az, Maz and I were wondering around Prahran Market one day. We were wandering around looking for a quick bite to eat and found Jus Burgers right across the road.
So off we went with groceries in tow.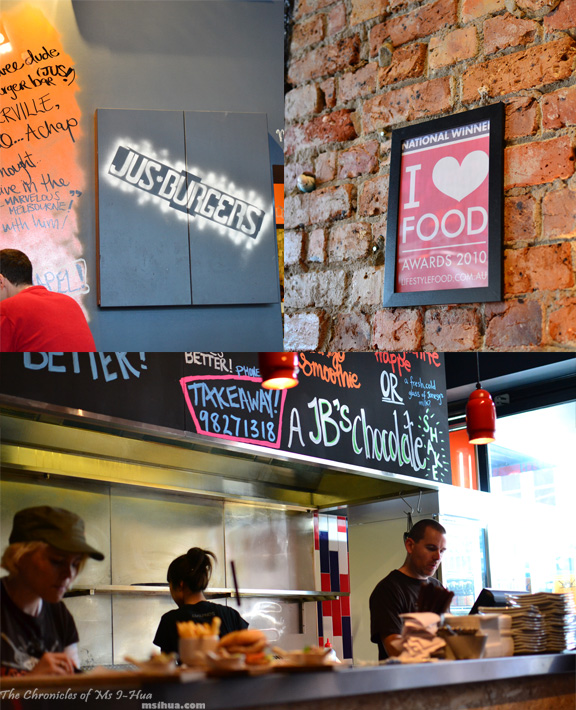 I was ecstatic to see that there was other meat pattie options besides beef and happily ordered the Original Lamb ($12.00) which was a Western Australian Amelia Park lamb pattie char grilled and served with homemade mint chutney.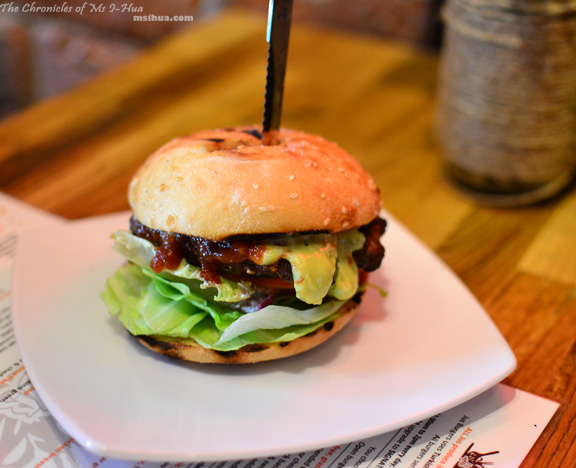 The other three had beef burgers. I can't for the life remember what they had apart from Agnes (as she blogged about it), which was a mini cheeseburger with her choice of blue cheese 🙂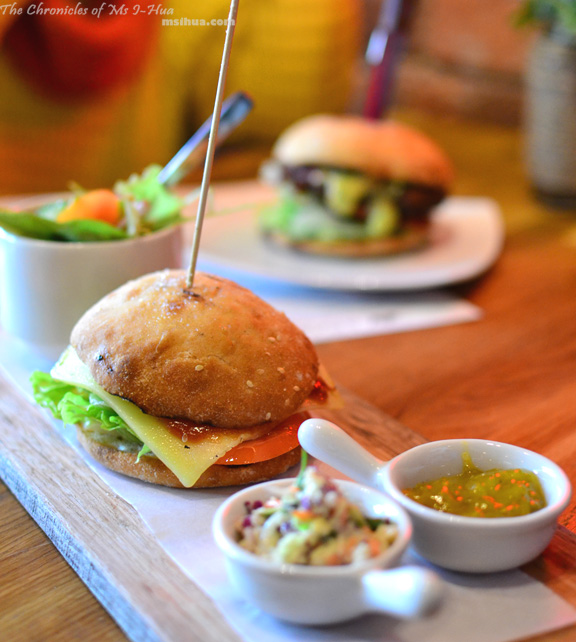 As I quite enjoyed their lamb burger when I went with the gang, the next time when I was grocery shopping with the Boy at Prahran Market, I dragged him to Jus Burgers for a quick carb fix.
I once again went with the lamb burger option, this time opting for the Turkish Lamb ($14.00) which came with Western Australian Amelia Park lamb char grilled, tahini yoghurt and Middle-Eastern slaw.
The Boy thinking that he'd be different ordered the Skinny Half & Half of Cheeseburger ($10.00) which made me laugh as it came sort of nekkid 0_0 with no top bun! It was a topless burger!
As if he needed to get any skinnier. This place appeals as it's fast, convenient, has a good variety and I love their Turkish buns 🙂
*Disclaimer: All food ratings & review are purely based on my own experiences and how I feel about the service, food and quality at the time of visit
Food/ Cuisine: Burgers
Dining Style: Cafe
Opening Hours:
Tuesday to Saturday, 11:30am – 10:00pm
Sunday to Monday, 11:30am – 9:00pm
Address:
364 Chapel Street
South Yarra VIC 3141
Tel: (03) 9827 1318
Website: http://jusburgers.com.au/

Twitter: @jusburgers

How to get there: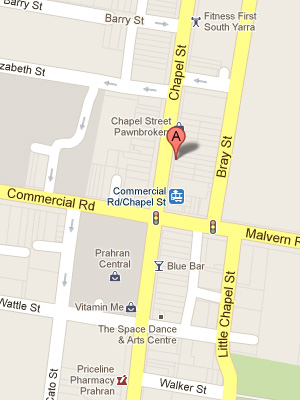 _______________________________________________________________________
Merrywell – Crown Casino, Southbank, Vic
Well, you know I've been to Merrywell before previously with a big group. Having to edit pictures of outings which he hasn't been on is sometimes a bad thing for the Boy as he craves the food of the pictures he edits.
Naturally, when faced with such a large variety of carb-overload photos the last time I went to Merrywell, the Boy made it a point to head to Crown the next time we were in the city.
The problem with this plan was that we had already had our brunch and I wasn't hungry.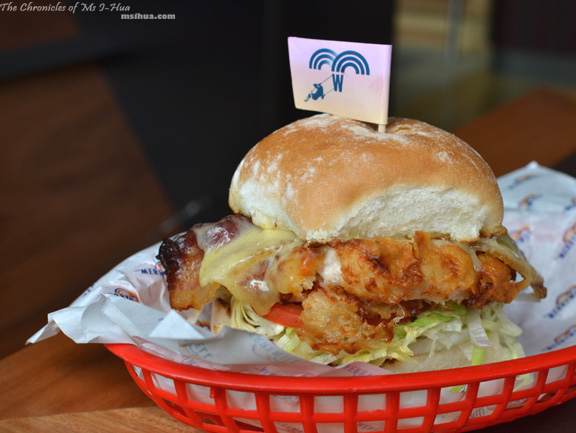 Don't let that stop the man! The Boy went right on ahead and ordered a K.F. Club Sam-wich ($15.00) – Buttermilk Battered Chicken with Bacon, Cheddar, Tomato, Mayo, Damper Roll.
The Boy can eat. It looked as good as I remembered (the burger, not the Boy 😛 He always looks good to me).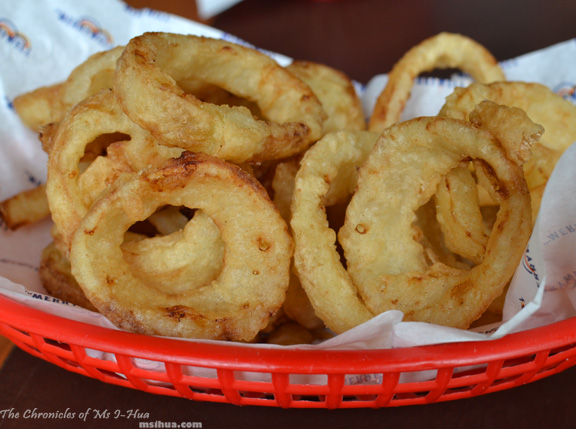 Well, I couldn't just sit there and watch him eat, so I ordered Onion Rings ($6.00) to snack on and virgin The Merrywell Spiders to go.
It'd be rude not to.
I do like the atmosphere and charm of this place as it's so American. It seriously makes you think twice about where you are once you walk out of the doors.
*Disclaimer: All food ratings & review are purely based on my own experiences and how I feel about the service, food and quality at the time of visit
Food/ Cuisine: American
Dining Style: Casual Dining
Opening Hours:
Sunday to Thursday, Bar: 12:00pm – 11:00pm; Kitchen: 12:00pm – 11:00pm
Friday & Saturday, Bar: 12:00pm – 12:00am; Kitchen: 12:00pm – 11:00pm
Address:
Crown Casino
Corner of Clarendon Street & Crown Riverside
Southbank VIC 3006
Tel: (03) 9292 7468
Website: http://www.themerrywell.com.au/

Twitter: @themerrywell

How to get there: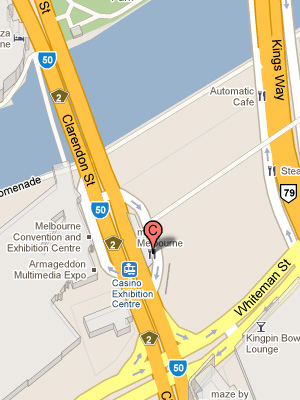 _______________________________________________________________________
Phat Brats – Fitzroy, Vic
Well, okay. So this place isn't about the burgers. It has hot dogs. Snags. Bratwurst. Wiener. Dong… you get the picture.
I was invited to Phat Brats along with Taz, Az, Raz and Maz to sample some of their offerings.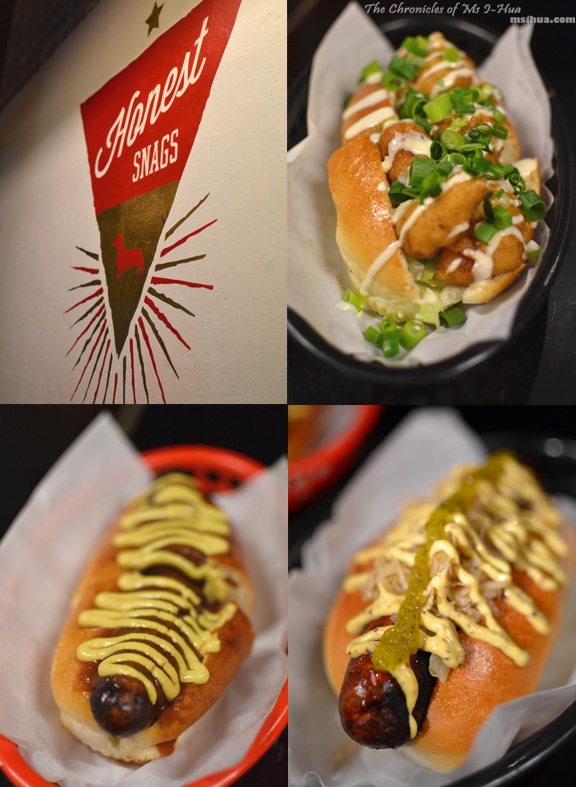 Dangerous to leave the order up to hungry people after a long work day.
We ordered 7 hot dogs between the 5 of us and ate them in a record 10 minutes.
What can I say. We inhaled it. So it must have been good 🙂
We had:
Beer Smoked Bratwurst: local beer smoked brat sausage with sautéed onions, sauerkraut, Bavarian mustard and green pickle relish
Chilli Dog: wagyu beef sausage with spicy ground beef, housemade chili sauce, PB cheese sauce and spring onion
Wagyu Beef: wagyu beef sausage with housemade tomato sauce and mild mustard
Lamb and Rosemary: lamb and rosemary sausage with smashed minted peas, housemade gravy, raw slaw and crumbled feta
Pork and Sage: pork and sage sausage with braised apple and red cabbage, crisp shallots and horseradish cream
Spicy Chorizo: spicy Spanish pork sausage with pinto beans, shredded lettuce, sour cream, jalapenos and housemade tomato sauce
Po' boy: crispy battered fish, spicy shrimp, shredded lettuce and aioli 
The gang as a whole loved the Beer Bratwurst the most (apart from me as I couldn't eat it), so I voted for Lamb and Rosemary as my top dog, followed by the Spicy Chorizo. My options were limited as I could only eat 4 out of the 7 options we tried (so the rest of them are a much better judge overall than I am).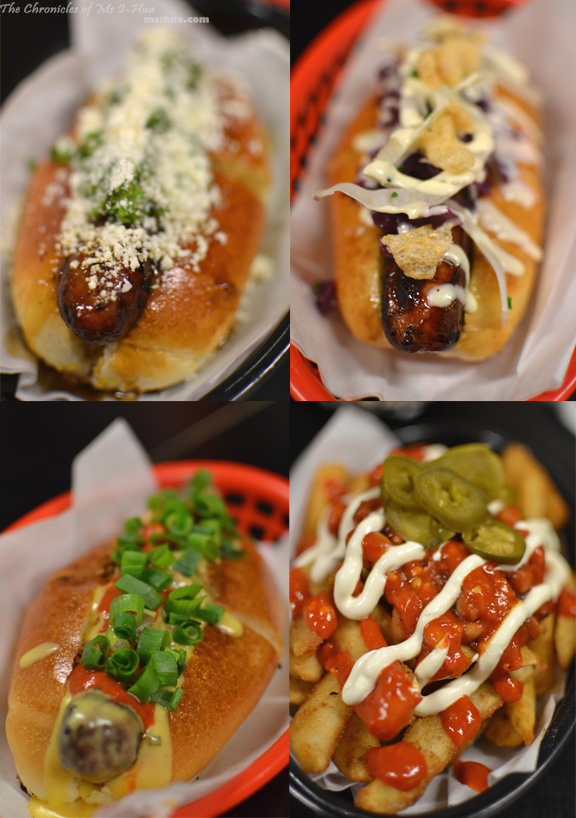 If that wasn't enough, we also had a serve of their Cheesy fries and a serve of their Chilli fries. Loved loved the cheesy fries. The gang kindly offered to go with the vego version of the chilli fries so that I could partake in carbocide with them.
The dogs here were alright and I would return for the lamb or chorizo hot dog. I didn't think much of their buns though, as I prefer the brioche buns from Snag Stand.
[Ms I-Hua dined as a guest of Phat Brats]
Check out:
I Eat Therefore I Am
Off The Spork
*Disclaimer: All food ratings & review are purely based on my own experiences and how I feel about the service, food and quality at the time of visit
Food/ Cuisine: Hot Dogs
Dining Style: Casual Dining
Opening Hours:
Monday to Sunday, 12:00pm till late
Address:
320 Brunswick Street
Fitzroy VIC 3065
Tel: (03) 9419 5526
Website: http://www.phatbrats.com.au/

Twitter: @PhatBrats

How to get there: