I can't believe that it's nearly Winter already.
As they say (well as #GoT fans say), "Winter is coming!".
What I also can't believe is that I haven't blogged about The Pour Kids already! (Loving my segue's more and more).
It's one of my favourite go-to cafe's when my brain is not functioning and I can't be bothered checking out a new cafe. On that rare occasion, I make the Boy drive me to Malvern for a good wake up call.
Literally.
Coffee and breakfast <3!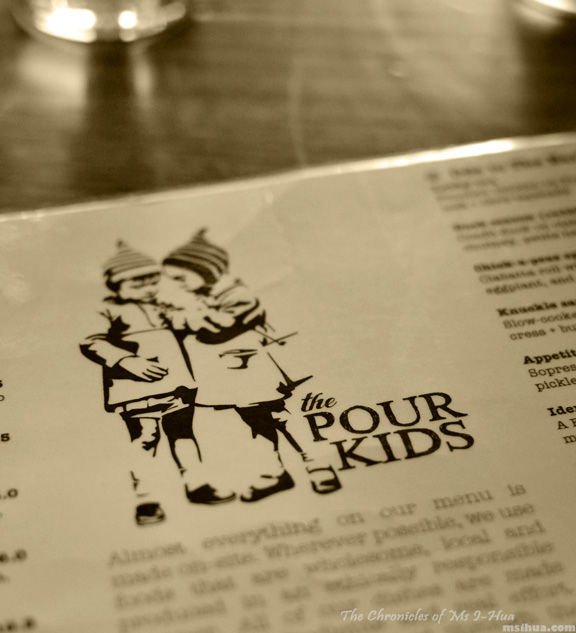 It's also the place which I'm confident enough to recommend and bring visitors over for good coffee and food (that's quite rare these days!).
Besides Hardware Societe, Dead Man Espresso and Station St Trading Co., I'm not too sure if there are many others I can cross my heart and say, "Please dine here as you would be in good hands".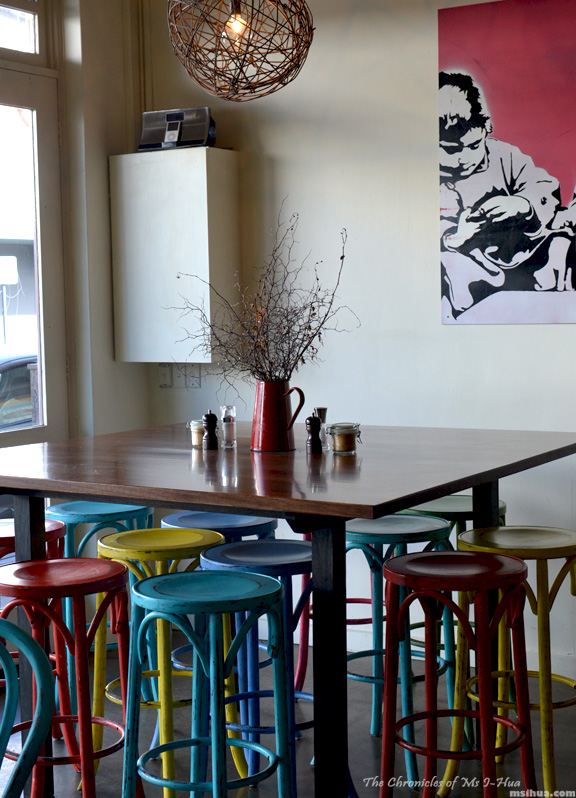 I love the fun and colourful layout at The Pour Kids. Bright splashes of yellows and reds intermixed with blues can be seen in their decorations and furniture.
Makes for a happy atmosphere!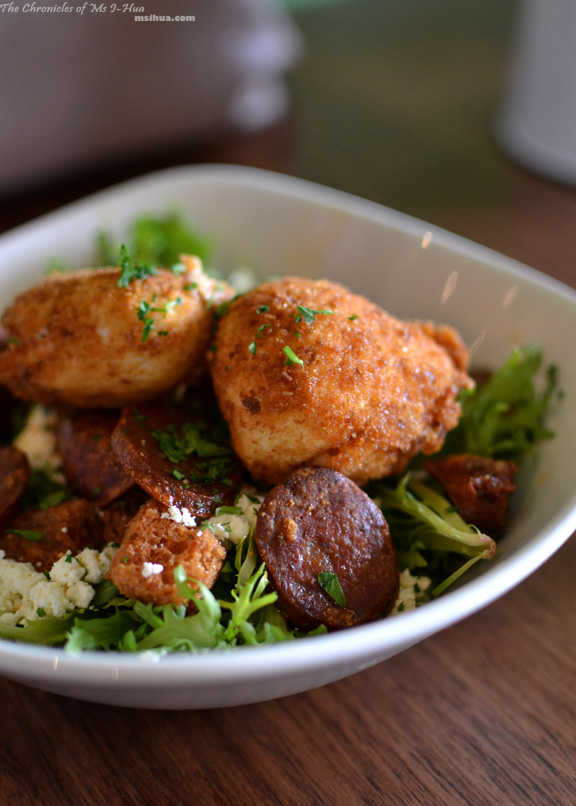 My favourite item on the menu would have to be Google This ($16.00) – Deep Fried Crumbed Poached Eggs, Chorizo, Feta, Frizee Lettuce, Extra Virgin Olive Oil.
I love the excitement of the crumbed poached eggs. I really do get excited about it and am always jumping up and down in my seat, much to the Boy's annoyance whenever I order this dish. Why? I love that the oozy yolk is still a mysterious possibility in all that crumbly goodness. I may have a problem ><.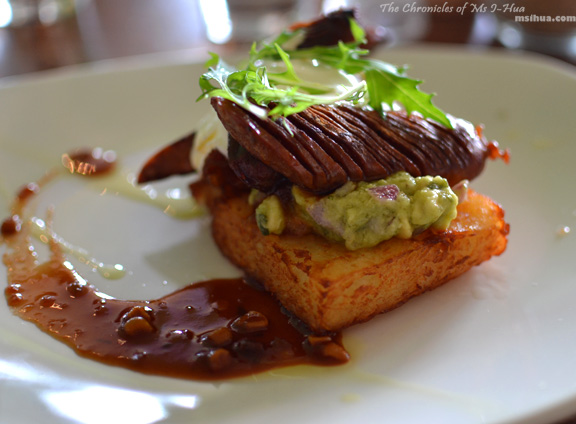 The Boy usually orders the Stacks On! ($16.50) – Stack of Grilled Chorizo Sausage, Hash Brown, Guacamole, Sour Cream & Roasted Corn Relish.
I particularly like the roasted corn relish and wished there was more to go around!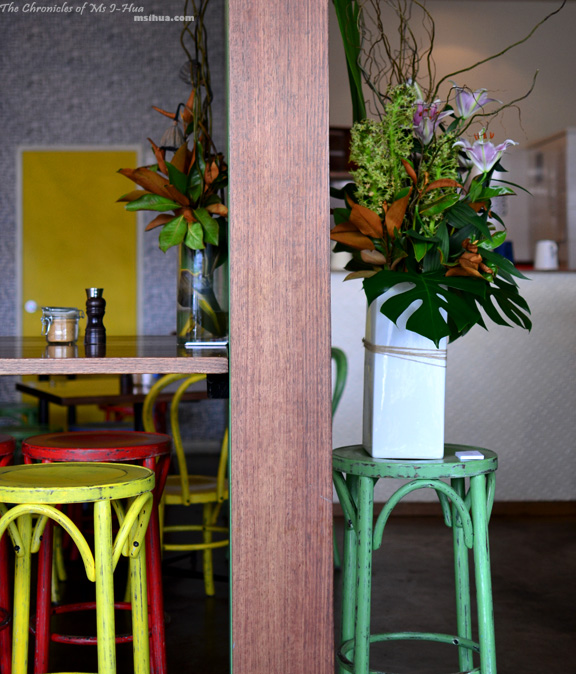 On the occasion where we are lucky enough to have friends around, the Boy and I feel that we are able to explore the menu a bit more. That's when we get a little adventurous.
The last time my BFF and Doe Eyed Girl was around and staying with us, the Boy took us all out to The Pour Kids for an 'Aussie' breakfast before we headed off to a Hen's do.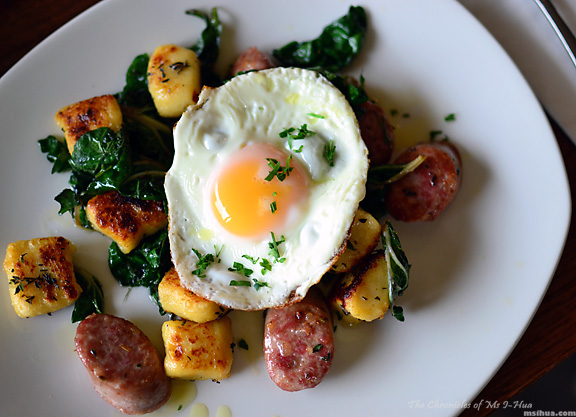 The two girls couldn't help but order the Google This, so in the interest of this blog, I ordered the Duck for Cover ($16.50) – Italian Style Pork Sausage, Burnt Butter Gnocchi, Fried Egg & Swiss Chard 🙂 I'm so dedicated to my blog sometimes 😛
What I loved about this dish was the delicious gnocchi. What I didn't like about it was that it was much too oily. I think the chef went a little heavy handed with the olive oil here.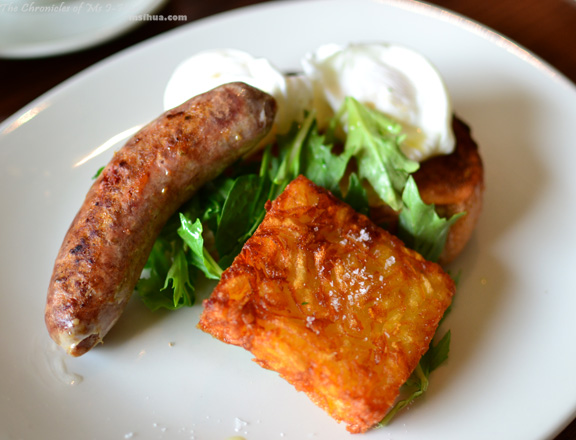 The Boy, bless him, when I mentioned he had to order something new and different, decided to go with The Lego (build-a-breaky) – Poached Eggs, Toasted Sourdough Bread ($7.50) with add-on extras of Pork & Fennel Sausage ($4.50) & Hash Brown ($4.00).
I suggest going with this option if you aren't too sure what you would like (or if you would like one of everything on the menu!).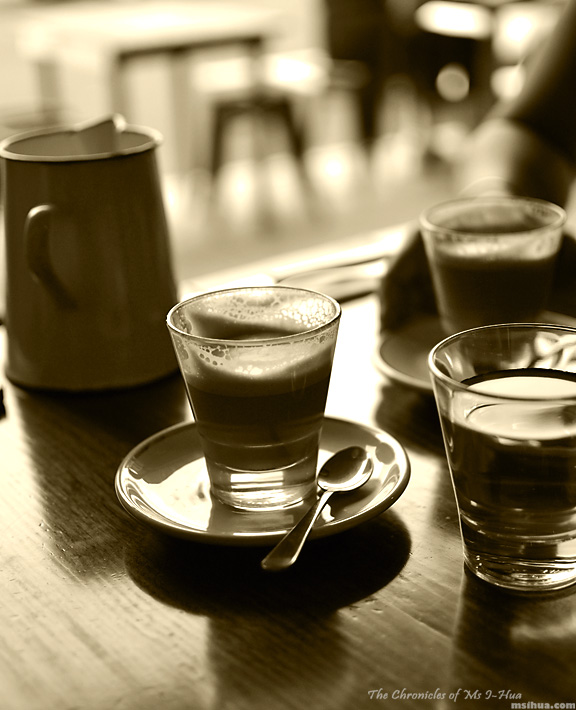 Coffees are always good here and they serve up seasonal coffee by Axil with the occasional single origin specials (refer to the board).
I love The Pour Kids for its quaintness, great vibe, food, coffee and proximity to us.
Expect to see parents with kids, mothers with prams, gym junkies and local enthusiasts.
*Disclaimer: All food ratings & review are purely based on my own experiences and how I feel about the service, food and quality at the time of visit
Food/ Cuisine: Breakfast, Lunch & Coffee
Dining Style: Cafe
Opening Hours:
Monday to Sunday, 7:00am – 4:00pm
Address:
1E Winter Street
Malvern VIC 3144
Tel: (03) 9077 3847
Twitter: @ThePourKids

How to get there: