One day, it's a warm summer day. The next day, it turns to a freaking freezing hailstorm.
One day the birds are chirping merrily on the trees. The next they are being blown away by the fierce buffeting wind battering down the state.
Welcome to Melbourne, where the weather is as inconsistent as the numbers that come up on the winning Powerball ticket where there is no point predicting the outcome.
What is predictable and reliable is the Afternoon High Tea & Chocolate Bar available every weekend at The Langham in Melbourne.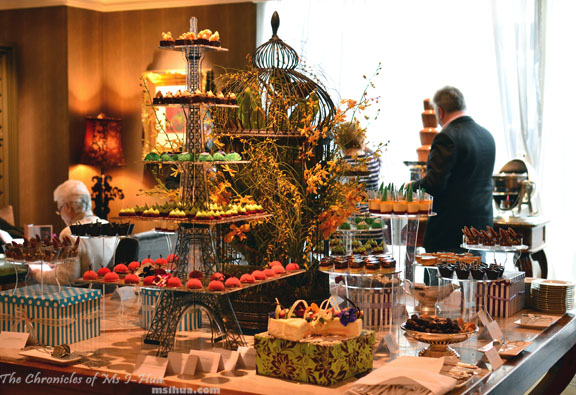 With a wide array of sweets and chocolate indulgence, we can see why this is a popular past time for tourists and locals alike.
It was also great to see quite a huge selection on Gluten Free products on offer. Yenni, the executive chef mentioned that if you mention that you are on a gluten free diet, they'll cater to some other GF savoury items on the tiers that arrive at your table when you book.
As we sat ourselves down, we were proffered a glass of sparkling to celebrate the sugar rush ahead.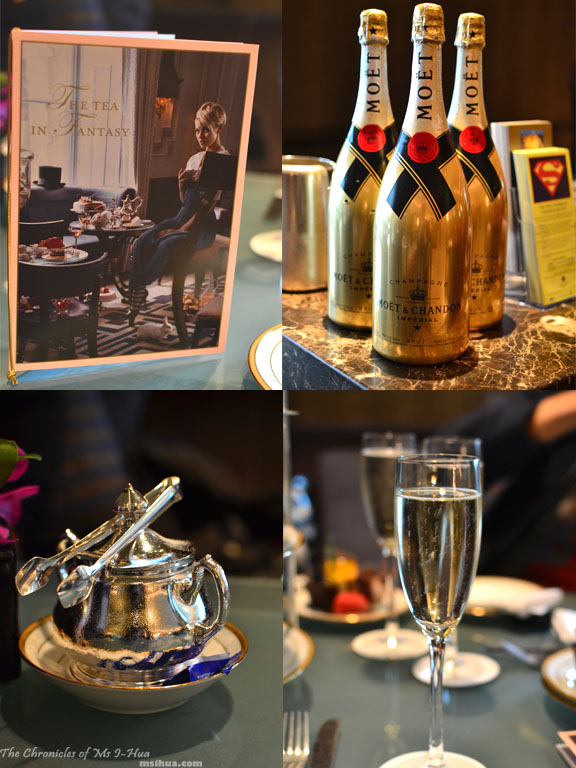 Crafted from the finest couverture chocolate from the top chocolate houses of Lindt and Sprüngli, Callebaut, Belcolade, Valrhona, Cacao Berry, DGF Royal and Haigh's, this is one indulgent Afternoon Tea that will have you in a heavenly (if not sugary) swoon.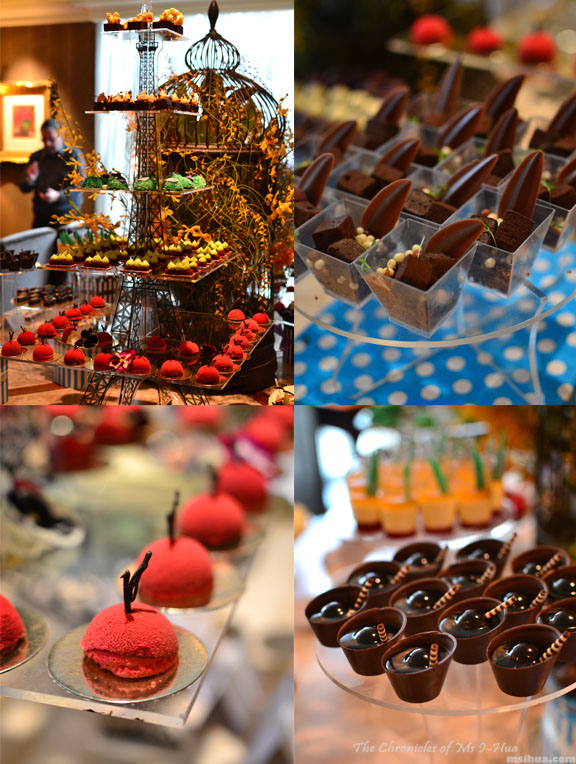 With a wide selection of chocolate treats that range from the classic Opera Tortes (with the Langham twist, a tropical amer ganache) to Costa Rica Milk Chocolate Fudge topped with salted caramel popcorn, Cremoux and La Ceries, let your eyes and your appetite feast on the magnificent displays that they come upon.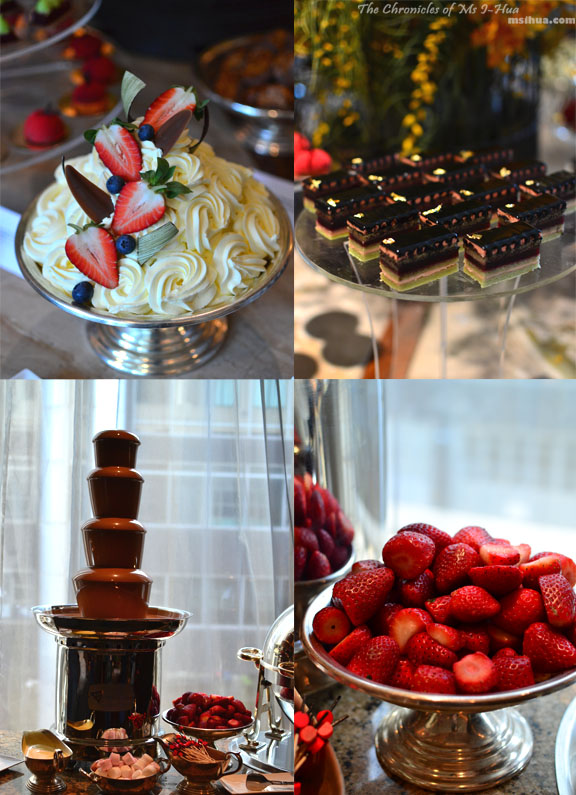 If the range of chocolate treats are not enough to quench your chocolate thirst, feel free to guzzle straight from the chocolate fountain accompanied by strawberries and marshmallows.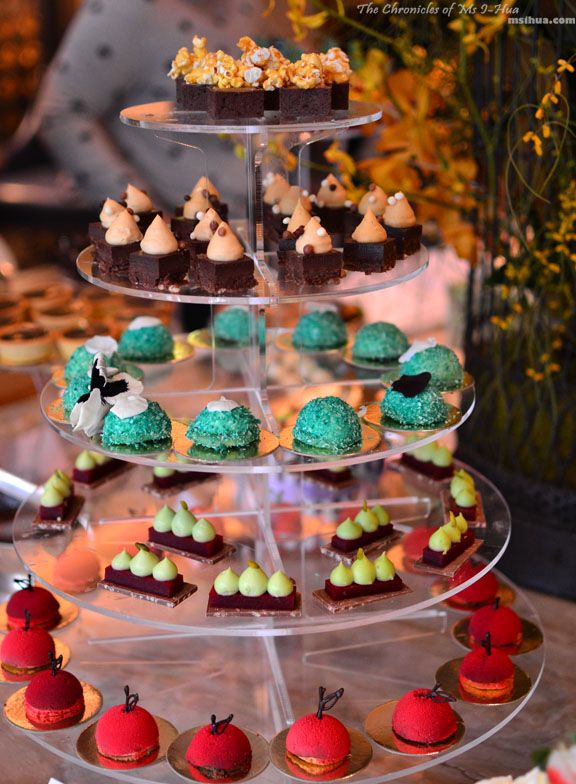 Undeniably, we kept going back for more. Our favourites from the day included the Dominican White Chocolate Vanilla Pannacotta Chocolate Rocks and Pebbles, the Chocolate Rocks and Pebbles, on its own (which came with a serve of chocolate sauce *OMG*), and The Garden (Callebaut W2 white chocolate, coconut mousse, Kensington Mango Jelly Dome, Macaroons base, green dessicated coconut and fresh edible flowers).
Yup, very fancy 🙂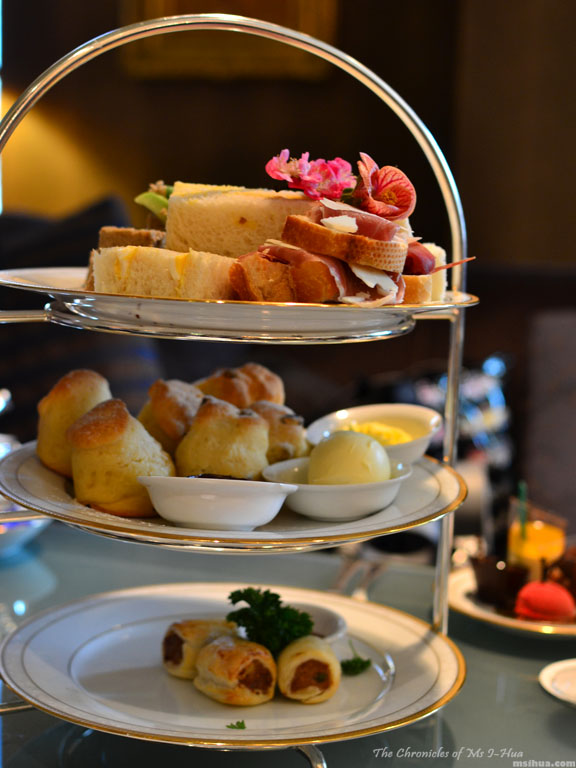 I must admit, we were all too carried away by the chocolates on offer that we hardly paid attention to the classic high tea savoury tiers.
But if you were interested, the tiers came topped with:
Smoked Salmon, Cucumber Ribbon, Egg Mayonnaise and Cress and Cream Cheese and Chives Sandwiches
Scones with jam and clotted cream
Sausage rolls and pasties
With this high tea package also comes a choice of tea (loose leaf, no less), your choice of coffee or if you hadn't had enough, hot chocolate to finish it all off.
I had both the Paris (Careful blend of black teas with vanilla, fruit and lemony bergamot) and the Pomegranate Oolong (Premium Ti Quan Yin Oolong leaves infused with tangy pomegranate).

For an indulgent afternoon weekend treat, The Langham Chocolate bar sure is a fun way to sugar up and unwind from the stresses at work.
[Ms I-Hua & The Boy attended as guests of Media Moguls and The Langham Melbourne]
*Disclaimer: All food ratings & review are purely based on my own experiences and how I feel about the service, food and quality at the time of visit
The Langham Chocolate Bar Afternoon Tea Details:
When: Available every weekend from 12:00-2:00pm or 2:30-4:30pm
Price: $75 per adult and $37.50 per child
Address: The Aria Lounge @ The Langham Melbourne
Bookings: For more information (as it's not available on their website) please call Restaurant Reservations on 1800 641 107 or email [email protected]
However, if you are keen to let your children experience high teas with a twist, The Langham also offers fun kid's themed high teas. Read more here:
Peter Pan Children's High Tea (Special Dates)
Little Mermaid Children's High Tea (September School Holidays)
Address:
1 Southgate Avenue
Southbank VIC 3006
How to get there: