*pssssst* You there!
Yes, you. I've got a secret to tell you, but you must pinkie swear to not tell anyone!
Remember this little cute cafe in Hawthorn around Church Street and Barkers Road which does awesome breakfast/brunch service? Well, Cafe Le Flaneur now do dinner services on Friday and Saturday nights.
But remember, don't tell anyone else! It's a secret 🙂 It's awesome and I want to keep it all to myself (and you of course) 😛
Their dinner menu is constantly updated (every two weeks), so you won't ever get bored of the menu. It's fun, simple and entirely delectable.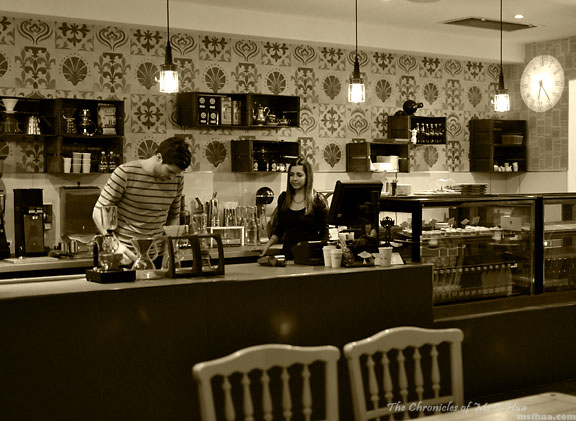 We got there on the second weekend of their launch and were the only table apart from one other walk-in from a curious local (I was eavesdropping ever so slightly). I can tell both the local and us would definitely be returning for more in times to come.
On the menu that night were three options of entrées, two mains and two desserts. Naturally, we both ordered nearly everything on the menu (apart from the chicken terrine from the entrée list).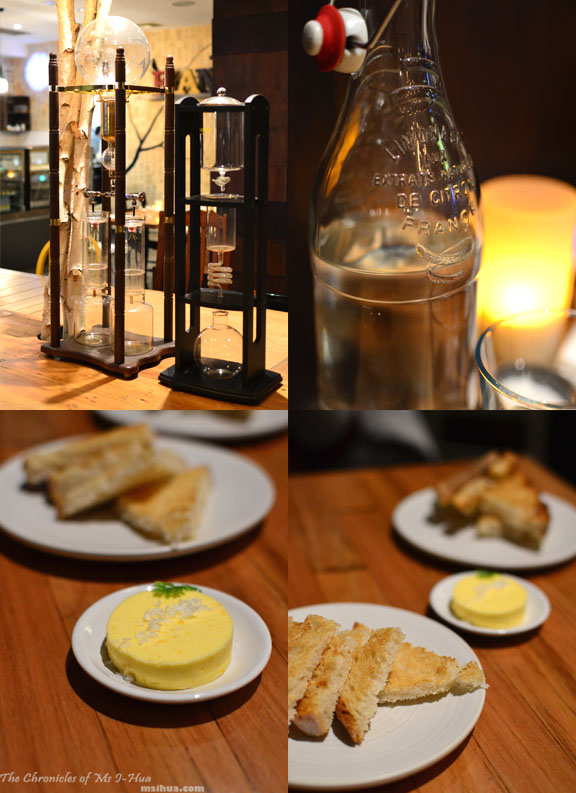 We started off with some toasted bread and orange zest butter. An interesting twist to boring old milk churn I must say. I did like it!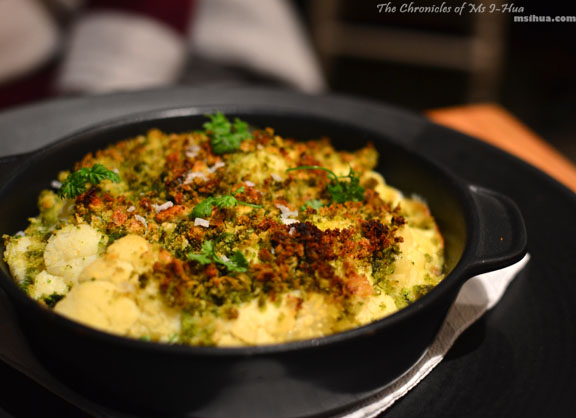 One of my favourite vegetables to eat is cauliflower, so when I noticed there was Cauliflower gratin with herbs crust, I had to order it!
It was creamy, it was rich and it definitely was a winter warming dish. It was also a very generous portion.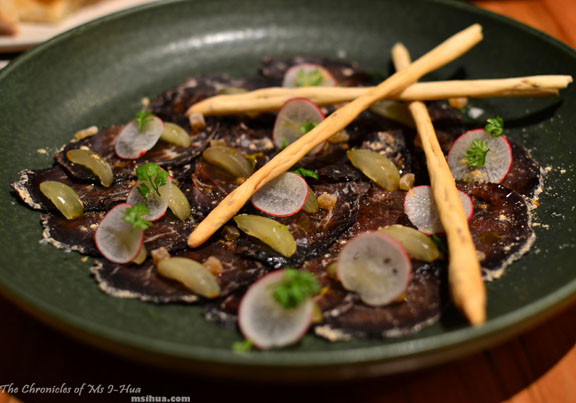 The Boy had the Wine cured beef tenderloin, crystallised ginger, green grapes and sherry vinaigrette. He did say that the dish was a little on the sweeter side due to the wine cured. He really liked the different textures on this dish and declared it his favourite dish of the night!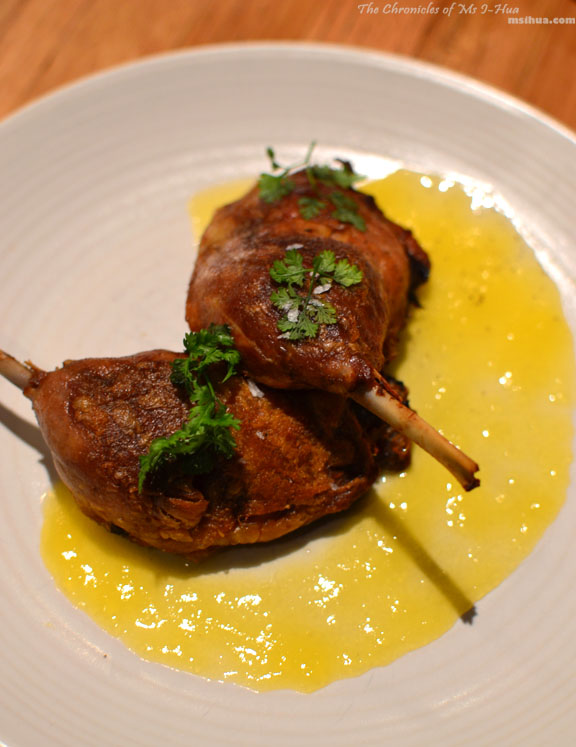 For my main, I had the Confit of duck legs, orange gel with hazelnut purée. I must say that I really liked the twist on the traditional Duck à l'Orange so typical in French bistros.
I did like the crispiness of the duck skin but I found the meat on the duck to be slightly dry. The hazelnut purée was another item on the dish that I really enjoyed.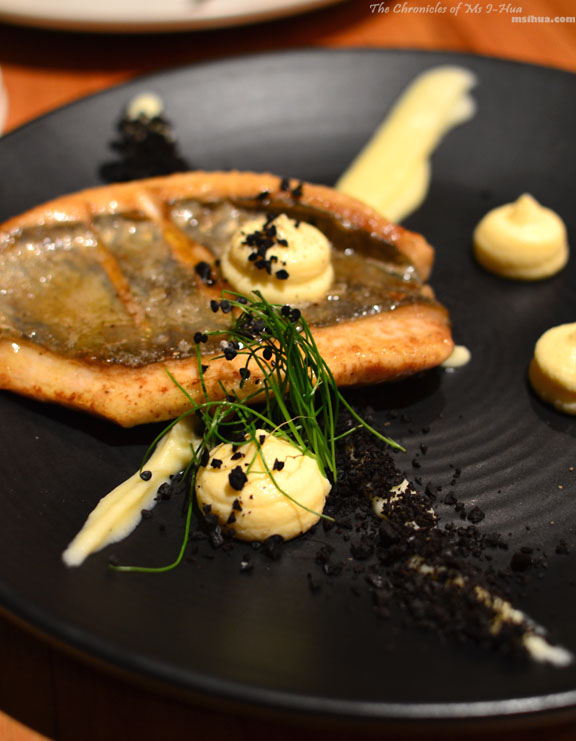 The Boy went with the Pan fried John Dory, gruyère custard, Paris mash and black olive soil as his main.
I had an inkling suspicion he happily ordered this to see how Le Flaneur would pair the black olive soil, as he has been experimenting with this in our home kitchen.
The fish was tender and the Paris mash a buttery perfection.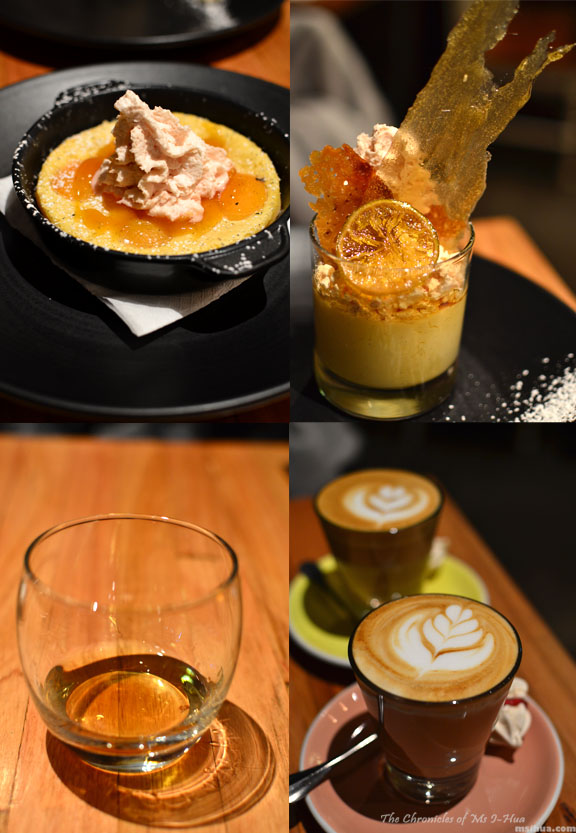 For dessert, The Boy ordered the Apricot clafoutis with whipped cream and I ordered the Lemon mousse meringue. My favourite out of the two was definitely the lemon meringue. It was just so delicious. The sweetness and acidity in the dessert was really well balanced.
We finished off with a swig of Grand Marnier and a couple of lattes for the road.
I really liked the concept which Le Flaneur has kept to. A simple yet classy menu tying traditional French dishes with modern Australian twists.
The pricing on the menu is also set at a good value. When I pointed this out to the owner Tony Lin, he mentioned that they wanted to be affordable for the local punters who visit every week.
Come for a date night or come with a boisterous group of friends and/or family, Cafe Le Flaneur's new dinner service is definitely a secret we want to share 🙂
[Ms I-Hua & The Boy dined as guests of Le Flaneur]
*Disclaimer: All food ratings & review are purely based on my own experiences and how I feel about the service, food and quality at the time of visit
Food/ Cuisine: Breakfast, Coffee & French Cuisine
Dining Style: Cafe
Opening Hours:
Monday to Thursday, 7:00am – 4:00pm
Friday, 7:00am – 4:00pm; 6:00pm – 11:00pm
Saturday, 8:00am – 4:00pm; 6:00pm – 11:00pm
Sunday, 8:00am – 4:00pm
Address:
5 Church St
Hawthorn VIC 3122
Tel: (03) 9853 8587
Twitter: @CafeLeFlaneur
How to get there: