Breaking one's fast from a restful sleep is an activity that mankind has long perfected.
Breakfast is my favourite meal of the day and I regret to say that I don't have it often enough. On weekdays, I generally have a cup of coffee on my way to work. Depending on the type of coffee consumed (black or white), I will then have a mid-morning snack of a milk based drink (usually Up-and-Go) 0_0.
Weekends is when I generally let myself go and enjoy a rich hearty breakfast. It's not that I don't like eating breakfast on weekdays, I just prefer my sleep. I'm out of the bed and out the door in 30 mins generally in the mornings before work, so I like to maximise my hours spent in bed 🙂
The Boy having recently purchased a Sunbeam Sous Vide machine (for $169 during Myer's 15% sale) has been experimenting with sous vide-ing everything in the kitchen. Obviously we started with eggs. Having trialled the eggs a few times, he surprised me one Saturday sleep-in morning by running out of our room around 7am and returned 20 minutes later.
An hour later, with the beeping of the sous vide machine finally rousing us out of bed, I was presented with beautifully slow cooked eggs.
I had to help him with the asparagus, but that only took a mere 5-10 minutes to cook.
This very simple recipe slow cooks the egg in a water bath at 63 degrees Celsius for an hour. But really, if you're looking for a really lazy but beautiful breakfast on a weekend morning, this recipe would be perfect for you (provided you have a sous vide machine or other means of temperature controlled cooking).
Sous Vide Poached Eggs with Grilled Asparagus Recipe
Ingredients
4

Eggs (at room temperature - whole eggs in the shell, not cracked)

12

stalks of Asparagus (trimmed)

Olive Oil

Sea Salt & Pepper

4-5

Semi-Dried Black Olives (available from fine food stores)

Bulgarian White Brined Sheep's Milk Cheese (for garnish)

Watercress (for garnish)

Equipment required = Sous Vide Machine & Mini Toaster Oven
Instructions
For the Eggs
Fill your water tank and turn your Sous Vide Machine on. Set the temperature to 63 degrees Celsius and the time duration of 1 hour.

Once the machine reaches the set temperature, gently place the eggs into the water tank.
For the Black Olive Soil
The correct method is to dehydrate pitted black olives in a dehydrator at 65 degrees Celsius for 24 hours or until crunchy.

I used a "short cut" method of utilising semi-dried black olives and a mini toaster oven. The result is crunchy but with a slight earthy-burnt taste due to the high heat. The choice is really up to you but I prefer using this method when I'm in a rush or plating an impromptu dish.

Half the semi dried olives and remove the seeds. Place in a mini toaster oven and toast for 5 minutes or until they feel hard or crunchy to touch. Results may vary with different toasters but your aim is always the same so keep checking. Careful not to "over-toast" them or else they'll be too burnt to serve.

Use a mortar and pestle to roughly grind the olives into a soil-like texture. It doesn't need to be too fine like powder.
For the Asparagus (Just before the eggs are done)
Heat a griller on medium-high heat. Drizzle and coat the asparagus in olive oil. Place asparagus in the griller (cook them in batches if required) and cook each side until tender (5-10 minutes, depending on the size of the asparagus).

Remove from heat and season with salt and pepper.
Plating Up
Take eggs out of the water bath and crack each one into a bowl. Crack them like you would with soft boil eggs.

Arrange asparagus spears on a plate. Use a slotted spoon to transfer eggs from the bowls onto the asparagus. Using a slotted spoon avoids loose whites from getting onto the plate as well.

Sprinkle black olive 'soil' at the edges of the plate. Crumb some Bulgarian sheep's milk cheese over the plate.

Garnish with watercress and edible flowers.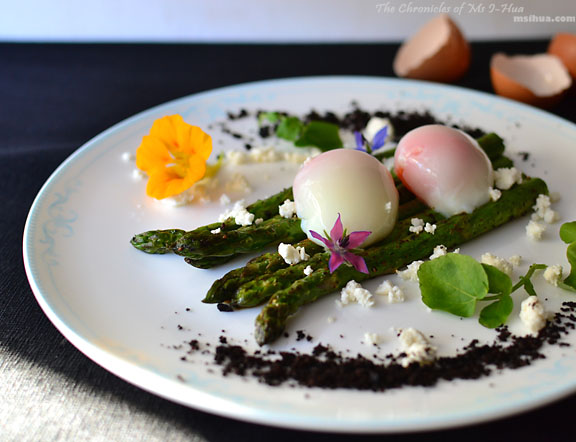 With a little help from our flowering herbs in the garden, we made our breakfast look pretty.
Pretty food tastes better I reckon!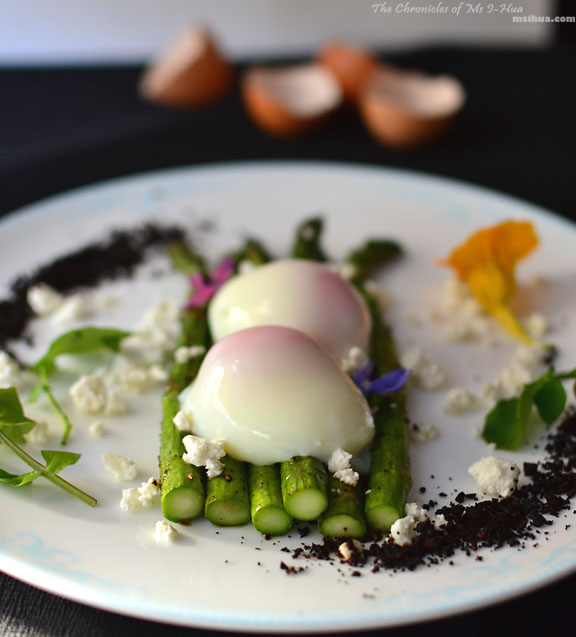 What I really love about the eggs cooked this way is how creamy it really is. It's just so different from half boiled eggs done the 'normal' conventional way.
So tell me, what is your favourite meal of the day?
For another lazy weekend recipe idea, see: