There's a new Spanish kid in town.
Actually, there's an old kid who has reinvented itself in town.
So there's a new old kid in town. Am I making sense yet? Maybe not. But what makes sense is that the old Aylesbury has undergone some transformation and refurbishment and given itself a new name.
Bomba! Yes, to all those who are multilingual and are able to speak in Malay, Bomba does not mean Fireman! Instead, Bomba can literally mean several things. A quick Google search tells me that Bomba in Spanish can mean pump, bomb, hot air balloon or something to do with drinking. So I think the closest link would be "to get drunk".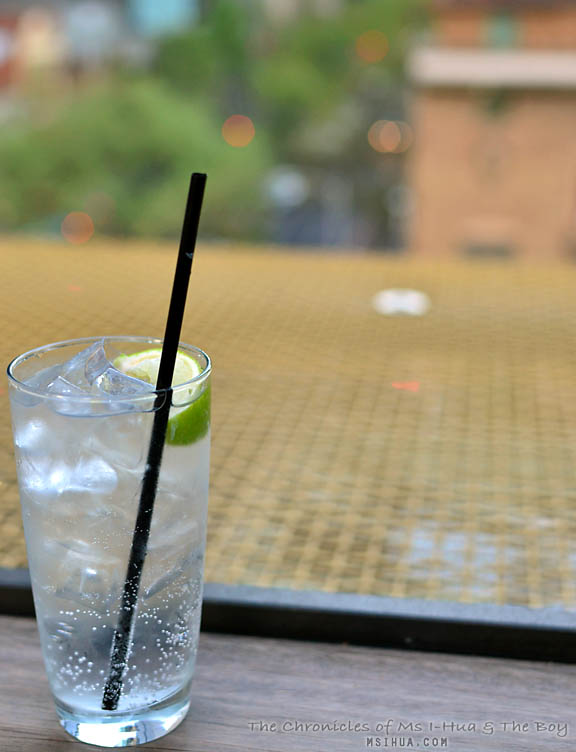 So what does this mean for us (and you)? Bomba Tapas Bar & Rooftop is a Spanish styled workers bar. Where you come to have a quick bite or a lovely drink overlooking a magnificent view.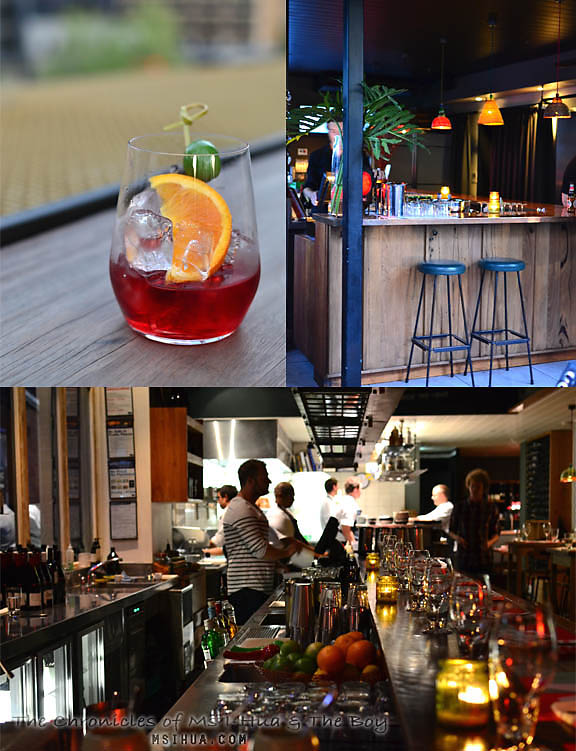 Headed up by Jesse Gerner (Añada, Moro, River Café) and Andrew Fisk fresh back from his food tour of Spain (Añada, Cumulus Inc) (as were we if I might say so myself), Bomba specialises on delicious tapas fare at prices closer to that of Spain than Melbourne (think $3-$7 for patatas bravas and saladas). Not everything is priced the same as the Spanish lands with Paellas from $32-$36 and main courses $16-$25.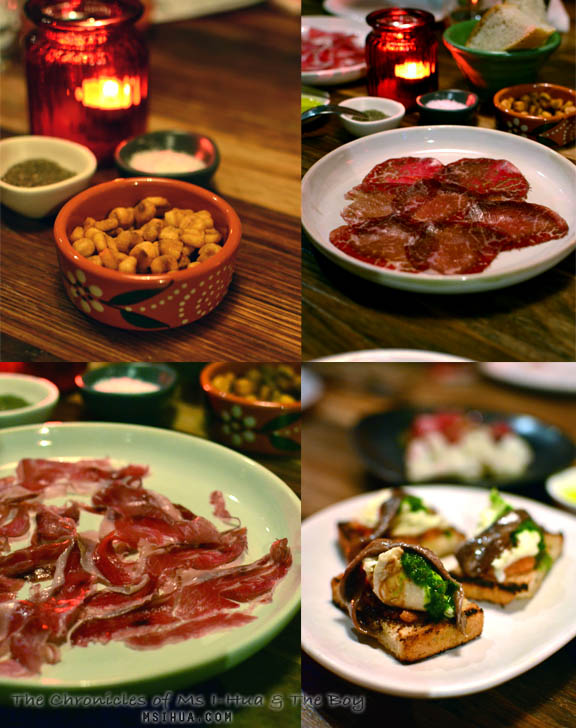 [Clockwise L-R: Complimentary Corn Kernel Snacks; Blackmore's 9+ score Wagyu Cecina 20gm; Tomato, Burrata & Aged Sherry Vinegar Toast – with Hand Filleted Nassari Anchovy; and Serrano Gran Reserva Jamon 20g]

On the night that we were there, Azzie, Mazzie, Alan and friend, The Boy and I had an amazing amount of food to try. Armed with six hungry tummies we managed to start off with a lovely mix of entree items from the Apertivo, Charcuterie, Tapas and Montadidos section of the menu.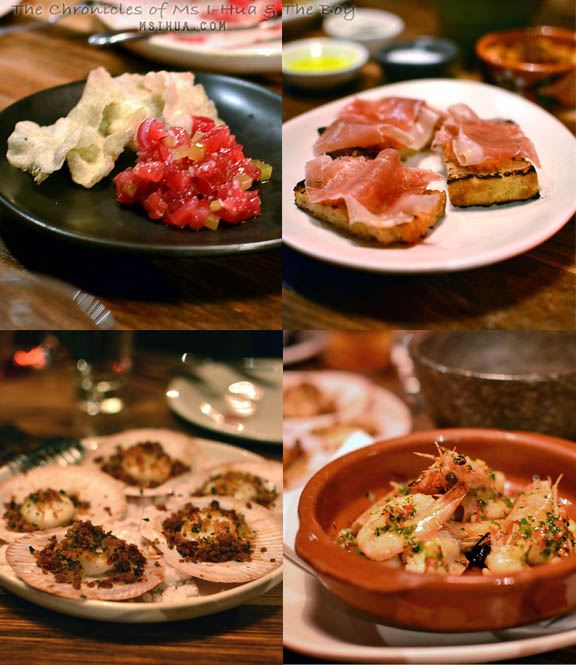 [Clockwise L-R: Tuna Tartare and Seaweed Crackers; Tomato Bread – with Serrano Jamon (served on Toasted Sourdough); Shellfish & Bacalao in Romesco; and Harvey Bay Scallop with Serrano, Lemon & Bread]
Everything we tried was delicious and well seasoned. I have a great fear of over salted Spanish fare in Melbourne and was happy to note that this was not the case with the food at Bomba.
Of particular favourite to us all at the table and worthy of honorable mentions were the Chicken, Manchego and Smoked Paprika Croqueta, Charcoal Grilled Lamb T-Bone and Quail with Pistachio & Buckwheat.
The croquettes were beautiful and golden on the outside and soft and gooey on the inside. The Lamb. OMG. THE LAMB had such a lovely charred smokey texture and tender juicy succulent flesh to feast on.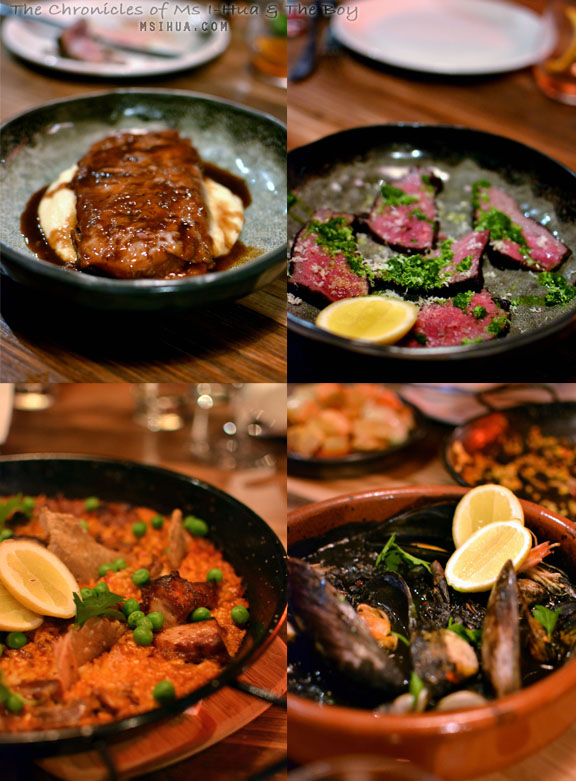 [Clockwise L-R: Pedro Ximenez Braised Pork Jowl with Celeriac; Charcoal Grilled 6+ score Wagyu Rump Cap with Mojo Verde & Horseradish; Arroz Negro with Prawns, Pippies, Calamari, Mussels; and Braised Duck & Pork Paella with Peas]
A few others at the table were still capable of eating so we ordered a few more dishes to go round.
Notable dish was definite the wagyu rump. I heard an audible gasp (quite the feat as it was quite noisy) from everyone eating it at the table.
The paellas were not quite what I expected and was a wetter version of what I've tried before in Melbourne. It did remind me of the ones served at Valencia which were soggier and wetter.
We also tried the rather interesting sounding salad of Freekah & Cauliflower with Pine Nuts, Sumac, Pomegranate & Mint (bottom picture, top-left position). It was good!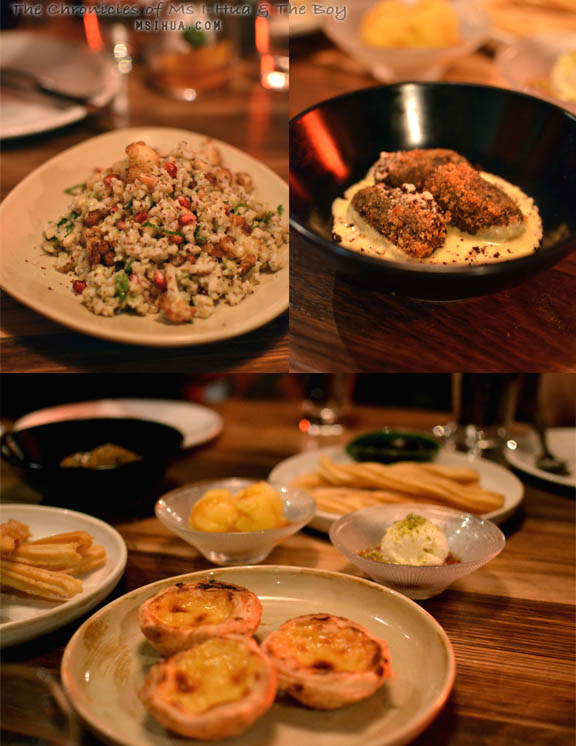 Of course we couldn't leave without tasting dessert. As a group we decided to share a few of the desserts around as we were stuffed! We tried the Chocolate Croquetas with Custard & Hazelnuts, Turron Parfait, Goat's Curd Sorbet with Rhubarb & Pistachio, Churros with Chocolate and Portuguese Tarts.
The best out of all these desserts were the chocolate croquettes. The least enjoyed were the churros.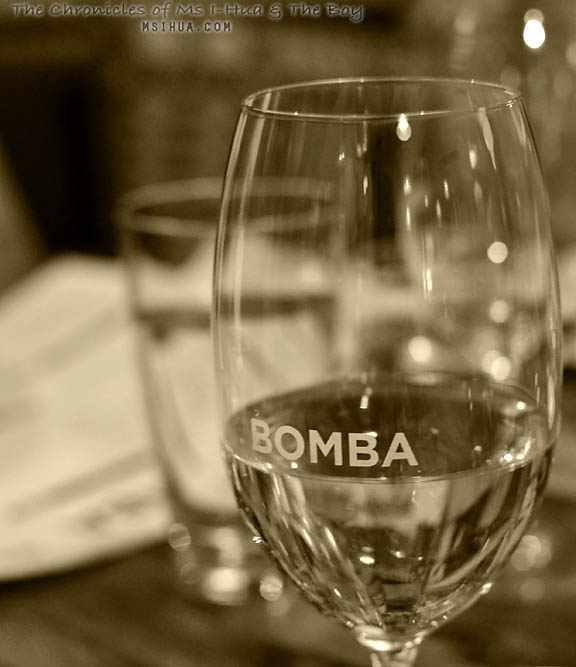 I can't wait to return to Bomba as it seems to be the closest in terms of food and quality that we've had experienced (and affordability) to those that we had in Spain on our honeymoon.
For other delectable recaps of the dinner at the launch of Bomba Tapas Bar & Rooftop, visit:
Gastrology
Gourmet Chick
MEL: Hot or Not
[Ms I-Hua & The Boy attended as guests of Bomba Tapas Bar & Rooftop]
*Disclaimer: All food ratings & review are purely based on my own experiences and how I feel about the service, food and quality at the time of visit
Food/ Cuisine: Spanish
Dining Style: Restaurant
Opening Hours:
Downstairs: Monday to Saturday, 5:00pm – late (*Bomba will be looking at lunch service soon)
Rooftop: Monday to Sunday, 3:00pm – late
Address:
103 Lonsdale Street
Melbourne VIC 3000
Tel: (03) 9077 0451
Website: http://bombabar.com.au

Twitter: @Bombabar

How to get there: