Lately I think The Boy and I have been getting braver around the kitchen. We aren't afraid to experiment in the comfort of our own kitchen. Let's be honest, if the food tasted bad, there would be no one else in the house that would know.
The Boy in particular has been plating works of art of late, or what I like to dub as Edible Art. I've given it many different names, Art on a Plate is another one of them.
I would like to say that this is inherent in him and he has an ability to just see the food and plate the ingredients up in less than 10 minutes. However, he tends to think too much and takes longer than what is necessary (as you can tell I'm the impatient one in this duo) and often takes a few tries before he's happy with the final result. Even then, he often thinks the 'final' plating could be done better.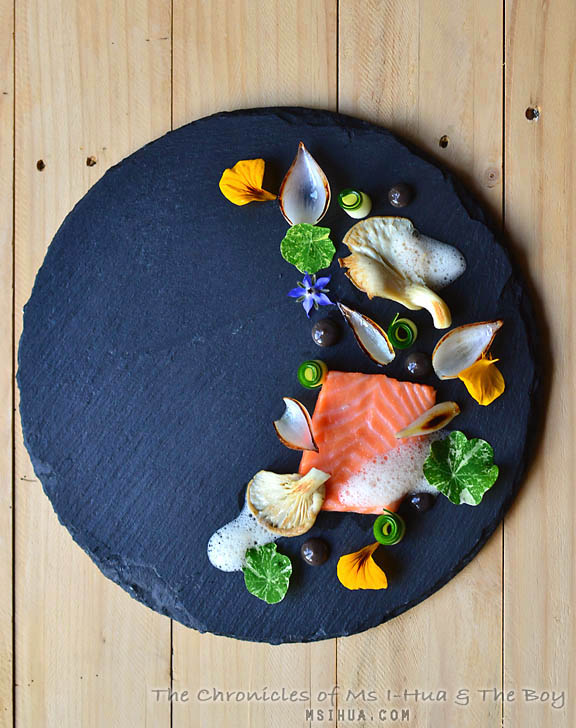 We recently bought a circular slate and couldn't wait to test out how this would look plated up with food.
So enjoy the latest post for October's Playground Series.
The elements on the slate are:
Confit New Zealand Regal King Salmon
Charred Oyster Mushrooms & French Shallot
Zucchini Ribbons
Nasturtium Leaves and Flowers
Borage Flower
Leek Ash Mayo
Yuzu Foam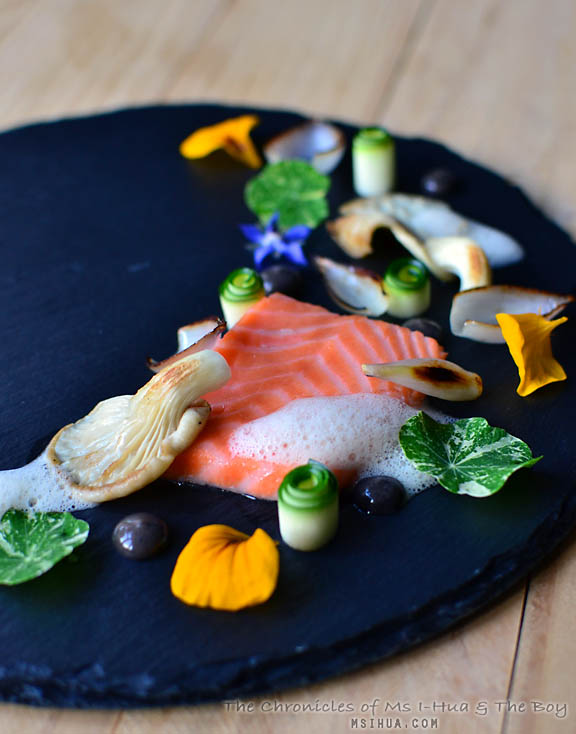 It was our very first time cooking salmon via confit and it was amazing. The fish was just so soft and tender. The texture was silken whilst allowing you to peel off each layer of the salmon.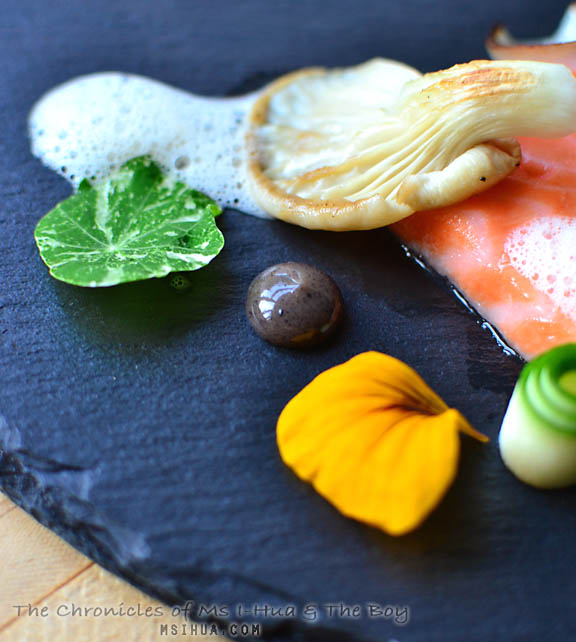 I loved the different textures and flavours from each of the components. The crunch of zucchini, the soft buttery mushrooms, the tartness of the yuzu foam, the smokiness of the leek ash mayo and the sweetness from the onions.
Surprisingly (or not), all the flavours went really well together.
How's your lovely spring day going?