So The Boy and I having been hand delivered our very own Spectablend (Specta-what? Spectacular blender!) have decided to get our thinking caps on and start whizzing up some cool recipes.
Growing up in a hot tropical climate country, you would think that I would be adverse to hot foods. You would assume that it would be much too hot to drink any hot liquid, let alone make a meal out of it.
Well, you would be wrong if you did agree with the above. I come from the land of hot soups, spicy soups, noodle broths, congee, rich meat stews and other broths. It's funny how we only associate these with winter and the cold months, where in actual fact these dishes form a staple diet for many living in the south east region of Asia.
Which brings me to the topic of how much I love soups (I'm good with segues). It's never too hot to consume a rich bowl of delicious soup, noodle soup, broth, congee, laksa, etc.
The first of these recipes using the Spectablend is this Pumpkin Purée recipe. It's technically a soup per se as the texture is not quite right, however with the right amount of tweaking, you could make it into a soup (by adding more milk or cream).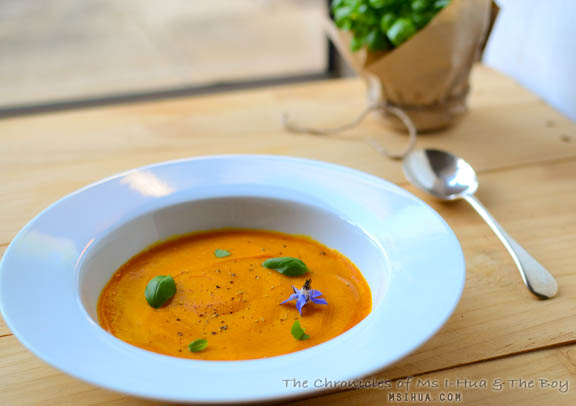 Before we get whizzing, let's talk about the blender that is Spectablend.
These are the specs:
1500W heavy-duty motor
Virtually unbreakable 2.0L BPA-free jug
Automatic over-current protection and overheating protection for motor
All-stainless steel enclosed 6-blade assembly with Japanese sealed bearings
Includes mixing tamper for efficient processing
Given that we are now blender specialists and having only ever owned a tiny food processor and a hand held stick blender, the Spectablend was an amazing upgrade. The jug itself is pretty large and I can see it being quite handy for larger households.
Though being prone to throwing a few food centred parties, the 2 litre jug caters quite well to that.
In terms of usability, you won't need a PHD in Rocket Science to be able to operate the machine. It has two switches and one dial. There is no complexity to using it at all.
The two switches are pretty straightforward, one is for blending and the other for pulsing. The dial? To set the variable speed. Elementary, my dear Watson!
To be honest, The Boy was all over the specs of the blender where as I was only keen that it came in three colours and that one of them had to be red!
In terms of noise level (for those of you with children), it does get a bit loud but I wouldn't be able to compare this with other brands. Having read a few of the product reviews in regards to the Spectablend, it seems that it is slightly louder than most due to its strong 1500W powered motor.
One other thing (and I'm sure we will have more the longer we use it) that we love about the Spectablend is the ease of cleaning it. Like the Vitamix (which would be the strongest competitor for it), cleaning the jug and blade (which is one unit) can be done without getting your hands dirty. Simply rinse the jug throughly, fill it with warm water, add a few drops of detergent and flip the switch on to blend. VOILA! Clean jug. Dry and store per usual 🙂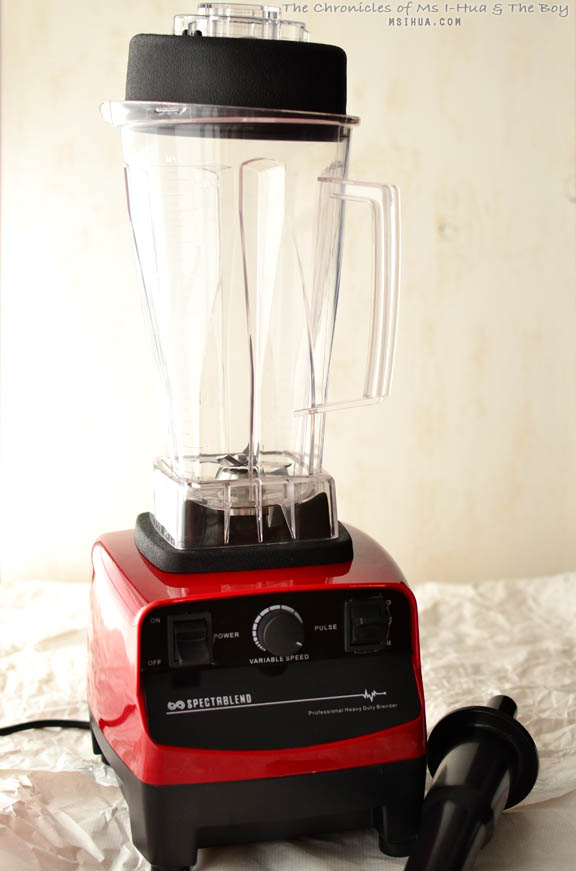 Roasted Pumpkin Purée
Ingredients
1

Japanese Pumpkin (Kabocha)

1

Tablespoon

of Pure Cream (add more if you prefer it more liquid)

Salt & Pepper to taste
Instructions
Preheat oven to 205 degrees Celsius.

Pour some water into a baking tray (about 1cm in height).

Remove stem and slice pumpkin in half (top to bottom) using a large cleaver. Scoop out all the seeds and fibers using a spoon.

Slice pumpkin into quarters and place on baking tray (flesh side down).

Place in oven and roast for 35-45 minutes (flip pumpkin after 20 minutes) or until a fork can easily pierce through the flesh.

Remove from oven and set aside to cool for a bit.

Remove the pumpkin flesh from the skin (use a kitchen towel to hold onto the pumpkin if still hot) and cut into large chunks and place in Spectablend.

Using the mixing rod to move the chunks about, start blending from a low speed and increase its speed to the halfway mark. Blend for 4-5 minutes until smooth.

Transfer to a large serving bowl and stir in the cream and season with salt & pepper to taste. Garnish with some micro basil leaves.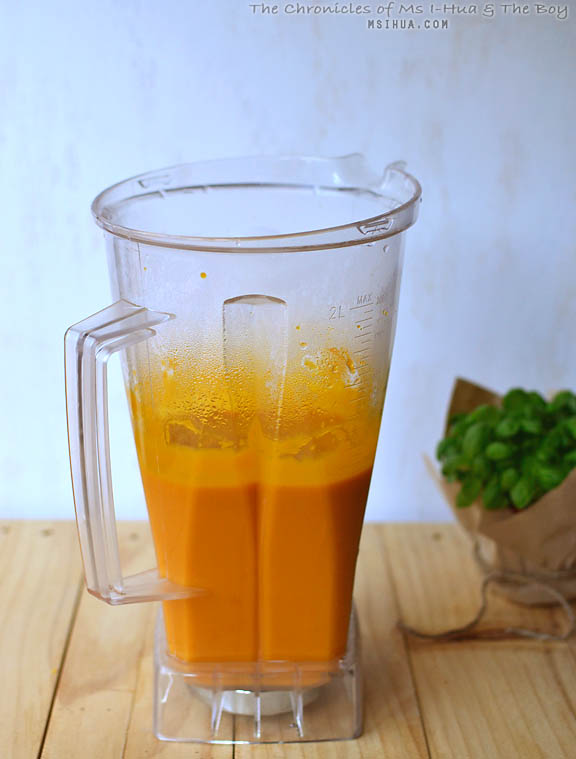 The resulting texture of this blended pumpkin was smooth, delicate with a ribbon like consistency. It was amazing!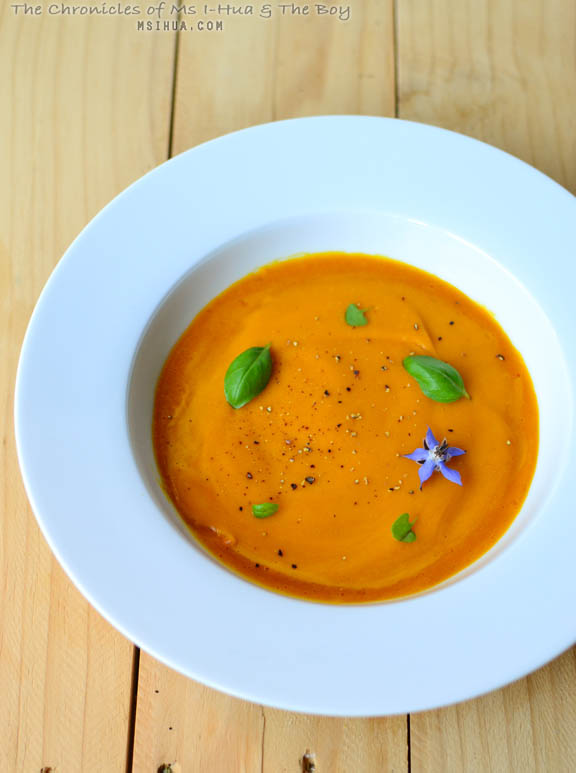 I do admit that I did drink the purée like a soup. I couldn't help myself. After that all I wanted to do was to lick the bowl.
The product that comes out of the Spectablend after blending is warm. With its high speed and intensity the purée was heated up.
We also had the purée as a side garnish to a dish and as a dip with bread the next day.
Keep an eye out for our next recipe using the Spectablend 🙂
Product Information:
Spectablend retails for $399 but is currently $299 as a promotional offer on their website
They currently deliver only to Australia and New Zealand
Spectablend is a local based Melbourne business (so support local!)
Spectablend Jugs (and associated HydraCups) are BPA free
Covered by 1 year warranty / 3 years on motor
Where you can buy your very own Spectablend, share recipes and stalk them via social media:
Website: http://www.spectablend.com
Facebook: Spectablend
Twitter: @spectablend
Instagram: @spectablend
Pinterest: Spectablend
[Ms I-Hua and The Boy would like to thank Spectablend for giving the opportunity to review the Spectablend BL-001]
*Disclaimer: This review is based on our experiences with the blender