A couple of weeks ago, The Boy and I were invited in for a Bloggers Dinner at Pabu Grill & Sake in Collingwood.
Pabu essentially is a direct translation of the word 'pub' in Japanese (it's easy to get your head around most Japanese words like that). I once knew someone who went to Japan and ordered a "Dabururate Banira!" and received a Double Vanilla Latte whilst paying with his Kurejittokādo 0_0
Pabu Grill & Sake is the brainchild of owner Khoa Nguyen and his way of introducing the Melbourne market to his idea of a mix of pub and izakaya-esque food.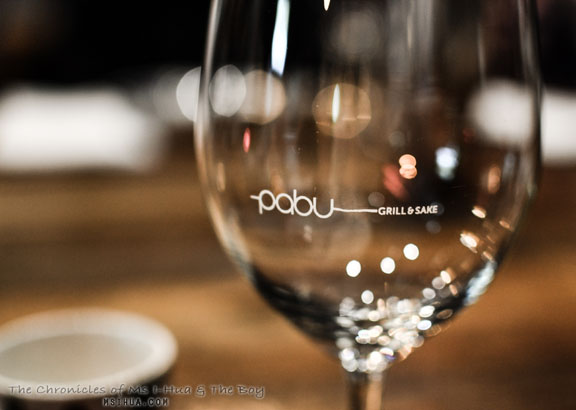 As Khoa walked us through his concept of the restaurant, he also mentioned to us that he worked under Toshie Maeda of Maedaya and earned his title of 'Sake Master' there. Being a Sake Master simply means you are well versed in the art of matching, drinking, serving (all things basically) sake.
In terms of the menu, Khoa explained that it was more of a tapas styled menu and that he himself enjoys a meal more when he is sharing food with others. As such, he designed our dinner that night to feature some of the finest local produce available to reflect the flavours of the season.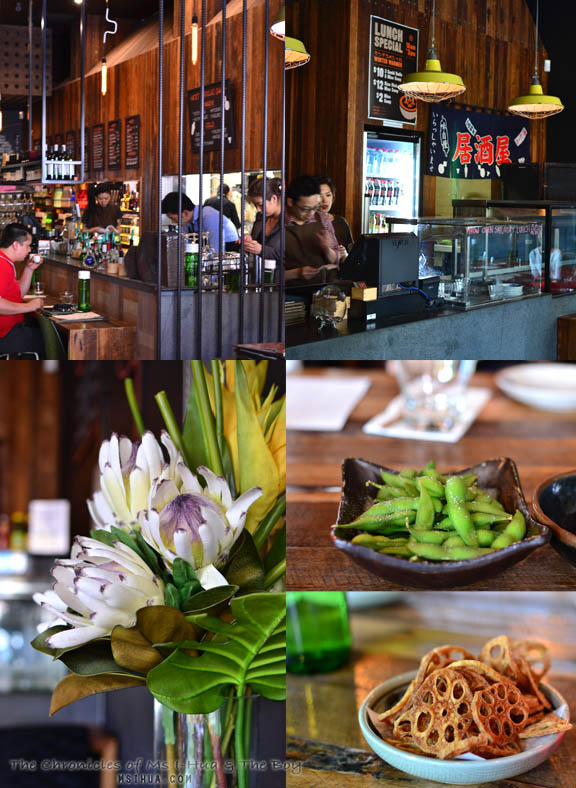 To start us off, we had some nibbles of Edamame and Lotus Root Chips which were really addictive and we just kept reaching out for more.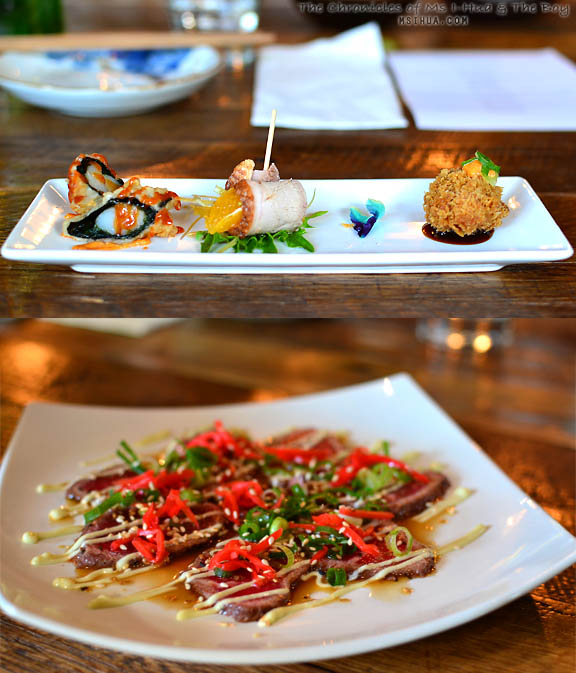 Next up, we had an introduction to the entrees of Kaki Fry (crumbed oyster), Kamo Tataki (duck with orange) and Kaibashira (scallop wrapped in nori) matched with a cold Rihaku Tokubetsu. Everything on that tasting platter was delicious.
The rest of the gang also had Beef Tataki with Citrus Soy Red Ginger, Sesame and Spring Onion which was matched to a warm sake Hatsumago Jumai. We found this sake to be quite fragrant.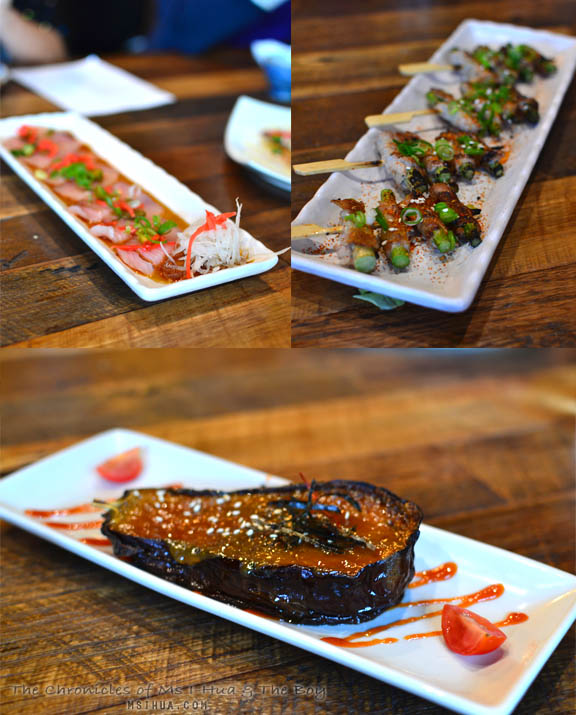 We next had the Hamachi Kingfish with Ponzu, White Radish, Jalãpeno and Spring Onion; Buta Asparagus (thin slices of pork belly wrapped around asparagus on a bamboo charcoal grill) and Nasu Dengaku (Oven baked eggplant then grilled with sweet and spicy miso).
I was a bit sad to see that we only had one grilled item in the lineup we had that night. However, that just gives us another excuse to return as that Buta Asparagus was da amazeballs.
These were each matched with Tateyama Ginrei (served cold and was very light) and Kohro Tokubetsu (served at room temperature and was quite sweet).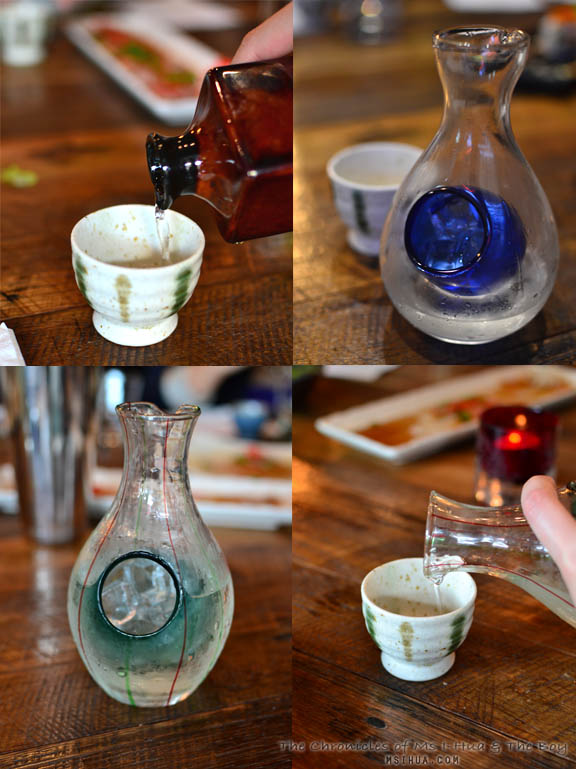 Just some of the very beautiful and aesthetically pleasing sake bottles that were used to serve sake that night.
My favourite one has a hole in the middle for ice to be placed to keep the sake chilled! How cool is that?!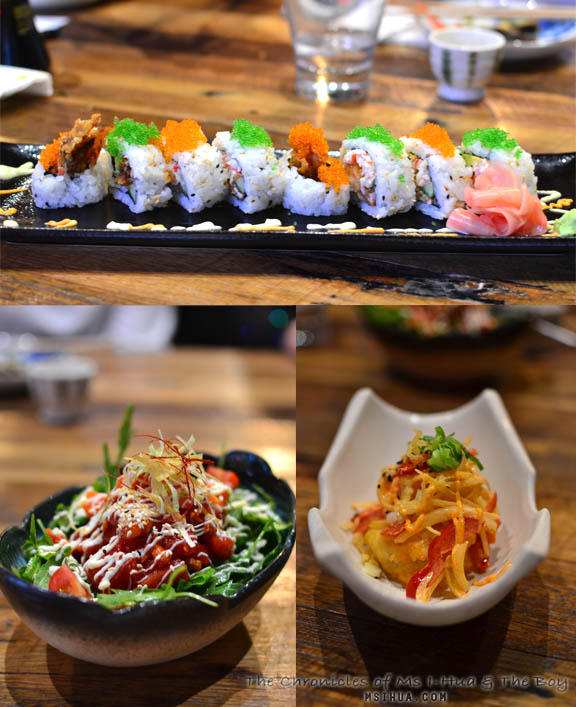 Dinner continued with Wantari Kani Maki (Soft shell crab, avocado, spicy mayo, cucumber, wasabi, fish roe and toasted sesame), Epi Capsicum Aye (Tiger prawns in a light tempura batter tossed with onion, capsicum in a creamy spicy mayo topped with black sesame and a Salmon & Tuna Salad (in a spicy marinade, dried leeks, sliced chilli, rocket and lotus root chips).
The prawns were matched with Nara Toyosawa and the sushi roll was matched to Onigoroshi Jumai.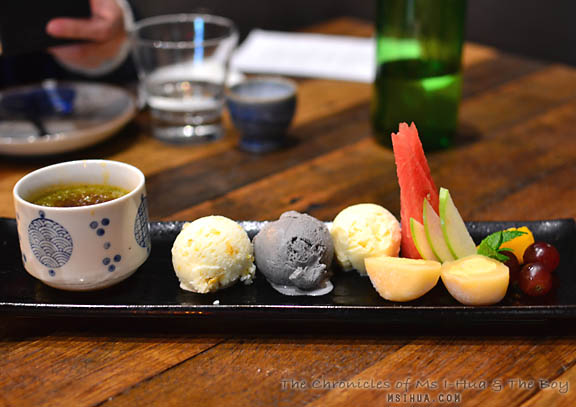 Of course it wouldn't be a grand finale if there weren't any dessert to cap the dinner off. We had a Dessert Moriawase of a Matcha Crème Brulee, Home Made Yuzu Sorbet, Black Sesame Ice-cream, Melon Daifuku and fresh fruits. This was matched to a sweet Choya Yume wine which was really easy to drink.
Visit Melbourne Dining for another view to the Blogger Dinner 🙂
[Ms I-Hua & The Boy attended as guests of Pabu Grill & Sake and Reymond Communications]
*Disclaimer: All food ratings & review are purely based on my own experiences and how I feel about the service, food and quality at the time of visit
Food/ Cuisine: Japanese
Dining Style: Casual Dining

Opening Hours:
Monday to Thursday, 10:00am to 10:00pm
Friday, 10:00am to late
Saturday, 5:00pm to late
Sunday, 5:00pm to 10:00pm
Address:
190 Smith Street
Collingwood VIC 3066
Tel:(03) 9419 6141
Website: http://pabu.com.au/

Twitter: @PABU2012

How to get there: