Besides my love for food (and drinking), I grew up with a passion for travelling. This probably stems back to the fact that my father was a pilot for several major airlines back in the day. Between splitting his time with his two families and his flying around, we hardly ever saw him growing up. But when I did, he would often regale us and his friends with tales of his most recent flights and the things that he and his crew got up to.
In our own household (if you didn't realise by now, my family was what you would call the broken sort), I grew up listening to Madame Mummy talk about her trips to Europe and the Americas. Even now, she gets up to quite a lot of travelling and is currently in India for a meditation trip after just coming back from Tibet!
I love the anticipation of getting on a flight. As crazy as it sounds, I love the dry stale smell that often permeates the cabin just as you embark on to the plane. Not because the smell is pleasant, but more so that I know I'll be off flying to a destination somewhere! It doesn't even matter if it's a work trip. The whole idea of flying off somewhere excites me.
The food on airlines more often than not are passable if you are in cattle class, but if you have been lucky enough to travel via Business Class or even to the more exclusive First Class, then you are usually in for a treat.
So when an exclusive invite recently arrived in my mail box extending Singapore Airlines invitation to sample wines served to their Business and First Class passengers at the prestigious Vue de Monde, I excitedly agreed.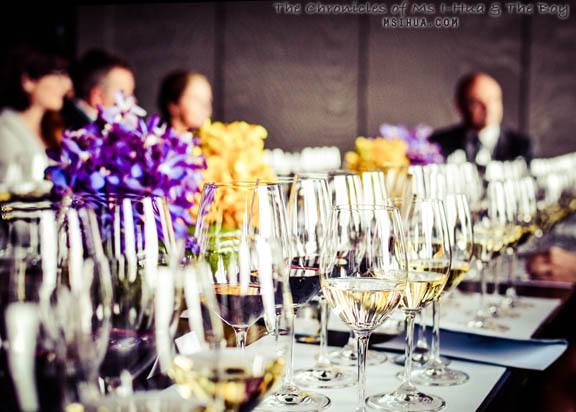 The luncheon would begin with a Singapore Airlines Wine Tutorial led by Michael Hill Smith AM MW (a man with many letters after his name), Singapore Airlines Wine Consultant and also Australia's first Master of Wine. I would be in good hands 🙂
Along with Michael Hill, Jeannie Cho Lee (first Asian Master of Wine) and Steven Spurrier form part of Singapore Airlines International Wine Panel.
Because Singapore Airlines comes from a non-wine producing country, it is able to rely on their three wine consultants to source the best of the Old World and best of the New World wines. Selection is done by tender with selected suppliers invited to submit their wines for blind tasting by the expert trio, producing a wine cellar of great quality sourced globally.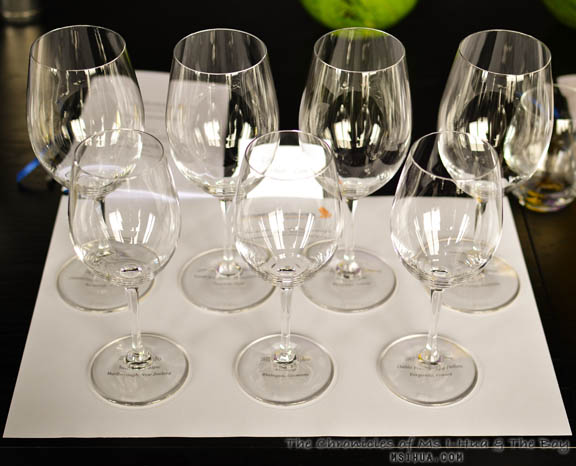 As guests arrived, we were proffered glasses of the 2004 Champagne Cuvée Dom Pérignon (Espernan, France) which anyone with their right mind would never say no to. We had a choice to either keep on with our Dom Pérignon or try the Krug Grande Cuvée NV. Not wanting to be rude, I tried both 🙂 Trying the two different champagnes one after the other, I could really taste the differences on my weak palate. The Krug was more savoury and heavier on the palate as opposed to the lighter Dom Pérignon.
From there our official wine tasting tutorial began and we started with the 2013 Cloudy Bay Sauvignon Blanc (Marlborough, New Zealand). Zingy and fresh on the palate with a straight acid line down the palate, with Michael Hill saying it was "almost rapier like".
I'm not going to pretend I know a lot of the wines so I shall refrain from going through each and every single drop that we tasted.
All I will say, is that I fell in love with some very expensive wines and am now forever ruined 0_0
My drink of the day? The 2007 Château Cos d'Estournel Saint-Estèphe (Bordeaux, France).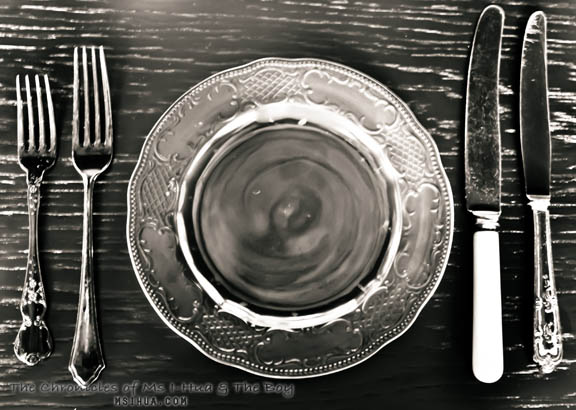 Once again, I couldn't help but fall in love with the cutlery at VdM. I wanted to put them all in my handbag.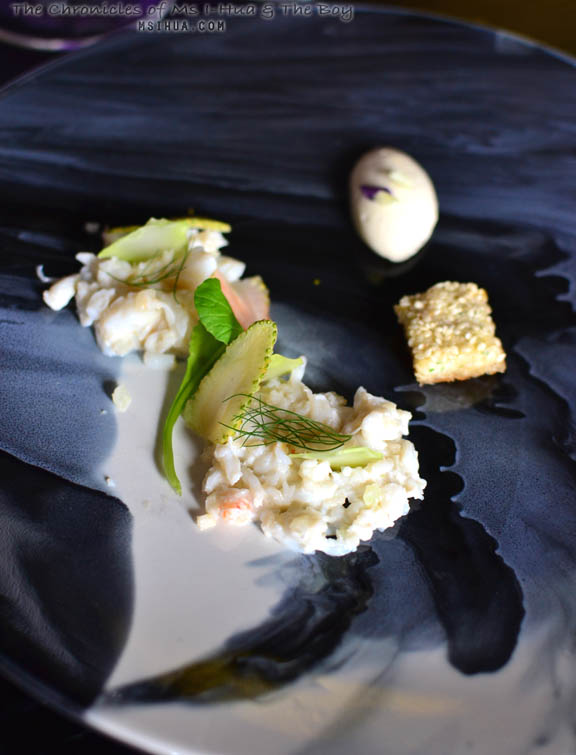 For our entrees, we enjoyed a variation of the dish I've tried a few times now at VdM. Spanner Crab, Pear and Broccoli. I loved the addition of green strawberries to this dish.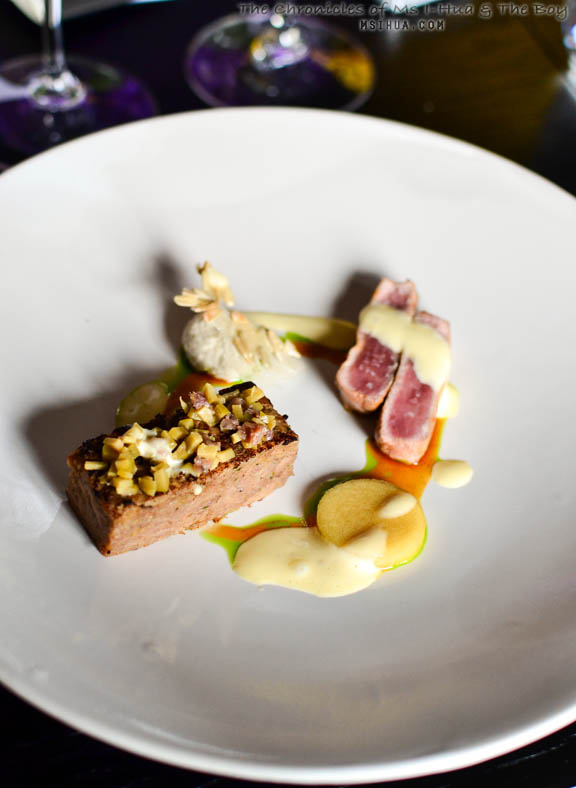 Whilst I utterly enjoyed my Flinders Island Lamb, Olive, Australian Anchovies and Mustard, I couldn't help but want more as I'd tried this dish before earlier on my birthday. However, I was just as happy to keep eating this dish forever.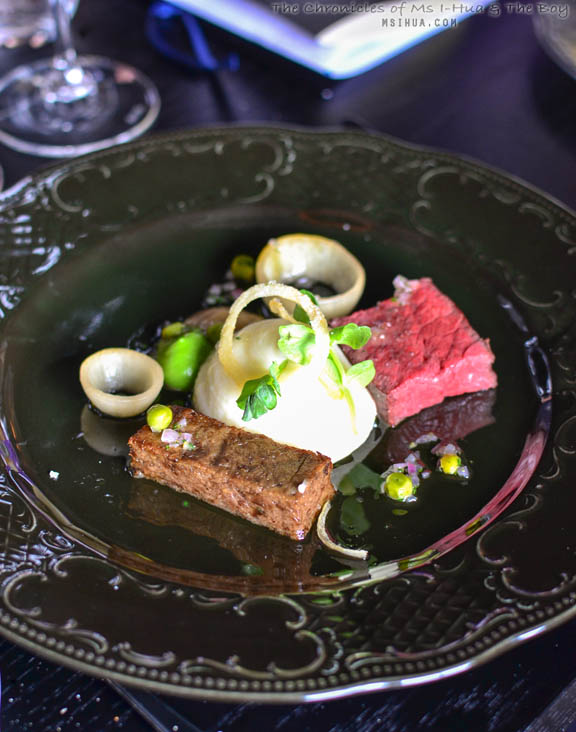 The rest of the guests had the David Blackmore Wagyu dish, which I am sure was very tasty.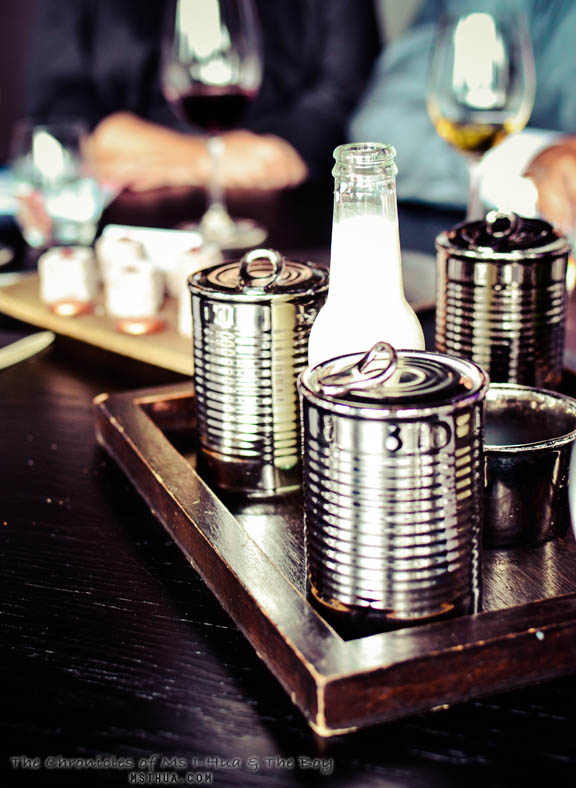 All too soon, the accompaniments to the tea and coffees were brought out and everyone had a great time opening and closing the lids of the tea containers.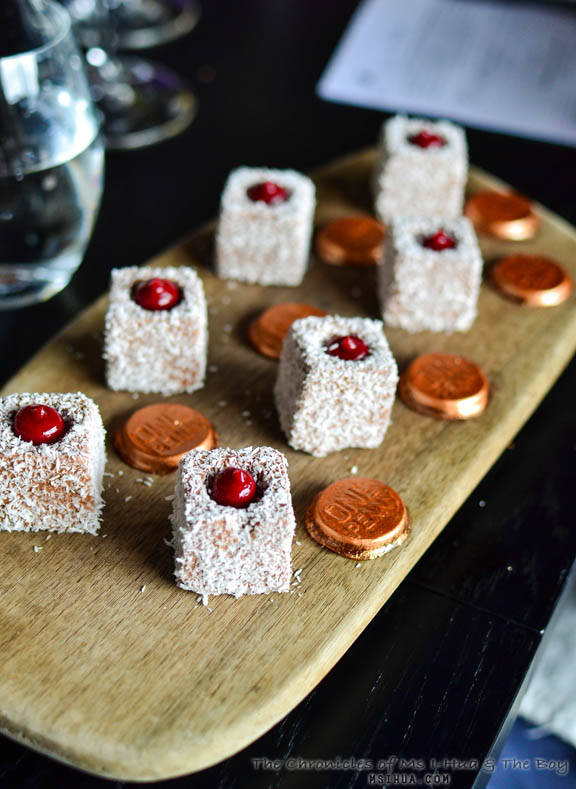 I loved the petit fours as usual and may have had a sneaky extra lamington or two together with the One Penny gold coated gin jellies.
If you are interested, here are some of the tasting notes on the 7 wines we tasted at the tutorial as provided by Singapore Airlines:
2013 Cloudy Bay Sauvignon Blanc, Marlborough, New Zealand
Cloudy Bay is arguably New Zealand's most famous winery. Since its first vintage in 1986, Cloudy Bay has excited wine drinkers over with its racy freshness and zingy flavours.
2010 Weinhause Ress Riesling, Rheingau, Germany
Weinhause Ress of the famous Balthasar Ress estate has produced this wine to the expectations of international connoisseurs, balancing fresh flavours, low acidity and making it a light style Riesling. The 2010 is an exquisite wine displaying green apple aromas, lively fruit and a touch of distinct minerality.
2007 William Fèvre Chablis Premier Cru Vaillons, Burgundy, France
The most prestigious vineyards in this famous appellation are all clustered around the historic town of Chablis in northern Burgundy, where only Chardonnay vines may be planted on the chalky clay and limestone soil. These wines are of pronounced floral fruit, with hints of apple on the palate and a refreshing mineral finish. 2007 was an excellent vintage for Chablis.
2005 Louis Latour Château Carton Grancey Grand Cru, Burgundy, France
Louis Latour, possessing 16 of 120 hectares of Corton, is the largest vineyard owner of this Grand Cru in the Côte de Beaune, and Château Corton Grancey is their flagship wine. Youthful deep red in colour with beautifully-expressed red berry fruits on the nose that show both freshness and depth; both rich and smooth on the palate, the firm vigour of Corton is matched by the class from a great year, with a long, lingering finish.
2009 Marchesi de' Frescobaldi Tenuta di Castiglioni Toscana IGT, Tuscany Italy
This ancient 150-hectare estate in the Colli Fiorentini southwest of Florence has been in the Marchesi de' Frescobaldi family for 900 years. 2009 was an excellent year in Tuscany, producing deeply-coloured wines with a fine intensity of red and black berry fruits on the nose, a mouth-filling smoothness of flavour and a long finish.
2007 Château Cos d'Estournel Saint-Estèphe, Bordeaux, France
The 2007 vintage was a vintage where the estates with the best "terroirs" and the best vineyard management came out very well. A mild winter was followed by an early bud burst during a warm April, then heavy rain on and off from May to July caused mildew development and reduced the crop. August was very dry and a little rain in early September refreshed the vines and permitted a good natural progress to ripeness. The Cabernet Sauvignon showed better ripeness than the Merlot and is thus a very high proportion of the blend.
2010 St Hallett Blackwell Shiraz, Barossa Valley, Australia
Barossa is famous the world over for its Shiraz. These wines are typically rich and fuller bodied with characteristic plummy flavours and soft finish. This wine is named in honour of St Hallett's winemaker Stuart Blackwell who has played a major role in the promotion and appreciation of the Barossa's highly valued old vines. It is a fine example of modern Barossa Shiraz.