As a child growing up, I would pour every little bit of free time I had into reading books.
Not just any books. These were magical books, filled with tales of mystery and adventure. I would read every single Enid Blyton book I could get my hands on. Indeed, the very first book which I had saved to buy on my own was an Enid Blyton booked entitled. "Tales of Long Ago" which depicted Greek Mythology and the stories behind how each of the gods and goddesses came by their name and stories.
However, the stories that would always have me yearning for another life would definitely be Blyton's love of children and adventures. She provided enough ideas and stories to fuel a lifetime of dreams. Often, these tales would feature children being sent away to farms for their long summer holidays. Besides getting into adventure or running away to live on an island, these children were most adept at foraging for food and making picnics seem amazing.
They would run around and pick cherries and ripe berries. They would sit on sun soaked hill tops and eat their pineapple and tongue sandwiches and socialising with one another.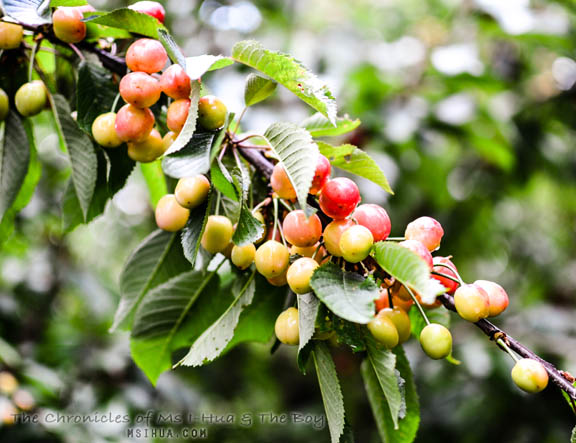 A few weekends ago, we were privileged to be invited (along with a few other bloggers), on a weekend away at the Mornington Peninsula on their Wine Food Farmgate trail .
The rule of the game? We would have to visit as many farms as possible to forage for our food and at the end of the day get together to cook up our dinner. Seemed like a simple enough plan. Little did I realise, I would be living out a childhood fantasy!
Because there were quite a number of places to visit on our list, Michéle divided up the list and each team (we had 3 cars) was sent out to visit a different spot. Michéle, Michelle, Thanh and Adrian were to visit 2 Macs Farm and Green Olive farm. Agnes and Al were to visit Main Ridge Dairy and Mock Red Hill.
The Boy and I? We were tasked to visit Trevor at the Red Hill Cherry Farm and to get the meats for our dinner at Mornington Prime Cuts.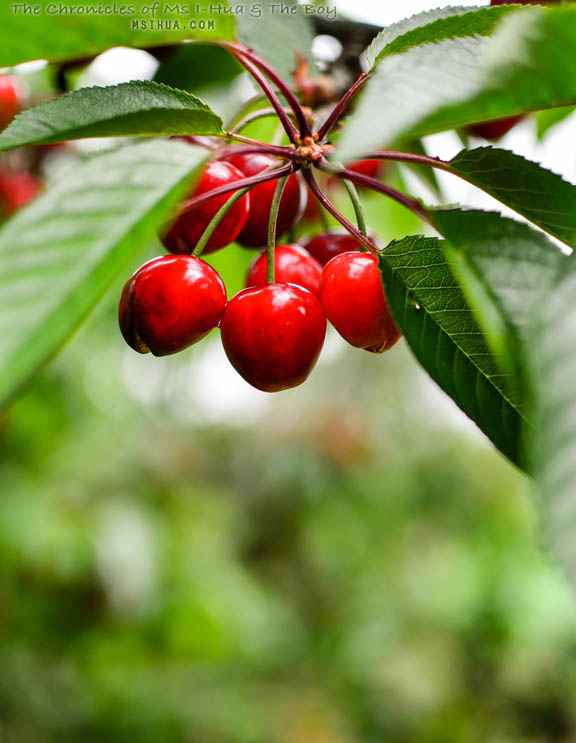 Driving up to the lovely Red Hill Cherry Farm, I was ecstatic to see a sheep (whom I soon learnt was named Garfield, as the farm dog was called Odie) and that the driveway led up to a lovely little looking cottage. "Just like in the books", I gushed to The Boy, who hadn't a clue what internal dialogue I had suddenly voiced out.
The cherry farm was closed on the weekend we visited due to the unseasonal wet weather we have had lately, but with a quick phone call, the wonderful Trevor (who runs the Cherry Farm) came out to greet us and take us on our very own private tour.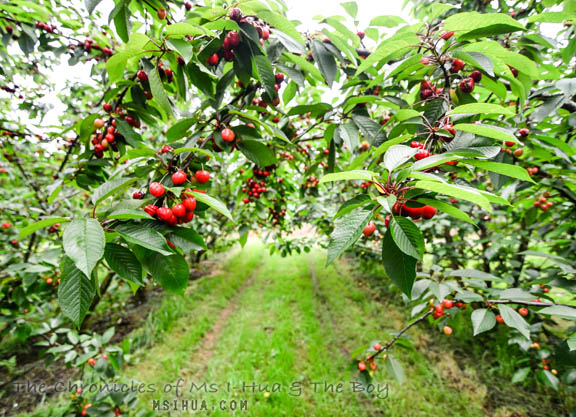 As we walked through the Cherry Trees, Trevor pointed out the different varieties on the farm. He also pointed, plucked and made us eat (to my giddy happiness) the cherries which were split.
He first let us sample the cherries which were 'store quality' and perfect in appearances. They were sweet.
He then let us try the cherries which were split. They were on a whole other level of sweet amazingness. Trevor explained that due to the unseasonal wet weather, the cherries on his farm were all starting to taking on extra water from the rain. More often than not, splits happen to cherries which are ripe.
I couldn't help but flinch the first time I ate a ripe cherry, but after tasting them, I couldn't get enough! They were so beautiful, sweet and juicy.
Trevor explained the reason behind the sweetness of split cherries is that the cherries expand rapidly splitting the outside skin due to its susceptibility to water/rain. This in turn gives the moisture somewhere to escape leaving a higher concentrate of sugars.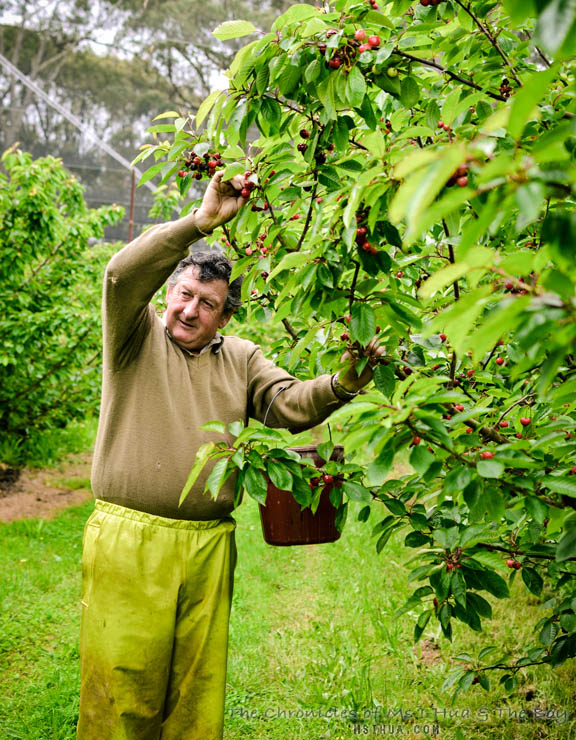 Trevor explained the concept behind his Cherry Farm. He only has about 6 weeks a year to run his business and he runs it like a well oiled machine.
Visitors who are interested in dropping in are required to pay an entrance fee to visit the farm and pick as many cherries as they can muster and eat them on the farm. If they are interested in picking cherries for home, a simple weigh and pay system happens at the end of the visit.
Trevor advises visitors to, "eat the split cherries and bag the pretty ones" so that everyone goes for a win-win solution.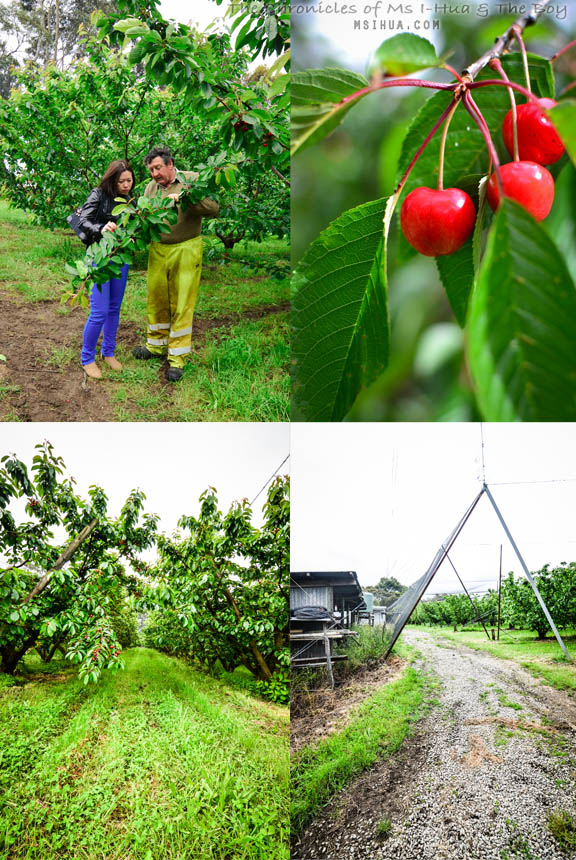 With over 25 varieties of cherries and 4500 trees, you can be assured that your belly will be full of cherries and enough to take home.
On the Cherry Farm, Trevor also grows Morello cherries which as you know are sour cherries. He laughs as he recounts the number of times his visitors pop these cherries into their mouths after warning them of the different variety. Unperturbed, his visitors seeing how red and ripe the Morello cherries are, pop them into the mouth only to wince at the sourness.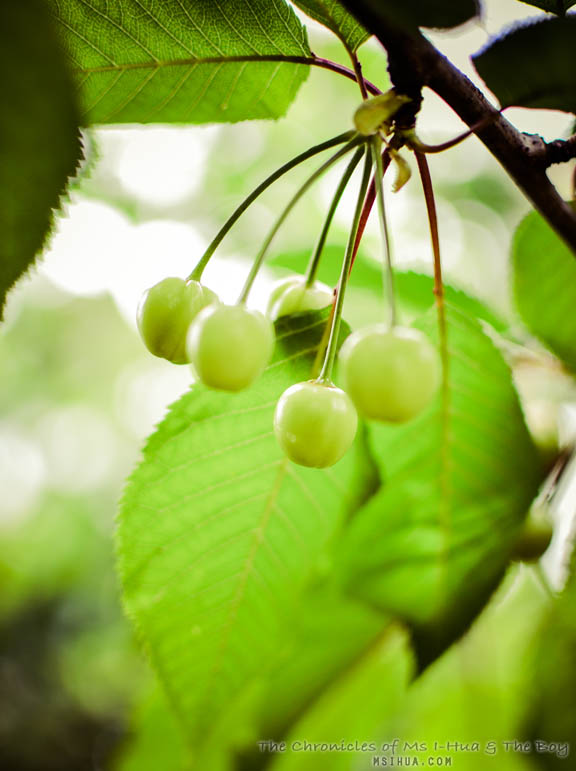 As we walked through the maze that is the Cherry Farm, we came across a beautiful variety of white cherries (picture at the start of the post). Having tried them only just last summer when The Boy and I discovered it at the local market, we were so excited to identify one variety of cherries on the farm.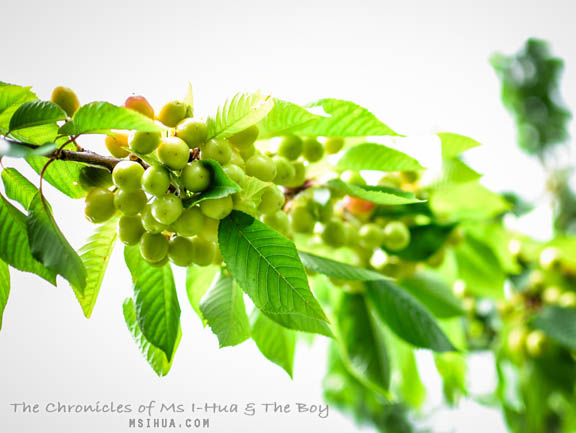 Having learnt quite a bit about cherries and listening to Trevor recount his tales and cherry knowledge, I couldn't help but be thankful for our blog as it has opened up so many new channels of learnings and discoveries.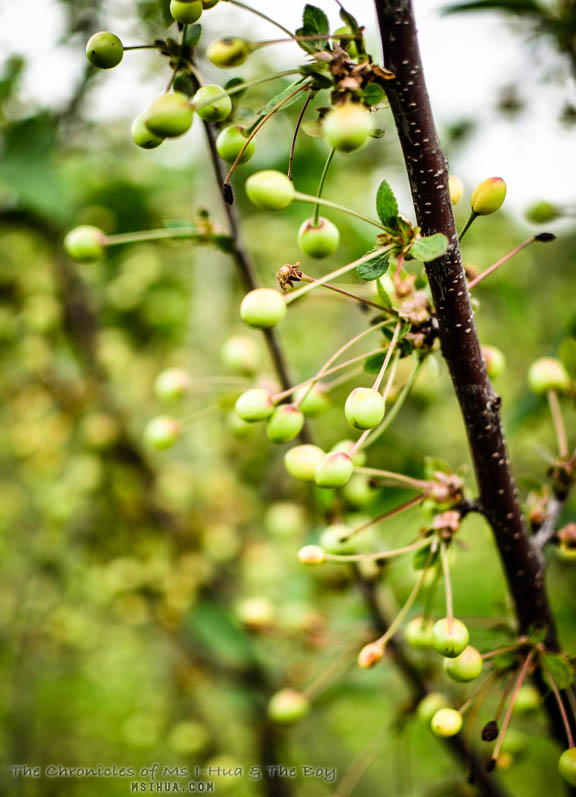 Key learnings from this trip? Never judge a cherry by its appearances.
There is simply nothing wrong with split cherries and by all means, eat them and enjoy natures fruit as it should be.
Don't buy into the 'perfect' looking cherry at your market. Visit a cherry farm (especially Trevor's Red Hill Cherry Farm) and see for yourself how different freshly picked cherries from the branches taste like.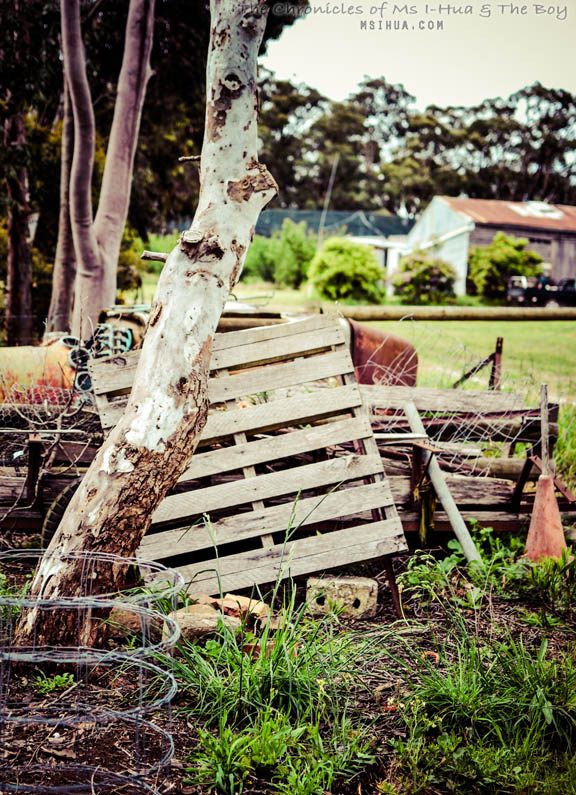 Red Hill Cherry Farm Details:
Website: http://www.redhill-cherryfarm.com.au/
Address:
61-69 Prossors Lane
Red Hill Victoria 3937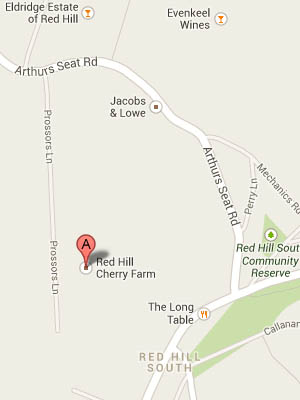 Phone: (03) 5989 2237
Opening Times:
Monday to Friday, 10:00am to 4:00pm
Saturday & Sunday, 9:00am to 4:00pm
*Hours are subject to ripe fruit being available and weather conditions. Please ring before you travel.
Red Hill Cherry Farm season normally runs from Mid to Late November to Early to Mid January (closed Christmas Day).
Please note: "Pick Your Own Cherries" will be Closed from Sunday 8/12/2013 to Friday 13/12/2013 while they wait for the next crop to ripen. Reopens Saturday 14/12/13. During this time, door sales is available from Sunday 8/12/2013 to Friday 13/12/2013.
Prices:
"Pick Your Own":
Sweet Cherries: $12.00 per kg
Sour Morello Cherries (for cooking): $10.00 per kg
Please note that these prices vary weekly. Buckets and bags are provided.
Entrance Fees:
Sweet Cherries
16yrs – Adult: $10.00
10-15 years: $5.00
Under 10: Free
Sour Morello Cherries
Adults $5.00 per person (children are free)
*Prices may vary due to weather and seasonal conditions. Please ring the Red Hill Cherry Farm before visiting to check if they are opened on the day you would like to visit.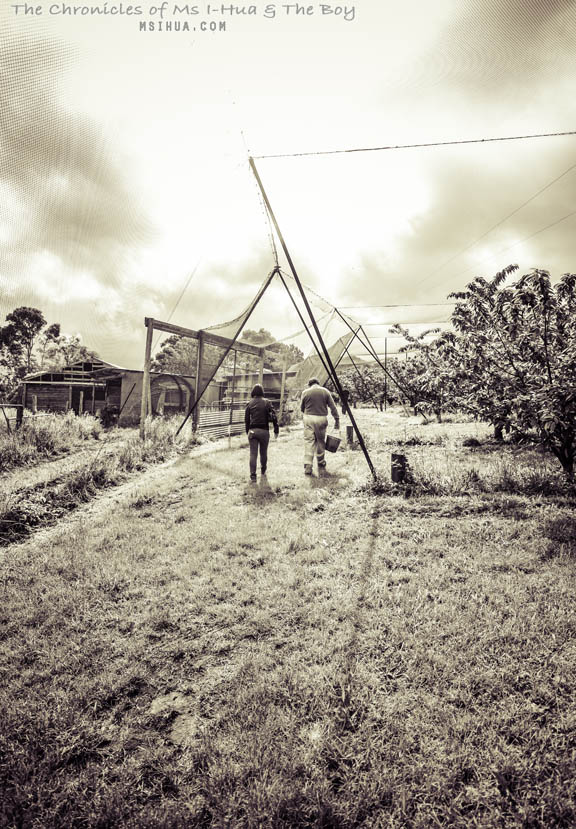 _______________________________________________________________________
Competition Time!
As Christmas is just around the corner, we are giving away 1 x Family Gift Voucher to 2 very lucky winners. The winners will receive a Family (2 Adults and 2 Children) Voucher which entitles them to pick and eat off the cherry trees as well as receive a 1kg container of free cherries to take home! Vouchers expire on 31st January 2015.
All you need to do, is to:
Like our Facebook Page (if you haven't already )
Simply finish this sentence "I love cherries because it makes me…"
*Please leave a valid email address in the email box (emails won't be published) as a contact point.
The competition will close on Monday 16th December 2013 at 8:00pm (AEDT) and winners will be drawn that night. Competition is open to all Australian residents with a valid Australian address. Your family passes will be posted out to you, so I will be in contact for a postal address if you are successful. Please do ensure you can make your way to the Red Hill Cherry Farm

As Cherry picking is such a short season, please ring to book a time from now until Early January so that you don't miss out.
[Ms I-Hua and The Boy visited Mornington Peninsula on the Wine, Food, Farmgate Trail courtesy of Q Strategies]
_______________________________________________________________________
[16/12/2013] Announcement: Winners of the Red Hill Cherry Farm Family Pass Giveaway

Thank you to everyone who took part in this competition.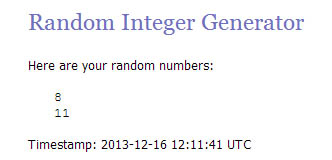 The 2 winners are:
1) Lyndall
2) Monica Basu
… Congratulations, the winners will be contacted via email.
Competition Now Closed.