You may sing to the chorus of Pet Shop Boys' song (the song needs no introduction) as you read this post of these two popular cafes out in Melbourne's Western Suburbs.
This post is a long time coming and we do apologise that it has been so far in between our breakfast brunch spot posts. We thought we would share with you something old and something new (also something for us to get out of the archives :P).
The first, Common Galaxia, was introduced to us when it first opened and having heard that it was a sister cafe to Dead Man Espresso, we couldn't wait but itch to get there. Do note that in the time of our visit to now, Common Galaxia has changed hands and now has a new owner, Paul Fox at the helm, which means we will need to make a return visit soon!
The second, Pint of Milk was introduced to us by the one and only Ewen Bell who is amazing all on his own (that man is so skillful with the camera!). After one arduous afternoon of food styling photography together with T Do and Michèle, Ewen pointed us to the direction of Pint of Milk to regain some of our energy back!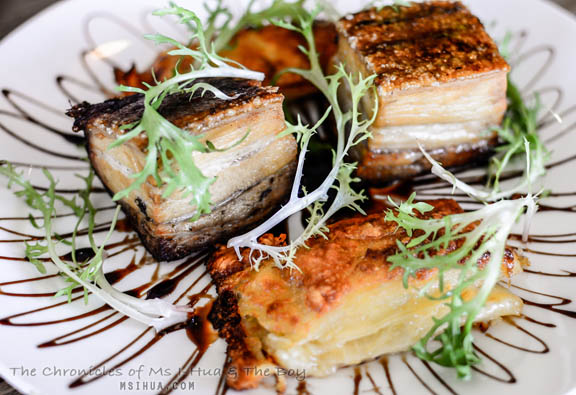 _______________________________________________________________________
Pint of Milk – Newport, Vic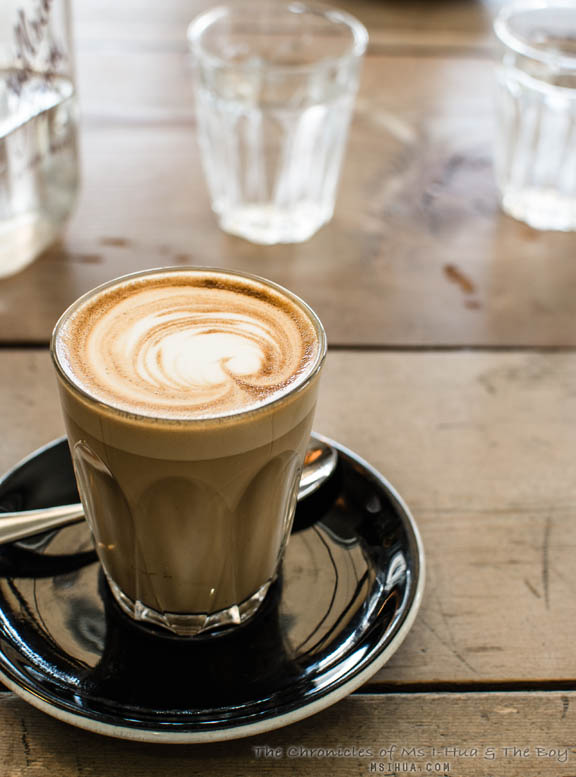 Pint of Milk is a quaint little cafe located past Newport's Power Station and surrounded by a modern suburb and a park. As we got there pretty late (in our brunch terms) and was closer to 3pm than it was to noon, we were glad that they still took us in and fed us well.
Whilst I desperately was in need for coffee (PoM serves Gridlock Coffee), T Do had OJ and Michèle had a very homey mulled apple juice.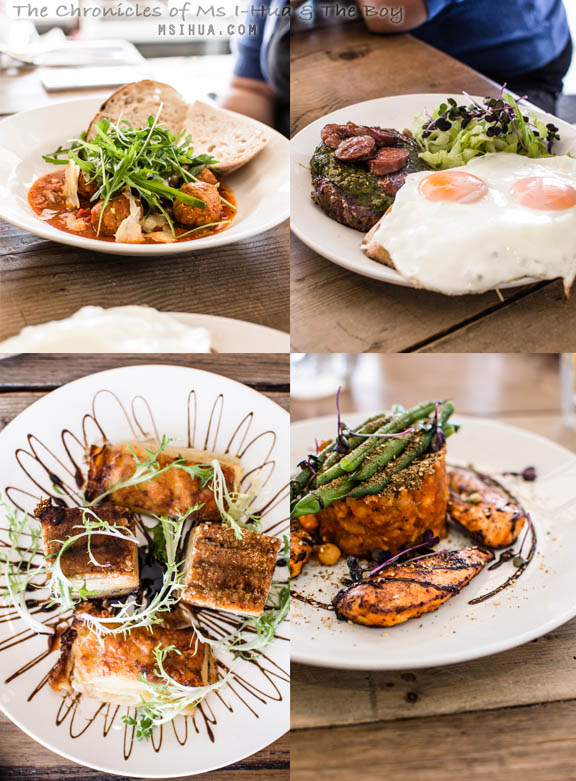 As we all hungrily devoured the menu with our eyes, we made our orders pretty quickly. Though I was told that my order would take 20 minutes, I couldn't help but nod in agreement. I have to have pork belly! It's my one other weakness besides bacon.
Michèle had the Veal & Pork Meat Balls in Tomato Herb Sauce with Parmesan, Rocket & Sourdough ($19.00), T Do had the Argentinean Steak & Fried Eggs with Chorizo, Chimchurri Sauce & Baby Herb Salad ($19.00), I of course had the Slow Cooked Pork Belly with Potato Terrine, Balsamic Caramel Glaze & Frisee ($18.00) and The Boy had the Grilled Harissa Chicken Tenderloins with Steamed Green Beans, Chickpea Cassoulet & Dukkah ($19.00) despite throwing a chicken party the night before.
We all agreed that the food was delicious, partly because it was true but also partly because we hadn't had anything else to eat that day besides a few matcha macarons 😛
Would we come back? Sure, there's quite a few more things on the menu that I would like to try. Parking was also fairly easy so no issues there with the Parking Gods.
*Disclaimer: All food ratings & review are purely based on my own experiences and how I feel about the service, food and quality at the time of visit
Food/ Cuisine: Breakfast, Lunch & Coffee
Dining Style: Cafe
Opening Hours:
Monday to Friday, 7:00am – 4:00pm
Saturday & Sunday, 8:00am – 4:00pm
Address:
19 North Road
Newport VIC 3015
Tel: (03) 9391 6641
Website: https://www.facebook.com/thepintofmilk

Twitter: @thepintofmilk
How to get there: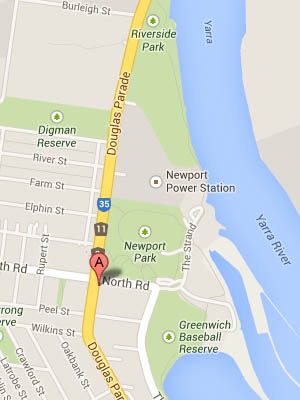 _______________________________________________________________________
Common Galaxia – Seddon, Vic
Like we said at the start, Common Galaxia started out as the western sister of Dead Man Espresso, but has since changed as of late last year. This review is based on the original owners, so we'll keep it short and sweet.
Fret not, I hear that the new ownership still makes coffee from Seven Seeds beans and the menu hasn't changed at all!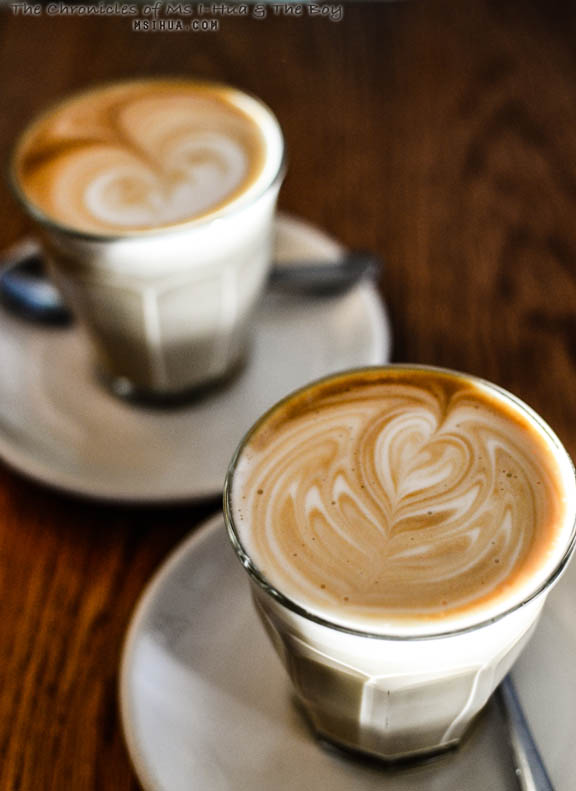 As we aren't all too familiar with the western suburbs, it took us a while to find Common Galaxia and to find a good parking spot. As we arrived, we quickly ordered our beloved Seven Seeds coffee. We started with two Lattes of the Honduras Catalino blend.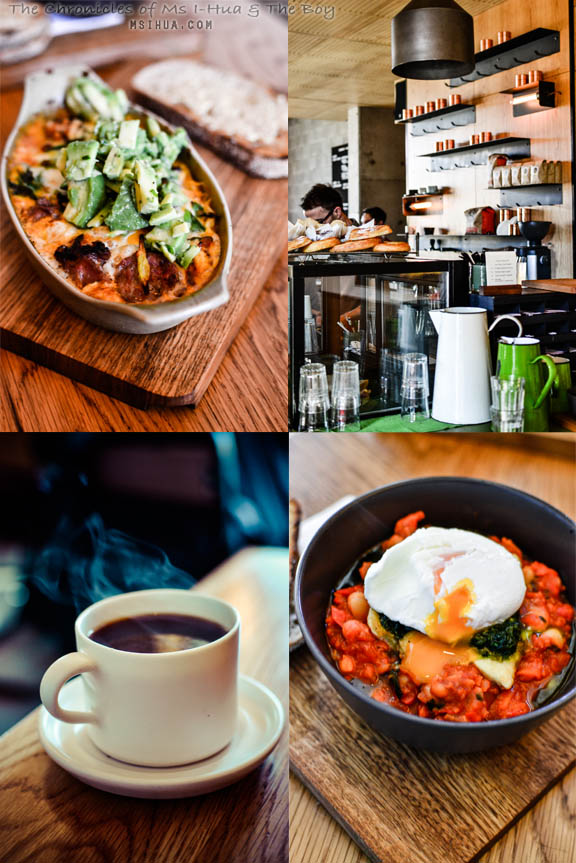 The Boy ordered off the Specials menu and had the Baked Eggs, Potato, Sausage, Grilled Cheese & Avocado whilst I couldn't help but order the Spiced Baked Beans with Coriander Pesto, Grilled Halloumi & Toast (additional poached egg) $18.50
Whilst The Boy slowly enjoyed his meal, I Hoovered mine down. With naught much else to do, I just had to order the special filtered coffee of my favourite blend (the Panama Geisha) of that day, Proud Mary Panama Don Pepe Geisha (Natural) – Filter. At $15 a pop, it is definitely a treat that I allow myself once in a blue moon 🙂
Not that there was anything wrong with Common Galaxia, other than it being on the far side of the universe for us, we are pretty contented to keep going back to Dead Man Espresso. Nothing beats the original.
However, now with its new ownership, we are sure it has its own originality.
*Disclaimer: All food ratings & review are purely based on my own experiences and how I feel about the service, food and quality at the time of visit
Food/ Cuisine: Breakfast, Lunch & Coffee
Dining Style: Cafe
Opening Hours:
Tuesday to Friday, 7:30am – 4:00pm
Saturday & Sunday, 8:00am – 4:00pm
Address:
Shop 3/130 Victoria Street
Seddon VIC 3011
Tel: (03) 9689 0309
Website: http://commongalaxia.com.au/

Twitter: @CommonGalaxia

How to get there: